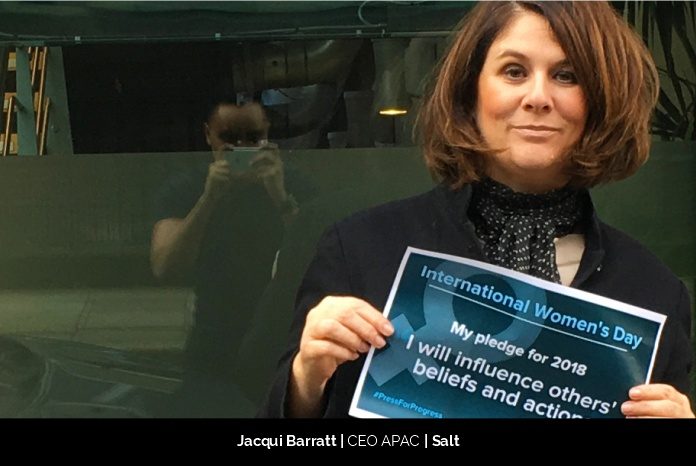 Technology has changed and impacted every industry in some shape or form and recruitment is no different.
The ability to send job postings to anyone, anywhere, has sped up the recruiting process and given job seekers and HR professionals' new opportunities and difficulties. The ability for candidates to see jobs anywhere, anytime has given people greater access to manage their search the way they want to, often giving them more options.
Technology has allowed every size business to have a voice and help promote their employment brand and connect with potential employees.
Jacqui Barratt co-founded Salt, a global digital recruitment company with the vision of helping people to start new roles in some of the most exciting start-ups, scale ups, agencies, or large global powerhouses.
Salt; Global Digital Recruitment
At Salt, it's all about creating futures, be it for clients and helping them grow through the right talent solutions, or for candidates and helping shape their careers. The team's focus is predominately working across core specialisations such as Creative, Marketing, Sales, and Technology, and supports this through the HR and Business teams who underpin the operations of these organisations.
The team says, "We are not a cookie cutter; we tailor solutions to our clients' needs." The name Salt reflects the properties of salt that everyone admires. In food, salt enhances flavour and for the company, it wanted to enhance the recruitment experience, for all parties. Salt was used as a preservative and that aligned with the company's philosophy to build long-term partnerships and not transactions. The company states, "We wanted to preserve the relationships we built, and of course the word 'salary' came from the word 'salt'."
What made "Salt" possible?
Recruitment is often not a career path that people make a deliberate choice about. Jacqui wanted a role where she could make a positive impact and influence people and outcomes, and recruitment provided that. She loves to understand businesses of all shapes and sizes and what makes them successful, and ultimately, that always comes down to the people. Jacqui asserts, "You can have the best strategy, the best technology, but without people, none of it comes to life. Going into business with my brother was an easy step to take. I had built a career in recruitment and now it was time to branch out and create something from scratch. Was it scary? Yes, but if you are not a little bit scared, you are probably not growing or doing anything new. I always knew the key would be to surround myself with great people, and from day one, I had the best team beside me."
Life before Salt
Before Salt, Jacqui was privileged to work for a market leader in recruitment who aligned with her own values about how people should be treated and what was important. This fuelled her passion for understanding how recruitment can make a difference in the communities employees are a part of. She says, "I am the baby of seven children and grew up in a household of chaos and love. My mum died before my 9th birthday, and so my relationship with my dad, became even stronger. He  said to all of us that he didn't care what we did as long as we were happy and did it to the best of our abilities. He instilled a great work ethic in all of us and a wonderful sense of humour, which when you talk about challenges, always helps."
Recognition for Being the Best
Jacqui was made a Fellow and Life Member by her company's industry body [The Recruitment, Consulting and Staffing Association Australia & New Zealand (RCSA)]. She says, "I always say to people in recruitment, don't ever forget people have a beating heart".  She further adds, "It's a privilege to do what we do. Hearing about people' and organisations' goals and aspirations is what makes our role so special."
For Jacqui, the best acknowledgement as a leader was the willingness of the team that started with her from day one to trust that they could achieve what they did and come on board and take a risk. She opines, "Your biggest shareholders or stakeholders are always your team as they invest in the business daily and trust you to lead."
Responsibilities as the APAC CEO
When one owns the business, he or she never stops being hands-on to a degree, rightly or wrongly. Jacqui loves to spend time with the customers, both clients and candidates. This keeps her real and allows her to stay connected and relevant to the team who do the consulting role every day.
As a Woman in Lead
Jacqui considers herself fortunate that the recruitment industry is really balanced with regard to gender and opportunities. However, she has worked in organisations where she has been referred to as girly, or questioned about whether she is a feminist, which wasn't suggested as a positive attribute. There have been times when women are considered bossy or emotional, whereas male colleagues would be considered passionate or assertive. Jacqui personally just kept pushing through and has never been afraid to make her voice heard. She says, "We have always tried to create an environment that allows women to thrive." As per Jacqui, at Salt, this started with creating a flexible work environment from the very first day the company opened its doors with job share arrangements, people working 4 days per week, creating an environment where people could bring their children to work, etc.
Jacqui shares, "I am a big believer in you can't be what you can't see, so making sure the pathways and opportunities are there for women to lead in our own business has been important."
Accept the Flow
"I have tried to move away from the concept of balance to the concept of blend as I think, even more so after COVID-19, we need to realise the fluidity of life and work," says Jacqui. As per Jacqui, if one wants to go to their child's sports day for the afternoon then they should do it. She adds, "As long as we communicate and plan, we can create a give and take adult environment. It's when the give and take is out of balance that it doesn't work."
Jacqui opines, "People spend lots of money on referral programmes and incentives, which all have their place; but if you don't deliver a good experience, why would people refer anyone to you? That's the motivation." Jacqui loves James Clear's book Atomic Habits, and how he mentions motivation and discipline. She thinks, "Whilst we can create an environment where people want to be, the role of discipline plays a huge part in anything you do. This is the stuff that gets you showing up and overcoming challenges when the world isn't perfect."
Success; the Joy in Working
Success, in a really simple outlook, is doing something one enjoys. Jacqui states, "One of the first business owners I worked for said, the day you wake up and don't want to go to work should be the day you consider doing something else."
Plans for the future of Salt
The industry of recruitment has continued to evolve and change with technology. However, technology is simply an enabler and will never replace the conversation a recruiter has with a candidate to truly understand what's important to them, their aspirations, and their development path.
Jacqui's life goals haven't really changed; it's to impact and influence people positively. Jacqui's message to aspiring businesswomen is 'back yourself'. She opines, "Don't compromise on your values. Whenever I feel uneasy about something I am doing or thinking about, this is what I go back to, and if I ignore that niggly feeling, it has never ended well."