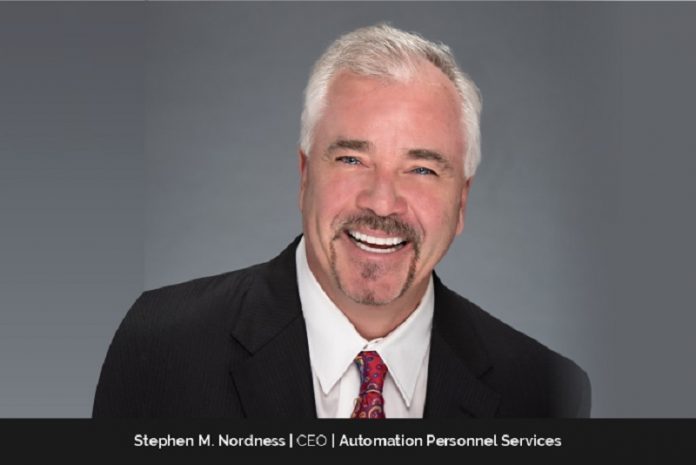 More than 32 years ago, Steve and Leslie Nordness launched Automation Personnel Services with a single location in suburban Birmingham, Alabama. Over the last three decades, the company has evolved into one of the largest and most influential light-industrial staffing agencies in the United States while maintaining the feel of a family-owned business.
Automation's growth has occurred organically, forgoing rapid-growth techniques such as franchising and acquisition. Instead, CEO Steve Nordness has focused his attention on growing the company into new markets methodically. However, that doesn't mean that Nordness is content with being successful in one or two markets.
Far from it.
Instead, Nordness' approach to guiding the company helped it not just survive some turbulent times, such as the economic crash of 2008-09, but grow into a regional powerhouse with regular inclusion in many prestigious rankings, such as the Staffing Industry Analysts (SIA) annual list of the Top 100 staffing agencies in the United States and Forbes' list of America's Best Professional Recruiting Firms 2022, among others.
"If I could give one piece of advice to anyone starting a company, it would be to build your foundation early in the process," Nordness says. "To be a leader in a people-focused industry like staffing, you must work hard, be honest, and be fair.
"You will have some bumps in the road just like everybody else," adds Nordness, "but you can survive and even grow through those bumps because the foundation is there."
Growth and Innovation from Within
Having led his company for 32 years as President & CEO, Nordness promoted David Soileau to President in August 2022, most recently the company's Vice President of Administration. Moving forward, Nordness will retain the title of CEO while turning over the day-to-day leadership role to Soileau.
Soileau has been with Automation Personnel Services for 18 years, learning the industry first in sales and then in administration. He has developed into a visionary leader for the company and is well-respected in the staffing industry, including serving as Vice President of the Alabama Staffing Association and on the Industry Perception Taskforce for the Industrial Sector with the American Staffing Association.
During a time when the average stay of an employee in the private sector is only 3.7 years (U.S. Bureau of Labor and Statistics), Soileau's longevity with Automation Personnel Services is not at all unique. In fact, internal growth is a hallmark of the organization.
Much of Automation Personnel Services' leadership has been promoted from positions such as sales representatives, talent coordinators, and other entry-level roles. For instance, the company's seven regional managers – all women – have been promoted from within, many of whom have been with the company for at least 15 years. Soileau says he believes upward mobility is another factor that sets Automation Personnel Services apart from other staffing agencies.
"You can see it throughout our organization. My own story serves as an example, as well as many others throughout the company," Soileau adds. "There is an opportunity here for those who are interested in growing in their career. That is what I'm proud of, and I'm happy to tell that story."
Automation Personnel Services seeks to hire internally motivated people with a zeal to succeed and take pride in a good day's work. However, the company doesn't work in silos. Instead, the company fosters a collaborative culture in an industry where team working together is critical to success. "We have internally-motivated people who are working in an interdependent work environment," Soileau says.
Additionally, employee promotions aren't limited to turnover or the promotion of another employee. Through the years, as the company has expanded and adjusted to the economic climate, new opportunities for employee growth have occurred. For instance, the company recently created a new position for one of its long-term sales professionals focused on developing strategies to grow the Automation Personnel Services' footprint in additional areas served by existing clients.
"I think that motivates the team," Soileau said. "In our organization, if you do a good job, you will be recognized for it and you will have opportunities for growth," Soileau says.
Longevity and loyalty have benefited Automation Personnel Services in many ways, but perhaps the most important way is through innovation.
Great ideas come from everywhere at Automation Personnel Services, due in no small part to the company's size and structure. However, the employees, many of whom have worked at Automation Personnel Services for many years and in multiple roles, are the greatest source of innovative ideas.
Soileau says the company is not a top-down model and believes that people who interact with customers and associates every day often have better ideas about how to handle recurring issues. Soileau encourages staff to bring those ideas to the table.
"This is where innovation comes from," Soileau says. "It comes from the bottom up, from our people doing great work every day and discovering better ways to do their job."
Focusing On the Customer
Over the years, Automation Personnel Services has developed a competitive edge by focusing on customer service, ensuring that its associates and clients are well taken care of. The size of the company uniquely sets it up to accomplish that goal.
"We are able to make things happen for customers with specific needs and goals in mind," says Soileau.
Currently, the company has 36 offices in nine states throughout the Southeastern United States, a much larger footprint than most of the 1,700 staffing agencies operating within the nation. However, Automation Personnel Services' size and structure allow it to compete effectively with much larger, global staffing agencies and allowed the company to carve a lucrative niche in this highly competitive industry.
"The big companies may not have the flexibility to provide unique customer experience that we can, while the small shops may not have the resources to do the things that customers need," Soileau explains. "We are a combination of both, a niche which, I believe, gives us a competitive advantage in the marketplace."
Automation Personnel Services consistently earns awards from independent sources, its peers, and its clients and associates. The company has won the ClearlyRated® Best of Staffing Client award for the last seven consecutive years and the ClearlyRated® Best of Staffing Talent award for the last four years in a row.
Additionally, Automation Personnel Services has been recognized in Forbes' Best Professional Recruiting Firms list (2020 & 2022), Staffing Industry Analysts (SIA) Top 100 Largest Staffing Firms, and the Safety Standard of Excellence Award.
Growth During — And Post — Covid-19
Even before the COVID-19 pandemic changed the way we work, the gig economy model was already causing ripples throughout the staffing industry. Automation Personnel Services has been at the forefront of this curve, offering flexibility for people at all stages of their work-life journey.
Many of the company's associates take advantage of being able to work when they want or need to work and accept assignments when they are available. Soileau says that their workforce can check in with them when they are ready to work. "We can customize the schedule for them," says Soileau.
When businesses were reeling and struggling to meet production goals to satisfy the demand for products during the pandemic lockdowns, Automation Personnel Services kept its doors open. While it wasn't exactly business as usual, Automation Personnel Services was able to recruit, interview, and place candidates on assignment due to the company's flexibility that it provided to the potential workforce. The company did rely on technology, including investing in new platforms, while still delivering a personal experience.
The COVID-19 pandemic created challenges but also presented opportunities. With the emergence of technology such as Zoom, Microsoft Teams, and other online tools, Automation Personnel Services was able to meet with clients and job seekers in the setting that made the best sense for them.
While other staffing agencies closed their doors during the pandemic, Automation Personnel Services stayed open while carefully following all CDC guidelines. During this challenging time, recruiters could interview job seekers and the sales team could still meet with clients and prospects safely and effectively, online or in person.
"That blend was one reason why we were able to experience growth during the COVID-19 pandemic," said Soileau. "We still went out and saw our customers if they wanted us to and safely interacted with our associates either in person or in the digital realm."
The pandemic did expose some deficiencies within the company, primarily related to its operating system which had not changed in any significant ways in more than 20 years. As a result, many of Automation Personnel Services' processes, including payroll, onboarding, and marketing, were suddenly outdated and a liability.
Nordness decided Automation Personnel Services needed to upgrade, and after a months-long evaluation process, the company signed on with Avionté, a leading provider of cutting-edge software solutions for the staffing industry.
Once fully integrated, Avionte` will, among other benefits, automate and schedule many of the processes, communications, and reports that currently require someone to perform by hand each time.
"The last two years have forever altered how the staffing industry operates and it was time for Automation Personnel Services to make this investment into our future," says Soileau. "We are looking forward to working with Avionte`on this important process and look forward to partnering with them for many years to come."
While the decision to upgrade the company's software system was needed, Nordness was concerned about the timing. After two years of lockdowns, economic upheaval, and drastic interruptions to the industries Automation Personnel Services serves, Nordness had concerns about how the company's employees would respond to the implementation of a new operating system that would change their day-to-day workflow.
"About a year ago when I decided to change the software, I knew it would be a rough year for the company," Nordness said.
"We were still recovering from the COVID-19 pandemic while adjusting to an economic forecast that was anything but encouraging," Nordness added. "So, I assumed 2022 would be a difficult, transitional year for the company and I wondered if we could get this done in the midst of all of this chaos."
Following almost six months of training, data mapping, and coordination with the Avionté implementation team, Automation Personnel Services made the switch to the new operating system in November 2022. While there are still some wrinkles to be ironed out, the new system has already helped streamline many of the company's processes and will help it become even more efficient and nimble for years to come.
Nordness says the successful transition would not have been possible without the dedication and hard work of the Automation Personnel Services staff.
"I know our team was good, resilient, and innovative, but they really surprised me with the way they pulled off this software transition," said Nordness. "Honestly, I get choked up when I think about what we accomplished during all the chaos happening around us."
Responsibilities of the New President
In this his new role as President of Automation Personnel Services, Soileau says that his primary goal is supporting everyone in the organization while encouraging them to be efficient, innovative, and competitive. As part of the growing organization, Soileau believes in getting things done in the same way across the board and in the most efficient t way possible. Streamlining operations is one aspect Soileau is focused on in the short term. Soileau is focused on the processes that give the company competitive advantages over its competition. For Soileau, his job when it comes to the big picture is to offer his support to the employees of the organization. – David Soileau President
Award Winning Service
Automation Personnel Services consistently earns awards from independent sources, its peers, and its clients and associates. The company has won the ClearlyRated® Best of Staffing Client award for the last seven consecutive years and the ClearlyRated® Best of Staffing Talent award for the last four years in a row.
Additionally, Automation Personnel Services has been recognized in Forbes' Best Professional Recruiting Firms list (2020 & 2022), Staffing Industry Analysts (SIA) Top 100 Largest Staffing Firms and the Safety Standard of Excellence Award.
What's Next?
With the COVID-19 pandemic era mostly in the rearview mirror and a new operating system fully implemented, Automation Personnel Services is looking toward the future. The company recently opened two new branches – Orlando, Florida in 2021 and Mobile, Alabama in 2022 – and is eyeing new opportunities in 2023.
Soileau indicates that Automation Personnel will not only focus on growing market share in its existing markets but is taking steps to identify new markets for possible expansion in the years to come.
"I believe there are opportunities for us to accelerate growth over the next few years by taking care of our customers – and associates – within our existing markets and beyond," said Soileau. "The future for Automation Personnel Services looks very bright."