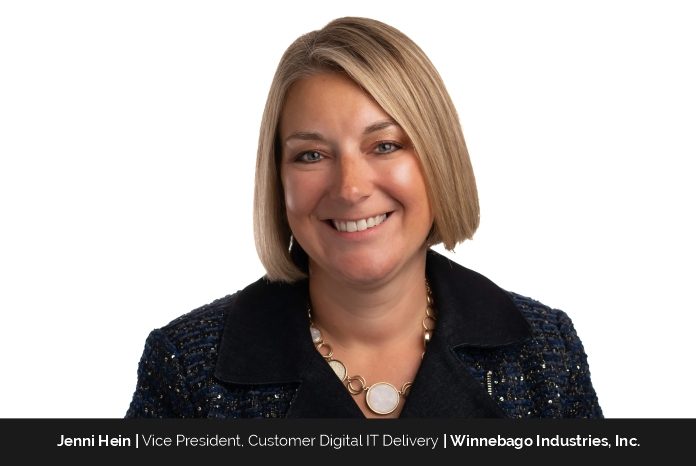 Adept at tackling complex problems and driving transformative change, Jenni Hein has emerged as a global force. With 25 years of experience, she empowers organizations to successfully navigate challenging strategic transformations by effectively communicating and rallying stakeholders around a shared vision that generates firm support and momentum. She promotes empowerment and collaboration with high employee engagement, resulting in exceptional team accomplishments.
Jenni nurtures and develops future leaders, especially women. Witnessing their success brings her immense satisfaction. Through mentoring and support, she empowers other women to reach their full potential, exceeding expectations and excelling professionally. As a forward-thinking leader, Jenni fosters curiosity, candor, and innovation and her approach leaves a lasting impact, with tangible results that push boundaries.
Embracing the Call of Nature
Jenni joined Winnebto helpIndustries because she resonated deeply with the company's purpose: help our customers explore the outdoors, enabling extraordinary mobile experiences as they travel, live, work and play. She feels called to be part of a community that embraces creating cherished memories in the natural world. Growing up, she experienced the joy of road trips, camping, hikes, and fishing with her family, passing these traditions to her own children.
Nature evokes awe, tranquility, and connection for Jenni. The sculpted landscape of the Pacific Northwest by the mighty Columbia River fills her with wonder. Warm sand between her toes and the soothing waves along the Gulf coast bring her peace. The rustling breeze among pine trees and the serene waters of Jenny Lake in the Grand Tetons captivate her.
Fearless and Focused
A coach once described Jenni as a risk-taker, someone who is willing to take leaps of faith without a safety net, confident in her ability to find a way to land safely. "I see a strong drive to see work through to completion, prioritizing pragmatism and distinguishing between what truly matters and what is merely 'nice to have,'" Jenni says.
Jenni understands that progress and momentum hold greater significance than striving for perfection. This perspective has often led her to take the initiative in guiding team conversations towards action, encouraging experimentation, and being open to adjustments along the way.
Additionally, Jenni has been fortunate to have strong sponsors and advocates in her corner. These individuals provided her with opportunities to showcase her capabilities and shine in various situations, further supporting her professional growth and development.
Driving Customer-centric Transformation at Winnebago Industries
Jenni oversees application development for customer and employee software solutions at Winnebago Industries. Her responsibilities include web and mobile development, connected vehicle technology, CRM, and HRM. Jenni collaborates extensively with internal functions such as sales, service, marketing, communications, and human resources to enhance the customer and employee experience. She actively contributes to strategy creation and implementation, aiming to improve customer satisfaction. She also leads technology-driven business transformation, collaborating with her teams to establish a vision and roadmap for the organization's future. Jenni serves as a coach, guiding her team through the challenges and uncertainties of the transformative journey, fostering resilience and motivation.
In addition to internal collaborations, Jenni engages with third-party partners daily, seeking their expertise in estimating, scheduling, and implementing innovative operational approaches. This multi-faceted approach allows her to leverage external knowledge and resources to drive positive change within the organization while building internal knowledge and capability through exposure to new, external ideas and methods.
Enhancing Efficiency and Experience
Jenni's team of knowledge experts collaborates with Winnebago Industries' brands (Winnebago, Grand Design, Chris-Craft, Newmar, and Barletta) to enhance customer knowledge and satisfaction with the products. They work closely with the brands and third-party partners to develop and implement software solutions, improving worker efficiency and the ability to understand and measure customer experience. Their customers include both product consumers and the network of dealer partners who offer sales and service directly to consumers. They also support the employee experience by partnering with internal HR, Communications, and Finance teams.
As a leader, Jenni firmly advocates for the concepts of lifelong learning, growth, and relationship building. One approach she takes is hosting cross-functional book clubs. These clubs cover a range of topics, from personal growth and understanding human behavior to effective communication, building trust, and emerging technology trends. The women's book club she leads focuses on obstacles women face in career progression, as well as building financial literacy and confidence. This book club is part of Winnebago Industries' Women Inclusion Network, an employee resource group dedicated to supporting the professional development of women within the organization. Research indicates that discussing thoughts and reactions with others after reading a book helps embed knowledge more deeply in adults' memory compared to reading alone. Jenni leverages this knowledge to encourage meaningful discussions that enhance learning and understanding within her teams.
Nurturing Personal Life Amidst Professional Demands
Recognizing the importance of flexibility and work-life balance, Jenni actively takes vacations and encourages her team to do the same to maintain well-being. As her children have grown, Jenni has become more intentional with her time, ensuring work doesn't consume her entirely. She finds moments to relax in her garden or take breaks for walks and playtime with her dogs. Jenni has co-founded "funcos" (fun committees) to foster stronger relationships among colleagues. These committees organize various activities like group walks, volunteering, and food-related events, adding enjoyment and camaraderie to the workplace.
A Broader Perspective
Jenni has acquired the valuable skills of maintaining an optimistic outlook, keeping a broader perspective, and consistently moving forward with a problem-solving mindset. She recognizes that humans can often become demotivated or feel like failures when faced with obstacles. However, Jenni has learned that the key to overcoming these challenges lies in swiftly zooming out to understand the bigger picture, assessing the potential consequences, redirecting focus towards the future, and formulating a concrete plan of action.
When confronted with a setback, Jenni actively engages in identifying the barriers at hand and ways to overcome them. In collaboration, the team generates a comprehensive list of options and evaluates impacts and associated risks. By working collectively to tackle the problem, Jenni and her team can determine the most effective course of action and propel themselves forward. This systematic approach not only fosters motivation but also ensures progress despite any hurdles encountered along the way.
Unveiling the Untapped Potential
Throughout the past year, Jenni has consistently inscribed a powerful statement on her whiteboard: "Transformation ain't for punks!" This phrase serves as a daily reminder for her and her team, reinforcing the notion that undertaking significant change requires strength, determination, patience, and resilience. As the journey of digital transformation at Winnebago Industries unfolds, Jenni acknowledges that there is still a vast expanse of untapped potential ahead. She eagerly anticipates the ongoing collaboration with her team, stakeholders, and third-party partners, recognizing that their combined efforts will pave the way for a successful and impactful transformation.
Sharing the True Essence of Leadership
Jenni also recognizes that the key to achieving success lies in the composition of your team and the culture fostered within it. The most prosperous team comprises individuals with a wide range of skills and abilities. They cultivate a culture that encourages asking questions, seeking support from one another, fostering genuine connections, and showing genuine concern for each other's well-being. Moreover, they willingly lend a helping hand to their colleagues, regardless of hierarchical positions. She believes that it is a leader's duty to guide and inspire team members, ensuring these principles become embedded in organizational culture.
In her message to aspiring young leaders, Jenni emphasizes that there is no need to actively chase success. Instead, she highlights that success "has a way of finding individuals who remain humble and hungry, willing to put in the effort." Jenni encourages them to roll up their sleeves, get their hands dirty, and wholeheartedly engage in the work that needs to be done. "By embracing a mindset of humility, dedication, and active participation, aspiring leaders can create opportunities for themselves and others, leading to fulfilling and impactful careers."