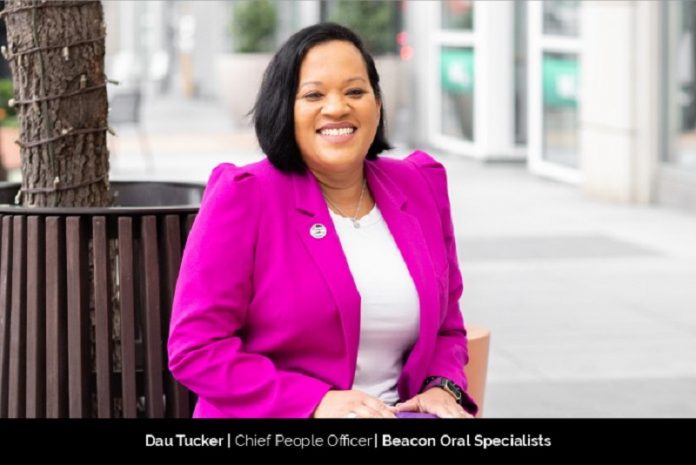 Like many HR professionals, Dau Tucker, Chief People Officer of Beacon Oral Specialists, fell into HR somewhat by accident. At the age of 19, Dau worked in furniture retail in customer service and one day her HR Manager approached her and asked if she would be interested in covering for her while she was on maternity leave.
"What an honor to be asked as she saw me as the most capable to take on the role. I appreciated the role she played within the company to provide employment opportunities, so I was quite intrigued. She never returned and I became the HR Manager," Dau recalls.
Dau's inspiration in life came from having watched her phenomenal mother – a Vietnamese immigrant who never sat in a classroom a day in her life and grew up very poor in Vietnam – become an Executive Chef and Production Manager, teaching Marines and civilians how to cook and manage the mess halls on Camp Lejeune.
"That was enough inspiration for me to have no excuses, step out on faith and become that natural leader that I have always meant to be. I am inspired through serving and always trying to find a way to make what seems impossible, possible," Dau declares.
With vast experience in all facets of human resource management dating back over 25 years, Dau has a successful track record in leading HR services with mergers & acquisitions, people integration, talent acquisition, employee engagement, leadership development, HR startups, and corporate communication.
Becoming an award-winning HR professional
Dau began very early in the HR profession, having started in human resources at the age of 19. When she moved into healthcare it was a natural fit as serving others aligns with her personal core values and the mission of every healthcare organization she has served.
Prior to joining Beacon Oral Specialists, Dau spent over 20 years in healthcare, where she served as a consultant for non-profit hospital systems across the country, as well as an HR leader, starting up newly formed multi-specialty physician groups. "I've spent the last six years in private equity-sponsored healthcare organizations, heavily involved in supporting mergers and acquisitions," she states.
The most compelling evidence of how influential a leader Dau is, was when she was awarded the Cheryl Troy/Craig Wood Award in 2003, by the Northeast Human Resources Association (NEHRA) a chapter of the Society of Human Resource Management. The award was given in memory of two HR/Payroll professionals who were killed at Edgewater Technologies in Massachusetts as a result of workplace violence.
"I received the award for exemplifying compassion, excellence, and professionalism in the practice of human resources," says Dau. What an honor to receive such an award, and most importantly, what a humbling experience to be given an award in the name of two HR professionals who lost their lives while doing their daily work in the practice of HR."
"Be the change you wish to see in the world." ~ Gandhi
Business leaders that specialize in HR services
Beacon Oral Specialists is a company owned and led by oral surgeons and sponsored by Blue Sea, their private equity sponsor. Beacon provides all back-office business support to its oral surgeons across the country and aids in their growth trajectory.
Beacon's plans are to grow the business and become the leading oral surgery platform in the nation by partnering with the top-tier surgeons who lead their businesses. "Quite simply, we remove the administrative burdens so our surgeons can focus on the great care they provide to our patients daily," Dau explains.
With 25 years of human resource leadership and experience in startup companies such as Beacon, Dau's scope of responsibilities includes talent acquisition, learning, and organizational development, employee engagement/relations, total rewards, people integration on new acquisitions, and multi-state payroll services
"I thrive on creating the foundation and building culture. In less than 18 months, we have acquired nearly 20 oral surgery practices and expanded our footprint into 10 states," says Dau. "I am proud to say that HR plays a vital role in acquisitions, and we're front-facing with staff to aid them in the transition. We have successfully retained 98% of the staff that we acquired, which is a testament to the work we do to aid in our company's growth."
Dau points out that HR has evolved so much over the years. It has gone from being considered a transactional function of the business to being a business partner vital to success and contributing to the bottom line.
In the ever-changing landscape of business, Dau has been able to come to the table leveraging technology to create efficiency and scale, while being creative and innovative to differentiate Beacon from their competitors. "The view of HR has changed, today we are not considered HR leaders; we are business leaders that happen to specialize in HR services," Dau maintains.
Creating a better working environment for underserved and vulnerable populations
"I have so many proud moments in my career!" Dau proclaims. "I would say one of my greatest achievements is when I can take on a challenging business such as my previous company, Caregiver, Inc., where 80% of the employee population were minimum wage workers."
Dau explains that these were people who may not have had the highest education but had the biggest hearts for caring for adults with intellectual and developmental disabilities. One of her proudest achievements was creating a culture that employees wanted to be a part of while providing resources to staff that could not afford basic benefits.
Other achievements that Dau takes pride in were creating training programs and partnerships to recruit staff while reducing turnover by 50 percent. In particular, she found it profound to be able to create a better environment with all the challenges in a business with an underserved and vulnerable population and be able to positively impact the bottom line.
"During my tenure, I creatively offered employees more by costing the company less and saved the company millions. Ultimately, my partners and I led the company to a successful sale and new private equity sponsorship," she states.
"The same person you look down on may be the same person you will look up to – never mistreat people because you never know when you'll need them again."  ~ Dau Chapman
Staying focused and grounded by focusing on her 'whys'
Success for Dau is when she can make a lasting impact on the organization she serves and those she encounters through daily interactions. From an organizational perspective, that could mean developing programs and services that differentiate them in the industry and that bring value to their organization.
"For me, it's quite simple… my job is to take care of the people (employees) who take care of our people (patients). My team and I do that by continuously working on positioning ourselves as an employer of choice, attracting talent to our organization; providing equitable compensation, benefits, and programs that enhance employee development and engagement," she says.
As it relates to people, it could be developing a young HR professional and watching them grow in the profession through mentorship and support. Dau recalls that she had a mentor ask her one day, "What made you great?" and her response was that she was not great. Her mentor, of course, disagreed and said that she had become great because she learned from the mistakes that she had made personally and professionally.
"I believe that experiences in your life are lessons learned. I have no regrets about anything that I have experienced, negative or positive. I would say the most valuable lesson learned through my professional journey was being okay with not being everyone's cup of tea. Trying to fit into every mold can be exhausting and divert you from what you're trying to achieve. Being authentic is so important. We are all unique and that diversity brings innovation," Dau insists.
She also remarks that she has learned to tune out unnecessary noise and focus on her "why."  "Why was I hired to be part of this great organization? Why is my role important, and how do I contribute to the organizational goals to bring value? Why do I enjoy the work I do every day? Focusing on my 'whys' keeps me focused and grounded so I can continue on the path to success," Dau explains.
"No one can make you feel inferior without your consent." ~ Eleanor Roosevelt
Finding balance with work/life integration
Dau notes that every workday is different in the world of HR. Most times, she can be found in meetings, cross-collaborating with other departments on organizational strategy while working with her team on the tactical initiatives they need to accomplish to execute their goals.
However, she's willing to go out on a limb and state that work/life balance does not exist for leaders. "Most HR professionals may frown on me saying this, but, when you're in a leadership role, work/life balance does not exist. However, work/life integration does," she clarifies.
As an example, Dau explains that if she takes her family on a trip to Cancun, she might wake up at 5 a.m. and work through 9 a.m., eat breakfast with the family and hop on a meeting, then join them for a mid-day excursion, end the day with another meeting, then have dinner with the family.
"For me, integrating my personal and professional lives satisfies both worlds. On days that I don't do so well at integrating the two, I feel like I have neglected one over the other, and that is never a good feeling. Integration has become my balance," Dau maintains.
With every interaction, HR leaders can change a life
When it comes to keeping herself and her team motivated, Dau remarks that she likes winning. "I like winning for myself, my company, and my team. Knowing that I am achieving a great outcome that brings value to our employees and the bottom line always keeps me motivated. Waking up every day knowing that I can serve others and change a life in every interaction gives me great joy and fuels my motivation," she states.
In her parting message to aspiring HR leaders, Dau remarks that HR is a tough role in any organization. "Always remember your 'why' to keep you grounded so you can deal with the complexities that you encounter each day. Create your own leadership legacy statement and stay true to it. Lastly, if you have a servant's heart, you will always lead with the greatest intentions," she advises.
Dau also points out that HR leaders have an opportunity to change a life in every interaction they have throughout the day. "What a great impact you can make on the lives of so many, as our reach is broad. You've been chosen to be responsible for people, the most valued asset of the business, and you are in this role because you're the best at it! Stay encouraged!" she proclaims.
"Looking back won't move you forward and looking down won't move you up – keep your head up high and look ahead. The future is there and within your reach. It's the one you've been waiting for." ~ Dau Chapman