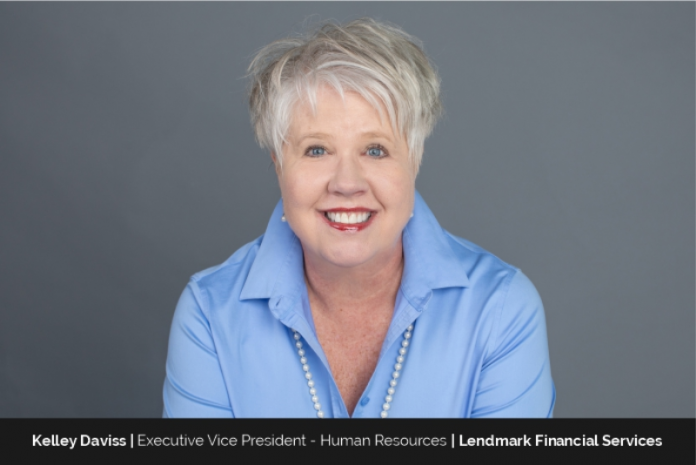 Introduction:
"Do What You Love, Love What You Do," proudly affirms Kelley Daviss as she gestures to the engraved inscription on a vase on her office credenza, which she firmly believes and enjoys sharing with her colleagues.
In our latest feature, we spoke with Kelley Daviss, the executive vice president of human resources at Lendmark Financial Services, to learn about her take on the ever-changing HR landscape, as well as the unique pressures and opportunities that face senior HR professionals today.
When queried about her definition of success, Kelley highlights the importance of being in the appropriate role, making a meaningful difference in the lives of those around her, and consistently delivering her best work. "Most of us want to grow our careers in the traditional ways — position, scope, responsibility — and I am no different. Yet, driving my ambition and, most important to me, is feeling a sense of service to those I support. That may look different every day." she explains. Kelley adds, "being part of something bigger is important to me."
Kelley's role at Lendmark is multi-faceted, encompassing Human Resources, Corporate Communications, Public Relations and Corporate Security responsibilities. It requires her to be flexible and prepared for any challenges while ensuring she exceeds the expectations of her 2,200+ employees and external partners.
The satisfaction of making a difference in the lives of others is what drives Kelley in her work, whether it's supporting their professional growth, helping them find solutions to employment and life challenges, or creating programs to enhance their work experience. She believes everyone deserves to find joy, happiness, and a sense of belonging in their work since they spend more hours each week at the office than at home. To Kelley, success is about helping others find that fulfillment.
Early Life Objectives and Path to the Human Resources Industry
As a child, Kelley always envisioned a career in the city with a briefcase in hand and a leadership role to play. Her love for managing people, projects, and deliverables only grew stronger through her college years, where she honed her skills as a formal and informal leader in several different areas. With two degrees in Business and Behavioral Science, she approached the workforce in the mid-eighties with a thirst for knowledge and a drive to succeed.
It was a newspaper ad for a Personnel Representative at a drug store chain that first caught Kelley's eye, but she faced an uphill battle with no professional work experience to speak of. However, her experiences as a member of the President's search committee and as a "Tiftonian" recruiter while a student at Tift College provided her with transferrable skills that made her a viable candidate for the job. With the support of her manager, Kelley's start in HR was off and running, and she never forgot the importance of supporting and mentoring those around her.
Kelley now looks back on her journey with pride, knowing that her passion for people and leadership has led her to a successful career in the HR industry.
Overcoming Her Fears: How Kelley Emerged as a Trailblazer in the HR Industry
As a young student, Kelley was haunted by the fear of public speaking. That was until her junior high school English teacher, Mr. Larry Joe Wiley, challenged her to break out of her shell. Despite her discomfort, he pushed her to present her work orally, which later proved pivotal in her leadership journey.
In spite of the initial struggle, Kelley took Mr. Wiley's encouragement to heart and worked tirelessly to overcome her fear. And while she still feels nervous before speaking in front of large crowds at times, it's now a feeling that energizes her. She realized that being mild-mannered, kind, and soft-spoken wasn't a weakness but a strength that set her apart as a businessperson where many thought aggression was the key to success.
Through her unwavering commitment to authenticity, Kelley has achieved a level of success that would have eluded her had she tried to be someone she wasn't.
Lendmark Financial Services: A Place for Growth and Giving Back
Kelley Daviss, who joined Lendmark nine years ago, speaks highly of the company. Lendmark provides consumers with personal and household credit and loan solutions and has grown from 96 branches and less than 500 employees at the time Kelley joined to over 500 community-based branches in 21 states serving nearly 500,000 customers annually.
Kelley shares that she joined the company when it was still relatively small, but with its growth trajectory, she has not had a moment to rest. She has also been instrumental in building a world-class human resources organization at Lendmark.
The company also supports two important efforts that Kelley is extremely proud of, Climb to Cure and its Veterans Integration Program (VIP). Climb to Cure is an ongoing effort to raise funds for pediatric cancer research and awareness. To date, Lendmark employees, partners, and customers have raised $4.7 million, intending to reach $10 million by 2025. The VIP initiative is aimed at helping employee veterans, veteran spouses. and caretakers to integrate into civilian work and is nationally recognized for its efforts. On Armed Forces Day, Memorial Day, and Veterans Day, VIPs are formally recognized with gifts, mementos, activities, and even personal phone calls from senior executives thanking them for their service.
The Path to Success: Kelley Daviss' Reflections on Overcoming Professional Roadblocks and Lessons Learned that Helped Lendmark Grow
Lendmark has seen incredible growth for years, with opportunities at every turn. However, with this rapid expansion came a new set of challenges: ensuring the proper development of talent to support growth. With the added stress of a significant acquisition that required everyone's full attention, it wasn't easy to allocate the necessary time and resources to developing the next generation of leaders within the company.
Determined to overcome this roadblock, Kelley and the team at Lendmark implemented a succession planning process that brought structure and discipline to prepare for the future. By sharing information and developing comprehensive succession plans with clear accountabilities, they were able to focus on the development needs of their most promising employees.
Kelley and her team also recognized the value of investing in their current employees and established career ladders and professional development programs to help them reach their full potential. In addition, a new functional area was added to the HR team – Organizational Development – to support this effort further. The team also hired a seasoned VP to lead this function and oversee the implementation of their servant leadership philosophy-based LEND Program and Executive Leadership Program (ELP) for high-performing, emerging leaders.
While Lendmark still looks outside the company to find talented individuals, they take great pride in providing opportunities for their current employees to grow and thrive. Through this combination of investment and determination, Lendmark continues to grow and overcome any roadblocks that come its way.
Kelley's Role in Transforming the HR World in Real Time
According to Kelley, she has witnessed a significant transformation in the HR industry over the years. In her early days, HR was seen as a transactional and task-oriented department, commonly known as the "policy police." However, with the advancement of technology and the changing needs of the marketplace and talent management, HR has become a driving force for company culture and a direct link to the bottom line.
Kelley shares that she never wanted to be seen as a threat to employees, but instead, she strived to be a positive force in the workplace by being transparent, professional, and a trusted partner to her team. She hires people who share the same philosophy and strives to empower employees by breaking down the negative perception of HR.
Kelley's approach has been successful, as she is often complimented for being different from other HR professionals that people have worked with in the past. She hopes to have made a small contribution to the HR profession by changing opinions and being a trusted partner to employees.
Kelley Daviss' Goals for Advancing Future Women Leaders
Kelley Daviss is a shining example for women in leadership positions, and her inspiring story serves as a reminder of how significant it is to give women a voice in the business world.
Kelley speaks about her journey as a woman in leadership and her views on influencing the next generation. According to Daviss, her journey has been rewarding despite some challenges along the way.
Despite these challenges, she considers herself fortunate to work for leaders who encouraged her growth and helped her to be recognized in the workplace. She also spoke highly of her current leader at Lendmark, Denny Contic, who has been instrumental in her growth and development.
Daviss is determined to pay it forward by helping other women reach their aspirations. She believes that it is her greatest accomplishment to have a hand in assisting others in growing and reaching their goals. She has several inspiring stories of women she has mentored who have gone on to achieve great things in their careers.
When asked about her vision, Daviss states, "I hope my impact is providing others in my profession encouragement, a hand, freedom to try and sometimes fail, a connection, sharing an experience I have had that may keep them out of a ditch, or an opportunity to be whom they want to be."
Kelley's Professional Journey: Resilience, Achievements, and Accolades
Kelley Daviss, a seasoned Human Resources professional, proudly reflects on her achievements, citing her resilience as the first one. She has worked through a difficult time of mergers, acquisitions, closures, and downsizing in prior roles, yet never let it hold her back. Instead, she used the experiences to treat people with compassion, being empathetic to their struggles.
One of Kelley's most significant achievements was her role as the HR Manager for an organization that was the longest-standing Olympic partner. During the 1996 Olympics held in Atlanta, she was tasked with recruiting, hiring, onboarding, and training over 7,000 employees for the Games. The project was an 18-month journey filled with challenges, but Kelley was resilient and accomplished her goal, even under budget.
Kelley was also recognized for her excellent work and awarded the President's Award of Excellence by her President and CEO at Lendmark Financial Services. She was overwhelmed by the recognition and proud to be a part of Lendmark.
Another memorable moment for Kelley Daviss was when she represented Kodak as an HR Business Partner and carried the Olympic torch on its journey from Atlanta to Salt Lake City. She had the chance to chat with Paula Zahn, a national TV journalist, while they waited for their turn to carry the torch. Kelley describes her run as her "best Kodak moment."
Responsibilities as the EVP of HR at Lendmark Financial Services
Kelley, the Executive Vice President of Human Resources at Lendmark Financial Services, shared her roles and responsibilities at the company. According to Kelley, she manages three functional areas at Lendmark, including Human Resources, Corporate Communications and PR, and Corporate Security. "My role is to align the people, communications, and security strategy to enable the business operations to ultimately serve the customer in a way like no other. Ensuring a well-rounded employee experience is my top priority," she conveys.
Kelley also leads teams that support the platform of being an "Employer of Choice." "We want to ensure that employees have an experience where they choose us daily," she states. Since Lendmark is in the relationship business, she believes that the satisfaction of its employees is crucial to the company's success.
Kelley recalled her interview experience at Lendmark, particularly her last interview with the company's founder and CEO, Bobby Aiken. "Bobby told me he wanted to find someone who would love Lendmark's employees as much as he did. I am grateful that Bobby and Denny asked me to be that person. Our employees are easy to love," she adds.
Empowering the Workforce: Kelley's Secrets to a Motivated Team
According to Kelley, a successful HR professional, the field has undergone significant changes in the last decade, primarily driven by the evolving employment landscape and people's changing views of work. Kelley emphasizes the importance of earning trust and creating a balanced work environment to motivate her team. She celebrates wins, both big and small, with her team and has implemented a "Lending your Time" program for peer-to-peer recognition.
"I want my team to bring their whole selves to work, and for them to do that, they have to feel trusted, and they have to trust, but I have to earn that from them every day," Kelley says. "We are people; we have personal lives, families, and things we want to do."
To lighten things up, Daviss uses her sense of humor to keep her team laughing and smiling. "I like to keep things light. Our jobs are hard sometimes, and we should have some fun while at work," she explains. "That keeps me motivated – to see them smile."
At the end of the day, Kelley's goal is to create a motivating atmosphere where her team feels valued, has growth opportunities, and is recognized for their hard work. "I strive to create a motivating environment where people feel valued for their contributions, the ability to develop by providing them with growth opportunities, and recognition for a job well done," Kelley concludes.
Kelley's Life Outside of Work: Finding Balance in the Fast Lane
"It's not easy to disconnect when you love what you do, and the people you work with feel like family," says Kelley of Lendmark Financial Services. "But it's important to have that balance in life."
She values her relationships with her family and close friends, spending as much time as she can with them. "My parents always taught me that I could be anything I wanted to be and do anything I wanted to do," she reflects.
When not spending time with family and loved ones, Kelley enjoys traveling, socializing, perusing real estate and pursuing new interests. "I love to travel, whether it's a quick trip or a big adventure," she shares. "I also enjoy spending time at the driving range and shooting range, and I'm also an aviation buff with a few flying lessons under my belt."
Kelley's zest for life doesn't stop there. She's also an avid decorator and enjoys adding the finishing touches to her newly built home. For her, finding balance in her personal and professional life is about finding joy and never losing sight of what's truly important. "I believe that if you have a passion for what you do and surround yourself with people who support you, you can have it all," she says.
Lendmark Financial Services Exciting Future and Kelley's Legacy Goals
Kelley, the EVP of HR at Lendmark Financial Services, spoke about the exciting future of the company and her personal goals for the next few years. The company's roadmap looks bright, with plans to expand its footprint and provide household credit for more families for both planned and unplanned events. Kelley emphasized the importance of career growth opportunities for employees and continued support for their important causes, primarily CURE Childhood Cancer.
Regarding her personal goals at Lendmark, Kelley wants to solidify her legacy and leave the company better than when she first came. As she winds down her career in the coming years, she wants to set the next generation of leaders up for success, so they take on their next role with confidence. That's my contribution," Kelley says.
Kelley's dedication to the future of Lendmark and her commitment to positively impacting the company and its employees are truly inspiring. With a clear roadmap and personal goals in mind, the future looks bright for Lendmark Financial Services.
Stepping Stones to Success: Kelley's Message to Aspiring Women in Business
Kelley, who has made a successful career, shares her philosophy with aspiring businesswomen on what it takes to succeed in the business world.
"Just like my parents taught me: You can be anything, you can do anything. You just have to set a plan and work for it. And don't do it at the expense of those around you," said Kelley.
She emphasized the importance of caring for others, not just oneself, as a key factor in success. According to Kelley, what sets Lendmark apart is that employees care just as much about each other's success as their own. "If you do that, really sincerely do that, then you'll have a very rich career," she states.
Kelley also stresses the importance of doing the right thing, even when it may be difficult. "Always do the right thing, even when it's hard. I promise it will pay off," she conveys.
Her words of wisdom and experience offer a unique perspective for aspiring businesswomen. Success can be achieved by setting a plan, caring for others, and always doing the right thing. In conclusion, Kelley Daviss is a true inspiration to women in leadership, and her vision and journey serve as a reminder of the importance of empowering and motivating the next generation of businesswomen.