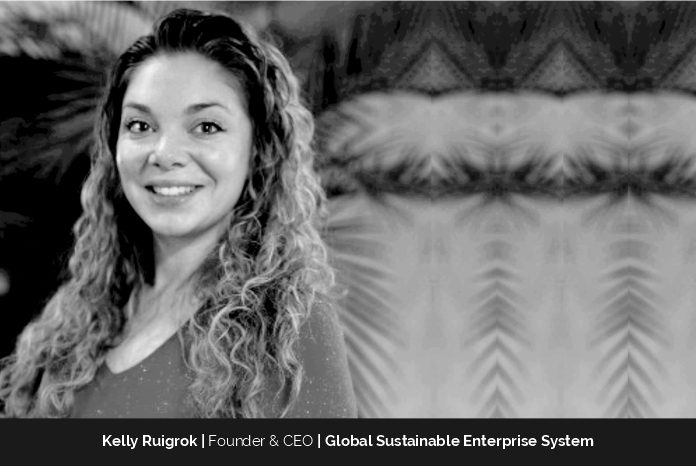 Ecolabeling is an effective industry policy approach for addressing environmental issues without relying on controllable environmental legislation. Eco-labels are a way for businesses to measure performance while simultaneously conveying and promoting a product's environmental credentials. And, critically for governments, these instruments push producers, and consumers to adjust their behaviour in the direction of long-term sustainability.
Kelly Ruigrok, a dedicated serial entrepreneur, founded the Global Sustainable Enterprise System, the National Sustainability Institute of the Netherlands, and Data for Good. Her enterprises have the same objective, but each has its own ecosystem of stakeholders. The objective is to make the world a better, more transparent, and freer place for children and future generations. She shares, "Anyone can do anything, just believe in yourself and ask the right questions in the right places."
The Global Sustainable Enterprise System (GSES System) is the most widely used and trusted sustainability rating platform in the world, based on third-party verified data.
GSES
Traditional sustainability reporting takes time and money. With an avalanche of complicated information and laws, understanding, measuring, and managing your sustainability performance without assistance is difficult.
The Global Sustainable Enterprise System (GSES System®) is a well-known platform that assists you in assessing, verifying, and certifying your sustainability performance at the process, supply chain, and product levels. Accurate certified data. The GSES system effortlessly and cost-effectively links over 500 eco-labels and sustainability certificates and utilizes globally accepted criteria to analyze sustainability performance holistically.
The platform may be used for procurement, asset management, product consumer ratings and corporate governance. A wide range of businesses, including the Province of Gelderland in the Netherlands, Univé, ABN Amro, Jumbo, Heerema Marine Contractors, and many other multinationals and corporate companies, use the GSES System as their safe haven to make data driven decisions.
Making her Contribution for Greater Good 
Kelly's career began with the establishment of the National Sustainability Institute in the Netherlands in 2017, which provided a solid methodology framework for the creation of the GSES-System. So far, the recognition she has received has all been extremely fulfilling on both a personal and professional level. She shares, "We have a lot of shared ambitions with our clients and partners. By working together, we make sustainability accessible and transparent." The team has collaborated with governments and big players in the industry like the World Expo 2020 in Dubai to help make the mega event more sustainable. And they are now partnering with the US based Blue Planet Alliance to reach out to customers and assist in bridging the knowledge gap that exists between consumers and businesses on sustainability performance.
According to Kelly, developing the GSES System was an unusual journey since the team constructed a disruptor in order to revolutionize the green-washed market. It is the only SaaS platform that connects businesses of all sizes with certifying organizations, guaranteeing that their sustainability performance is validated and trustworthy.
The cornerstone of GSES is guaranteeing trust, and Kelly and her team are working on providing trust throughout the whole supply chain of products and organizations as well as guaranteeing customer trust and transparency between them and the e-commerce site from where they acquire their items. Today, GSES collaborates with over 110 nations and operates in over 70 industries.
Leading Together
According to Kelly, her inspiration for leading a company came from the collaborations and fruitful connections she made along the way. She says, "It is not about going fast alone, but going as far as we can together." She had a great belief in the environment she gradually created around her, which is now a solid basis for GSES, her team, and its members. The platform was created and is still being updated with the help of expert panels, since the entire team believes in research-based solutions.
Kelly's greatest struggle was dealing with those who underestimated her ability as a founder and CEO. Nonetheless, she embraces every obstacle and instructs her employees to do the same, since this is the only way to establish a strong and lasting business.
Kelly finds that keeping her team and herself motivated is easy as they are all aware of the worth of their hard work. "I am privileged to be surrounded by fantastic partners and talented colleagues. Through knowledge sharing and trust we have already made the unthinkable possible together, and we have only just started. That makes me proud.," Kelly explains.
Success for "Kelly"!
According to Kelly, success is frequently judged in hard labour, and although this is somewhat accurate. She emphasizes that success is more than just meeting goals; it is also about finding answers to social challenges. This is why she established the GSES-System: to address the issue of untrustworthy and opaque ESG ratings and tooling that are now being used.
A World with More Awareness of Eco-Labels
As Kelly said previously, the most important plan for GSES in the future is to narrow the knowledge gap in the certification and eco-labels, which are both trendy and untrustworthy, as Kelly indicated previously. Thus, helping to spread awareness about the data behind ecolabels and make 1 overarching rating card per product and brand!
What Client Says-
"The GSES System is very useful for procurement professionals, for example, to be able to make sustainable choices for the right suppliers and products." Karin van IJsselmuide | CSR Program Director NEVI
"We have adopted a wide-ranging approach to achieving our site-wide sustainability goals, underscoring our bold ambitions with grand action to integrate sustainability into all of our experiences and operations. Our collaboration with GSES System is emblematic of these efforts, supported by the sustainability commitments of our stakeholders as we work together to host one of the most sustainable World Expos in history and create a meaningful, measurable impact beyond the site and our 182-day run."- Dina Storey | World Expo 2020 Dubai
"The Netherlands Pavilion's theme of 'Uniting Water, Energy, Food' contributes to more awareness and international cooperation in achieving some of the Sustainable Development Goals (SDGs). At the pavilion, we will be showcasing how working together we can contribute towards achieving some of the SDGs, thereby reducing the footprint to as low as possible. We are delighted that the Dutch company GSES System has developed such sophisticated measurement techniques regarding sustainable impact that help contribute to these important goals". – H.E. Lody Embrechts, Ambassador | Kingdom of the Netherlands