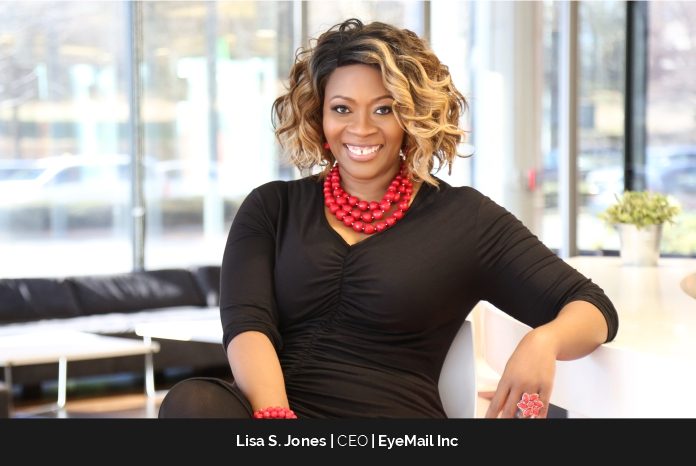 It has been 50 years since the process known as "email" was developed. According to studies, email is still the preferred mode of communication for 74% of all internet adults, and 95% of email users check their inbox every day, with some checking up to 20 times per day. 58% of individuals surveyed said they check their email first thing in the morning.
It's exciting to see how long email has been around. It's also worth noting that, after 50 years, regular email has stayed substantially unchanged. We've all experienced being swamped with email messages, when short attention spans reign supreme.
Owner of multi-patent pending technologies in the digital communications, video-in-email space, Lisa S. Jones is the Founder and Chief EyeMail Officer (CEO) of EyeMail Inc.  EyeMail is a patent-pending marketing communications technology that enables full video (up to 60 seconds) to play automatically inside email and mobile devices to increase customer engagement.
EyeMail breaks through the inbox clutter, as a competitive differentiator. To increase open rates, the technology automatically plays high-quality video inside the email and retains action buttons adjacent to the video to increase click through rates. The EyeMail experience is delivered in average 15kb file size, with no downloads, thumbnails, five-second animated gifs, or URLs necessary to play it in the inbox.
EyeMail believes in the importance of inclusiveness and accessibility in enabling communication experiences. According to the World Health Organization, over 466 million people worldwide have disabling heard loss. In consideration of reaching a larger (untapped) audience, EyeMail has added a closed captioning feature to enable viewers to engage and follow along with the words as the video content is playing. Close captioning is not only the proper or right thing to do for your customers, but it also provides a high return on investment.
Innovation is a core part of EyeMail Inc.'s DNA. As a cohesive team, they collectively brainstorm, categorize, and test new ideas in its roadmap to further advance communication in the inbox, mobile, and text messaging. The team constantly researches and monitors industry trends and predictions. Lisa shares, "We focus on helping customers elevate their email effectiveness and inspire action."
Customer communications, event marketing, and employee engagement activities are among EyeMail Inc.'s primary target audiences. This is a one-of-a-kind, customer-focused medium. When using EyeMail, video in email campaigns generate an average of 60% unique views and a 38% click through rate, compared to industry standard email rates of 20% and 4%, respectively.
Consumers today are highly visual. With EyeMail, the evolution of video in email technology will enable companies to create captivating storytelling experiences directly in the inbox and on mobile devices. It will also enable the repurposing of advertisements, commercials and movie trailers to harness email as an immediate engaging new channel to increase customer interaction. Video in email advancement inspires action, personalization and further results in a significant increase in open and click-thru rates, driving ROI.
The Beginning of an Inspiring Journey
Lisa's work began in logistics at NASA, and after a few years, she chose to go to Atlanta to further her career in the telecommunications business. She obtained extensive experience and expertise as a corporate executive in the areas of infrastructure management, product management, and supplier diversity. Working in the Office of Supplier Diversity allowed her to gain a thorough understanding of corporate initiatives to ensure an inclusive supply base; the value of supplier partnerships, and the advancement of support for diverse and women-owned business enterprises to facilitate access to equal contract opportunities and introductions. All of Lisa's career roles and responsibilities over the years have helped to expand and shape her vision, outreach, focus, understanding, and determination to see EyeMail Inc. continue to grow globally.
Seeing through challenges
As an African American woman CEO and innovator, building a marketing technology brand (and originally from Alabama), Lisa has faced considerable roadblocks. She shares, "My journey has included several peaks, many valleys, and even more curves."
"Challenges help you see beyond your current status to explore new ways to solve problems and overcome obstacles," says Lisa. She further explains that challenges allow you to think strategically and build your critical thinking skills. She asserts, "Challenges allow you to know that you have the skills to see a problem through to completion and the confidence to know that you will handle other challenges as they appear and to know that challenges are not the end of the world."
According to Lisa, whenever she is faced with a challenge or a setback, she reflects on one of her favourite quotes by Henry Ford, where he states: "Failure is simply the opportunity to begin again, this time more intelligently."
A compassionate leader
Lisa has been the CEO and Founder of EyeMail Inc. since 2004. She is a digital pioneer and disruptor in the marketing communications space. She manages a mission-driven diverse team that is responsible for the company's strategic direction and vision. She is also in charge of overseeing and managing the global growth of the EyeMail brand in overseas markets. The company's activities have grown to Canada, Mexico, Pakistan, Africa, India, and the United Kingdom. Lisa's role also includes inspiring unique ideas and concepts in order to create novel communication experiences based on email, webmail, mobile, and text messaging. EyeMail, Inc. partners with Fortune 100 companies such as Microsoft, Coca-Cola, Delta Air Lines, WarnerMedia, PepsiCo, and Porsche North America.
Lisa stays up working late until 3 am every day and wakes up every morning between 7 and 9 a.m. EST, thinking, "Wow, today she has another day to start off with an amazing attitude, outlook, and to make a difference. She states, "After checking my email messages and calendar appointments, I host team meetings in different time zones to set the course for the day that include client meetings, presentations, briefings, wLiorking with the tech team, and upcoming plans for our innovation roadmap round out the day."
The key to having Balance
Lisa feels that it is essential to take time away on a regular basis to renew your mind and ideas. One of the most essential aspects of keeping her personal and professional life in order is to make a list of priorities and rate them in order of significance so that she is reminded of what is most important to her. Lisa must also efficiently manage procrastination and remove distractions, which may involve shutting off alerts on her phone or computer as required.
According to Lisa, the EyeMail team remains motivated because management supports innovation, continuous learning, and ensures that everyone contributes positively to project goals while ensuring that their ideas are heard and acknowledged.
Ideas for Future
She states, "The roadmap for EyeMail includes expanding to additional countries, more strategic partnerships and collaborations to continue to innovate and learn from our customers in terms of how we can best continue to advance their communication needs." She shares that the company will also expand into additional industry sectors for entertainment, hospitality, and retail.
Additionally, the company plans the release of EyeMail Software as a Service platform offering, enabling customers to create EyeMail's in minutes in Q2 2022. Its Video in Text platform is anticipated for release in Q3 2022. It's an exciting season in motion.
Message to Female Leaders
"As a trailblazer for innovation and women in technology, we have to show that we can embrace our femininity, power and be respected in any industry," says Lisa. Her wish is to serve as a catalyst for women's empowerment to know that anything is possible. She says, "If you set your mind to it and never let anyone dull your sparkle."
It's a thrill to have the opportunity every day to chart a new course full of promise; to imagine a different path to lead. Lisa believes that in order to influence change, women have to learn to come out of their comfort zones, learn to embrace fear and also know that it is perfectly fine to ask for advice and that this is a sign of strength and not weakness. She adds, "We are not here to worry about being judged but to be empowered to learn, grow, continue to soar, and light a path forward."
Lisa's message to aspiring business women is to stay true to themselves and their vision, even if it doesn't make sense to anyone else. She says, "Know you are enough, trust your intuition, find inspiration, remove negative energy, celebrate the small and large wins, listen more than you talk, it's OK to show emotion, enjoy the journey, be bold, embrace your fabulousness, stay inspired." She further adds that you should continue learning from others, secure multiple mentors, always be willing to help others, and always practice gratitude because every single step counts towards reaching your goal.