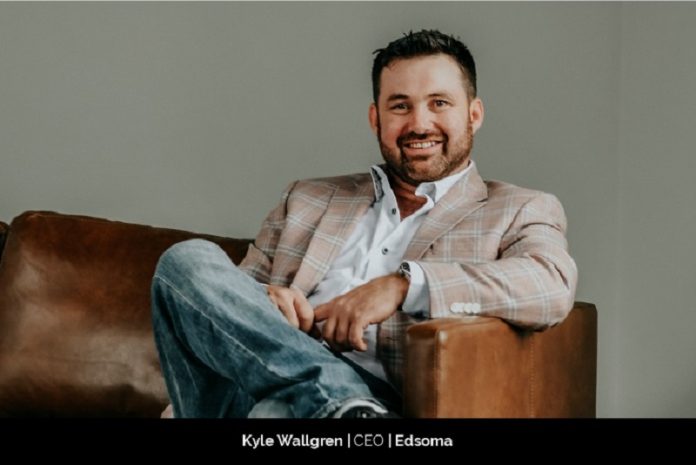 When the first wave of the Covid-19 pandemic hit the world, Kyle Wallgren found himself separated from his children. He was in the U.S. while his two children were with their mother in his home country, Canada. His seven-year-old daughter missed hearing bedtime stories from him. When she told Kyle about that, he tried using various tech platforms to communicate and share stories with his children. But then, he soon realized there was no support or tool available to ensure that he was teaching his kids right while reading stories. That realization has led to the birth of Edsoma, a children's education and communication platform designed to bring family quality time back together. It is set for early 2022 release on the iOS platform.
Kyle, who is also CEO of Edsoma, has no technology background. He jokes that there are times when he finds it difficult to send an email or use his phone. Without having tech education, he has ensured the development of an app that has the potential to change people's lives. It is because he is a visionary and highly driven entrepreneur. After he identifies a gap or need in the market, he hires the right people to create an incredible solution to fill that gap.
Kyle does not know all aspects of app development. He, however, trusts the people he has hired and believes they would do the right thing. He is not the leader who micromanages things at his company. His team also has never disappointed him. They are hungry to learn and succeed and have always given their 100 percent.  Kyle and his team believe that they will change the lives of millions of people once Edsoma gets released in the market.
As CEO, Kyle's responsibilities include coming up with a vision for the company, providing creative inputs on app development, and building a team to accomplish everything they have set out to achieve.
"Since building an amazing team, I find myself mostly working on fundraising at this time along with design, development strategy of Edsoma," he says.
From not Interested in Education to Creating Ed App 
Kyle grew up in a trailer park. During his school years, he had no interest in education. "Education was never super important to me while growing up," Kyle says. "I got kicked out of school at an early age." Instead of joining another school, he enrolled in RAP, short for the registered apprenticeship program, and got his millwright certificate. Following completion of the program, Kyle worked as a millwright for some time.
Kyle does not consider himself very educated. When he began to read stories to his children using tech platforms during the lockdown, he realized his shortcomings due to lack of education. He felt the need to develop a better solution to bridge the gap and achieve educational goals. Kyle especially thought of parents who cannot afford expensive tutors to improve their children's reading, writing and speaking abilities.
"I want to put the kid that grew up like me, who didn't grow up in money, to find a place where they can learn, be resourceful, and be themselves," Kyle says. He also felt that the media was steering them in so many different ways that the only way to know the real truth was to go out and get it on their own. "That is when I really realized that education is our only future if we want to have a better future with our kids," Kyle says.
It is Kyle's lack of education that propelled him to start Edsoma. He has no hesitation in admitting that. He also points out that there are 54 million Americans who cannot read, and nearly 50 percent of Americans read at Grade-8 Reading level. "This is a scary statistic," Kyle says. "About one-third of the children enter pre-kindergarten without basic resources to be able to be successful at that age."
He adds that their children are already behind when they enter school and start their life. "So what kind of future that gives them?" Kyle asks. He wants to shorten that gap so that everyone gains the ability to get educated. "That is why we created Edsoma," Kyle says. "It is to provide secondary education resources and tutoring resources to people who come from the lower-income group so that it becomes affordable for everyone."
Edsoma provides a live FaceTime interaction with family members across the world. Kyle is confident that his technology will disrupt the education landscape. He says that Edsoma will help people like him who work away from home, grandparents who want to see their grandkids, and military families based across the world. Leveraging Edsoma, everyone can play a bigger role in their children's education.
Coming to the U.S. with Nothing on Him
Today, Kyle can be considered a successful entrepreneur. But it was not the case a few years ago. He arrived in the U.S. from Canada with almost nothing on him.
Kyle grew up in Olds, Alberta, Canada, which was a town of 5000 people at the time. He started working at a very early age. "I can remember setting up lemonade stands when I was 6 or 7 years old," Kyle says. "I cut grass on my block every summer, and when the snow hit, I was out shovelling driveways." At the age of 19, Kyle started his first registered company. At the time, he would do concrete in the summer, while he would service the oilfield during the winter.
In 2015, one of Kyle's businesses crashed when the oil prices plunged. He had to sell all his assets to pay off his debts. "I found myself starting over," Kyle recalls. "I packed everything I had in a trailer and hooked it up to my pickup truck and moved to America." A week later, he lost his trailer as well. It got repossessed.
"That feeling of losing the only thing you knew was real can't be explained," Kyle says. "It drove me to capitalize on every opportunity that presented itself. I have built and sold a bucking bull company and a manufacturing facility since then."
Kyle is a man of impeccable work ethic — a trait that he has got from his mother. He has seen success again because entrepreneurship and taking risks are the two things he knows the best. He says that taking risks is probably in his DNA since his childhood. But, along with taking risks, Kyle has now also adopted a calculative approach. He heavily relies on data to make key business decisions. He says that he has adopted a calculated approach because he does not want his investors to lose money.
America is where Kyle once again got the opportunity to start his business. He has only good things to say about the land of opportunity. "In America, if you go out every day and put your best foot forward, you are going to be noticed," Kyle says. "That is what I pride myself on, putting my best foot forward. Always offered to lend a hand and just never meet a stranger."
Roadblocks Are Not Obstacles
Kyle has seen several setbacks over the years. But, he still does not believe in roadblocks. When his peers describe them as obstacles, Kyle looks at them as providers of opportunities to grow from. "Roadblocks sound negative," Kyle says. "If you can change those things that people might consider roadblocks into opportunities and take what you can and grow from that, then it does not become a negative impact on you. It becomes the next learning opportunity."
"I don't believe I had any roadblocks. I only had more opportunities to learn," Kyle adds.
Life-Changing Moment
Most leaders have one moment that changes their perspective on everything. Kyle, too, has such a moment in his life. It is the death of his hero, his grandfather. He could not say his final goodbye to him as he was working out of town that day. Kyle became a different man because of that. "It was that moment in my life that made me who am I am today," he says.
"Ever since then, I told myself that the only way I can be ok with missing out on that moment is if I can bring the same amount of pride to my family that he did to ours," Kyle says. He believes that Edsoma will make his family proud.
Vision for Tomorrow
Kyle feels that there are multiple different versions of success. And if he had to describe his, it would be, "leaving an impact on society that your generational family can be proud of." His vision for tomorrow is to make his family proud by leaving a legacy.
"I want to leave a legacy," Kyle says. "Everyone knows who Henry Ford is, and everyone knows who Elon Musk is." That is the kind of legacy he wants to create for himself in the education industry.
He wants everyone to know who Kyle Wallgren is in the education industry. He wants that to happen not necessarily for himself but Edsoma. He wants people to talk about how the app helped hundreds and millions of people to read, write and speak English – or other languages – confidently. "I want them to focus on and understand that Edsoma did that," Kyle says. He does not mind if Edsoma is not identified with Kyle Wallgren, but he for sure wants people to talk about how his app positively impacted people's lives just like Ford and Musk.
Aggressive Goals for the Company
Kyle has set pretty aggressive goals for his company. He wants the app to reach 1.9 million people over the next three years. "We also want to make sure that we are making an impact in schools as well as in the lives of individuals around the world," Kyle says. He also points out that along with children, parents who were never given the opportunity to read and learn can also benefit from their technology. "They can learn, read, and build confidence without being embarrassed," he adds.
"I also want us to become the number one in education and reading in the next five years," Kyle says. He is confident of accomplishing all the goals. He says that they are achievable targets as long as he puts the best people around him and for the right reasons. They will help him accomplish those goals.
There is another reason why he is super-confident about achieving all the goals. The app has yet to get a public release, but several thousands of people have already pre-subscribed to it.
30 Years from Now
Kyle believes that he is going to change the lives of millions of people. He says that it is possible that 30 years from now, somebody accepting to be the President of the United States may have used their Edsoma platform to learn how to read. "Maybe, that child would not necessarily have the opportunity even to get out of poverty," Kyle says. "But because we provided such a cheap learning resource for a better education that too at an early age, that person is going to lead our country."