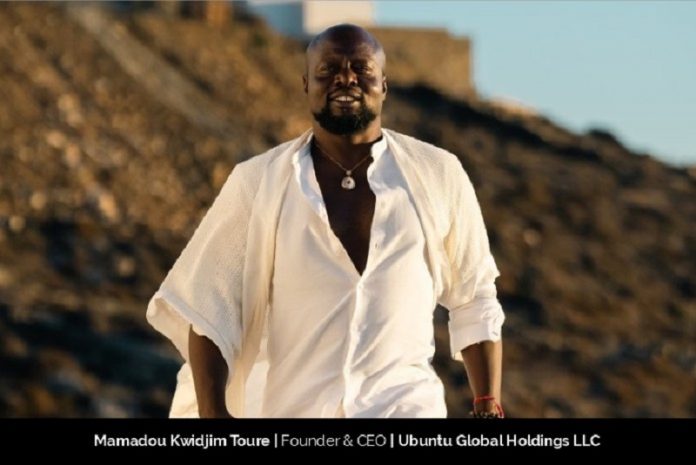 Mamadou Kwidjim Toure, Founder & CEO of Ubuntu Group (http://www.utribe.one/), defines himself as a man on a mission. Often known for his brilliant career in high finance (KPMG, BNP-Paribas-Fortis, IFC-World Bank) investing in tech firms or for his leadership role in technology conglomerates (former Managing Director at General Electric), Mamadou is also a Social Entrepreneur at heart, having built two International NGOs, including Africa 2.0 Foundation and Afrique Tandem, his first international NGO at the age of 19 years old.  He was named Top 10 most influential in Africa by Forbes (2014), Top 30 most influential in blockchain globally (2020), and World Economic Forum Young Global Leader. A Solid Academics Graduate from Edhec Business School – globally ranked in the top 5 in Finance by Financial Times, Mamadou has also rubbed shoulders at Harvard Kennedy School with some of the brightest minds prior to engaging in Artificial Intelligence at MIT 3 years before ChatGPT AI solutions took the world by storm. Since a very young age, being impactful has been the very fabric and driving force that fuelled his actions and imagination. Focused on advisory and investment activities across industries, he has committed to a life of service, supporting renowned firms and entrepreneurs in achieving scalable and sustainable growth while leading high impact social initiatives in Africa and around the world. Ubuntu Tribe, his latest venture, aimed at democratising access to gold, recently closed a round with a large Silicon Valley Venture Capital Fund. The company has already seduced early customers who were able to purchase gold backed tokens during the soft launch prior the full go to market planned for the end of this summer.
Ubuntu just closed an investment round with 500 Global, one of the largest VC Fund in the Silicon Valley with $2.6 billion under management.
Deploying a Model That Combined Financial and Social Returns
Mamadou is passionate about the power of technology to change people's lives, which led to the creation of the Ubuntu Group. During his years at the International Finance Corporation within the World Bank Group, he led investments in Telecoms Media Technologies and pioneered investments in GSM, mobile money/mobile banking amongst others before joining General Electric as Managing Director in charge of investment and project finance for all African subsidiaries of the group focused on high-tech equipment's across various sectors including power, water, mining, oil and gas, transportation and healthcare. He oversaw more than 36 countries, looking at win-win partnership models and innovative finance solutions, allowing the group to comfort their competitive hedge on the continent.
"At some point, I thought it was important to find new solutions, and deploy a model that combined financial and social returns for the institutions I worked for. That's how Ubuntu came into being," Mamadou reveals. 'Ubuntu' is an old African expression that means "I am because we are" in different parts of the continent, entrenched into the African philosophy of humanism, collective community, and mutual support.
Mamadou draws a parallel between the African Development Bank's (AfDB) initiative to establish the Africa Energy Market Place and Ubuntu Capital's role (the Advisory and Investment arm of Ubuntu Group).  The latter created jointly with AfDB energy strategies and investment programs to attract capital to support this sector for 22 countries by collaborating with Ministries of Energy and various international development finance organizations. Similarly, Ubuntu Capital worked with investors and partners to design investment solutions that offer financial and social returns, thus enabling access to the African market. Ubuntu Capital could boast of advising prestigious institutions such as Actis, European Investment Bank, Denham Capital, European Commission etc.
Ubuntu Tribe: Creating Fair Monetary & Financial Solutions with Blockchain Technology
Ubuntu Tribe (fintech company tokenizing gold headquartered in Dubai and operating on many continents) is Mamadou's latest brainchild as he felt the need to address some deeper-rooted issues leading to poverty trap in most emerging economies. For him, the deeper issue was about money, wealth creation and definition. As a global citizen mastering six languages, he constantly travels the world. But everywhere he went, one of the issues he encountered was that African, Latin American or many Asian currencies, weren't accepted outside their country borders.
"When I travel from emerging states to London, New York, Paris, or most places around the world and return a few months later to those countries, the local currencies would often lose significant value over a certain period of time. Whereas, Africa, for instance, is sitting on 45 percent of the global gold deposit, and gold gained 500% over the past 20 years and gained around 5000% over since Nixon announced the decoupling of the dollar from gold in 1971", Mamadou observes. How can we leverage on "so, why don't we just use blockchain technology to issue a digital certificate of gold ownership that will be transferable on a peer-to-peer basis while the gold remains stored in secured, audited and insured vaults around the world?". People can use our Gold International Fungible Token as a reliable digital asset that has intrinsic value with a proven track record in holding and gaining more value over time.
Mamadou explains that there is a natural shift happening as the globe is moving from a paper-based monetary system to a resources-based one. He could see a long time before everyone else that the world would head towards asset backed monetary systems. Since the dollar is not backed by gold anymore (1971), there have been more financial crises then than previously before. How do you create a fair monetary system that does not exclude people based on their financial capabilities or penalize them based on their geographic location? How do we leverage on technology to create a system that is fair to people and protects the environment while extracting resources?
As a result, he has ventured into that field to secure the gold supply across Latin America and Africa in a way that would promote sustainable extraction. Prior to being tokenized, the gold is stored in the most reputable vaults in Denmark, United Arab Emirates, Germany, Singapore, and Switzerland. All the gold in storage has gone through the highest refining standards- LBMA Gold standard 99.99. Once secured in top-tier vaults, a digital certificate (token) proving ownership of the gold is issued. The token is called Gold International Fungible Token (GIFT). Mamadou insists that one GIFT is not a digital currency, as it is equivalent to 1 milligramme of gold and customers can redeem their GIFT coins in exchange for the equivalent physical gold at any time. GIFT should be rather considered as a digital Asset backed by a commodity as it offers a reliable tool to execute peer to peer transfer of gold between customers. GIFT, 100% backed by gold, combines the Trustworthiness of Gold, the Safety and Convenience of blockchain technology to certify ownership. GIFT allows customers to transfer ownership of gold without moving the physical gold. Customers can purchase GIFT directly on Ubuntu Tribe website www.utribe.one or the Utribe wallet, available for download on Apple App Store and Google Play. They can thereafter transfer it seamlessly to one another as they wish. GIFT (currently equivalent to USD 6 cents) democratizes access to gold, making it available to anyone for as low as six cents on a mobile phone, and that is the real transformation.
Gold is of course a significant savings instrument, having gained 500% over the past 20 years and 30% to the dollar over the past seven months alone. Mamadou insists it is a good way for people to have reliable savings and is easily accessible with technologies like blockchain and artificial intelligence.
Creating a Tech Ecosystem that Embodies the Spirit of Ubuntu
"We are not here just to sell a product. More importantly, we are here to fix a problem. Mamadou observes that, if you want to build something that lasts, you need to take the time to tackle the different elements of the issue. While COVID global pandemic slowed them down, it also helped them deeply reflect on the global issues at hand to decide not to just put out a product but solve a systemic problem.
"It's not enough to tokenize gold and put it on the market for universal affordable access. In what conditions do people extract the Gold? Do they get their fair share?  How does it impact the environment? How do we create an ecosystem that helps protect the environment, provides supply chain transparency, and has a circular economy model for a true win-win scenario, so that whenever somebody transacts GIFTs in Rio, New York, Tokyo, or Lagos, the planet is preserved and the people in the mine still benefit?" he asks.
This is why Ubuntu has put together an entire ecosystem powered by transparent supply chain that allows clean and responsible extraction of gold without use of mercury or cyanide.  Moreover, a percentage is redistributed in the mines as a social investment for social infrastructure, schools, and hospitals, so that the people who helped make this happen are not forgotten at the end of the chain.
Blockchain technology makes this possible, providing a way to abide by the philosophy of Ubuntu. Technology is the equalizer and at the heart of Ubuntu approach, but it is their model that sets them apart. The company's model is innovative, proven, tested and has already seduced customers. Now confident of the recent product validation, Ubuntu Tribe is preparing for a large go-to-market in the coming months.
"During my days at the International Finance Corporation (World Bank Group), I made the first investment in the world in mobile money/mobile banking, more than 15 years ago, because in Africa there was limited banking penetration and transport infrastructure. Yet, most people have a mobile phone. So, how could we leverage on technology to answer the question of financial inclusion? Over my career, I invested in many tech companies. Quite a few became unicorns and one was even listed on the New York Stock Exchange recently", he shares.
Ubuntu uses blockchain technology as an equalizer to create a better product and improve living conditions for people as it addresses trust issue, access, affordability, and fairness. There is a significant lack of trust when things come from Low- and Middle-Income Countries, and blockchain allows them to resolve that lack of trust by having an immediately verifiable tamper-proof report, with data available to anyone in the world to see how and where things are going.
After two years researching appropriate technology, the Ubuntu team ultimately succeeded in partnering with mining technology experts to deploy a method of extracting gold without using mercury or cyanide, thereby increasing yield while also ensuring environmentally responsible practices. Ubuntu Tribe also promotes transparency by allowing the gold to be tracked and traced on their proprietary Track and Trace blockchain platform, publicly accessible to anyone aiming to trace the gold logistic process and volume.
Mamadou notes this is a significant technology shift and an equalizer since you can effectively validate assets using blockchain technology. Ubuntu uses AI to allow people to interact with services seamlessly, removing language barriers, and anticipating customer's needs.
Ubuntu also uses technology to bring people closer to one another because it prepares to soon launch a digital social marketplace embedded with a digital wallet that connects people, allowing them to trade and transact directly. It eliminates borders and distances using technology to create one platform, gathering people with the immediate access to trade and investment.
"Our model is pretty simple. How we look at it is that there's been a big loss of trust in the banking sector, leading to the rise of cryptocurrencies and other digital assets. The one thing we're addressing is the lack of trust, using a technology that automates and makes things trust-proof in an immediately verifiable and transparent way," Mamadou maintains.
With the launch of Utribe Wallet (Ubuntu Digital Wallet) allowing immediate seamless KYC process, customers have in GIFTs an asset they can own and have sovereignty and control over without a third party's interference. With the current banking system, it has become more cumbersome to transact and move assets and funds. Ubuntu allows a seamless and quick way to transact with reliable and user-friendly execution of requests using blockchain and digital asset technologies.
Discovering a Calling to Give Back at a very young age
Mamadou arrived in Europe as a child of immigrants.  A few years after I arrived in Paris, "I was lucky and privileged to be sent to the best high school in France (Lycee Louis Le Grand). I was the only black kid there. It opened my eyes to the fact that I was privileged and lucky to have been identified as a person with high potential. At the same time, I felt a sense of unfairness because so many people back home in Africa were probably smarter than me and would not have such an opportunity", he recalls.
At 19, desirous of giving back to the continent, Mamadou started an NGO gathering young African students in Ivy League schools and universities across Europe to enhance and promote skills transfer programs back to Africa, mentoring young kids in schools, building libraries in Africa, and building a support structure for all those who wanted to    study abroad in Europe. That was his first initiative in parallel with his studies.
Three years later, under his leadership, Afrique Tandem set up in Paris, the Forum Cadres Afrique 2000 the first-ever recruitment forum in the world to give, for young African graduate students and young professionals, internship, and job opportunities to join multinationals and governments back in Africa. It was a way to strongly support and accelerate the reverse brain drain so that talent could return and serve the motherland.
Mamadou started his career in Paris (France) working with KPMG and then BNP Paribas in investment banking, focusing primarily on Mergers & Acquisitions, Government Advisory, and Project Finance across Africa. Simultaneously, he continued his calling to make a difference by giving back with Afrique Tandem, his non-profit initiative to consolidate and support people in the best way he could. As he was involved in emerging markets out of Paris, working with global multinationals, large financial institutions, large firms in Africa and Europe, the International Finance Corporation (World Bank Group) approached him to join the Institution and lead all investments in telecom media technologies for sub-Saharan Africa.
Creating the Manifesto by Africa 2.0 Foundation
While at the World Bank Group, Mamadou started another social initiative as he thought it was important for young African leaders to have their voice in designing and implementing an agenda for Africa by Africa in a context where IMF/World Bank's structural adjustment plans had shown their limits. Thus, he mobilized young leaders from Africa and the diaspora to develop a vision for Africa. Some of the best young talents and leaders he knew from Europe came together and collectively prepared the Manifesto for Africa 2.0. "We were mostly in our 30s, late 20s, and kick-started the launch of the Africa 2.0 Foundation, a think tank that set up vision strategies and recommendations for shared prosperity. Africa 2.0 was launched on the back of the World Cup in South Africa", he remarks.
From 2010, over 18 months, the newly gathered young leaders worked on the Manifesto, along with experts across fields in different areas, to propose critical recommendations and solutions that could help Africa leapfrog its socio-economic development. The Africa 2.0 young leaders presented their Vision at the World Economic Forum in 2012 in Davos (Switzerland) and the African Union.
At the same time, they built a network across Africa and around the world with over 30 chapters from Washington, New York, Beijing, Paris, London, Madrid, and Chicago. The group worked as a collective network, deploying advocacy programs to accelerate and mobilize leaders around this vision for Africa, concretized by critical impact initiatives to show that the vision could work.
Their hard work was rewarded when, three years later, 47 Heads of State from the continent ratified the African Union Agenda 2063, which was highly inspired by their work on the Manifesto with the vision for Africa. President Obama Administration also selected the Africa 2.0 consortium to run the Young African Leaders Initiative (YALI), Washington's signature effort to invest in the next generation of African leaders. Tens of Thousands of young leaders in West Africa benefitted from the YALI Program.
"We were very proud and ecstatic around that on our journey as we built Africa 2.0. We had the support of senior leaders like President Obasanjo, and Nelson Mandela but also business leaders such as Mo Ibrahim, Aliko Dangote and other top corporate leaders who believed in our efforts," states Mamadou.
A Mission-Driven Leader with One Foot In The Future
As Founder and CEO of Ubuntu Group, Mamadou's current responsibilities at work include designing the vision, finding world-class talents committed to deliver Ubuntu's vision. He strives to constantly challenge himself and his peers to realize their full potential by anticipating future trends and market's needs. A typical day for him involves engaging with executive teams, strategic partners, investors, and key customers; helping drive the operations applying the culture of operational excellence learned during his days at General Electric; very hands on and fully involved with his team, he wears the hat of a coach/captain; looking at the progress, what is working, what is not, what needs to be improved, how to change it and drive to success.
Another part is keeping one foot in the future, reading, researching and compiling data on the industry parameters, and visualizing where the world will be 5-10 years from now. Mamadou travels the world engaging with industry leaders and experts, understanding future trends, getting feedback from the ground operations, from customers and stakeholders and understanding their needs, so that Ubuntu can design solution-based products that maximize stakeholders returns and remain at the forefront of innovation. This involves strong research and development effort while coordinating closely with executive teams to make the Company "Future Proof".
Mamadou observes that most of the team members at Ubuntu join because they are mission-driven and have strong grit, a fundamental attribute to thrive in this nascent and disruptive industry and technology often challenged by legacy systems and institutions. The context is complex, challenging, competitive, and very early in the industry. Accordingly, it requires people who believe in the mission and vision and are willing to give their best, mobilize their skills and network to deliver the promise to create a better product that makes a difference in people's lives.  He adds "We want to design products that help the man on the street achieve their full potential and empower them to bring forward a better world, nurtured by a consensus of shared prosperity that respects the mother who is hosting us."
While he takes time for himself, he admits that balancing everything is always a challenge. He comes from a family of artists and has a very creative mind; therefore, it is his passion to create as much as he can.  "How do you design a job that makes you feel like you'll never be working a day of your life? That's how I feel when I do what I'm doing. Once you design your life in a way that serves your purpose, you don't feel the need for balance because it's not painful for me to go to work every morning. It's a passion that puts me in a different state of mind," he explains. "I am simply aligned with my purpose".
Mamadou remarks that it is important to have time for your loved ones (family and friends). They can truly be a source of strength when they are supportive of your vision and mission. I do work extensively, like most entrepreneurs. Over the years, I have learned that work-life balance is not a matter of quantity of time spent with your kids but rather a matter of quality of time and a matter of intensity and depth of your engagement with them. The same way as one could spend 14 hours a day at the office and be unproductive, the same way, sometimes hours spent with your children engaging in depth with open heart and curiosity for their life, their thoughts, and their feelings. I often try to connect with my children in a more profound way. I believe Maya Angelou once said, "that people will forget what you said, people will forget what you did, but people will never forget how you made them feel."
His plans for the future are to deliver products that will make a difference in people's lives not only by becoming a company that allows human beings to realize their full potential but also by eliminating some barriers to their growth, as it is frequently crippled by financial or social barriers.
"I don't even know what my dreams will be tomorrow. All I can say is that I've been consistent with my dreams and my values. Many people live a life by default and not by choice. Others choose to play it safe yet are living with remorse or regret. I can proudly say that I choose to follow my dreams coherently, and not everybody has the luxury, privilege, or courage to do so", Mamadou reflects. "It comes at a cost; hence most don't do it. But there's no greater peaceful state of mind than being consistent with your dreams and what you stand for. It gives you peace of mind, although it can be a far cry from a peaceful journey at times. It's a choice we make."
The Keys to Entrepreneurial Success
"I can't claim to have the keys to entrepreneurship success or whether there is a secret recipe. Entrepreneurship journey can be very personal and there are for sure many paths to success. The key question is: What do we call success? Maybe I don't have such keys to success, but I can at least share what I have learned along the way". For Mamadou, the entrepreneurship journey is primarily a journey of self-transformation. He sees entrepreneurial success more by the magnitude of personal growth along the journey than the actual assessment of the outcome of the journey. A successful entrepreneur is not necessarily the one who has built a multibillion-dollar company by stepping on everyone's head but first and foremost, someone who been personally and positively transformed by the experience of entrepreneurship and has put his lessons to service for others to learn or has successfully brought to market products or services that contribute to the betterment of their community or society in general. It is ultimately about the capacity to learn and grow from the failures and challenges on your path, combined with the ability to adapt to unexpected situations while anticipating the needs of the society you live in. Entrepreneurs are problem solvers armed with the conviction and audacity to jump into the unknown and walk through unchartered paths in quest for solutions helping to improve the state of the world or the state of their world.  Before taking on the entrepreneurship journey, I have had the privilege to advise or invest in people who ultimately became billionaires. Imagine how wonderful the world would be if the new criteria for billionaires were assessed not by the billions in their bank accounts but rather by the billions of lives they have positively impacted. Ultimately, when you think of it carefully, if your product or service truly makes a difference in people's lives, there is no reason why you should not have millions of customers."
Mamadou believes that grit and resilience are important factors to succeeding as an entrepreneur. Most people are not born with a silver spoon in their mouth; hence they need to find the resources, not just financial capital, but human capital, the right networks, and the adequate access to the market. Those are rarely immediately available and require significant efforts to find and combine. But, when you genuinely believe in the essence and rationale of what you're doing, you have the energy and strength to overcome the challenges you face.
How much do you believe in what you're doing? Are you just doing it for a quick gain? How far are you willing to go to make sure it happens? And if you build something that makes sense and makes a difference in the life of people, your success won't be temporary but will stand the test of time. Entrepreneurship journey is a marathon, not a sprint.
"I think my greatest achievement has been consistency, by starting my entrepreneurship journey very young as a social entrepreneur in my student years, but still managing to graduate with a master's degree from a school ranked among the top 5 Business School in Finance. I always had the entrepreneurship drive and wanted to solve problems, even while working as an executive, one of the top one percent staff as Managing Director in General Electric (GE) ranked General a Fortune 100 company, I still kick-started and led a global NGO Africa 2.0 Foundation. Starting those social ventures was for me a way to find balance and peace of mind. Delivering the tools and exploring the pathways for a society that is more fair is, in my view, equally important as ushering the fundamentals offering equal to opportunities regardless of place of birth or wealth at birth. I, personally, view technology as a powerful tool to help humanity achieve its full potential while living in harmony with the beautiful planet hosting us.   So, my biggest achievement would be to be true to myself, and I've consistently followed what, I believe, is aligned and fair. I strive to be loyal to my values and what I stand for", he declares.
As an Entrepreneur, your 'Why' preciously Matters.
Mamadou observes that, as an entrepreneur, the one thing you need to have a solid vision and a true purpose. The clearer your vision, the easier it is to rally backing. It is essential to choose purpose over profits, because if the profits do not come soon enough, you can easily lose hope and drop the venture and chase the next opportunity that serves your greed. If your purpose is strong and your business model is sound, profits will come in due time. It is equally essential to find investors and partners who are aligned with your "why" and support the ultimate purpose and vision of your business. This helps avoid frictions and disappointments down the road. Ultimately, partnership is not just about shaking hands and looking at each other's eyes. Partnership is first and foremost about looking in the same direction. At the same time, if it is a business, you must also demonstrate that both customers and investors will get fitting returns as they follow you.
He also insists that the 'why' is crucial because the weaker your 'why' is, the stronger the chance of failure. Thus, figure out what problem you are solving. The big business successes of the past 30 years happened when entrepreneurs wanted to tackle a big problem.
Steve Jobs designed and built machines that reflected and addressed human needs. Despite some deviations at a later stage, Facebook was initially successful because it solved the issue of social bonding, while connecting and bringing people closer. Tesla is solving the concern of driving a car that does not affect the environment and is structured around the driver's needs.
The Qualities That Entrepreneurs Need in order To Thrive
Mamadou draws from his personal experience and estimates that 5 key attributes are essential for a successful entrepreneurship journey. Capacity to bring a compelling solution to key problem, capacity to work with others: emotional intelligence, capacity to adapt, capacity to build and nurture your social network, capacity to deal with adversity.
In his view, "good entrepreneurs, are first and foremost critical thinkers who design simple solutions to resolve complex problems. This does not only require logical thinking, but also a very high amount of creativity. It's the level of creativity that distinguishes a good product from a great product. Creativity is a valuable skill in entrepreneurship. I, personally, come from the Finance world and the best financiers were not the ones with the most technical skills, but rather always the ones with the highest creative approach to design products and solutions that work for customers and generate good returns. Like Einstein points out, "Imagination is more important than knowledge".  Creativity will become an even more relevant attribute as we are entering an era where artificial intelligence will take over a significant portion of the logical tasks and thinking processes".
Quoting an African proverb that says, "If you want to go fast, go alone. If you want to go far, go together," Mamadou notes that we cannot create success by ourselves. This is the essence of Ubuntu. "I am because we are" is a true collective, and we get somewhere because people believed in us at the beginning, helped us along the way, joined us as we progressed, or gave us advice to adjust our course", he observes. Your capacity to collaborate with others is absolutely fundamental. That is where emotional intelligence comes to play. There is no 'I' in 'T-E-A-M'.
Another critical piece of advice is to remember that although it is important to plan, nothing ever happens according to plan. Consequently, it is crucial to be flexible, realistic, and pragmatic as reality shows up along the way. It is not because things did not happen as planned or because you did not plan properly, but when things happen, your capacity to adapt is your golden key to success.
Mamadou states that we live in a world where uncertainty is the only constant, compared to past decades when things were business as usual. We are entering an age where those who will succeed have the intelligence and capacity to adapt, design new solutions for new circumstances. To breakthrough is hard enough, but to last is harder. The ones who will last are the ones who can adapt. Entrepreneurs and companies follow the same pathway as evolution of species in the context of survival of the fittest. In this case, the fittest is rather not the strongest, the fastest, the biggest or the oldest. It is rather the most agile and adaptable.
The social quotient, skills or ability factor is how deep and extensive your network, your community is.  An entrepreneur's network is measured in terms of depth and outreach, as well as how you emerge within your network because that gets you to take shortcuts and go faster in some places. For example, the power of Silicon Valley is in the network ecosystem that helps companies go faster, further, and stronger.
"Fall seven times. Stand up Eight." Capacity to deal with adversity and difficulty is essential, especially when, like Ubuntu Tribe, you venture in the field of disruptive technologies, in particular when you take on the challenge of dealing with very complex and sensitive topics that are money and mineral resources for the benefit of all. Many gives before the finish line (assuming there is a finish ine) and fail to get back on their feet due to little tolerance to adversity or difficulty dealing with challenges along the journey. Business leaders and entrepreneurs deal with a lot of discouragement that can create an imbalance in their lives and not allow things to flow as easily as expected. People tend to forget that out of hundred occurrences successful entrepreneurs have dealt with "No" 99 times and "Yes" one time. But it is that one "Yes" matters above everything else. Be prepared for the "No, you can't" and keep in mind the "Yes, I can" while remaining open along the way to "How can I do it better". In other words, if you truly believe in what you are doing, you can be resilient and not give up. Often you have to bootstrap towards the light at the end of the tunnel in order to finally see clearly the impact of your work. As a quote from Mark Twain says, "They did not know it was impossible, so they did it."