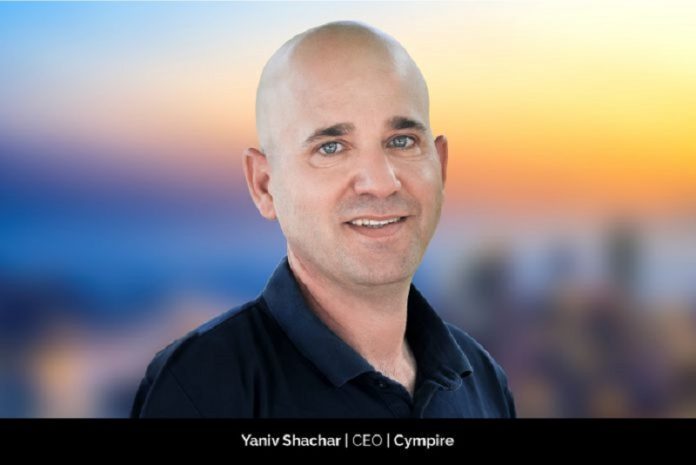 Cympire: The cyber training and assessment hub.
Yaniv Shachar, CEO of Cympire, believes that success is building something impactful and positive from nothing. He adds, "Going through the process of forming a very general forward-looking vision, gradually visualizing it in more detail, and eventually seeing it come to life is really an amazing thing that can only exist in a disruptive startup." While developing the company from nothing and taking it to the next level, it is important to build a solid team that resonates with the company's vision and adds value to it. Yaniv states, "Working with a group of very talented individuals who can do whatever they choose but still choose to join me on this journey is pretty mind-blowing."
Journey to Cympire´s success
Yaniv served for 18 years in a commanding role in the Israeli navy. While serving in the Navy, he completed his Bachelor's Degree in Economics from the University of Haifa. In 2009, he joined Logic Industries as the Program Manager of Global Delivery for several large-scale, multi-million-dollar, overseas security projects within the Oil & Gas industry. He had full responsibility for the project delivery that included aspects like full profit-loss accountability, customers, and stakeholders' relationships. While serving the company as the Program Manager, he expanded his knowledge base by completing his Master of Business Administration degree from The Hebrew University of Jerusalem.
In 2014, he was promoted to the title of Division Manager. In 2015, he left Logic and joined Magal Security Systems, a globally traded NASDAQ security integrator in the homeland security sphere, as Senior Vice President, Projects & Operations (COO). He had direct responsibility for a significant number of multi-million-dollar homeland security projects and operations executed globally. His core areas were sales and business development, where he had to oversee the development of operations that tailored solutions according to the customer requirements.
While handling the responsibilities at the company, he completed The Global Executive Program (PON) on Leadership and Negotiation from Harvard University to further enhance his skills as a leader. In 2016, he was promoted to the role of EVP and General Manager of the integrated solutions division at Magal Security Systems. His role was to run the Israeli based company and 6 additional subsidiaries worldwide. Yaniv's tenure led to a successful turnaround and growth which resulted in a M&A of this division by Aeronautics Ltd.
Yaniv enjoyed a successful corporate career, but at the back of his mind, he always wanted to work in a startup environment. He expresses, "I have worked in executive roles for well established companies, both private and public, and it was a great experience, but there is nothing like building something from scratch and trying to create your own path."
Cyber security is one of the fastest growing industries and the need for properly prepared security teams is now more important than ever. Enterprises are especially vulnerable to attack and while the industry has brought forth amazing cyber defensive tools, training of the people that operate them has been left behind. Yaniv states, "We want to bring something new to this industry, take part in making cyberspace safer and more secure." However, the story does not end here.
He adds, "Cympire is here to help shape the future of this industry. The company was founded by cyber, simulation, and gaming experts, who believe that mission-ready cyber professionals are key to a safer world. Our mission is to improve cyber professionals' skills and readiness by providing effective hands-on training using the world's most advanced and disruptive Cyber Range."
Cympire: Allowing organizations to stand firm against cyber threats through continuous training.
Cympire takes on the human challenge in the cyber security domain. The team has worked on solutions that allow organizations to significantly increase their cyber resilience through continuous training and assessment of cyber security and executive management teams.
Cympire has been serving customers since 2018. In early 2021 they released a new version of their platform to their partners and customers. With this new version, they started rolling out a new branding campaign, which will include some surprises in the coming months. Because they take a very partner-centric approach as a company, much of their recent success is hidden from the public eye.
Yaniv adds, "Our white-labeling option can be a preferred choice for our bigger customers. One example that we were very proud of was our execution of the 2021 Virtual Check Point Experience "CPX." It was the first event that ran on our new release, and we accommodated thousands of participants to train on different scenarios at the same time. Whilst we do brand our own company and platform, our partner's success with our product being our top priority, is our own success too. We live and grow together."
Cympire: Redefining the cyber security training industry
Yaniv states, "We put people at our center. For years, the industry has been focused on putting out the most advanced cyber defensive tools, but the people that are supposed to use them are often not trained to use these and lack practical experience. If you work for an enterprise SOC, the question is not if you will be breached, but when. IBM estimated last year that it takes an enterprise an average of 280 days to identify and contain a breach. We aim to shorten that time period by training the people behind the tools."
The cyber security industry is one of the fastest-growing industries. Innovation is key to stay on top of the current challenges and, yes, also on top of the competition. Cympire fosters innovation by letting their employees dream and then giving them the tools and time to make it a reality. The creativity that went into their current platform, "CyWARIA" is a testament to the company culture.
CyWARIA is a fully cloud-based, serverless, SaaS cyber range that allows cyber professionals to train on different cyber scenarios and improve their skills over time. Trainees experience a fully gamified environment that replicates their own, allowing them to train using the cyber tools they use in their day-to-day jobs.
CyWARIA allows the team to train with dynamic and realistic Network Topologies, real life Cyber Security Tools and Attack Vectors, allowing the trainees to experience a large variety of attacks in a safe simulated environment. Coupled with this is an immersive gamified experience where the trainees are engaged in a competitive environment, training to increase "muscle memory" so that they are prepared to Detect, Respond and Remediate when the true attack occurs.
Yaniv adds, "Being completely cloud-native also allows for enterprises to replicate their own unique environments with an option to integrate any cyber tool available on the AWS marketplace at the click of a button. Small and large organizations enjoy CyWARIA's benefits without the need to invest in complex and expensive hardware deployment. We train your people using your tools."
CyWARIA offers unlimited blue and red training scenario options. Cympire's training catalog is constantly expanding. The teams can filter through more than 60 existing scenarios based on industry, difficulty, length of scenario, attack vector, and more, or simply create their own scenario using a simple drag-and-drop tool. They can build their own storyline and complement it with the network architecture, cyber tools, and attack vectors of their choice in a matter of minutes. With CyWARIA, companies can replicate the network of almost any enterprise or organization and train their cyber professionals in a true-to-life environment.
Adding a Dash of Innovation to fulfill Cympire's Goals
In today's competitive world, innovation and creativity are two indispensable pillars to differentiate your brand from others. Sharing how he incorporates out-of-the-box thinking to cope up with competition in the cyber security space, Yaniv says, "A good example of this is the work of our content team. The team consists of cyber security experts who constantly follow the industry news and trends on new cyber attacks. Using the latest cyber tactics, they create gamified training scenarios that feature interesting and engaging storylines, keeping the trainees motivated and hooked, and always asking for more." This flow of creative juices in their training scenarios ensures their customers return for additional services every year. Further, the team enjoys having a lot of fun in the office as well.
Even though Cympire is a technology company, the company focuses on people and the community, since people are the key component in cyber defense. Cympire aims to empower each person to help them develop their true potential, both as an individual contributor and as a part of a collaborative effort.
He states, "We focus on people first, helping people develop their potential within an innovative environment. We created the technology to help us tap into the shared knowledge and creativity of the community."
Managing the CEO duties
As the CEO of Cympire, Yaniv understands that he needs to set an ambitious vision and always make efforts to push the team to overachieve. Not just this, he also plays a pivotal role in building a strong team and overcoming all the impediments on the way to maintain the forward momentum. Under his leadership, Cympire became a well-recognized emerging leader by one of the industry giants in the initial stage. He adds, "When a cyber security flagship chooses to work with you despite the fact that you are a relatively small and young company, it's a great affirmation of our strength." In addition to this, many tier-1 partners and customers also chose to work with them, which acted as a perfect confidence booster and made them realize that they were headed in the right direction.
Employees are the core assets of the firm, and keeping them encouraged and motivated is crucial to attain company goals. Being a huge fan of Formula 1, he loves the game spirit and is fascinated by the hard work the engineering teams put in before each race. On the big day of the race event, the agility and adrenaline bring forth a true show of human excellence. He uses the same analogy to keep his team super motivated. He further explains, "We are constantly racing to stay ahead of the competition, and we can only stay successful by working as one team with a joint vision and a drive for excellence." Yaniv believes that keeping partners and customers happy is key, and he is delighted that the team has already identified that customer satisfaction is the main backbone to keep their business model successful. Thus, being a B2B SaaS company, they have put more emphasis on keeping their churn rate close to zero, owing to which some of their initial hires are part of their customer success department that has been growing relentlessly with more and more clients added to its list.
Getting stronger with challenges
Yaniv adds, "Where there is a will, there is a way. If you work hard, try again and again, eventually, you will find the way to success. Some challenges may seem insurmountable at first. Take a deep breath, roll up your sleeves and start working." Running a startup is a roller coaster, and a person just needs to accept that. He expresses, "Pace yourself when it gets hard and run as fast as you can when possible. And eventually, it's all about the people around you. If you have the right group of people around you, you will find the way."
Bright Future plans of Cympire
Cympire has witnessed consistent growth every month, and there is a rise in demand for cyber range solutions in the market, especially in the US and Europe. Yaniv is constantly looking for more partners to join their partner network so that they can easily fulfill their increasing demand. He further shares, "In the coming months, we will be adding more functionalities, features, and content to our platform. We will also widen our offering to more target groups." Not just this, he also gives a hint on some big hits that will be released soon. However, he doesn't want to ruin the surprise by sharing more details about it here. So, you need to stay tuned and follow them on LinkedIn or Twitter!