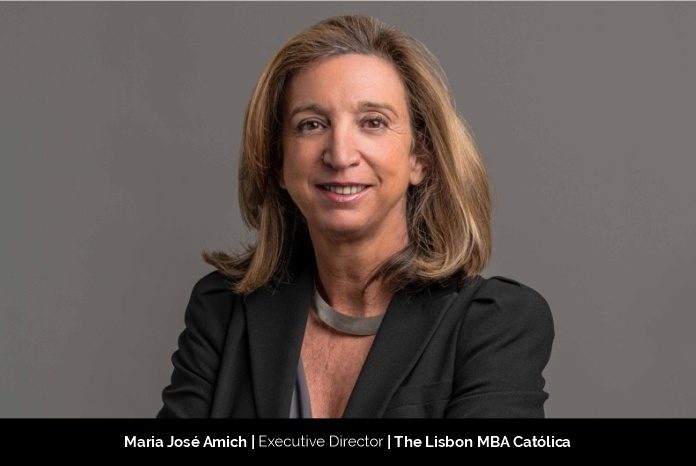 The most popular sort of business education remains top MBA programs. According to statistics by the Graduate Management Admissions Council (GMAC), MBA programs account for two-thirds of all business school admissions. The MBA's capacity to adapt to changing corporate environments is one of the reasons it has stayed so popular throughout the years.
By adapting to new technology and changing corporate needs, MBA programs have maintained their status as significant career boosters. The Lisbon MBA Católica | Nova is cooperation between two prominent European business schools situated in Portugal: Católica-Lisbon and Nova SBE. It began in 2007, and then in 2009, it partnered with MIT Sloan School of Management, a relationship that has grown stronger since then.
The Lisbon MBA offers students a unique blend of a challenging academic component, a "learning by doing" educational method, a truly international orientation, and a unique component in leadership qualities development. Given that its MBA is situated in Lisbon, a diverse and dynamic European centre, with an immersion program at MIT Sloan in Boston, a globally famous start-up hotspot. The MBA program at the institute helps students become inventive thinkers and innovators with an entrepreneurial and forward-thinking attitude, ready to make a significant effect on business and society.
The Lisbon MBA Católica|Nova has been consistently recognized as one of the top MBAs in the world by the prestigious Financial Times ranking, and belongs to the selective club of <1% of MBAs in the world with the Triple Crown Accreditation (AACSB; Equis; AMBA)
The Executive; Maria José Amich
Maria José Amich's role as Executive Director of The Lisbon MBA is to continue working to improve the institute's competitiveness, unique positioning of the programs, and international reach by collaborating with deans of the schools, academic directors, and all stakeholders (faculty, alumni, students, and partner companies) to foster long-term and sustainable relationships. She states, "Our goal is to continue attracting the best talent to our programs with the integrity and the open-innovative mindset that identifies us, investing in fostering diversity in all criteria and boosting the prestige of The Lisbon MBA in the international academic landscape, reflected in our growing position in the rankings."
The Lisbon MBA Católica | Nova
The Lisbon MBA offers two MBA programs:
International MBA- An intensive 12-month full-time program aimed at high-potential professionals with an average of 8 years of experience (minimum of 3), who want to accelerate or change their careers through a unique transformational experience in the development of management and leadership skills.
Executive MBA is a 22-month part-time program, aimed at more senior professionals, with an average of 13 years of experience (minimum of 5), who wish to progress to top management positions in their organizations or change careers, with minimum disruption to their professional and personal life.
Both programs feature an immersion program at MIT Sloan: the International MBA lasts one month, and the Executive MBA lasts one week, with both focused on entre-(intra)-preneurship, digital business transformation, and technological innovation.
According to Maria, the Lisbon MBA is constantly updating its curriculum to incorporate the latest business trends, guaranteeing that students gain the management technical abilities and behavioral competencies that firms, and organizations in general, want in their managers and leaders. She states, "We offer high levels of employability, sector change, and salary increase of 90% after 3 months of completing the MBA and salary increase of close to 80% after 3 years of having completed the program (source: FT Global MBA 2021 Ranking)."
Finally, despite the pandemic's impact over the last two years, executive management programs have grown in popularity, with the institute receiving an increasing number of domestic and international applications as more companies, entrepreneurs, nomad businesspeople, and investors from around the world consider Portugal as a place to live and work.
Redefining Business Education
The management of the Lisbon MBA Católica|Nova is looking for more than just strong CVs. It is committed to quality and diversity. It seeks out future global leaders who can have a substantial effect on business and society with a wide range of abilities, accomplishments, and goals, and who embrace the institution's values of honesty, cooperation, excellence, innovation, and sustainability. "People who have a high degree of self-awareness, can do introspection, and identify exactly their areas of improvement are open to change, to innovation, and to being challenged outside of their boundaries," explains Maria.
To be able to adapt to the requirements of a global, ever-changing corporate environment, the Lisbon MBA emphasizes diversity, inclusivity, and a culture of integrity. It has more than 20 nationalities represented in its programs, with 60% of full-time MBA international students coming from a variety of professional and academic backgrounds, including engineering, medicine, law, management, economics, and social sciences, and working in a variety of business sectors.
The educators at the Lisbon MBA are always on the lookout for applicants who can bring a variety of experiences and views to the table, and who can inspire others with fresh ways of thinking, new models of analysis, and new solutions and techniques to improve collective learning.
Furthermore, the faculty is made up of professors who are a mix of academics and practitioners with extensive international experience, bringing not only the results of their original research but also real-world business experience to the classroom, contributing to a global perspective on business management.
Keeping Innovation at the Front
The management of the Lisbon MBA Católica|Nova places a high priority on creativity and innovation and believes that training managers and leaders with an entrepreneurial mindset, who can turn ideas into business models and generate creative solutions, is critical. In this regard, its long-standing partnership with MIT Sloan is evidence of this curricular focus, as the internationally acclaimed Professor Bill Aulet's entrepreneurship course (Disciplined Entrepreneurship) is part of the MIT immersion program for its students, which is supplemented by subjects focused on technological innovation management and digital business models. Students can also take courses in Big Data & Data Analytics, Artificial Intelligence, Business Transformation, and Financing Entrepreneurial Ventures, among other subjects.
In all degrees, the institutions' action learning component – learning by doing – is particularly strong. Students in the International MBA program have the option of completing an in-company assignment, participating in an international consulting project that takes our students to different geographies, being a part of the Lisbon MBA Entrepreneurship Hub's accelerator program, for those students who want to turn their business idea into a viable business project, or participating in an ESG consulting initiative, for those students who want to broaden their knowledge in this key business d
All students in colleges' Executive MBA programs work in groups to complete a business project and a business simulation, which allows them to put what they've learned throughout the program in marketing, commercial, finance, operations, organization, and human resources, as well as behavioral skills, into practice in order to excel in their teamwork as high individual and collective contributors for high performance.
It's also worth mentioning the alumni community's vitality, which just inaugurated the Entrepreneurship Chapter, with monthly seminars and a start-up context, in collaboration with the world-renowned Web Summit, which takes place in Lisbon every year. The winner of the context, who might be a Lisbon MBA alum or current student, will receive a booth at the Web Summit.
Rooting with Core Values
By offering students with a unique learning experience in an entrepreneurial and international setting, the Lisbon MBA Católica|Nova is devoted to helping students reach their full potential as global, principled leaders who contribute to a better society. As a result, it has a value proposition based on five elements:
Truly Global MBA experience, outstanding Action Learning, a Holistic approach, combining the learning and development of hard and "deep transferable" skills, a Meaningful Career Advancement, contributing to its students' finding and pursuing their life and career purpose, and finally, the city: Lisbon, the place to learn, live, and grow.
Within these five strategic pillars, the institute is constantly renovating its proposal, by incorporating new projects, new expertise, and new partnerships that allow it to continue innovating and strengthening its unique value proposition.
Comprehensive, Custom-Oriented MBA Program
In terms of goals, the management seeks to improve the Lisbon MBA's status as a European and international reference for MBA programs.
As previously stated, the Financial Times has named the Lisbon MBA Católica|Nova as one of the greatest MBAs in the world, and it has been ranked #1 in international experience for several years. It was also named one of the best MBA programs in the world by The Economist for the first time in 2021. Maria asserts, "As we look for candidates who are open and eager to challenge themselves, at the Lisbon MBA we need to set the example by permanently questioning how we do things and how we can do them better."
Being a part of the world's finest MBA program makes the participant extremely proud, but it also comes with a great deal of responsibility to stay one step ahead in every aspect, including academics, but also in the way it recruits, communicates, and offers career services and custom-oriented program support.