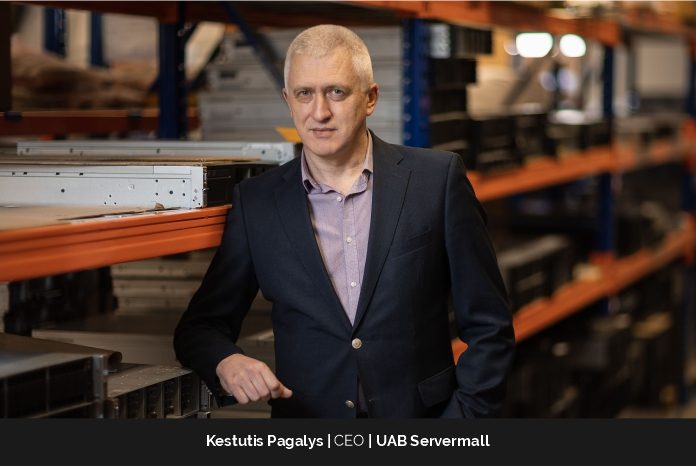 Kestutis Pagalys is an experienced CEO at Servermall, with a strong background in management and leading teams across various organizational levels. In his current role as Director – B2B, he actively contributes to the company's project management strategies and plans, overseeing the entire operation encompassing sales, e-commerce/sales management, services, and pricing/invoicing. His expertise lies in building and managing high-performing teams that cater to diverse client needs, with a focus on ensuring customer satisfaction and fostering repeat business.
Kestutis effectively balances his CEO responsibilities with hands-on involvement in procurement activities. His day typically starts by reviewing emails and setting priorities for himself and the staff. The fast-paced and demanding nature of his role requires him to be prepared for unexpected challenges and make the most of every minute. Kestutis thrives on the need to be both creative and technically proficient, leveraging these qualities to drive success in his position.
Throughout the day, Kestutis diligently oversees operations, with a particular emphasis on ensuring the timely dispatch of prepared orders. This underscores his commitment to efficient execution and meeting customer expectations.
Rediscovering Passion and Professional Aspirations
Kestutis' career journey before joining Servermall was characterized by unexpected turns. Initially working as an IT technician, he later transitioned to a sales role at Fujifilm. Although he achieved success in sales and eventually became a commercial director, Kestutis realized that sales were not his true passion. This realization marked the beginning of his return to the IT field.
His path back to IT included a position as an IT manager at a government exhibition center. While some may perceive his career path as convoluted, Kestutis believes that these experiences have actually reinforced his beliefs and professional aspirations. The twists and turns have provided him with valuable insights and a deeper understanding of his own goals and aspirations.
Building Trust and Unity
Kestutis believes that the most significant achievement for a business leader is establishing a trustworthy team. In order to foster unity, individuals must feel valued and understand the purpose behind their actions. It is crucial for the team members to collaborate harmoniously. Rather than competing for individual success, they should strive to be part of a supportive community. Kestutis does not subscribe to the notion of transforming work into an amusement park, as he believes that work should provide a healthy level of challenge to drive progress. However, it is important to recognize that people have diverse preferences, and this approach may not be suitable for everyone, including potential employees. Hence, Kestutis and the HR manager have the responsibility to find a middle ground that satisfies both the company's requirements and the employees' needs.
Perspective on Leadership, Mental Barriers, and Effective Communication
According to Kestutis, the presence of challenges is what makes work interesting and engaging. He believes that leaders do not emerge in environments devoid of problems. From his personal experience, he has found that the most formidable obstacles often stem from individuals' own mental barriers. Egos and internal limitations can hinder progress and prevent these barriers from being dismantled. It is not only one's personal challenges that need to be addressed but also those present in the minds of the people one interacts with on a daily basis.
Effectively communicating with others is yet another challenge that Kestutis emphasizes. Skillful communication plays a crucial role in ensuring that everyone involved benefits from the interaction. By navigating these challenges adeptly, leaders can foster a conducive environment for growth and success.
Success through Exceptional Services
Servermall, a Lithuanian company, specializes in selling refurbished servers throughout Europe. It provides a wide selection of servers suitable for various tasks, offering a comprehensive range of IT equipment. With a strong focus on customer satisfaction, Servermall not only guarantees the highest quality of refurbished equipment but also strives to deliver exceptional service. From assisting customers in equipment selection to ensuring prompt delivery and providing post-sales support, the company aims to set new standards in terms of both product quality and customer service.
As a trusted distributor and supplier of server and networking equipment, Servermall caters to the diverse needs and budgets of its customers by offering both brand new and refurbished options. The company's extensive services include remote or on-site support and maintenance, accompanied by a generous 5-year warranty on all products. Leveraging years of experience in refurbishing servers and possessing comprehensive knowledge of every component, Servermall fearlessly embraces projects of any complexity, demonstrating its expertise and dedication to meeting customer requirements.
The success of Servermall can be attributed to its exceptional workforce and a distinct, yet courageous vision. The foundation of this achievement lies in a simple yet crucial formula, where each component plays a vital role. At Servermall, the management adheres to a people-centric approach that encompasses both employees and customers.
Internally, this approach entails understanding and accommodating the challenges faced by colleagues when encountering difficult tasks, ensuring that their situations are addressed without compromising overall productivity. Externally, Servermall demonstrates maximum flexibility in resolving customer issues, whether they pertain to technical solutions, delivery logistics, support, or other aspects.
By establishing clear objectives, Servermall upholds high levels of quality and transforms numerous ambitions into reality. This unwavering commitment to clarity empowers the company to fearlessly undertake new projects, leveraging its expertise and resources to deliver exceptional outcomes.
While it currently provides free shipping across the EU, Servermall is steadily expanding its reach beyond Europe to connect with new customers in Asia and the Middle East.
Approaching to Supplier Collaboration
Kestutis, like many others in the IT industry, acknowledges the abundance of talented individuals and wonders if he has made any notable contributions. His approach to working with suppliers revolves around a modified win-win strategy. By prioritizing his company's needs and goals, Kestutis adopts a selective approach when it comes to potential partners, a cautious stance influenced by past unfortunate experiences. The presence of reliable suppliers brings about significant time savings, allowing him to focus on productivity rather than spending countless hours negotiating minor discounts.
While this approach may not be universally applicable, it proves particularly effective in the dynamic IT industry, characterized by fluctuating prices, demand, and availability. Establishing early communication with new suppliers can be challenging, as it sometimes takes up to two years to reach mutually beneficial terms, despite the fact that we are constantly trying to speed up and start processes as early as possible. However, partners who share a similar mindset and perspective appreciate the way Kestutis conducts his business, finding it suitable for their own endeavors.
Navigating Servermall's Global Expansion Journey
Kestutis believes that Servermall has promising prospects as a rapidly growing market player. The company's ultimate aspiration is to achieve a global presence. While Servermall primarily operates within Europe, it is actively expanding its reach towards the east, gradually integrating into the Middle East and South Asia. This expansion wouldn't be possible without the invaluable support and collaboration of its local partners in these regions. These partnerships play a vital role in facilitating Servermall's entry into new markets and establishing a strong foothold beyond its European origins. He says, "The European market is now challenging us every day with piles of jobs to be done. But we are doing well, as our sales statistics show."
As a leader, Kestutis recognizes the importance of efficiently scaling processes and seeks guidance on how to achieve this goal. When a company reaches a certain level of maturity, it may appear to operate smoothly without requiring additional effort. However, during the transitional phase, critical decisions need to be made regarding what aspects of the business to expand, when to expand, the appropriate size of expansion, and how to execute the expansion effectively. This journey of scaling is both lengthy and fascinating.
It is important to note that each individual and company follows a unique path, making it challenging to provide definitive advice on what actions to take. Kestutis can only speak from personal experience and perspective. In his case, ambition, a human approach, self-discipline, and a desire to delve into the core of matters have proven invaluable. These qualities have allowed him to navigate challenges, maintain resilience over an extended period, and minimize susceptibility to manipulation.