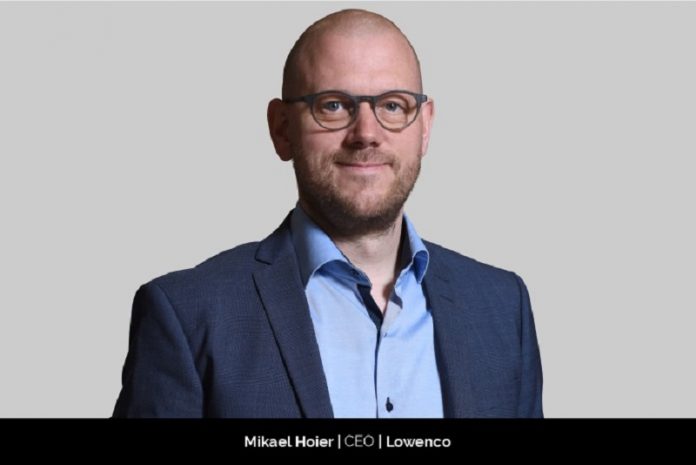 The Pharmaceutical Industry is progressing at a steady pace, and there are many leaders who are transforming the world with their out-of-the-box solutions. Mikael Hoier, CEO of Lowenco A/S, has revolutionized the pharmaceutical market with his unique product solutions. He states, "In every product, we are developing – saving energy is essential – without any reflection on the quality and performance. We want to help, making the world a better place to live. Every time we can replace existing solutions used in the market with our innovative solutions with much lower energy consumption, we are helping to reduce the CO2 footprint."
Behind the curtains
From a very young age, ambitions and goals played a crucial role in Mikael's life. He states, "When I go into something – it's with 110% focus. When I started my career as an Electronic Technician Trainee, I discovered early that I didn't want to continue on this road and couldn't see myself repairing televisions, etc., when I became 50. But of course, I finished my education – this is what I have been brought up to "finish what you have started." And after I finished education, it was clear to me that I needed to meet people, talk to and with people – and I moved into sales, and have not regretted it."
Having the ambition to bring change, he expanded his academic base. Being all set to raise the management skills, he started educating himself after work in the domain. He expresses, "I took different classes at business schools over a period of 6 years besides my full-time career job, with more and more responsibility."
He graduated with an Academy Profession Degree in Leadership and Management and then progressed in the sales domain.
He took the onus of Sales Manager, General Manager, Sales Director/CCO and excelled in the roles. Being an ambitious leader, he instilled values in his teams and led them to explore new heights.
Having a strong back hold of his past roles and solid skill set in the managerial domain, he is paving the way for Lowenco to the next level and beyond.
Inspiration to be a part of Lowenco A/S
Since Mikael didn't lay the foundation of Lowenco, he was always "on the sideline" when the company commenced its operations. However, he says, "After my first meeting with the owner of Lowenco at the very early start of Lowenco, I clearly remember my own "speak to myself," when walking from the Lowenco workshop to my car; "This is a company I really would like to be a part of." Three years later, I became a part of Lowenco."
He started as Sales Director/CCO with just one vision from the owner; "Build-up a sales organization and grow the company." Being a challenge-driven person, he took the opportunity with open arms and started working on the vision from scratch.  He is well aware that for the company's growth, they need to bring brilliant product solutions to a very interesting market like the pharmaceutical and healthcare segment.
He formulated the sales and growth strategy over the following years, and now they are happy with its terrific growth. On getting a promotion to CEO, he always received full support from the owner and the Board of Directors. He says, "A wrong market strategy can cost the life of a company, more or less overnight – you need, as a CEO, to have that clearly in mind." He understood this and took his job quite seriously in every aspect.
Overcoming the Impediments bravely
He firmly believes in Kelly Clarkson's words, "What doesn't kill you – makes you stronger." Roadblocks aid in learning the core lessons every day and shape your further development as a person, company, and the whole world.
He has faced many challenges during his voyage to become the CEO. He knew that he could manage all the tasks easily by quickly prioritizing and completing them with utmost quality and precision. Fearing the need to mail back and forth with misunderstandings, failures, etc., he preferred working all alone for 60-80 hours a week. Even though he had colleagues hired to finish those jobs, he had a hard time trusting them with nailing their job. Thus, on the personal development side, he slowly learned to hand over some jobs to colleagues and get the work done on time.
He adds, "Accepting that not all people have the same working enthusiasm as me – and this is OK – was also something that took some time to learn/accept. But people are different – and this is what makes the world colorful."
The journey to becoming a successful CEO begins with proper self-introspection, and it is not just crucial for Mikael but would also bring out success in leading a team and getting the right people next to him. He wants to add supplementary people who can give inputs as per their perspectives and direct in a new horizon.
As per Mikael, "The company's success lies in Happy and inspired people." He has realized that 'A company is nothing without its employees.' Now the success of his staff defines his own success. Thus, as a leader, he needs to help his employees to unleash their full potential and attain greater heights. Once that is done, he feels that he has fulfilled his job and the golden results of the company speak for themselves.
Brief about Lowenco A/S
Lowenco's name is derived from Low Energy Cooling, and every product designed by the company is much more than just a product. Their slogan, "Creating a better world – one unit at a time," represents their supreme quality and safe Large-Scale ultra-low temperature freezer storage solutions which lowers the carbon footprint too.
He shares, "We are one of the leading manufacturers of cold storage facilities, and we have formed a strategy on how to change the expensive, inefficient, and non-environmental friendly temperature-controlled storage. The solution has been developed under the brand names CON20 and LSSU and more cold storage facilities are under development."
Operating primarily in Denmark, they also deliver custom-made freezers and cold storage facilities where GMP guidelines must be applied worldwide.
Owing to our rich experience with cold storage facilities, they are serving high-demand markets like the biotech and pharmaceutical industries. Moreover, they even perform Factory Acceptance Tests, including performance tests documented as per specific customer requirements and GDP.
Designing innovative refrigeration components
With extensive market analysis to understand the trends, feedbacks, and further advancements needed from the clients to their R&D center, Mikael has revolutionized the industry with novice refrigeration components every now and then.
Keeping his "greener" vision in mind, he is striving hard to be the leading firm in "going green" in their industry.
For that, he is taking the lead and directing the employees with a clear vision for the future. With open office environments, he makes them feel as being available all the time. He clearly remembers the great passion, proudness, agility focusing on getting the perfect product of the highest possible quality developed when he first began. He added the business-focused mindset to this culture to develop it even further.
He says, "My vision is to bring Lowenco to the position of the most recognized and trusted supplier of high-end cold storage facilities for the pharmaceuticals and biotech firms around the world. But not only the best-in-class product, but also keep the position of being the most innovative and "green" solution for the benefit of our clients, the environment and for the individual – all of us."
Values chart out the company mission and how that aim will be fulfilled by any company. For Lowenco, driving growth through team efforts is everything. Secondly, being aware of the exact customer expectations and needs and designing solutions that assist the customer in reaching their objectives plays a pivotal role. Thirdly, the chief quality determinants remain innovation and out-of-the-box thinking. Lastly, Supporting the UN Sustainable Development Goals is their prime responsibility to make the world a better place.
He adds, "Our innovative prefabricated modular, scalable, and highly flexible solutions are still unique to the market – and with our daily development and focus optimizing, I am comfortable that this will remain for many years. With more and more installations made – no longer only in Europe, but also in the US and Asia, we are expanding into new markets and becoming more and more visible in the field."
He is elated with his returning clients as he feels when clients speak positively about the company to a new potential client, that is the best marketing that will build their brand name further. One of the clients even said that they are becoming "the internal worldwide site standard" due to their unique product as well as professional employees, which makes their brand highly reliable.
Life as the CEO of the company
Wearing the hat of the CEO of the company, Mikael, is fueling the growth of the company by strategic planning, execution, and creating a great work culture and environment for the team.
Taking the onus for the sales domain, he handles business development and client relationships.
Being ambitious to fly high, he surrounds himself with the team that shares his principle. He expresses, "The people stuck in "we are used to doing, we have tried this, and it is not working, this is not possible," they can not be a part of my team."
He believes that to bring a change; people have to think out of the box. He feels fortunate to have a solid power management team at his back who handles everything once he bags the client.
Besides having several powerful traits in his personality, he believes that dedication plays a crucial role. He comments, "Dedicated – I think it will cover me as the best person. Dedicated; in my job, in the tasks given to me, in making results, in the people around me, in what happens around me in general."
Being a seasoned business leader, he believes that young businesspersons should create destiny with their own hands. Nobody is coming to help anyone.
He focuses the point by stating, "Be yourself. Trying to be another one is not you. Develop the people around you. They are the key to your success. Give yourself to the company instead of expecting to have. Give yourself to your employees and do not expect just to have. By doing so, you will get so much more return than you are giving. You and nobody else can take away your career and your life in general. Take full responsibility for your own personal development, and you will get success in life. Learn everything about yourself. You need to know yourself before being able to know and develop others."
Thoughts on work-life balance
Being the CEO of the company, he has to oversee several things and handle client relationships to fuel the growth of the company. This takes a lot of time, but he still manages to make some time for his family.
Having a strong bond with his loved ones allows him to progress at the professional and personal front. Moreover, he knows when to take a break to re-energize his body for the upcoming challenges.
He gets his constant dose of motivation by motivating the team around him to progress individually and, while doing so, creating better results for the company.
Future prospects for the company
Mikael states, "My plans for Lowenco are clear. I want to continue the great developing process already started to become an even stronger and greater company to be a part of. To continue executing our growth strategy to grow our business, grow our market share, entering new markets, expand the workforce to become present more locally worldwide – to serve our worldwide clients even better than today."
On the personal front, he wants to help people develop their skills and achieve success. He aims to do the same for the other companies with which he is involved. He wishes to lift them to new levels.