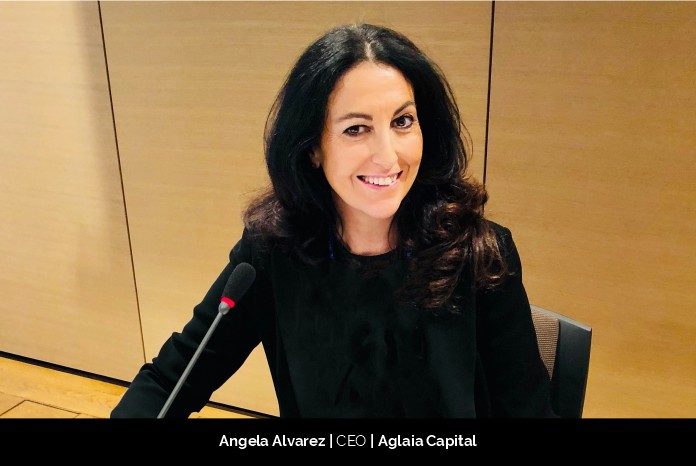 Emerging Technologies are shaping every sector including the Financial world. Angela Alvarez, Founder and Executive Chairman of Aglaia Capital developed the company to imprint her view on the industry where she has been developed her professional career, Corporate finance, Mergers and Acquisitions (M&A), Investment banking, and Financial Services, combined with new technologies, anticipating the needs of the clients and the industry itself. She says, "Blockchain, and digital assets attracted my interest also some years ago as a way to solve most of the issues that I have found in the industry along my professional career, so I started to go deeper in the possibilities that they can provide to our industry."
Being a good illustration of the saying "Great things are done by a series of small things brought together", Aglaia Capital is a new generation of corporate finance business combining the knowledge, the traditional discipline of an investment banking business and the strengths of an independent, and technology-oriented business.
Embracing new discoveries in every new challenge
Angela believes that the Financial industry is tied to the emerging technologies, where their adoption will transform mostly of the tasks and the way that the industry is conceived.
She adds, "Aglaia Capital was founded also with the mission of mixing traditional Corporate Finance and the Financial industry with the new digital world, aiming to transform our industry by using emerging technologies, mainly Blockchain/Distributed Ledger Technologies, considered an essential catalyst for the evolution of the world's financial infrastructure."
She shares, "I have faced many challenges that are part of my growth process. The beginning of my career has been marked by a combination of determination, passion, purpose, and also a huge dose of serendipity that have joined me along my professional career, and have led me also where I am now. Keeping the passion, resilience, flexibility, and being surrounded by allied with the same mission, values, and objectives than me, have made this entrepreneurship trip easier to travel"
Aglaia Capital: Traditional Corporate Finance, Fintech Blockchain and Digital Assets
Aglaia Capital is an independent corporate finance boutique for alternative investments which lies in two main areas. One focus on advisory traditional Corporate Finance, Mergers and Acquisitions (M&A), focused on off-market deals, mainly in Spain and Europe, and selectively in other geographies, specialized in Financing structures, Hotels and Real Estate. Based in Madrid, Spain, with an affiliated company in London, UK, they serve their clients on an international basis, through their network of clients, investors as well as affiliates and allies, focused mainly in Europe, and selectively in other geographies.
The second, focused on advisory for Fintech Blockchain companies, as an external accelerator, and on Digital assets, with focus on Tokenisations, providing also new ways of investing,
There is also Aglaia Capital Club, an Investment Club, to serve better the investment strategies of their clients, fostering the Aglaia Capital community.
Being an evolving company, she shares, "Aglaia Capital and I have attracted interest from its inception, being featured and awarded several times every year, which has inspired me more and pushed me in continuing developing my vision."
Foundations of Aglaia Capital's Success
Ever since the company's inception, Integrity, Innovation, Diversity and Sustainability have been the ethos to shape the company's success. She adds, "I believe that sustainability, diversity, as well as innovation and integrity, driven by organizations and consumers, will be a way for differentiation, and a selective evolution on the competitive corporate world."
A unique business approach. On traditional Corporate Finance, the team has extensive experience on transactions and handling both plain and complex situations from low size to big sizes deals.
Agility, based on their knowledge on the industry, on the investors, and clients, as well as the independence and confidentiality, acting as the traditional big firms but with the advantages of a personalised approach.
They are insiders in both industries, Corporate Finance and Blockchain Fintech, linking the understanding of both worlds, allowing a unique approach on tokenisations, besides offering an experienced team. She adds  "We aim to contributing in being the change that I wish to see in our industry. Besides our traditional Corporate Finance business, we advise to Fintech & Blockchain start-ups to leverage our knowledge in the financial and finance industry to new incumbents with more technological background, aiming accompanying them until an exit."
Life Before Aglaia Capital
Before founding Aglaia Capital, Angela had an excellent track of serving in some big global organizations, and banks among others, chairing international executive positions and Boards, mainly in M&A and Investment Banking. She says, "I was working at BBVA in several positions as Head of Investment Banking and member of the Risk Committee of the Iberian Special Assets Situations unit, Member of the Executive Committee of BBVA Consumer Finance, the Digital Bank and Uno-e Bank, and Head of Corporate Development for the acquisitions of Consumer Finance, Insurance and Financial Institutions in Europe, Asia, USA and Brazil. Prior to that I was heading the Corporate Finance and M&A European FIG team in Spain at KPMG. Previously, I was working at PWC Corporate Finance, Bankinter, Citibank, and All Trading AVB."
She further adds, "I was strategic partner, and I am Vice Chairman and Advisory Board of Fair Value Capital (UK), a Private office and Corporate Finance Boutique in Mayfair London. I have an active presence in my industry as speaker and chair at International Economic and Industry Forums, International Mergers and Acquisitions (M&A), Real Estate, Family Offices, Financial Sector, Fintech and Blockchain, and jury in international M&A and start-ups competitions and awards, passionate about decentralized technologies and cooperation business models."
Angela's Entrepreneurial Roles
Being an entrepreneur gives her the opportunity to imprint her vision, and adapt her business to a changing environment. She adds "It inspires me, and make me proud to see the courage and resilience also of other entrepreneurs following their dreams and pioneering the industries. "
She wishes to contribute in being the change that wish to see in her industry. She shares, "Having a purpose, and enjoying what you do, it is a powerful motivation. We aim to thrive every day, leverage on our experience and knowledge to achieve our goals and those of our clients and allies, and contribute with our approach to the business, and the way we relate to others to create a better world."
Future Goals for Aglaia Capital
Aglaia Capital was born with a strong focus on traditional Corporate Finance, and on transactional technology for the Financial industry with Blockchain, and Angela plans that both will be developing, as well as the combination of both, when the adoption increase.
She adds, "Current goals are the consolidation of Aglaia Capital, continuing growing our core Corporate Finance business, aiming to be a reference for off-markets deals, and also to develop a platform for digitalization to provide liquidity for some of our clients, and eventually being a reference Stock market for digital assets."