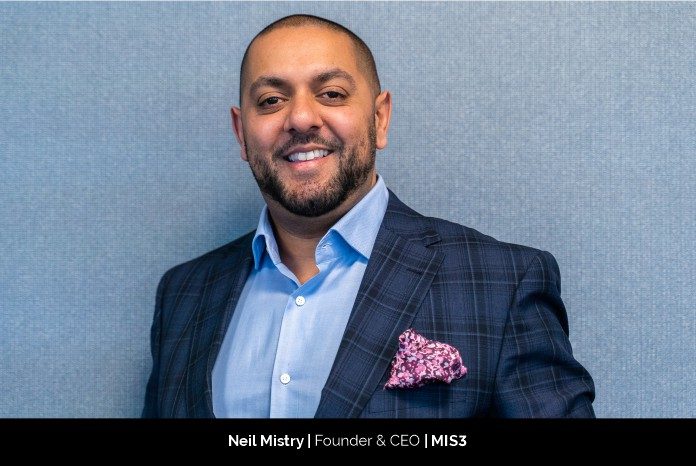 Running a smooth business requires digitization and IT management. There are several options in the market and complete digital transformation can be a daunting task for the best of organizations. At Managing Information Systems 3 US Inc. (MIS3 US Inc.), founder and Chief Executive Officer Neil Mistry provides a 360-degree view of IT with an application-centric philosophy. MIS3 US Inc. guides its clients in understanding the business value, new and emerging next-generation technology platforms provide, thus enabling digital transformation.
Business-focused Professional
Neil was always an entrepreneur at heart, a natural. He comes from a family of entrepreneurs going back over 100 years back in India and Africa. His father too led a successful business in Toronto. Entrepreneurship is in his blood.
He has a Bachelors of Business Administration degree in Purchasing and Operations Management. He has also completed a Procurement Specialization CPP program in Purchasing. Apart from this, he has mastered several technology skills and he holds accreditations and certifications from different societies.
Neil has been in the IT industry for almost 20 years. He has vast experience in leading a sales team and working with clients directly. He has always been a thought leader and a business-focused professional. He views technology as a business enabler. He is also aware that technology can pose a potential problem if used incorrectly. And most of the time it remains under-utilized. Therefore, he wanted to advise his clients on efficient and best technology utilization with a business purpose, while deliberately avoiding IT complexities.
Neil is a family guy and does his best to balance his personal life and work life. The juggle is difficult and the struggle is real, but he manages to schedule his time wisely. Every spare moment is reserved as family time.
Core Focus
Neil overcame several obstacles throughout his journey. Firstly, starting a company and a brand from the ground up and arranging an operating capital. Secondly, finding great people to build a team and this, is a continuous process. Thirdly, finding and establishing a place in the market and having enough revenue sources for survival. Finally, convincing the market of their value and innovative approach. Through all these roadblocks Neil never lost focus and labored on leading a successful business.
Success is something you envision and the focus should be on the purpose – what you do and why you do it. Success based on financial gain as a core focus is not sustainable. The focus should rather be on the impact you have within the industry.
IT Operational Simplicity
MIS3 US Inc. has 6 core practice areas:
Next-Generation Infrastructure
Next-Generation Cyber Security
Next-Generation IT Operations
Next-Generation Professional Services
Next-Generation Managed Services
Next-Generation Block Chain
Mis3 US Inc. is branded as a next-generation Business Value Tech Partner and solution integrator. Through their thought leadership in invisible technology infrastructure, they educate clients to reduce complexity within IT operations through the adoption of new and emerging technology platforms. They aim to guide clients toward IT operational simplicity.
They focus on architecting with simplicity, reduced IT operational complexity and provide full visibility into our clients' environment, regardless of endpoint or location. They explain the business relevance of adopting simplified technology that is easy to architect, deploy and operationalize, along with the impact these technologies provide to business owners. They are focused on helping clients reduce their technology footprint and moving towards IT operational simplicity. Their specialization is centered on providing innovative disruptive technologies that have business relevance for every organization. They are the disrupters and innovators of 'Business Transformation Through IT Modernization.' They are ahead of the market when it comes to their approach to business and technology. They keep themselves abreast of the market by continuing to invest time and research into learning about technologies and. MIS3 Inc. is the only Canadian company focused and dedicated to new and emerging next-generation technologies that drive business outcomes.
MIS3 US Inc. aims to be the North American leader in helping clients reimagine their business with the Transformational IT approach. They continue to focus on the North American market and they plan to continue to enhance their brand across Canada and expand into other states in the US. They believe clients in North America are looking for an organization that can provide thought leadership and awareness around aligning business outcomes with simplistic secure technologies and strategies.
Business Leadership
Neil did not just start a company but he created a brand in October 2017. This was the beginning of something amazing and refreshing. It was an unmet demand of the industry. This also sparked a new line of entrepreneurs who were inspired by Neil's success and initiated their independent business in this sector. Neil inspired confidence in them to take this leap of faith. He regards this inspirational leadership as his greatest achievement.
He is viewed by clients and peers as a trusted sales professional within the IT industry for over 18 years in Canada. He has collaborated with C level executives and directors within the public and private sector, including federal, provincial, municipal, higher education, school boards, healthcare, retail and financial services to better understand how to leverage technology to serve the business while delivering key applications that are fast, available and secure. He has been helping clients utilize existing technology investments and leveraging transformational platforms such as cloud while providing thought leadership around governance and security. Helping to reduce the technology footprint and educating clients on 'how to best utilize technology' to drive their business objectives and KPI's without burdening IT operations.
As the CEO of MIS3 US Inc., Neil is involved in all areas of the business including all 6 practice areas, financials, HR, and more. He inspires his team through hard work by being a model example. He believes in empowering his team to be leaders in their respective practice areas- making independent decisions and doing what is right for the business. He maintains that employee empowerment is critical to inspire a team.