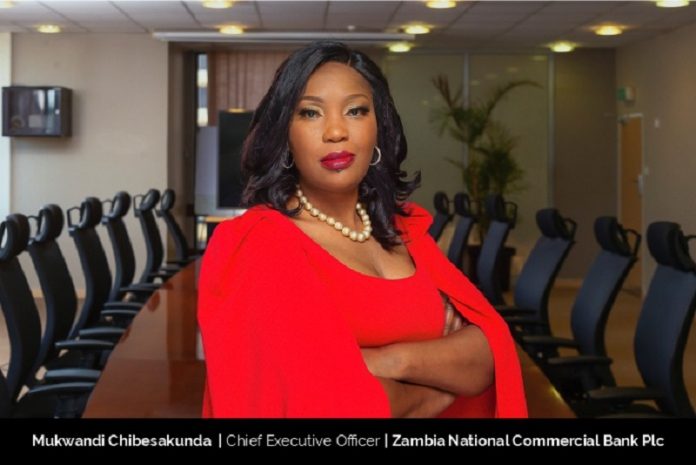 Mukwandi Chibesakunda is a top banker in a society where women are rarely seen in high positions in the corporate world. A woman of indomitable spirit, she has never allowed challenges to stop her from climbing up the corporate ladder. With aplomb, she has beaten the odds and written her own unique success story. And, as CEO of Zambia National Commercial Bank (Zanaco) Plc., Mukwandi is creating an admirable legacy. She is also ensuring that the Bank becomes a leading player in digital solutions, revenue, and profitability.
In November of 2020, Mukwandi joined Zanaco. She is currently overseeing its growth into a leading bank in Zambia on all fronts. An economist from the University of Zambia, the genesis of Mukwandi's banking career was at the Bank of Zambia where she served as Inspector in charge of 14 banks under liquidation. She also holds a Master of Business Administration and a postgraduate diploma in Business Administration from Manchester University.
A seasoned banker, having more than 20 years of experience in the banking sector, Mukwandi has served in senior capacities at multiple banks. She was the first female Managing Director at Access Bank Zambia Ltd. Before joining Zanaco, she served as Managing Director at National Savings and Credit Bank, driving its digital agenda to heights. She has also served at Stanbic Bank Zambia as Head of Personal and Business Banking; and Standard Chartered Bank Plc as Executive Director Consumer Banking.
This year, CEO Monthly Magazine named Mukwandi as the CEO of the Year 2021 in Zambia. She considers it as the best recognition that she has received until now. In 2019, she was one of ten delegates from across the African continent conferred with a leadership award from the African Leadership Magazine. It recognized her corporate governance leadership.
Banking Services Can Impact an Individual's Life
Mukwandi believes that it is faith that led her into the field of finance. "I place a lot of value on putting God first in all that I do," she says. "Being in the field of finance is a space I found myself in after graduating from university."
She chose to continue in the finance sector after witnessing how banking services positively impacted an individual's life. "I remember witnessing this earlier in my career when a solution was provided to one of my customers and his feedback was 'you have changed my life'," Mukwandi says. "I knew from then, there was no turning back on a career in finance."
Dwells on Lessons Not Challenges
Mukwandi's rise to the top has not been free of challenges. But, as she is driven and focused on her goals, she has not let them disrupt her progress. Instead, she has learned from each challenge. "We will always have challenges," she says. "What remains important is picking yourself up and learning from the challenges faced."
Mukwandi has learned many lessons over the years. It is because she does not dwell on the challenge but the lesson. And she believes that success is about delivering on what one sets out to do and leaving a legacy that will positively impact others.
Zambia National Commercial Bank
Zanaco is a universal bank that aims to enhance financial inclusion. It is a provider of financial service solutions to a broad spectrum of individuals, SME's and Corporate. And its services range from transactional solutions to savings, investments, insurance, and lending solutions.
The bank's vision is to become Zambia's leading, admired, preferred, and innovative universal and top transaction financial institution that provides the best in value solutions to clients while supporting financial inclusion. To achieve its vision, the bank has always placed innovation at the heart of what it does.
"We have scored a number of firsts in the industry such as being the first bank to introduce ATMs, Internet Banking, Mobile banking, and agency banking," Mukwandi says. "We are driving our digital-first strategy to redefine our industry because digitalization is the future of banking."
She also points out that integrity and innovation are aspects that customers expect from a financial service provider. And it is the responsibility of leadership to make sure that a culture of integrity and innovation thrive in the organization. "Therefore, we ensure that our leadership is customer-focused to be able to drive a culture that answers to customers' expectations of integrity and the delivery of solutions aligned to their needs through innovation," Mukwandi adds.
Core Values of Zanaco
Mukwandi says that one of the core values of Zanaco is taking pride in its national heritage and in the services it provides. Also, there is respect for diversity at the bank. Mukwandi says that integrity is also central to how they deal with customers and each other. And teamwork is an essential part of Zanaco's core values as well. Mukwandi says, " We execute on our Teamwork value by acknowledging every individual's role in delivering services of high quality."
And one of the most important core values of Zanaco is "excellence in all that they deliver." Mukwandi says, "These are values that we have driven to support many of the successes that we have scored in the last 52 years of existence."
Since 2017, Zanaco has been on a transformational journey. Mukwandi says this journey called for an "introspection of our values as we take banking into the future." Therefore, the bank has adopted transformational values that are centred around teamwork, innovation, courage, customer focus, and accountability.
Banking Sector Is Evolving
In recent years, the banking sector has evolved tremendously. It is primarily because needs of customers have evolved. In addition to that, the adoption of digitization has transformed how banks operate and how they serve their customers.
Recently, there has been a significant rise in the number of people who are transferring funds using mobile digital wallet. Convenient digital payments have disrupted the traditional financial sector.
"We also cannot ignore the impact of the Mobile Network Operators who we are now competing in the provision of money transfer and wallet solutions," Mukwandi says, adding that it is clear that the future of financial services is digital.
Zanaco is now putting strategies in place to ensure that it continues to stay as a leading player in the future of banking.  Its aim is to deliver services that make banking easy for its customers so that their expectations are met. "So far, we have been able to achieve this through our many innovations such as our Mobile Banking, Xapit, our Zanaco Xpress Agency Banking, Quick Response (QR) Code solution, Xapay, and our various other digital solutions," Mukwandi says.
Fully Present When at Work and When at Home
Many CEOs and senior leaders fail to maintain their work-life balance. Mukwandi, too, believes that it is not easy to create a work-life balance. She, however, believes in focussing on one thing at a time. At work, she is completely devoted to her responsibilities as the CEO. And, the mother to four children does not bring work home. "I am fully present when at home and also when at work," Mukwandi says.
And she believes in celebrating every win of her team members. It is how she keeps her team motivated as well.  Mukwandi says, "I keep our staff motivated by celebrating every win together no matter how small and also rewarding for efforts. Future of Zanaco
Customers are the key assets of the bank. And, as Zanaco is aiming to become the top transactional customer-centric Bank by 2025, it plans to focus on customers and innovations in to achieve its future aspirations.
Agriculture and Climate change are topical areas in the Indigenous Banks market. Zanaco has taken a proactive stance in responding to these notable key areas by partnering with the European Investment Bank on a 30 Million Euro Agriculture Facility to support the growth of the agriculture sector.
The Bank was the only Bank in Zambia to participate in the COP 26 conference in Glasgow and is the only financial institution to lead the way green financing, with a letter of intent that was signed between the Bank, World Wide Fund for Nature and Kukula Capital to set up a Green outcomes Fund to invest in green projects and support to businesses that enhance smart agriculture, cleaner energy sources, and sustainable use of natural resources.
"Critical in our future plans is not only to enhance the Innovation process, grow a quality digital footprint, optimize costs and grow profitability ,but to become the bank that supports sustainable businesses for the preservation of our environment," Mukwandi says. "Ultimately, we will be looking to run our business by doing things smarter, efficiently and more responsibly."
Personal Goal 
Mukwandi feels highly motivated when she achieves what she has set out to do. "It reminds me that nothing is impossible if I put in my best every day," she says.
And as a leader, her personal goal is to develop and grow the potential in others. She also wants to leave a legacy so that other women, too, can find a prominent place in the banking sector.
Message to Upcoming Business Leaders
Mukwandi has been consistent throughout her career. And her message to the upcoming business leaders is that they need to be consistent. "Consistency is the only currency that matters and also to be transparent and respectful," Mukwandi says.