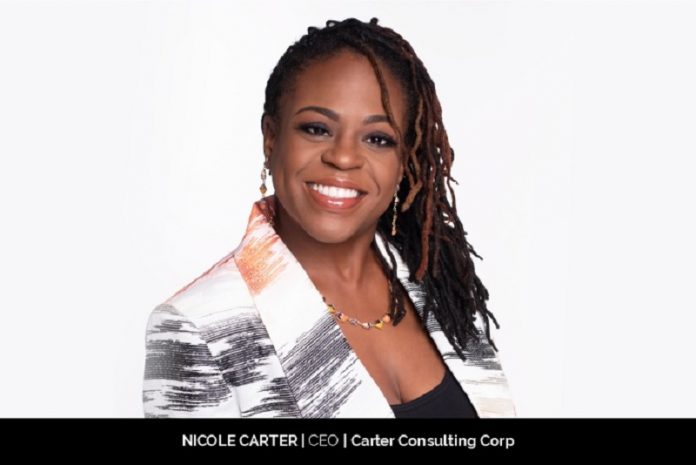 Believing the popular saying, "There is no exercise better for the heart than reaching down and lifting people up," Nicole Carter, Founder and CEO of Carter Consulting, Corp is helping other firms and organizations to rise and shine by tapping into her skill set and extensive experience of 22 years in the industry. She aims to steer them towards greater excellence through her diligence and dedication to professionalism.
With the vision to empower community and rural organizations by providing access to resource development and training, Nicole is paving her firm in the right direction. Carter Consulting, Corp. is a nationally renowned consulting firm providing grant writing, program planning/management and implementation, training, and technical assistance services. Their reliable services are targeted to non-profits, social service, faith-based, local government, and minority organizations.
Evolving into a top leader
Nicole is the firstborn daughter of RN mom and pastor who hammered the skills of grant-writing deep into her daughter's veins at a very young age. Nicole worked for her father's consulting firm as a research and grant writing assistant, starting in high school and throughout her college years.
Having strong skills in grant writing, Nicole decided to help others with her expertise in the domain. Amalgamating her grant writing and business management skills, Nicole laid the foundation of Carter Consulting to support non-profit and faith-based organizations with provision of grant writing services, technical assistance, program evaluations, capacity building, resource development, and professional development training in 1999.
In the same year, she even joined The Center for Life-skills, Education, Assistance and Development Services, Inc. as the Program Administrator.
She oversaw the day-to-day operations of the corporation and implemented such policies as may be adopted by the Board of Directors. She assisted in planning, coordinating, and supervising the operations of Human Resources administrative functions with an emphasis on instructional staffing and support services. She was responsible for developing and implementing a fundraising and resource development plan, developing and coordinating Federal and State grant writing efforts, completion of all Federal funding requirements, including budget and progress reports as well as facilitating requests for on-site visits.
In 2004, she joined the Department of Tennessee Emergency Management Agency as the Program Monitor. She handled programmatic monitoring and evaluation of sub-grantee programs, scheduled and accomplished work plans in a timely and proficient manner. She was also responsible for contacting agencies, planning, and monitoring programs, analyzing and identifying problems with subgrantee performance, providing technical assistance to sub-grantees to resolve any problems related to reporting, documentation, and traveling. Nicole gave her best in handling everything at the department and added valuable experience on her side.
In 2005, she decided to expand her knowledge base, so she completed a series of certifications, programs and trainings. She even completed the TEMA- Disaster Preparation 101 program and NAHRO Section 8 Housing Manager program in the same year to expand her reach and widen her skill set.
Then she joined County Housing Education & Community Services, Inc. as the Director/Grant Writer Specialist. She handled research and development of grant applications and proposals, implementation and maintenance of applications for existing grants, administering reporting and accounting for existing and new grant awards.  She developed staffing structures to support the efficient delivery of programs and services, as well as hired and managed the staff in accordance with the organizations' strategic plans and budget. She has set a positive tone for the agency in personnel and daily operating procedures, assessed staff needs, facilitated staff development, and implemented board policies and planning by formulating sound operating procedures to achieve the annual goals of the organization.
She was responsible for building key external community and faith-based partnerships, developing meeting agendas to ensure the board fulfills all responsibilities effectively, informing the board on the condition of the organization on all important factors, involved in the strategic planning of the organization in conjunction with the board as well as fundraising efforts.
Developing and maintaining positive relationships with partner organizations, policymakers, and media, she represented the organization to the public, assumed a leadership role in community planning by identifying gaps and duplications in client services for the best possible utilization of resources, and be a spokesperson for clients and community when a highly visible advocate is needed.
Nicole has served as Project Director for HUD, Dept. of ED, DHHS, DOC, and several of the other federal and state programs.  The programs included Section 202 Elderly Housing, Section 811 Special Needs Housing, Youthbuild, Healthy Marriage, COPS, Transitional Housing, ROSS, FSS, Computer and Technology Lab Funding, CSBG, CDBG, Brownsfields, Food and Nutrition, COPC, HBCU, Drug Elimination, State Grants for Mental Health, and several others.
All these roles and responsibilities allowed Nicole to evolve into a better leader and position Carter Consulting at the top, helping others. Nicole has secured nearly ten million dollars in federal, state, and local funding in the past year, established more than 32 grassroots/community-based organizations and assisted in the initiation of more than 50 Housing and Economic Development programs, including emergency food assistance, education, and employment, job training, counseling, recreational, housing and rehab, elderly, healthcare, crisis intervention, and family development programs.
Helping other firms with Carter Consulting
For the majority of her career, Nicole has been a grant writer or grant monitor. This has allowed her to draw on her exceptional experience in this niche field to support the clients with outstanding services. She is passionate about creating grants that will make a true difference to the community and the lives of those living in them.
As a Women-Owned Minority Business with SBA 8(a) and HUBZone certification, Carter Consulting is committed to excellence and creating innovative and flexible solutions for its clients. The firm specializes in program/project management services, with the company capable of managing entire processes from the planning phase through implementation and closeout. Carter Consulting is also an accredited Leadership in Energy and Environmental Design (LEED) organization and certified as a construction craft trade specialist by NCCER.
Nicole says, "Thanks to its integrated knowledge, Carter Consulting is able to offer a range of services designed to make projects more efficient, controlling costs, schedules, and work scope without compromising quality. The firm's capabilities combine its expertise and experience in compliance, human resources, recruiting, staff training, administrative support, and contract negotiations."
While offering grant and management services, the in-house team at Carter Consulting follows three vital steps, namely, Grant Funding Search, Grant Proposal Development, Grant Proposal Development, and Grant Proposal Review. With funding search, the team conducts comprehensive research for finding the potential funding resources. Nicole mentions, "We can also compose letters of inquiry for the granting agencies that request one."
Then, the team plans and plots workable solutions and writes outstanding grant proposals. She adds, "We draft an evaluation plan, prepare documents for submission, proofread, submit to the funding source and follow-up." In proposal review services, the team proofreads the project with respect to the request for proposal and funding guidelines and provides valuable insights over it.
Working diligently to support their clients, Carter Consulting's expert team has more than 65 cumulative years of experience in the non-profit industry and has served hundreds of grantees from all over the country and abroad, resulting in the securing of more than $50 Million dollars. The firm's executive staff is comprised of high-level executives from diverse industry arenas including construction, non-profit, government, commercial, technology, accounting, and primary federal contractors. As such, they have the far-reaching expertise and industry knowledge to constantly be ahead of emerging market developments and are able to offer the highest possible standard of service to the clients. All the experts stay at the forefront of innovation and grab new opportunities to serve the clients in the best possible way.
In 2019, Carter Consulting was awarded more than 4 million dollars in grants and contracts. Over the years, under the leadership of Nicole, the firm has accomplished several milestones.  The firm has acquired the 1st minority-owned hemp farm in Tennessee, and three buildings for rental property.  Carter Consulting also acquired a $500,000 apartment complex with $375,000 cash. This was a community effort that took critical thinking, strategic planning, and relationships. By collaborating with community organizations, the firm is able to meet the needs of its various stakeholders and provide support that cannot be found elsewhere.
Carter Consulting is pleased to provide specialized workshops and courses on-site to non-profits and churches throughout the country. Their goal is to provide training to the community serving agencies so they can better respond to needs and issues within their organization. Nicole mentions, "We value our non-profits and provide capacity building to non-profits, so they enhance our communities. We offer a series of introductory and advanced workshops from everything to fundraising/campaigns basics, grant research, and proposal writing, budgeting, and capacity building. We can also design courses specifically tailored to your operational needs."
Wearing the CEO's cape
As the founder and CEO of Carter Consulting, Corp., Nicole caters to the needs of different non-profit and faith-based organizations by imparting on-demand technical assistance, capacity building, grant writing, resource development, program evaluations, and professional development training. To date, she and her team has served hundreds of grantees from the country as well as abroad, which has yielded in securing $20+ Million dollars. Her top-notch grant assistance, evaluation, and management services comprise five main steps, including researching local needs, locating potential funding sources, supplying different clients with current federal, state, and local funding opportunities, coordination and guidance of grant preparation, and consulting of grant submission and reporting.
Nicole adds, "I have expertise in creating a wide range of legal documents to include: Articles of Incorporation, By-Laws and Federal Tax-Exemption, SS-4, etc. I also sit on the advisory boards of several local organizations and am the primary instructor for the well-attended regional community-training workshops: Non-profits and Federal Funds."
She exhibits strong leadership traits that have helped her in assisting a myriad of community-based organizations, small businesses, housing agencies, and health and human service agencies so that she can ameliorate their core operations by building their organizational capacity as well as implementing improvement strategies for greater community impact. Her tireless efforts in contracting with different Departments of Government for technical assistance, education, consultation, and grant evaluation services are truly commendable. Being a passion-driven as well as a brilliant business mentor, she is able to help people in succeeding and thriving in today's corporate market.
Owing to her dedicated and visionary leadership, Nicole has been honored with a plethora of accolades over the years. From winning the 'Most Influential Businesses Woman from Acquisitions International in 2019,' to being one of the '10 most successful women to watch in 2021 by CIO Views,' 'The 10 Most Inspiring Businesswomen Making a Difference, 2021 by Beyond Exclamation Magazine,' 'World's 10 Most Dynamic Entrepreneurs to Watch in 2021 from Worlds Leader's Magazine' and the '10 Most Inspiring CEOs to Watch in 2021 from Tycoon Success.' Regardless of her name and fame, it is an absolute honor for her to create a real difference in so many individuals' lives with ample employment opportunities to sustain their families and livelihoods thus, bridging the social and economic gaps of empowerment.
Touching New Heights in Future
To make a mark in the industry, Nicole has always believed in standing together with the company. Not only will it help numerous people around her to attain success, but the company will also reach the zenith of success. In the upcoming future, their team is seeking to grow even further and are planning ahead to develop more housing units as well as secure federal and state contracts in the administrative services.
Sharing her golden mantra of success, Nicole urges the rising leaders to chase their dreams with full determination without losing hope. It is important to stay laser-focused while climbing the ladder of success to Keep on accomplishing the milestones along the way until you reach your north star.