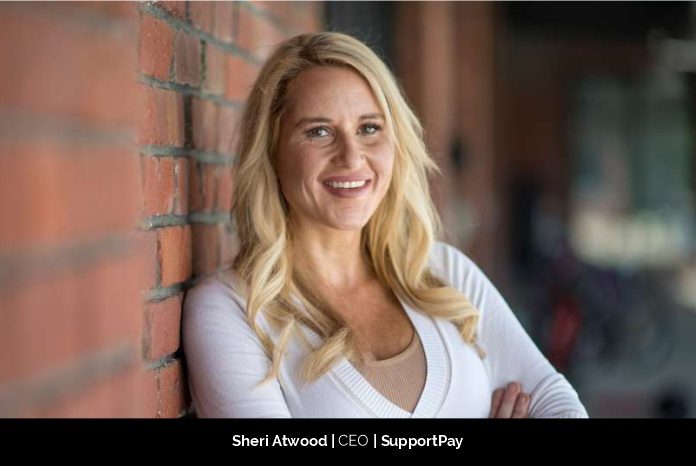 Nothing succeeds like success
There is no single formula to success. However, Sheri Atwood, Founder & CEO of SupportPay, believes that the best definition of success is building and delivering a solution that makes people's lives easier. She states that knowing that she works as hard as she does to deliver something valuable to the world is the best indicator of her success. Sheri is a creative innovator with a reputation for solving major challenges while installing discipline, processes & methodology into her organization.
This passionate and committed executive was raised by a single mom. She is the youngest of three children and her goal as a child was to escape the current economic struggles her mother faced. "I knew the only way to do this was to go to college. Therefore, my sole focus growing up was getting into college. After 12 years in high tech, I decided to risk it all and start my own company. I taught myself how to code and am an expert in front-end development," says Sheri. She is a results-driven collaborator, focused on executing outstanding results in strategy, differentiation, awareness, demand generation & sales enablement to drive revenue.
We learn little from our triumphs, but a lot from challenges
The initial challenge for Sheri was a lack of capital (female-founded companies still only receive 1.8% of venture capital). She worked hard from the beginning to overcome this and over the course of five years was able to raise a substantial amount in funding. Another hurdle she had to overcome was the lack of awareness that a solution to this problem existed. Most parents don't realize there is a solution so they don't think to look for one. "We have overcome this by seeking to educate parents and family law professionals about SupportPay," she explains. SupportPay is the first-ever automated child support payment platform for parents living apart. It helps parents to manage child support and share expenses directly with each other.
What Is SupportPay All About?
Globally there are over 298 million parents who are exchanging over 990 billion dollars every year in child support. In the US, there are over 55 million parents that live apart, and 39 million of them exchange over 200 billion dollars every year. Up until now, there has not been a standard process or system to enable parents to manage this emotional and conflict-ridden process. Since child support is not just a single monthly payment but also a broad collection of shared expenses, parents must continually manage, communicate and negotiate over child-related expenses. The entire process is complex, time-consuming, and very stressful.
SupportPay seeks to eliminate child support conflict and enable collaboration with an easy-to-use online and mobile application, providing both parents transparency while saving time & money. SupportPay is the only solution on the market that is built from the ground up to focus on child support and expenses and make it easy for parents to manage finances through their application. Under the guidance of their energetic & enthusiastic leader, SupportPay has created a new market and solution that didn't exist before. SupportPay is focused on helping families manage finances. Parents can now spend less time managing child support and expenses and more time focused on raising happy, healthy children.
Sheri hopes that SupportPay becomes wildly successful and they wish to help millions of parents and children who deserve a solution that gives children the financial support they deserve. Today they are helping parents who live apart in giving their children the financial support they deserve. Shortly, they are looking to expand to use the same technology to help siblings and other family members who are providing financial support for their aging parents.
Life Before & After Becoming A CEO
Prior to SupportPay, Sheri had a very lucrative career as a marketing executive in Silicon Valley including being the youngest Vice President at Symantec. "I was a divorced single mom busy juggling a career and raising a child and quickly realized that you get a bill for everything in life but you don't get a bill for child support," she says.
Sheri is responsible for everything from the strategy, marketing, finance, operations, and technology options. She states that a lot of times it can become overwhelming but also very rewarding because they deliver a solution that helps so many parents and children. "The best recognition we can receive is from our users – who love our product and feel
we are making a difference in their lives," Sheri exclaims. She has built a strong & collaborative staff and is focused on hiring an inclusive & diverse team to grow and work with her.
Work-Life Balance
"It is tough and I would never call it a balance but I try to focus on being focused and present at the moment – whether it is when I am working or spending time with my daughter," she says explaining her attempt at managing a professional and personal life together.
Sheri and her employees keep themselves motivated by being content in the knowledge that they are delivering a solution that helps parents and children and gives children the financial support they deserve from both of their parents. Building a business alone is a big undertaking and there will be unforeseen obstacles along the way, however, if one has the perseverance and grit to push through, it is a very rewarding journey.