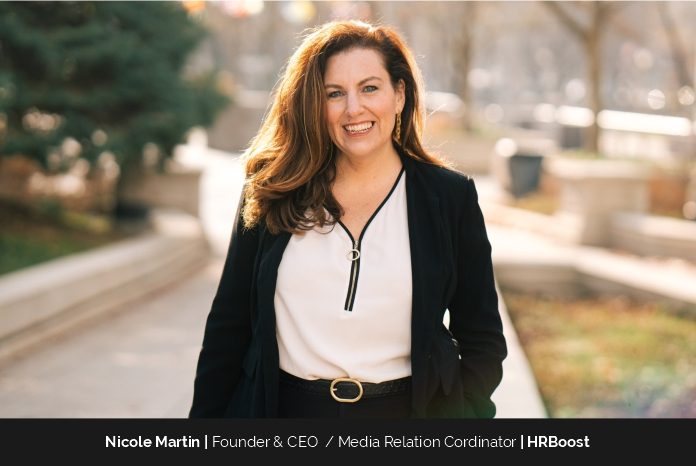 When we mention HR in the context of an organization, we can refer to individuals or employees, but we can also refer to the specific department inside the firm that oversees these personnel. HR is, in any case, an essential component of any organization. Depending on the kind or size of the firm, the HR department may consist of a large team managed by an HR Manager, or it may consist of only one person in charge of the complete HR operations of the company, but they all play an important role in the business. Human resource management is critical to the success of organizations, hence its importance (HRM).
Nicole Martin is the Chief Empowerment Officer and Founder of HRBoost, LLC, a Shared Services Consulting business in Chicago's northern suburbs. HRBoost® provides a broad range of consultancy and outsourcing services for over a decade. Her knowledge and recommendations have been highlighted in newspapers and publications around the country, making her a sought-after expert.
Nicole has been recognized by several organizations for her professional achievements as well as her community commitment, most notably as a 2016 Enterprising Women of the Year Champion by Enterprising Women Magazine. Forbes.com, the Daily Herald Business Ledger and Fast Company are among the most recent periodicals in which she has appeared. Nicole is also the online host of HR in Fast Lane and a contributor to the Chicago Business Journal. Nicole is the author of The Talent Emergency, an International Literary Award and Amazon Best Seller, as well as the companion Talent Emergency Guidebook, The Human Side of Profitability, The Power of Joy & Purpose and Co-Author of No Fear Negotiation for Women.
Leading by Example
Nicole aims to lead by example, and she also intentionally shares for the benefit of all. She has published two books that really speak to women, though men have let her know they enjoy them equally as well. The Power of Joy and Purpose is her personal story and she shares her 7 Presence Principles as she gets asked nearly every day. Nicole also co-authored a book with John Tinghitella last year that she named it, NO FEAR Negotiation for Women, a book where she set forth a process that women can add to their list of abilities and for the greater benefit of our country. Men are about results and women are about effort. Both are needed in business today.
She asserts, "It is our Vision at HRBoost® to bring JOY and PURPOSE to PEOPLE through their Work. It is how we serve our clients and the people that choose to join up on their visions. We live it at HRBoost®"
Nicole sees it as her primary role to empower her Booster team and invest in ongoing education, tools, and resources to maximize their potential. She is confident that they would please their customers. She was incredibly honoured when her own firm hit the stage of Best & Brightest ®Companies to Work for in Chicago in 2020, after years of working on the Advisory Board and being part of a winning organization in her previous capacities. Nicole believes that leadership must exist at all levels of a company. People must be asked to live leadership from wherever they are now that the hierarchy is obsolete. The language of what makes a leader is the creative space where teams can create their reality for shared leadership for optimal efficiency and effectiveness across the organization.
Success for Nicole
At HRBoost®, Nicole feels honored to lead a high-performance team of HR leaders who partner with the company's business clients to meet them wherever they are on their journey to being the best place to work. She says, "We have experienced tremendous growth and proudly nearly every client has been sourced through word of mouth. Our appeal and success are due to our personal dedication to each and every business we partner to serve."
Nicole says she is blessed to have truly conscientious and driven people on her team. They live their core values and instead of her recognizing every time a core value is witnessed, they have taken peer reward recognition to be a strong reinforcement. She feels it is imperative to get hands-on experience doing what you seek to learn. She opines, "Make sure it brings you joy before investing time, energy, and dedicating your life to it. Enjoy the journey and be prepared to learn, unlearn, and relearn. Surround yourself with people who inspire and support you, but also don't patronize you. Remember, even if it gets harder, or takes longer, stay diligent. Anything you love will be worth it. Overcoming fear and the ASK are key to where I am today." She also feels everyone deserves a coach as self-accountability is paramount in achieving your goals.
Challenges of Leadership
Nicole believes that the early hurdles of being a CEO are numerous. To scale and grow, one requires both human capital and financial capital. Many will not expand because they do not invest in skills, and it is frequently the CEO's responsibility to absorb the debt. She took a calculated risk by investing in her skills and bench strength.
Nicole was reacting to her business in the early years and as a mother and wife, it may be difficult to manage work-life integration. She looks back and recognizes that by documenting a process, hiring qualified individuals and disappearing to allow them to work, the process was successful; and the team can now do it again, and again, and again. She says, "You must trust the people you hire, and you must trust the process. When it is time to take a calculated risk, you invest and do what you can to increase the odds."
Assisting with Building HR Departments
HRBoost® provides HR services to small and medium-sized enterprises on an as-needed, project, or retainer basis. The organization meets its clients wherever they are on their path to becoming an employer of choice, as well as at their speed and budget. Its Shared Services methodology enables it to create HR departments from the ground up and match them with business objectives. While the business sees enormous value in the middle market, several larger firms use its team to supplement their existing HR departments with strategic project projects.
According to Nicole, the software is not HR, and HR is more than just payroll and benefits. She goes on to say that creating a high-performance culture that encourages innovation and profitability necessitates leadership at all levels. The HR infrastructure can uphold the Culture Invitation and, once it is strategically aligned and reinforced, a company can create workforce alignment, empowering leaders to innovate amidst even the toughest climate in business.
The Accidental Entrepreneur
Nicole loves what she does, and she does it remarkably well. "I'm the accidental entrepreneur," said Nicole, "I looked back after starting my own business and said, 'I started a business. Whoa!'"  Nicole didn't set out to create HRBoost®. She simply followed her passion to help clients understand the importance of human resources in developing a strong business. Today, Nicole is a successful entrepreneur and an HR industry innovator who is dedicated to helping small to mid-size businesses realize their potential through their employees.
A Visionary Woman Leader
A self-professed "country girl in disguise," Nicole Martin grew up in Montana, where, she says; "Everyone knows you and greets you on the street." Nicole was also lucky to have had a great mentor early in life: her mom. "My mother is highly spiritual, and she raised me with the philosophy of being happy," said Nicole. "She always believed that you are a special person—she ingrained that in me—and you are capable of anything."
At the age of 18, Nicole was ready to start proving her mom right. She left Montana and moved in with her godmother in Libertyville, Illinois. Right out of high school, Nicole got a job as a receptionist at a pre-Y2K firm, where she found her passion quite by accident. "They were hiring all these computer experts from overseas, but when they arrived, the company just put them in the reception area because they didn't know what to do with them," recalled Nicole. "It was just inhumane."
During the same time, Nicole was working on a training program for a college human resources class. She says, "I wanted to help these guys out in the hallway, so I just marched into the director's office and asked him if he wanted to see the training program I created for school." When Nicole was finished with her presentation, the director created a human resources department for the site, hired a manager, and moved 18-year-old Nicole from reception to human resources.
Nicole has been building HR departments from the ground up ever since. What makes her approach so unique, she says, is that she begins with the business's vision and creates HR programs that are completely integrated with that vision. The team supports employers at every stage of the employee experience, and small businesses deserve to compete for talent in today's market. Nicole states, "Our Boosters create programs designed to further the business, boost productivity, and help employees understand why and how their contributions are meaningful."
Nicole credits her team for all the success the business has accomplished. Today, she is proudly a woman who has built a seven-figure business from scratch and knowing only 2% of women-owned businesses do this is alarming. Women remain an opportunity for business everywhere.
Staying Abreast to Deliver Exceptionally
HRBoost® recognizes that HR knowledge is critical for every organization as it expands. Its shared services strategy enables organizations to access strategic HR at their own speed and within their own budget, all while adopting a holistic approach to integrating a culture plan that supports their strategic and/or operational aims as a business. According to Nicole, the organization provides competent expertise to its clientele. It also argues that clients require both strategic and tactical resources concurrently. Because there are multiple cognitive capacities to enhance HR strategically, one individual is not optimal. Nicole feels the PEO Alternative is the company's shared services strategy for the middle market.
HRBoost® works with companies in a variety of industries, including professional services, non-profit organizations, high technology, manufacturing, staffing firms, hospitality, and healthcare. Its customers are mainly high-growth companies with 50–250 employees. Because the concept is designed to meet customers wherever they are, it offers full-service embedded HR assistance, project-to-project support, culture design, and management training, employee programs and evaluations, virtual help, and phone support. Nicole considers it a pleasure to manage a high-performance team of HR executives that collaborates with the company's customers to meet them wherever they are on their path to being a great place to work. The firm has grown rapidly, and nearly every client was referred by word of mouth. Its appeal and success are due to the team's personal dedication to each and every client.
Nicole asserts, "We remain client-centric, and our team is truly excited to be recently recognized for our commitment to Diversity Excellence by the Daily Herald. It is recognition like this that keeps us believing in the hands-on contributions every person on our team brings. Boosters know everyone can lead from where they stand, and the traditional hierarchy need not be upheld at HRBoost®."
Heading towards New Opportunities
HRBoost® has always trended with growth year after year, however, amidst the pandemic, it was a hard hit like many. However, it has successfully returned to pre Covid-19 revenues levels, and this is something it is pleased with given the level of uncertainty in the market. Nicole says, "We have revealed some new innovative ways to reach our clients and as talent shifts occur, we are ready to help the businesses that seek to retain talent."
Ironically, the biggest threat to the marketplace is talent, even now. Only the truly forward-thinking companies will make winning moves even in the downturn of the economy.  In 2023, HRBoost® will be launching new opportunities for seasoned HR practitioners across the nation. Proudly its talent currently spreads across five states and the boundaries no longer apply.