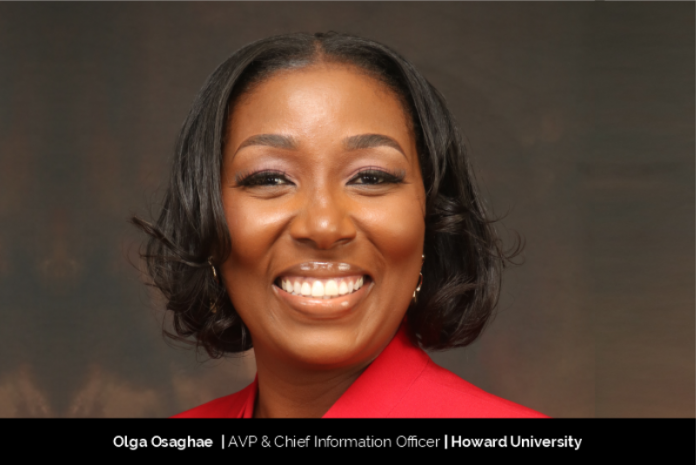 Olga Osaghae, an AVP & Chief Information Officer at Howard University, is featured in today's cover story. In this discussion, she distills the knowledge and insight that helped her grow within the IT sector, despite the persistence of racial and gender disparities, where women face a more challenging time achieving success than males.
Olga is a certified Project Management Professional (PMP) with 20+ years Information Technology Expertise that also includes Enterprise Governance, Portfolio Management, IT Software Applications Implementation & Management.This capable leader has positioned herself as one of "The 10 Most Influential Black Corporate Women to Watch in 2023," thanks to her adaptability, determination and forthrightness.
"I have learned over the years that when one's mind is made up, this diminishes fear; knowing what must be done does away with fear" – Rosa Parks
Olga's childhood ambitions and the path that led her to a career in IT.
It took her a while to discover the specifics, but a passion for education and a curiosity for numbers has been driving Olga Osaghae since her teenage years. Now, as Howard University's Associate Vice President and Chief Information Officer, Osaghae is supporting one of the world's largest historically Black universities with the same curiosity and passion for developing people through her work with the campus' enterprise technology portfolio.
Teaching was the first ambition, but leadership seemed daunting for the mild-mannered Osaghae, whose trademark smile and calm demeanor contrast within a high-energy, high-impact office serving more than 13,000 students and 3,200 employees.
"I was also easily drawn to numbers, so it was quite easy for me to veer towards becoming an accountant. I never considered technology as an option," she says.
After earning a bachelor's degree in accounting from the University of Ghana, she sought an MBA and quickly realized that it was not the path for her.
"I started researching on what my options were and decided to register for Management Information Systems. The moment I attended my first class I knew this was where I was meant to be. My eyes were opened to a brand-new world. I wasn't able to start working in IT immediately, so I worked in a multitude of finance related roles until the opportunity came for me to combine technology with my accounting background as an IT Auditor."
While she didn't expect immediate success and accolades in the world of IT auditing, education was not too far from her sights. She attributes her father's career in higher education as a factor in finding early career work at the University of Baltimore, where she earned her master's in MIS.
Howard University and it's prestigious curriculum.
Howard is one of the world's largest, most comprehensive historically Black institutions of higher learning. It's profile of liberal arts training, professional schools, and network of graduates at every level of achievement powers the brand to accolades like being ranked 89th among all national universities by the U.S. News & World Report's annual 'Best College Rankings.'
Osaghae rose through a number of roles at Howard including senior functional analyst, project manager, manager of database administration services and Director of Applications before being appointed as AVP and CIO in July 2021. She says Howard's culture is what attracted her as a professional and what draws thousands of scholars worldwide for teaching and learning.
"Over the last decade, Howard has enjoyed a great expansion of it's academic programs with new degree offerings, investment from public and private sources, and the establishment of cutting-edge research centers. Serving in this role gives me a uniquely close and personal view of how the evolution in technology within higher education is building Howard's appeal and competitiveness in the higher education marketplace," Osaghae says.
Innovation and service delivery will be key elements of her work at Howard in the coming years. Osaghae believes the teaching and learning environment will be shaped immensely by artificial intelligence, automation and the Internet of Things. All these developments will place digital security at a premium for life as we know it.
"At Howard we want our students to go into the workforce fully aware of the responsibility they have to themselves and to others in protecting their data, understanding best practices in digital citizenship, and embracing their role as the first line of defense against harm to the university's network." she says.  "Because of its size and brand, Howard must always lead on conversations like this."
Success can mean many things all at once
Olga oversees Howard's digital infrastructure, cybersecurity, DevOps, academic relations and service delivery teams. Her work typically is measured in very finite metrics of network performance and protection. But team building is among the areas where she places the most pressure on herself to perform.
"My role also includes collaborating closely with my executive business partners to discuss issues affecting their units, enhancements or best practices. Success feels and looks like several different things. The capacity of a team to work well together is success. Completing or exceeding an objective, being able to set new objectives, and helping an organization draw closer to accomplishing its mission, she thinks, are all metrics of success."
"Somewhere in the midst of these things is how I most closely define success in my role, but it's mainly in the context of my ability to answer some key questions – Are students and employees better off today than they were yesterday because of our work? Is our digital environment at lower risk? And do I feel the desire and the excitement to get up and do all of this again tomorrow?"
Challenges and lessons that helped Olga evolve over time.
Pushing through barriers and navigating imposter syndrome have been two points of pride for Osaghae. She found the confidence to express herself in many settings, even in times were keeping quiet may have been a natural reaction while knowing that her insights were valuable and would support strong outcomes.
"I formed an inaccurate self-assessment of myself and my skills, and that interfered with my ability to accept my accomplishments confidently," she said.
"When you undervalue what you do, the world will undervalue who you are"    – Oprah Winfrey
"I built myself up in the realization that each position I earned was because of my talent and that it was certainly not a mistake. Being hired at a prestigious institution like Howard boosted my confidence and strengthened my view of leadership, decision-making, and team building for success."
On thriving professionally and inspiring the next generation of female leaders
"We are a very high performing team but we try to keep things very fun.We are invested in each other's lives as professionals and as people, and we keep our commitment to the students and the university community top of mind. The work is challenging, and we are fully aware of what the stakes are if we cannot adapt and mitigate threats in our environment, but we love the challenge and embrace the opportunity to put our skills and intellect to the test. I try to be mindful and encourage the team to do the same, making sure that they are not burning out and that they still find value and passion in their work."
"Women are competitive in all industries and continue to break norms to find success in their chosen career paths. My message to aspiring black professionals and female leaders is to rise to the challenge and show up when called upon. Do not get discouraged when you hear the naysayers say it can't be done because everything is possible when you put your mind to it."
"Become the kind of leader that people would follow voluntarily, even if you had no title or position." – Brian Tracy
Roadmap for the future of Howard University
"The dynamic executive team at Howard has made the charge clear for the future. Howard will be a sustainable campus, and technology will be at the center of reducing its carbon footprint, streamlining services to be more tech-driven and easy for users to understand and master without creating network vulnerabilities.
"The university will continually reinvent what online learning means and do all of this while keeping the university's rich culture central to their work and outcomes."
Maintaining a work-life balance while staying motivated
As much as she loves her job and the campus community she is privileged to serve, Olga states that her greatest love and achievements are her beautiful children. She feels extremely honored to showcase to them what a loving and supportive parent partnership looks like, and what managing career and family can mean in setting big dreams while remaining grounded to core principles of love, sacrifice, laughter, and compassion. She states that their growing recognition of who she is as a professional, is what pushes her to be a much more focused and loving mother.
"Trying to achieve a balance in my personal and professional life will always result in me failing at one. I had come to the conclusion that all I can do is manage my personal and professional life. This takes away the pressure of trying to excel at both leading to feeling like a failure."
A regular day in Olga's life starts with her picking up her phone to check her email as soon as she wakes up. She gets herself and her younger children ready for school and once they are gone, she is either heading into the office or settling in at her home office with her coffee to start work. Depending on the day, meetings typically start by 10am start by 10am and at times go on until the end of the day" she says. "There are instances where I do get carried away and forget to eat lunch and instead has an early dinner. But no matter what, my family is a great support system for me in being my best for Howard University, and in being my best for my household."
Olga's personal goals include:
Spending more time with her family. Getting rid of stress and it's causes.
Self-development. Acquiring the relevant skills to be an effective, strategic leader.
Creating room for professional successes. Which means focusing more on being proactive rather than reactive.
"Don't settle for average. Bring your best to the moment. Then, whether it fails or succeeds, at least you know you gave all you had. We need to live the best that's in us." – Angela Bassett