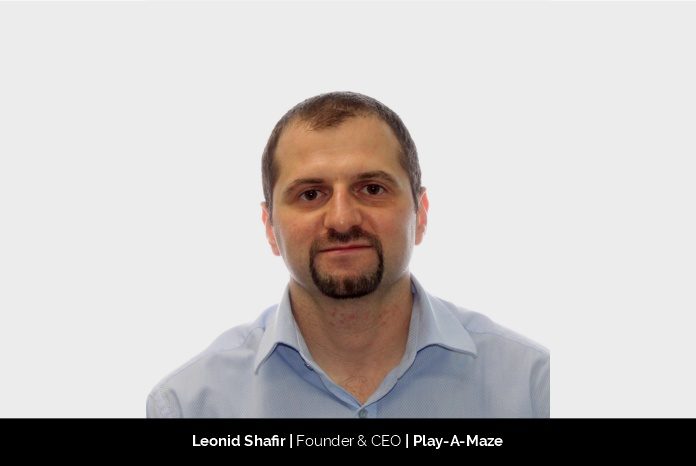 Being an aspiring toy designer who is passionate about STEM (Science, Technology, Engineering, Math) and innovative toys, Leonid Shafir, Founder and CEO of Play-A-Maze, directs his vast experience in the field of play and play-based learning to introduce pioneering toys that engage the mind, challenge the players, and advance critical skills development in children of all ages. His extensive background in research is his sharpest arrow that allows him to enhance the toys and create innovative solutions.
Brewing reality into Play-A-Maze
Leonid had a deep interest in toys and particularly puzzle mazes since childhood. In the university, he realized toys are more than just fun. They are a great way to learn through play. His coursework in world religions opened another existing and mysterious facet of mazes. In many world religions, mazes and labyrinths were symbols of the world and played sacramental roles in the rites of passage and other key rituals. He adds, "Each time I would read an article on a maze in Britain, Mesoamerica or elsewhere, I would be amazed by how important these entities are for the human spiritual development. This amazement and interest reinforced my passion for learning as much as possible about mazes." But this is not everything.
On top of this, Leonid noticed a shortage of mechanical STEM toys. He states, "Most of the STEM products were focused on electronics and circuits but practically none on mechanics that, although many don't realize it, plays a major role in today's innovative industry. No high-tech product, be it electric vehicle or robot, can work with circuits only, these products also require sophisticated mechanics that someone must develop and maintain."
The shortage of mechanical STEM toys was all the more surprising because many children and parents he spoke to were interested in affordable toys that could teach basic mechanics and engineering.
Many parents also said they feel isolated from their kids who are glued to screens all the time. Moreover, alienation, stress, and anxiety are further worsening the issue. Leonid felt that this is a major challenge to the psychological well-being of children and adults and spent a lot of time thinking about how to bring people together through play to help them relax, socialize and enjoy the moment together.
All these factors served as a foundation of Play-A-Maze – the startup that Leonid founded to channel his passion and interests to address a market need and make a difference.
Play-A-Maze focuses on designing and developing educational and STEM toys that create a fun-to-learn environment for children and adults of all ages. The team analyzes the toy industry trends and maintains contacts with their customers.
But they do not stop there. They look into psychological, anthropological, and economic factors that define their customer's attitudes towards playing and learning. This includes anxiety levels, socialization patterns, education trends and more subtle factors such as deficit of micromotor sensations caused by the prevalence of screens.
Play-A-Maze team strives to understand how it feels to be a toy store owner, a sales representative, an educator, a child, or a parent to anticipate their needs and offer them products that provide answers to questions and issues which these people haven't even formulated yet.
This enables them to see not just the industry but the world in which this industry exists to determine what play and toys mean for children and adults. Leonid adds, "We play with kids a lot. Many people in the toy industry can't even imagine how informative and fun it is to play with kids. What a mistake!"
Aiming for the Sky
Sharing the company's vision, Leonid states, "We want the name of our company – Play-A-Maze – to become the synonym of innovative mechanical and electronic STEM toy products. We want to be the company that will be described in X years from now as the "guys who revolutionized puzzle maze toys."
Thus, they are striving hard to develop a strong company that sells teacher's highly sought-after toy products for explaining all the basic scientific concepts. The best part is that they are also excellent for children and parents to share a great family time.
Leonid's vision is his remarkable achievement, and he constantly fosters this vision in all his employees to fulfill all the work and reach the goal together. Owing to this, he also feels honored and proud to have ignited a new fire of passion and vision among his employees and earned huge respect among his business partners.
Life as a responsible CEO
Being the CEO of Play-A-Maze, Leonid is mainly responsible for all aspects of the company. They all take challenges as opportunities to understand and learn new things that help them become smarter and more professional. He also promotes looking at the bigger picture and preventing narrowing down. For that, he keeps reading and learning from different areas of knowledge to develop a nuanced perspective on toys and play. This multidisciplinary knowledge has helped in unlocking his creativity as well as outside-the-box thinking.
Leonid shares, "Failure is a steppingstone towards success, not a tombstone! When people understand this and see a common goal that they consider important and desirable (ex. efficient play-based learning), I don't need to motivate them. In turn, they motivate me by their determination and resourcefulness!"
Fusion of Work and Life
For Leonid, professional and personal lives are always fused for better outcomes. While working, he addresses personal life issues, such as using his toy prototypes to help his wife be more efficient and productive by fostering STEM learning in the community.
This fusion also helps in offering valuable feedback and shortening product development cycles to create a highly efficient startup. He also shares, "This may sound simple and self-evident but believe me, it works by creating a smooth and stress-free transition between life and work and vice-versa!"
At home, Leonid tries to amalgamate relaxation and personal development, and imbibe creativity with classical music, reading about different subjects, as well as focusing on sports.
He states, "All along, I accept the fact that I can't control and plan everything – a bit of unexpected chaos can be good for you because it creates something new in life. I see such events as opportunities to learn and understand something new. To sum up, I cultivate a reflective mindset that helps me relax, re-energize and see things that otherwise I will not notice."
Laying out a Bright Tomorrow
The future of Play-A-Maze is bright as they are launching a new product line to enter the US and EU markets. Moreover, they are open to new partnerships with everyone looking for products that combine play and learning, such as new retail buyers, STEM organizations, play centers, and after-school organizations. It will surely enhance the brand sales and recognition.