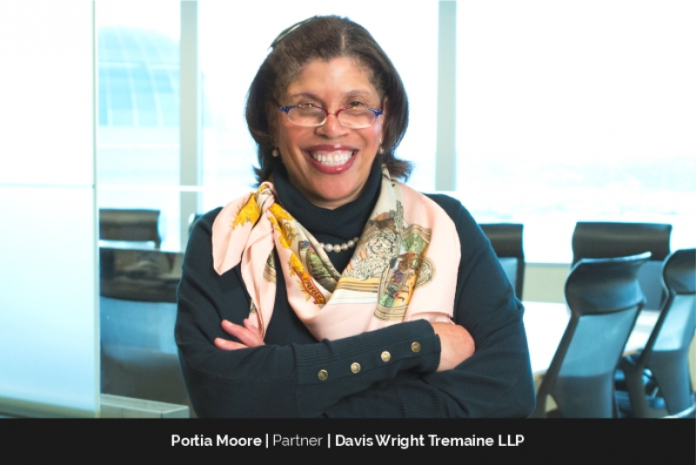 Portia Moore, an Equity Partner at Davis Wright Tremaine LLP (DWT), is featured in today's cover story. In this discussion, she distills the knowledge and insight that helped her rise to the top of the business world, where racial and gender disparities persist, and women face a more challenging time achieving success than males. This capable female leader has positioned herself as one of "The 10 Most Successful Black Businesswomen Making a Difference in 2023," thanks to her adaptability, resolve and forthrightness.
"I am not afraid to speak up when I see something that I consider wrong or insensitive, even when it is uncomfortable to do so—and I never apologize for who I am, even though I do not fit the mold," says Portia. As far as Portia is concerned, speaking up is essential to standing up for what she believes in. The world needs stronger women like her, who aren't afraid to speak up when they sense a chance to improve things, even if doing so means risking social disapproval.
"Believe in yourself – you are stronger, smarter, and more capable than you think – never forget that!"
– Portia Moore
Portia and her skilled litigation team(s) at Davis Wright Tremaine consistently put in long hours to provide satisfying outcomes for their clients. She has been the primary attorney in several cases involving sexual harassment and retaliation in the workplace. The defense of big product liability claims is another area of expertise for Portia. She helps individuals find their voice in the face of complex litigation, with a focus on defense against wrongful termination and race and sex discrimination claims, and then builds a platform to magnify that voice. Portia's unique and specialized understanding of the healthcare industry stems from her bachelor's degree in nursing.
The word "success" can, indeed, have a completely different meaning for each and every one of us. For Portia, the hallmark of a successful person is tenacity, or the willingness to face adversity head-on and rise back up again and again until one achieves their goal. She has been adaptable and open to new experiences, and she describes her journey as a woman in leadership thus far as "challenging but rewarding."
Portia's duties and responsibilities as an Equity Partner at DWT include an array of roles and commitments. She is responsible for managing cases, trying cases to verdict, supervising associate attorneys and training and mentoring associate attorneys. She also has to do her administrative duties by sitting on various firm committees, including the Equity Partnership Compensation Committee, the Attorney Evaluation Committee and the Diversity Executive Council.
Portia on making sure everyone, including herself, has their 'head in the game'— "this is part of the firm's vision on DEI, which is to foster a culture where all talented individuals—including those from communities traditionally underrepresented in the legal profession—can have and see a path to success."
Portia does her best to ensure that no one at DWT feels left out and separate from the rest of the team. She attentively listens to what each team member has to say, rather than simply doing what she wants to do for strategy. Portia regularly conducts team meetings to check in on team members and she makes a point to organize "happy hours" where everyone shares their views amicably. 
Portia's childhood ambitions and the path that led her to a career in law.
Portia comes from a proud family of African Americans; her father, whom she looks up to as her 'hero,' served in both World Wars. However, despite her father's military background and experience, he was not hired by the Washington State Patrol due to his race. Portia recounts how her father encouraged her childhood ambitions and goals in life—"he always told me that I could be anything I put my mind to," she says. Due to a lack of positive role models in the medical, legal and financial fields, young Portia studied to become a nurse. Later, she took a chance on a career in law even though she had never felt particularly drawn to it. It was because it was one of two graduate degrees, she could pursue with her existing nursing degree. Another factor that led her to study law was her aversion to being told what to do by doctors.
Initial leadership challenges that helped Portia thrive
For African American women like Portia, who have risen to the top of corporate America, it takes more than just hard work and talent. A similar trait is resilience, which has been shown to play a significant role in the success stories of people of underrepresented groups. Relentless professionals like Portia, however, appear to rely more heavily on that quality than others, maybe because of the greater frequency with which they meet difficulties and setbacks due to the interplay between race, gender and other identities. Every time she is knocked down, Portia gets back up, determined not to let herself be derailed. When hardship strikes, she advises, one should view it as evidence that a brighter future is on the horizon and use the time to grow and gain insight into themself and the others around them. Portia has tackled every challenge with gusto, seeing each one as an opportunity to advance her career as an attorney.
When asked what it was about her early experiences as a female leader that shaped her, Portia reflects, "as an African American female trial attorney—always professional, but direct and to the point—I was accused of being 'difficult' and hard to work with."
Davis Wright Tremaine LLP and how it is different from other legal agencies. 
Davis Wright Tremaine LLP is a nationwide, full-service business and litigation law company representing U.S. and international clients. The firm was created on a single guiding principle: to serve clients with high-quality, individualized legal services. Today, the company employs roughly 600 attorneys in ten offices, representing a vast array of practice areas and industries.
In addition to DWT's depth and strength in the core legal functions of business transactions, litigation, intellectual property, real estate and employment, it offers nationally renowned teams that serve the technology, communications, media, financial services, healthcare, energy and hospitality industries.
Portia says DWT's mission is to effectively and efficiently resolve clients' legal difficulties. It necessitates minimal leverage, lean personnel, the involvement of seasoned partners and strategic decision-making that prioritizes people's understanding of a "win."
DWT is known as a national leader with its dedication to DEI and pro bono work. Recent accolades include Inclusion Champion by Diversity Lab, Social Impact Leader by Law360 and "Midsize Company of the Year" at the Los Angeles Business Journal's 2022 DEI Awards. Each of the past two years, the firm has obtained Mansfield Certification Plus recognition of its dedication to promoting underrepresented minority attorneys to leadership positions.
"I am not afraid to speak up when I see something that I consider wrong or insensitive – even when it is uncomfortable to do so – and by never apologizing for who I am, even though I do not fit the mold."
– Portia Moore
Challenges and lessons that helped Portia evolve over time.
The list of things Portia has accomplished in her professional capacities is enormous. However, smooth sailing has never lasted. Her entire journey has been a cycle of triumph and defeat.
But setbacks do not deter her determination. Portia has kept her strength and grit. She underlines that failure is neither fatal nor a permanent condition. Talking about her ups and downs in life, Portia enunciates: "My reputation is that of being a tough, experienced trial attorney that wins difficult cases. So, when I lost a lengthy jury trial that I believed was winnable, I was devastated—and for a while, lost confidence in my abilities as a lawyer. Eventually, I realized that failure is not fatal and is not a permanent condition." Portia has learned invaluable lessons from each loss that befell her—those lessons helped her during her reflection on the jury trial defeat—Portia realized that she should have listened to her gut on a key trial tactic, rather than allow the client to dictate the plan. Portia adds, "I have never again made that same mistake. While I will always listen carefully to my clients—I will be sure to trust my instincts simultaneously. I had to fail to learn that valuable lesson."
"To create a truly diverse, equitable, and inclusive organization, we must be intentional." – Scott MacCormack, Managing Partner (from DWT's Leadership Council for Legal Diversity Pledge)
Contributions to DWT
As she has advanced in her legal career, Portia has prioritized serving as a role model for younger attorneys of varied backgrounds. When Portia takes on a case, she makes it a point to staff the case with attorneys from a wide range of experiences. Portia offers them plenty of opportunities to shine in the courtroom (such as debating motions and cross-examining witnesses) so that they can advance in their careers. Currently, she is a member of the firm's Attorney Evaluation Committee, where she works to eliminate implicit bias against attorneys from underrepresented groups. Portia has seen that the company has made an effort to diversify substantially in recent years.
What's in store for Davis Wright Tremaine LLP?
Portia is an early planner and a visionary. She swears by the words of Scott MacCormack, DWT's Managing Partner (from DWT's Leadership Council for Legal Diversity Pledge), "To create a truly diverse, equitable, and inclusive organization, we must be intentional." As a result, Portia has a well-defined plan for DWT. She believes, as DWT does, that the legal profession should be welcoming to people from all walks of life and that everyone, especially those from marginalized groups, should have a fair shot at making a name for themselves.
Portia noted that Davis Wright Tremaine launched a new DEI strategic plan in 2021 that developed a framework around four pillars: Community, Growth, Education and Engagement. The plan sets forth six priorities:
Strengthening firmwide efforts by redefining and clarifying our DEI structure, strengthening and aligning communications, and collaborating with pro bono and social impact to advance our shared values.
Fostering an inclusive community by recognizing and rewarding DEI efforts, supporting and refining our affinity groups, and committing to belonging.
Prioritizing growth by analyzing the data, building and recruiting a diverse pipeline, supporting the path to success and facilitating sponsorship.
Generating opportunities for education by offering presentations on broader societal topics, equipping our affinity group with tools, influencing trajectory at key pivot points in recruiting, advancement and development and offering a DEI lens to everything we do at the firm.
Engaging with external stakeholders including deepening our relationships with clients around our shared commitment to DEI and expanding our partnerships with affinity bar organizations, diversity organizations, and diverse suppliers.
Proposing accountability in our efforts by racking data and trends and encouraging greater involvement in our DEI efforts.
The firm will launch a new DEI strategic plan in 2023.
"Our vision is to foster a culture where all talented individuals—including those from communities traditionally underrepresented in the legal profession—can have, and can see, a path to success." 
– Yusuf Zakir, Chief Diversity, Equity & Inclusion Officer
Most outstanding achievements
Portia has over 30 years of experience in the legal industry—she joined her current firm (DWT) in 2010 and spent a significant portion of her career at Morrison & Foerster LLP (when she joined M&F, she became that firm's second black Partner).
To Portia, her most significant accomplishment is raising her three sons, Zachary, Matthew and Lucas, to become responsible, kind and compassionate adults. Remarkably, she managed to accomplish this despite working grueling hours at corporate legal firms.
Mantra for ideal work-life balance
Surprisingly, Portia is unable to recall how she accomplishes work-life balance. It is difficult to cram your daily musings into an already busy day. Portia is still trying to determine if she does actually have a good work-life balance, as she admits to working long hours.
Message to ambitious African American businesswomen
The Equity Partner at Davis Wright Tremaine LLP shares some simple but meaningful advice for up-and-coming black businesswomen from her position as an established and successful business leader. Portia insists that an individual's existing resources are sufficient for achieving success. A trip inward always leads to limitless possibilities. Naturally, some requirements must be met. She enlightens us on them and advises, "always, always—believe in yourself. You are stronger and smarter than you think and you belong here."