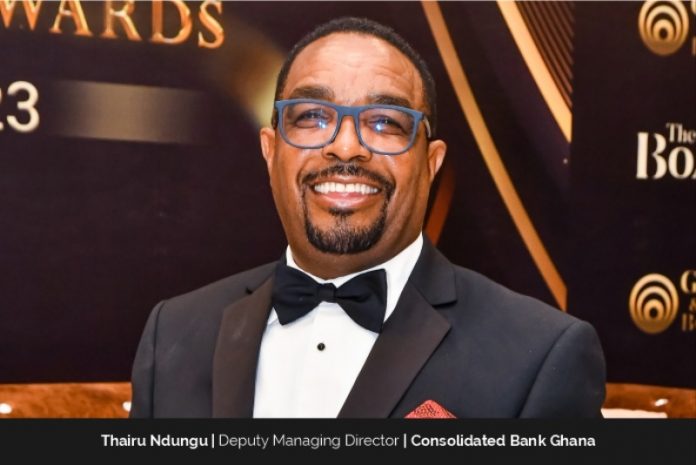 A fundamental grasp of finance is an essential component within the toolkit of every leader. Being adept at generating and quantifying value can not only result in more informed decision-making within professional settings, but also contribute to career progression and enhanced interaction with stakeholders. Thairu Ndungu, currently serving as the Deputy Managing Director – Operations at Consolidated Bank Ghana, embodies this ethos with his over thirty years of unparalleled experience in the Financial Markets.
Thairu's journey embarked upon a transformative path at Nubuke Investments LLP in London, where he held the pivotal roles of Partner and Chief Operating Officer for an impressive twelve-year tenure. Under his guidance, Nubuke Investments soared to new heights of operational excellence. Thairu's expertise in investment management, risk assessment, and project execution proved instrumental in the firm's success.
Prior to his tenure at Nubuke Investments, Thairu's contributions reverberated within Standard Chartered Bank's Africa Regional Office in London, UK. His remarkable sixteen-year association with the bank spanned various roles across continents, including Africa, the UK, the Middle East, and Asia. Thairu's ascension through the ranks underscored his determination, strategic insight, and prowess in leading and motivating teams across diverse global landscapes.
Thairu's final role at Standard Chartered, as the Regional Head of Markets Operations – Africa, situated in London and briefly in Dubai, encapsulated his exceptional ability to navigate complex operations and drive efficiency on a continental scale. His proficiency in general management, investment strategies, risk management, project execution, and process enhancement fortified his reputation as a visionary leader.
Complementing his illustrious journey is Thairu's academic foundation—a Bachelor's degree in Mathematics and a Post Graduate Diploma in Computer Science from the esteemed University of Nairobi, Kenya. This academic prowess, coupled with his extensive real-world experience, forms the bedrock of his strategic insights and analytical acumen.
With a remarkable career trajectory that spans continents and institutions, Thairu's journey is a testament to his indomitable spirit and unwavering dedication. A pivotal chapter of his career unfolded at Nubuke Investments LLP, London, where he served as Partner and Chief Operating Officer for twelve pivotal years. Under his stewardship, Nubuke Investments reached new heights of operational excellence, benefiting from Thairu's acumen in investment management, risk management, and project execution. Thia paragraph us repletion,
Unplanned Path to Consolidated Bank Ghana LTD
Thairu's entry into Consolidated Bank seemed more coincidental than intentional. He was part of a team of financial experts aiding the Bank of Ghana in comprehending the financial landscape of Ghana, where certain local financial establishments encountered diverse difficulties. This was around 2018 when two local banks had already collapsed and the Central Bank had augmented the minimum capital requirement from GHS 100 million to GHS 400 million. The primary objective was to conduct an exhaustive assessment, encompassing both qualitative and quantitative aspects of the financial standings of every bank within the industry.
As a result of this thorough analysis, seven institutions were identified to be in significant distress. The team recommended to the Central Bank that they amalgamate the sound segments of these institutions to form a robust indigenous bank. Consequently, Thairu received an invitation to become part of the management of this newly established entity, Consolidated Bank Ghana LTD.
Perspective on Learning and Confidence
Thairu holds a fondness for the saying that emphasizes the importance of learning from mistakes. He believes that challenges can be likened to mistakes in the sense that personal and professional growth is hindered without encountering them. In both spheres of life, facing challenges is essential for development. Successfully navigating through challenges serves to reinforce an individual's self-assurance in their capabilities, instilling a strong sense of confidence that propels them forward to take on even greater endeavors.
Navigating Corporate Realities
Thairu spent a remarkable sixteen years at Standard Chartered Bank, starting his journey in Kenya and later moving to the Africa Regional Office in London. This shift exposed him to the intricate world of corporate politics, revealing that, in certain corporate circles, personal achievements are just a part of the picture. Building a strong network is equally vital, as it ensures your accomplishments are noticed by the people who have the power to shape your career.
During this time, Thairu faced his first taste of significant resistance when trying to implement changes. Dealing with senior business leaders from different countries, each with their own sizable egos, posed a considerable challenge. To overcome this hurdle, he had to transform himself from a financial operations specialist into a persuasive "detergent" salesman. This meant socializing and individually pitching new ideas to each country's head to make progress.
Thairu also discovered the power of forging connections beyond the office setting during his travels. Social events provided a platform for people to let their guard down and openly share their concerns and fears. To this day, Thairu firmly believes in tackling challenges through personal interactions, a principle he regularly puts into practice.
Elevating Banking Excellence
Consolidated Bank Ghana LTD (CBG) is an indigenous financial institution that provides superior banking solutions for all stakeholders with a team of proactive professionals, state-of-the-art technology, outstanding corporate governance, experts in the local market and exceptional customer service culture.
On August 1, 2018, CBG became a new generation bank having obtained a universal banking license to carry out fully-fledged banking activities in Ghana. Due to the Bank's consistency in building a strong reputable and profitable brand, CBG has grown to become on of the largest and leading SME oriented banks in Ghana. CBG operates in over 114 locations across Ghana delivering on its mandate to make a difference in the lives of its stakeholders. The Bank has a vision to be the most trusted Bank in Ghana and prides itself in being a pacesetter in the changing phase of banking in Africa.
CBG is a member of the SME Forum and the UK Ghana Chamber of Commerce (UKGCC). CBG is also the first state-owned bank in Ghana to become a member of the United Nations Global Compact (UNGC) and the International Capital Markets Association (ICMA).
From Diverse Expertise to Unified Leadership
With an extensive career spanning more than three decades, Thairu boasts a wealth of expertise in the financial industry. His journey encompasses diverse roles such as project management, change management, risk management, retail banking, financial markets, investment management, and business startup. This rich tapestry of experiences has significantly contributed to his successful tenure at Consolidated Bank Ghana.
During the bank's establishment phase, Thairu assumed the role of a business startup architect. This encompassed shaping short-term strategies, crafting the target operating model, and more. His adept project management skills came into play as he established a Project Management Office, a vital element in supervising the multitude of initiatives arising from the integration of multiple entities. Moreover, Thairu's proficiency in change management proved indispensable in unifying seven distinct cultures, enabling them to function cohesively as effective teams.
Commitment to Integrity and Innovation
Thairu holds the belief that culture cannot be imparted through instruction; rather, it mirrors the principles embodied by leadership. Leaders must exemplify the values they endorse, translating their words into actions. Thairu maintains an unwavering commitment to integrity, ensuring that all his endeavors are anchored in this core principle. He consistently motivates his team to explore novel avenues for problem-solving and operation, fostering a mindset of inquiry that fuels innovation. He's been pleasantly surprised by the remarkable creativity that emerges from this approach, ultimately nurturing an environment ripe for innovative thinking.
Breaking Barriers and Fostering Diversity
Thairu recognizes the challenging journey that individuals of color face in advancing within the financial industry, particularly in Western markets. In Thairu's experience in the financial markets, he encountered a perplexing situation when he first met his counterparts, who assumed he had come to London for training rather than work. This encounter illuminated the harsh reality that achieving recognition demands twice the effort compared to his white colleagues.
Moreover, while establishing an African-only fund management firm and embarking on fundraising efforts in European and US capitals, Thairu's team often encountered a recurring question: "How many white individuals are on your team?" Unfortunately, when the answer was "none," the enthusiasm from potential investors would often wane.
Thairu's proactive response has been to surround himself with young, promising leaders. He engages in mentorship, fostering their development in leadership through consistent interaction and occasional challenging situations. Although some may not withstand his rigorous approach, those who do often find swift advancement in their careers. Thairu takes immense pride in his ability to identify, nurture, and elevate talent, a skill he's cultivated over time. As he travels throughout Africa and encounters individuals who have risen to senior positions, he feels a deep sense of accomplishment and pride in contributing to their growth.
Leading Operational Excellence
Thairu's typical day revolves around overseeing the operations and technology functions of the Bank. His primary focus is to ensure operational stability throughout the institution. Additionally, he plays a vital role in the credit approval process, reviewing numerous credit requests on a daily basis. Among the most fulfilling aspects of his role are the visits he makes to the branch network and various departments. These interactions enable him to engage with staff members at all levels within the Bank.
Thairu envisions Consolidated Bank Ghana becoming a prominent figure in the Ghanaian banking sector. His aspiration is to establish a strong foundation that will pave the way for expansion into the larger African region.
In recognition of his exceptional contributions, Thairu was honored as the 'Outstanding Business Leadership Personality in Banking' by Africa Focus Magazine in the year 2022. This acknowledgment underscores his significant impact and remarkable leadership within the banking industry.
Beyond the Boardroom
Outside of his professional commitments, Thairu is a devoted golfer who frequently enjoys his time on the golf course. While he's not working, he's often found honing his golf skills. One of Thairu's primary passions lies in people management, and he dedicates a substantial amount of time engaging with the workforce directly on the ground. This interaction serves as a wellspring of inspiration and motivation, fueling his drive to persistently lead and manage effectively.
Guiding Teams Toward Triumph
Thairu's perspective on leadership is a compelling portrayal of how individuals can steer their teams toward success. In his view, leadership entails much more than mere direction; it's about instilling motivation within a team to achieve specific, well-defined objectives. To accomplish this, a leader must master the art of effectively conveying their vision with both precision and an infectious enthusiasm that spreads throughout the team.
The process of "capturing the hearts and minds of the team" serves as the pivotal first stride in this journey. This phrase encapsulates the essence of a leader's initial task: to ignite a collective passion and alignment towards the shared goals. It involves fostering an emotional connection that transcends mere professional obligations, inspiring team members to invest their dedication and effort wholeheartedly.
Yet, Thairu goes beyond the notion of success as a mere checklist of predetermined targets. His vision of leadership's ultimate triumph is more holistic, encompassing the realization of goals alongside a profound sense of accomplishment among the team members. This broader perspective recognizes that genuine success isn't just about reaching milestones, but also about nurturing an environment where each team member can thrive and surpass their own established limits.
Vision for Africa's Development and Empowering the Black Community Globally
Thairu's future objective centers around the establishment of robust, adaptable, and ethical institutions across Africa. He firmly subscribes to the notion that this approach is pivotal for propelling Africa into the next echelon of development.
Addressing his fellow black colleagues worldwide, Thairu imparts a resounding message of self-belief and continuous growth. He underscores the importance of nurturing and empowering one another, recognizing that such collective effort is vital for equipping the black community with the prowess needed to thrive in the modern world, particularly within the realm of technology.