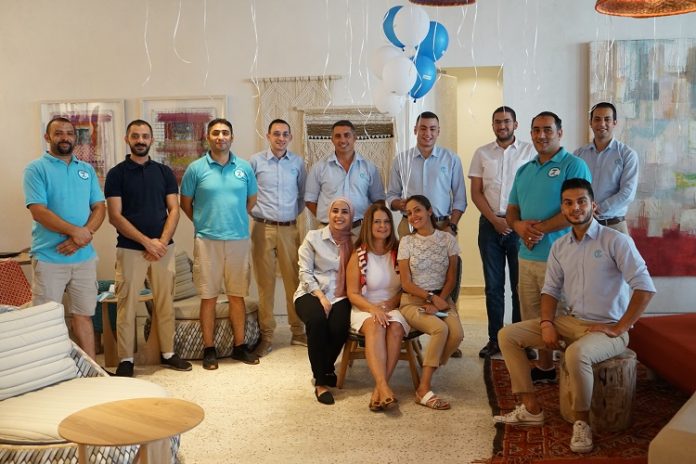 August 1, 2021, Aqaba, Jordan:  – Today, Cloud7 Residence Ayla Aqaba, a unique property under one of the aspirational brands fully-owned and managed by Kerten Hospitality, a mixed-use and lifestyle hospitality group, celebrates its first anniversary.
Located in Jordan's trend-setting destination Ayla Resort, Cloud7 Ayla has become the preferred 'bleisure' destination in Jordan and has remained fully occupied since its doors opened for guests in the heart of the most challenging year for the industry. Since its first day exactly a year ago, the property has been operational in full capacity with bookings, maintaining the most coveted RevPar leadership spot in Jordan.
Figen Caglar, GM of Cloud7 Residence Ayla Aqaba said, "It has been an incredible year of resilience and the showcase of innovative hospitality by the joined efforts of our Ayla Owners and the Kerten Hospitality family. Amidst the global standstill, we have been fortunate to provide our guests with personalised experiences and inspirational hospitality offerings, which is one of the reasons why our Cloud7 Residence has remained fully occupied throughout the year demonstrating a demand for new hospitality services across the region, further diversifying the tourism landscape in the area."
By redefining hospitality with luxury serviced apartments in Jordan, Cloud7 has hosted more than 10,000 visitors, witnessed endless celebrations and has been a part of many memorable moments for guests from Jordan and around the world in the past year.
Caglar said: "In spite of all the Covid-19 challenges and restrictions, Cloud7 has set the standards for domestic tourism in Jordan, offering every guest a one-of-a-kind trip experience. Located in the Marina Village of Ayla we are glad to be part of this unique resort. Aligned with His Majesty King Abdullah II's vision for tourism in the golden triangle, we aim to bring more tourists to Aqaba and strive to become one of the region's most attractive tourism destinations with more projects and memorable trips."
Offering 75 luxuriously designed and fully-serviced residences, Cloud7 has been the ultimate destination for those who like to travel in style and those who want to experience Aqaba differently.
On occasion of the anniversary, Cloud7 Residence has announced special promotions.
Earlier in the year, Cloud7 Ayla was recognized with an industry award by Booking.com in its annual Traveller Review Awards 2021. The great guests' following has resulted in the growth of the Cloud 7 Ayla online community of travelers, holidaymakers, family 'staycationists' as well as local artists, influencers and entrepreneurs on Instagram that has grown to 32K followers in a short time. The property became an arts destination following a mural competition for local artists. The quality and creativity exceeded the initial expectations, so instead of just the winning mural, four murals were brought to life on the building's walls – the best Canvas one could wish for. Today, the winning mural has become one of the most Instagrammable selfie locations for wannabe artists and the local community.
The property is part of a game-changing destination that features beaches, walking spaces, upscale dining, a large variety of culinary options at Mingle By The Sea, La Mesa, Sandwich Boutique to mention a few, and retail with brands such as Loccitane, Karl Lagerfeld, Fila, Lacoste, Vilebrequin, Frosties, in addition to sports courts and a world-class golf course – the only such modern facility in the country. The resort is nestled in turquoise lagoons, boosting a distinct design that resembles a Marrakech-meets-Mykonos environment.
The Cloud7 Ayla team are vaccinated and ready to host more guests in a safe environment and in accordance with all global protocols.
About Cloud7 Residences
Cloud7 is a new innovative and trendy residence and serviced apartments management brand for the next-generation guest who appreciates comfort and a seamless travel experience. It combined locality and culture blurring the lines between living, working and travelling. As a global trend watcher, Kerten Hospitality responded to demand for a new aspirational lifestyle concept and created Cloud7, combining locality and culture and blurring the lines between living, working and travelling. The Cloud7 ethos merges design, technology and local branding elements responding to demand for a place to live from the connected and social guest.
About Kerten Hospitality
Kerten Hospitality (KH) is a mixed-use and lifestyle operator managing and operating hotels, branded residences, serviced apartments, and workspaces, transforming destinations through impactful collaborations both with our own and other Food & Beverage, Retail, Art and Wellness brands with a focus on building Ecosystems, and unique community-centric destinations that empower entrepreneurship and economic growth.
A division of Kerten, an Ireland-headquartered investment vehicle, KH manages a portfolio of 11 fully-owned brands including Cloud7 Hotel and Residence, The House Hotel and Residence, Ouspace – a collaborative Social Hub and serviced offices concept. KH has a suite of in-house designed Food & Beverage offerings and employs and collaborates with world renowned Michelin chefs to up and coming local foodpreneurs.
The current pipeline includes 4,000+ keys, and some 20,000+ m2 of serviced offices and collaborative Social Hub spaces and a variety of purposeful Food & Beverage concepts in projects across the Middle East and North Africa, Europe and Eurasia.
LinkedIn: www.linkedin.com/company/kerten-hospitality
Instagram: @kertenhospitality