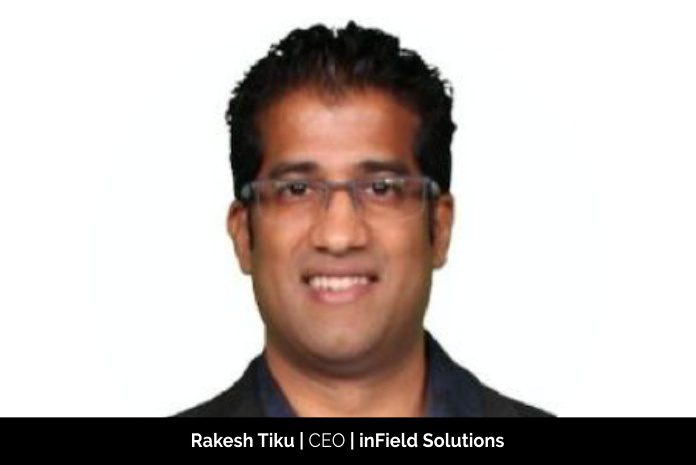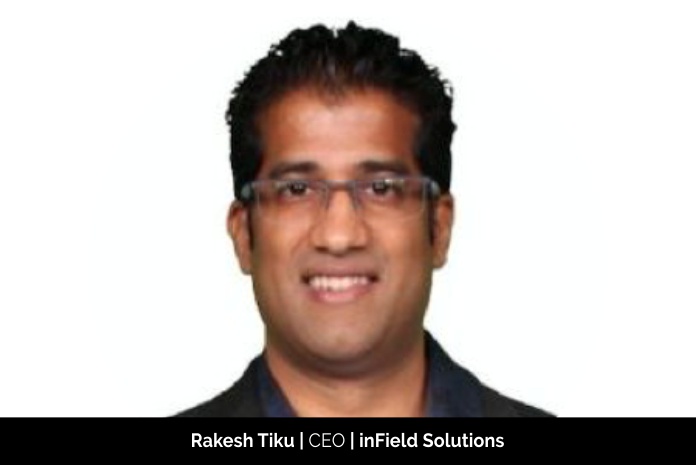 inField Solutions is an integrated workforce automation platform that is digitally transforming old world industries of plumbing, food distribution and construction. With a view to enable smart cities through technology, Rakesh Tiku the President of inField Solutions heads a talented team of professionals who are passionate about innovation. Innovation motivates Rakesh and his team to think out of the box and create unique ideas using technology. He is a leader of passion, power and perseverance. In this exclusive read, we have highlighted the inspiring journey of Rakesh Tiku and how his innovative ideas influenced a change in the conventional techniques of business.
What were your dreams and aspirations while growing up?
What led to the foundation of inField Solutions? My personal dreams and aspirations were all to do with making a difference to society and to invent something of meaning.  inField Solutions is based on a pivot that encompasses the culmination of my entire team's experience along with our workflow / workforce automation platform that we have been building since 2011, called inField Clipboard.
What were the initial challenges and setbacks that you faced and how did you overcome it?
The major challenges inField Solutions' have faced are firstly, attitude. The most common responses we received initially is that we will not succeed with our vision and objectives as they are too difficult and possibly lofty.  Well we are.  Secondly, is related to finance. Because we are evolving already innovative segments of the IoT world, the market response has been fantastic.  We are quickly learning how to manage rapid growth, while constantly enduring a negative cashflow situation.  Good thing is that we are expanding throughout North America and Europe, while delighting our customers, and the likelihood of achieving a financial break-even situation in the near future.
Tell us in brief about the services of InField Solutions.
inField Solutions is a portfolio company what is leveraging mobile, IoT, and AI technologies to digitally transform old world industries such as, plumbing, food distribution, and construction to enable them to satisfy the demands of Smart Cities. We have launched the following lines of business, with several more currently being designed.
inField Water iQ (becoming inField Building iQ) – A smart water monitoring and management platform that communicates issues to stakeholders and dispatches to plumbers with a roadmap that includes HVAC, Compressed Air, and Occupancy Monitoring.
inField Food iQ – Maximizes employee engagement within offices, factories, hospital, and schools with a smart self-service micro market that personalizes the retail experience using mobile and IoT technology with an AI driven supply chain.
What is the importance and scope for IoT Technology?  These disruptive technologies are creating the basis for truly intelligent connected ecosystems and eventually 'Smart Cities'.  They are providing the foundation to make real the sci-fi fantasy we experience in the movies.
How is inField Solutions is contributing in the IoT Industry?
inField Solutions is evolving the IoT space in the construction and food industries, by creating business models that utilize technology (workflow automation, mobile, IoT, and AI) and an all stakeholders benefit. With inField Food iQ, our patrons enjoy great food tailored for them, while our suppliers are able to maximize their profits.  With inField Water iQ, clients enjoy a peace in mind for their property, while reducing their operating costs. Our plumbing partners get to participate in a 5 year building maintenance agreement, which they may not otherwise be able to secure.
How do you define the growth of the company over the past few years? (Can be explained with statistical data too).
We are currently in a hyper-scaling business stage where we are doubling our revenue every 3-6 months. Based on our current sales forecast, we anticipate maintaining this pace over the next 24 months.
What is your vision for the company and the IoT industry?
inField Solutions is looking to apply their expertise and learnings to several new industry verticals such as health care, manufacturing, waste management, etc. as part of our growth strategy. The IoT industry itself will continue to progress towards creating connected ecosystems, cities, and truly even the sky is not the limit.
Give us a brief of your life before InField Solutions.
I am a serial entrepreneur who started his first business in the early '90s, in the e-commerce space, and since then been involved in several organizations that have always focused on growing their client's business.
Tell us about your roles and responsibilities as the CEO of InField Solutions and how does it make you feel?
Besides steering the business my primary focus is to define the vision that will lay the path for the future of inField Solutions. I am living my dream. Need I say more?
What are your greatest achievements?
My greatest achievement is being part of a healthy and happy family while having a career as an entrepreneur.
inField Solutions achievements:
ventureLAB's The W. Daniel Mothersill BUILD Award recipient in 2017 – The Dan Mothersill BUILD Award is named for the founder of the ventureLAB BUILD program and celebrates a company that has achieved measurable success within the past year.
Techconnex 2018 "Start-up Entrepreneur of the Year"
CIOReview – 20 Most Promising Field Service Solution Providers 2018
Technology Widgets magazine – 17th annual review on "Company of the Year 2019"
The following are client given accolades that we are most proud of are:
"Your application (inField Clipboard) is actually very easy to use, even for our field workers." – For anybody who cares about the user journey, this is the best compliment one can receive.
"Because of (inField Clipboard) we have freed-up enough cashflow to buy a competitor and grow our business."
"We want to make water leak detection 'smart' by attaching inField Clipboard to this platform." – This was the motivation to what we now call inField Water iQ.
"You are in my head (your solution) is making my dream a reality." – This statement led to what we now call inField Food iQ.
Describe yourself in one word and tell us what inspires you?
By keeping things in perspective, I have been able to participate in a loving family and build a successful business.
What keeps you and your employees motivated?
The excitement that comes with winning.
What does the future of InField Solutions look like, globally? How do you plan to widespread the company services?
We are currently expanding from Ontario into British Columbia, Quebec, New York, Michigan, England, and Hungary.
Quotes that I live and work by:
"Whether you think you can, or you think you can't — you're right. (Henry Ford)"

"The ones who are crazy enough to think they can change the world, are the ones that do."

"Stay humble, work hard, be kind."
Rakesh is driven by an amazing optimistic attitude that helps him in motivating others in a positive way. He is passionate about making a difference and he leads his team at inField Solutions in the right direction to impact a transformation in the business world. He believes in staying humble, working hard and being kind. CIO Views honors the thoughts of Rakes Tiku who is headed on the path of success with an innovative perspective to bring about a change.