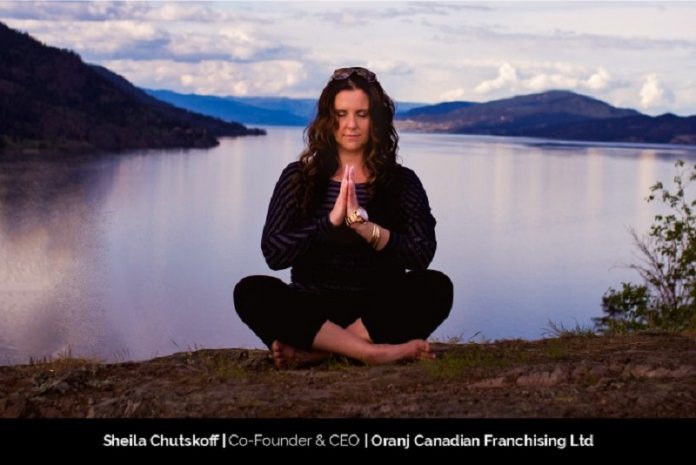 With the health and wellness industry being an integral part of people's lives, Sheila Chutskoff, Co-founder, and CEO of Oranj Fitness has been a first-mover in the field of luxury group fitness studios. Being a yoga instructor and an excellent public speaking and goal coach, she is leading and inspiring others to attain their life goals.
Over the years, she has achieved tremendous success and is currently living her ideal life. She states, "I believe that success comes from the people you work with and employ. Surrounding yourself with people of integrity and honesty who are hard-working has always proven successful for me. When you have this team hired, you focus on treating your team with respect, just how you would like to be treated.  This is a winning formula for success!"
Establishing Oranj Fitness from scratch
Sheila shares, "I was the regional marketing manager for Western Canada for lululemon athletica where I was responsible for getting instructors in clothing, dealing with all the local public relations and our Professional and Olympic athletes."
During her job there, she had to go to diverse group classes and get different instructors in the product. She observed that in each town that she traveled to, she had to visit all of the top yoga classes, dance, and Bootcamp classes. Since all these classes were located quite far from each other, she had to drive from one side of town to the other, which became quite a hassle for her. Moreover, it was very expensive having multiple memberships. That's why she created the Oranj concept, which was a fantastic opportunity for everyone that covered all the super fun and innovative group fitness classes under one roof.
In the start, Sheila had to go through many hardships as laying the foundation of a business involves a plethora of roadblocks. However, she kept knocking them off until she gained name and fame in her field.
Sharing some crucial lessons that she learned while doing business, she says, "Never, and I say NEVER do any business on just a handshake. Always make sure you take the time to have clear expectations drawn out and signed off on. Whether it's a shareholder agreement with business partners, a lease agreement with your landlord, a partnership with a local business,  you need to get it in writing and signed off on. It might take more time and money in the beginning, but it will be worth it in the end."
Prime services of Oranj Fitness
Launched in 2008, Oranj fitness is renowned as a community-focused, group fitness studio that inspires an environment of health, personal greatness, fun, and community. They are transforming the community with the help of their top-notch and super-enjoyable exercise classes and ensure consistency with regular feedback from the local athletes on the types of classes they should proffer.
Their innovative fitness, spin, dance, and yoga classes are available in-studio as well as virtually online at www.oranjondemand.com. They are running their business using the triple P's approach, which incorporates "people, planet, profit" that helps in generating good revenue and, at the same time, contributing towards making the world a better place to live in by giving back to the communities. Oranj philanthropic program is 'Mats for Metta' in which they try to make yoga more accessible to all the communities Oranj caters to. They organize the largest outdoor yoga classes in Western Canada and all its revenue generated goes back into the local community.
The company's culture defines its future, and its values are the pillars on which its foundation is laid. Sheila states, "Integrity, empowerment, entrepreneurship, balance, fun, and goal setting are some of our core values, which we incorporate into our own lives on a daily basis. We strive to support each other and our goals while wishing success to everyone we encounter!"
Imparting a drop-in culture in all the classes and a myriad of memberships to adjust to the changing client schedules, the team always tries to be available for clients as much as possible and guarantee excellent service provision using amazing drop-ins, punch passes, and unlimited memberships, and not to miss, great introductory rates as well! Their new platform Oranj on Demand comes with subscriptions and rental packages from which clients can avail of their best-suited package.  With over a thousand classes to choose from on-demand, the opportunity for staying fit is endless.
Sheila herself believes that the fitness world always needed a place where "you can be you," and she created Oranj with the sole motto of designing a place where everyone knows each other's names and welcomes them with open arms, without any bias.
Not just this, they also offer a retail store, superfood plant-based smoothie bar, personal training, and proficient teacher training!  They also have partners in aesthetics at each location.
Sheila's contribution to the health and fitness domain
Sheila is a big fan of empowering her management team and making them lead the studios as if they owned it themselves. To make their services more customer-centric and enjoyable, she says, "We ask our team to tackle every situation as if they were the owner and ensure guests are always happy and taken care of, which boosts their confidence and even results in instilling a sense of ultimate leadership."
Further, Sheila believes in revamping and adding new innovation, seeking continuous feedback is the only key to achieve that. It is the only reason that they always take feedback from both the staff and guests about everything including their classes and product etc. It helps them to serve the clients in a better way if they are missing anything and amend some things based on their suggestions.
For advance improvisation, they also host guest feedback group sessions that help them gather the latest feedback and try to match up to the standards of upcoming trends for the health and fitness domain.
On top of that, they even motivate the staff to read the motivational books in their company library and prosper ahead by taking courses in their area of interest.
Striving hard to attain another mass growth, they are paving a way to take their on-demand platform to a global level. As a visionary and an established business leader, Sheila is dedicated to blending AI technology with the core platform.  She is currently seeking out partnership/financial investment to help her take the company to the next level of success.
The Company's Growth Roadmap
Ever since Oranj's inception, the company has witnessed a huge metamorphosis in its growth. From the first studio in 2008 in Kelowna BC to growing it into a successful multi-million dollar Canadian franchising business that consists of 7 studios situated in Alberta and British Columbia, the company is now focusing on embedding technology and becoming available virtual as well.
For that, the company has even launched the Oranj on-demand platform which is all set to host 1000+ fitness, yoga, dance, nutrition, meditation, and cycle classes that can be selected by the clients as per their preference.
Sheila is confident that this platform will augment the company's growth exponentially through its online plans and render support to all their franchise studios that were forced to remain closed by the government due to the COVID-19 pandemic. Not only this, their in-studio teacher training has also become available online and is fully self-directed.
Sharing her views on the fitness sector post COVID-19 era, she states, "My opinion on the changing landscape is that virtual/on-demand classes are here to stay. Even if we get back to a sense of normalcy from COVID-19, there will always be clientele who want to work out from home and who want to work out in the studio." As per her, an amalgamation of both concepts will widely hold the future landscape for fitness and health.
Inside Sheila Chutskoff's Life
Besides being the co-founder and CEO of Oranj fitness, Sheila is a popular master trainer in the Oranj fitness 200-hour yoga alliance certified teacher training course. This course teaches a 25-hour module on how to create your brand, how to market yourself, and how to structure your business. Not just this, it even imparts help in understanding all the financial statements and has modules on goal setting as well.
She also started a business 101 intensive course which covers all the aspects of running a successful business so that people can easily learn and implement everything in their business.
Talking about her education, she holds a Bachelors in Entrepreneurial Management from Royal Roads University and has completed a certificate course in Plant-Based Nutrition from Cornell University. She is a fitness instructor and yoga instructor as well.
Her dream of developing and running her own health and wellness studio had always stayed when she was young, growing up in a small town just outside of Nelson, BC. After she finished her studies, she went to work for a small, privately owned Vancouver yoga apparel company 'lululemon athletica' and saw the growth of the firm herself. During her six years tenure there, she took the onus of a plethora of management and regional management roles. Not just this, she led to growing the business from only 4 stores to 150+ in the span of 6 years.
After learning the art of establishing a successful business from scratch, she took the plunge to launch oranj fitness in 2008. She was inspired by her mentor and business partner, Darrell Kopke, and wanted to uplift the standards of the current fitness industry and simultaneously give back to the community. Ever since its establishment in Kelowna, oranj has emerged as the number one go-to group fitness brand throughout Western Canada.
Attaining the right work-life balance
As the CEO and Co-founder of Oranj Fitness, Sheila plays a pivotal role in the company. She has to wear multiple hats to manage many aspects. Right now, she handles franchise management, franchise new territory sales, Oranj on-demand growth, content creation for Oranj on demand, marketing, and public relations, company growth, and financial investment opportunities.
Her passion to change the world and make it a better place where the status quo is boogying is driving her to keep moving ahead and creating a long-term change. Working at Oranj, she has maintained a culture of keeping a balance in life. Thus, she keeps motivating her staff and all guests that visit them to look out for the balance in life between health, personal, and career.
This culture cultivation has actually helped her find balance in her own personal and professional life; she says, "Well, work at Oranj just doesn't feel like work, so it's never a chore having to come to the office. I always set time aside for myself each day to meditate, work out, do yoga, or just go for a nice hike in nature. These routines really ground me and enable me to be a better leader for my team." Moreover, she always tries to set out time to spend with her friends and family on weekends. In this way, she has maintained a perfect work-life balance.
Charting the future roadmap of Oranj Fitness
Currently, she is in search of a reliable financial partner who can help take the company to push the boundaries and reach the next level with its AI-powered technology and results in the on-demand growth of Oranj.
She wants to carry the mission of the company forward and inspire an environment of health, personal greatness, fun, and community.