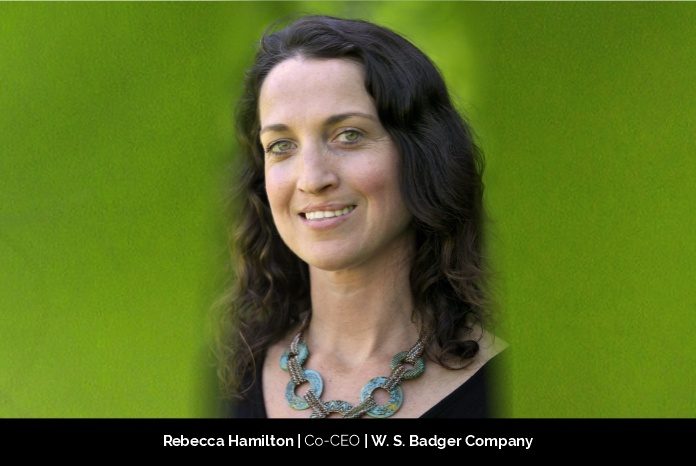 Rebecca Hamilton is a co-CEO (Collaborative Executive Officer) and second-generation owner of Badger, a natural and organic personal care brand recognised for its innovative family-friendly perks and B Corp community participation.
Rebecca didn't join Badger because she wanted to develop a business; she joined because she recognised the potential of business to make a societal impact in today's economy-driven environment. "We have an impact in creating jobs, in what kind of environment we can create for workers, on policy and legislation, and in creating products that are beneficial," she says. "For me, success is the ability to enact our mission-based work. That's why in our current mission, we say that money is a fuel, not a goal."
Badger's History
A family-owned and -run business from the start, Badger was founded by Rebecca's father Bill in 1995. She describes him as a "serial entrepreneur" who converted every idea into a business, from a photography studio to a massage treatment practise, a movie theatre, and art centres. He was also a carpenter who suffered from cracked hands in the winter, the inspiration for Badger's original Balm for Hardworking Hands.
"We identify as makers," says Rebecca. The family wanted to have a close connection to the product and the ingredients right from the start, and as the company has grown over the years, they've continued to manufacture their products in their NH facility. "We're now a leader in a lot of areas," says Rebecca, "and these were things that evolved over time, but also things that came from the values we held as a family and the values of our employees."
The Company has received numerous awards and recognition, including Real Leaders 100, New Hampshire's Business of the Year 2019, and B Lab's Best for the World 2019, even landing a spot on Forbes' Small Giants list.
Rebecca's Journey
In university, Rebecca studied ethnobotany, the study of how people use plants for economic and medicinal purposes and their influence on the natural environment. She envisioned herself in some far-flung career, traveling and working in various areas of the globe. At the same time, she was considering community organizing, activism, and policy work. However, when she was approximately halfway through college, she considered her legitimate job options and concluded that her family's natural goods company would be an excellent fit for her background. "I can work directly with sourcing ingredients from farms, looking at how we take responsibility for the impact of our supply chains, and even being involved in policy work," she says. "I just realised that the family business had all the different aspects I was really passionate about."
Rebecca returned to Badger while still in college to help establish the company's Product Development department, where she began working on the company's Fair Trade Cocoa Butter Lip Balms. At the time, few personal care products were certified fair trade and Badger's products were among those helping to bring fair trade standards into the cosmetic industry. Rebecca had focused on ethical supply chains while in college, serving as president of her Fair Trade Student Chapter, and Co-Chair of the Fair-Trade town committee, helping to make Amherst, MA the 4th Fair Trade town in the country.
Later, Rebecca joined a committee through the Natural Products Association to assist in defining the term "natural" in the personal care sector, since it was a loosely used term at the time. It was the first time she felt she was taking on a broader presence in the business and developing a true career outside of her day-to-day responsibilities.
Perhaps the greatest honor Rebecca has received in her career was being asked to join the National Women's Business Council (NWBC), a task force appointed to advise Congress and the President on policies to support women in business. After being nominated by the Senator and going through an extensive application process, she was chosen as one of 12 women to serve on the Council. Their recommendations go straight to Congress and to the President.
Difficulties Foster Innovation
Rebecca's journey at Badger has not been without challenges. When the pandemic struck, which was in many ways the worst-case scenario for businesses, management had a lot of options closed off to the company. Rebecca and her team needed to get more creative. She says challenges like these have helped her realize that difficulties foster innovation—forcing leaders within the company to step out of their comfort zones and try new things.
"The roadblocks have been countless, but what I would say is that every time we've had what seems like an insurmountable challenge, an incredible number of doors open," she says.
Pioneering a Safer Sunscreen
One of Badger's most well-known accomplishments is its progress in producing a safer sunscreen. Originally released in 2005, its pure, organic, zinc oxide-based sunscreen was unlike anything else on the market at the time. "We did it because we felt that it was the right kind of product to create," says Rebecca. "All the market research was pointing to easy-to-apply, inexpensive, spray-on, and larger size—and we created a tiny, pricey, and difficult-to-apply mineral sunscreen!" However, a year after the launch of that product, the Environmental Working Group (EWG) published its first sunscreen guide, and Badger was ranked number one for safety and efficacy out of 700 sunscreens. The EWG also revealed that one out of every four sunscreens does not provide UVA protection and shared concerns regarding the safety of sunscreen ingredients. As a result, Badger was at the forefront of the development of a safer sunscreen.
In the years since, Badger has established itself as a pioneer in providing information on sunscreen safety to its wholesale customers, who can then pass it on to their own customers. Badger was also one of the first companies to talk about coral reef protection and educate the public on how conventional sunscreen ingredients can harm coral reefs. Today, Badger is finally seeing a movement across the industry, with every major company beginning to discuss reef safety and safer mineral sunscreens. "We were pioneering this," say Rebecca, "which is now something that's become mainstream."
Leading Together
Rebecca is the co-CEO, meaning she shares leadership with her sister, Emily Schwerin-Whyte, the family, and the rest of the company's leadership team. This co-leadership system makes Badger a unique organization, she says, explaining, "My sister focuses on Operations, Quality, and Sales, and I focus on Marketing, Product Development/Innovation, and representing the company out in the world. My mother, Katie Schwerin, is the Chief Mission Officer and the heart of the company. She holds all of our mission-based initiatives and ensures our unique company culture continues to thrive and be sustainable."
She has a lot of meetings on a daily basis—anything from discussing a project with a co-worker, to calling industry executives to explore how they can collaborate to improve goods or advance laws. She's also involved in strategy planning, campaign planning, budgeting, and financial work. "On any given day, it's pretty varied," she says.
Community and Collaboration
To balance her personal and professional lives, Rebecca gets up early and tries to do something fulfilling in the mornings and evenings. A dawn trek, aerial silks, eating nutritious cuisine, and spending time with friends and family are just a few examples. "If I'm really dedicated to taking the time for myself, then I'm focused and motivated at work," she says.
When she chose to return to the area, Rebecca thought about how to make living in rural New Hampshire work for her in the long term. In partnership with her good friends, Danya Landis and Chef Jordan Scott, she founded Machina Arts: Kitchen & Art Bar—an arts venue, neighbourhood bar and restaurant that is a center for community, culture, delicious food, beverages, and events.
Rebecca describes herself as a 'manifester,' going on to say that while some individuals prefer to go to areas where everything is exactly as they want it to be, others opt to make their surroundings what they want. "I'm not capable of doing it all by myself," she says, "as manifesting isn't just having an idea, or even doing all the work. It's working in community and collaboration with other people and finding others who share your ideas so you can work together."
Message to Female Leaders
Rebecca thinks women often undervalue themselves disproportionately to men, and that mindset impacts their ability to grow. "It's not because they're not capable," she says. "Women are incredible leaders in so many ways. Be strong, be kind, and don't give up. The more you value yourself, the more you can grow as a leader."
Rebecca's Vision for Badger
Rebecca wants Badger to be a huge success, and when she says that, she refers to her initial notion of success. She wants a business that is successful enough to stay true to its goal of enacting mission-based work.
Rebecca is motivated by the desire to build a business she is proud of. "I want to be creating livelihoods for people that support a work-life balance, so they're doing the things they want to do in their lives," she says. "And I want to be making an impact in the world."