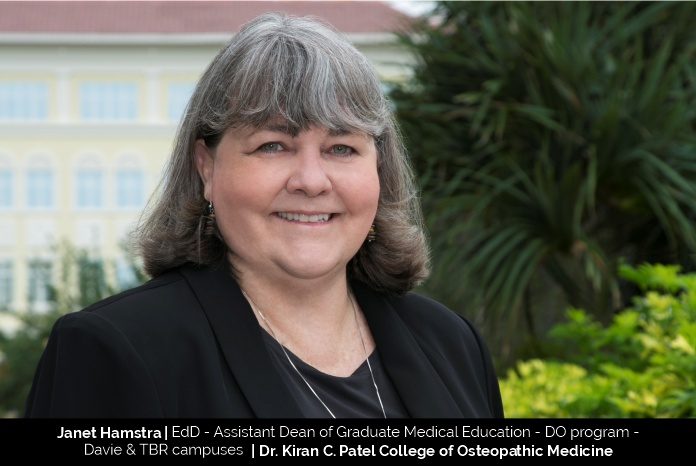 Everyone has their way of finding happiness. But for an educator, true happiness is to see his or her students succeed. One such motivational educator is Janet Hamstra, EdD -Assistant Dean of Graduate Medical Education – DO program – Davie and TBR campuses at Dr. Kiran C. Patel College of Osteopathic Medicine.
As an educator, Janet sees the most important successes as the ones that involve the students. She deems, "For me, those are having our 4th-year medical students match into a residency program and for our residents to complete their residency training. These give me the greatest joy. But I do make a point of celebrating all the little and medium-sized successes too, either with the team involved or just at the end of the day by myself. I feel that we all need to focus on the daily positives in the workplace and choose optimism. That will go a long way with enriching our well-being and that of the others around us." 
A True Educator at Heart
Janet finds herself as a true educator at heart. From the very beginning, she wanted to be a teacher. She went into college with that plan in mind and started her teaching career as a junior high science and math teacher. Janet moved into school administration after nine years of full-time teaching but continued to teach some high school level sciences for five additional years. As a school principal and then headmaster, her teaching shifted to faculty development. She recalls, "I have been delivering faculty development to prekindergarten and elementary teachers through medical school faculty and physicians training residents in hospitals for over 31 years. I did also teach one semester of undergraduate education in the middle of that time. I guess you can say that I have been involved in the full spectrum of education during my career and that nine years of teaching junior high prepared me for just about everything."
Janet's bachelor's degree (elementary education/science education at Calvin College), master's degree (curriculum and instruction at California State University, Fullerton), and doctorate (administration, curriculum, and teaching studies at UCLA) are all in education.
Janet joined KPCOM in 2005. She was hired as a medical education specialist and assistant professor. In that position, she was working with both the medical school faculty and the graduate medical education (GME) faculty. That has stayed the same during her 16-year tenure, although the percentage of time dedicated to GME has grown. After that Janet led the KPCOM Faculty Development Programming for several years.
In 2016, she became the Assistant Dean of Graduate Medical Education and the Executive Director of the Consortium for Excellence in Medical Education (an Osteopathic Postgraduate Training Institute accredited by the American Osteopathic Association).
Proving Herself and Leaving Every Hurdle Behind
"I truly believe that we learn and grow more from our failures than from our successes," says Janet. For Janet, one of the biggest roadblocks she confronted early in her career was when she faced gender discrimination and realized that the school she had worked in for 14 years would not promote a woman any higher.
Janet knew if she wanted to keep growing and challenging herself she needed to move. She accepted a principalship to a school in Michigan after 14 years in the Los Angeles area. Adjusting to winters again was tough but, she found a supportive group of other school principals (all men) who welcomed Janet completely and equally. She says, "That's saying a lot since the first principal meeting I attended was with 35 men, and I was the only female. It was a very strange feeling after leaving a room full of people to be in the women's restroom alone." 
Transformations in Education System
According to Janet, the biggest change she has seen over her 40+ years in education has been in computer-based learning and now distance, synchronous and asynchronous learning. She started in education before personal computers were normal and typed her master's thesis on a typewriter. She says, "My doctoral dissertation was typed on a computer but not a portable laptop. I taught math before everyone had hand-held calculators, never mind calculators on their phones and watches."
The pandemic has been nothing but a push for education towards advancement. The KPCOM Office of Graduate Medical Education has adapted very well to zoom, and the team was able to initiate a new residency during the pandemic with a hospital partner that the college started working with before the shutdown. It is now looking forward to resuming conversations as the hospitals return to more normal processes.
Responsibilities as the Assistant Dean of Graduate Medical Education
As Assistant Dean of GME, Janet oversees all of the residency and fellowship programs that the college sponsors. They are a Psychiatry Residency in Orlando, FL; another Psychiatry Residency in Bay Pines, FL (near St. Petersburg); a Sports Medicine Fellowship on the NSU Fort Lauderdale Campus; a Correctional Medicine Fellowship with Centurion, Inc. in the Florida Department of Corrections locations; and a Forensic Urology and Sexual Medicine Fellowship in Hialeah, FL. The two Psychiatry Residencies are ACGME-accredited, so Janet needs to make sure that they meet those accreditation requirements for each program. She asserts, "We are accredited by the ACGME as a Sponsoring Institution which is a separate set of accreditation requirements. I serve as the Designated Institutional Official for the Sponsoring Institution and the two Psychiatry Residencies under ACGME (Accreditation Council for Graduate Medical Education – the organization that accredits all GME in the US.)" 
Janet also oversees the KPCOM Office of GME and its affiliated institutions and residency programs. The college presently has 15 separate hospital organizations representing 38 different residency and fellowship programs and around 600 trainees who have chosen to affiliate with KPCOM as an academic sponsor.
Janet also serves as the NSU Institutional Review Board representative for all residency research projects. She is the head judge for two research poster competitions each year and sponsors a residency fair for KPCOM 4th-year students. She oversees training workshops for residents in Leadership and Osteopathic Manipulative Treatment. She conducts live and recorded faculty development sessions for these programs and faculty and pretty much helps them find things they are not finding on their own.
Janet describes her 'typical' workdays as being focused on her computer, more so during the COVID lockdown. She describes, "If I am not responding to emails, I'm preparing for upcoming meetings, working on budgets or other documents for residency programs, reviewing accreditation standards and ensuring we are meeting them by communicating with others, reviewing research protocols for the IRB (NSU Institutional Review Board), planning poster competitions or residency fairs, approving budget expenses, managing the people in my department and making sure they have what they need to do their work, and addressing issues as they arise." 
Keeping Work and Life Separate
Training future physicians is an incredibly important task, and Janet takes that responsibility very seriously. She has always been a hard worker and is happiest when she is being challenged. According to Janet, her motivation comes from wanting to see the college's students succeed.
As per Janet, she is not sure if there ever really is a 'balance' when one is working in the field of education. Instead, she makes sure to have other things in life that make her happy separate and apart from the work. She asserts, "I learned the importance of maintaining a life outside of work during my time as a kindergarten through high school (K-12) administrator and have kept that with me since then. I do not use the words 'work-life balance' as much as maintaining a 'life outside of work'."
Janet does not check work e-mails after completing work for the day. She opines, "I am a voracious reader of fiction (mystery/detective novels) and non-fiction (recently mostly about public health issues) and am binge watching National Geographic's Life Below Zero series. I am also a Weather Channel junkie that is the science teacher still in me. I am also a cat person and have three cat children right now – Toby, Mickey, and Milo. I take and post way too many pictures of them as any proud cat mom does." 
Plans for the Future
Currently, Janet is working with a group of professionals to get the ACGME to recognize Correctional Medicine as a medical subspecialty worthy of being accredited and with its board certification. Her focus for the near future focus is on continuing to build several sponsored GME programs. She is ready for whatever next challenges the future may bring.