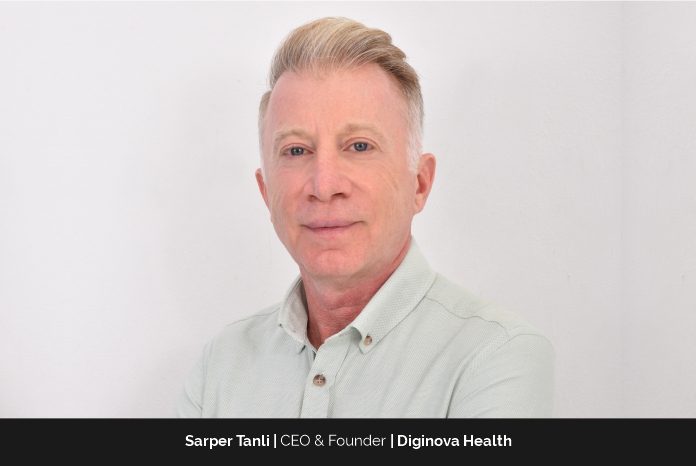 Founder of Diginova Health Solutions, based in Dubai, United Arab Emirates, Dr. Sarper Tanli, has experienced a sustainably progressive and successful career in the field of healthcare. As the Ex-Director of Harvard Medical International and Ex-Vice President of Houston Methodist Global Health Care Services, Dr. Tanli demonstrates a highly prosperous medical and healthcare administration track record across leading nations including USA, Turkey, Saudi Arabia and United Arab Emirates.
His professional career as a physician dates back to 1990 where he earned a prestigious reputation as a specialist in healthcare planning and development. He honorably encapsulated a position as an executive in the establishment of Dubai Healthcare City, various outpatient centres situated in Dubai, and greenfield healthcare development initiatives across Middle East and Turkey. He is renowned for his capability to feature partnerships among top clinical and academic research institutions.
Since 2014, he has served as a dependable advisor to Manzil Healthcare Services' Board of Directors and Executive Committee, and then becoming the CEO. He enhanced Manzil's growth to accommodate 700 staff across 4 countries until mid-2020.
With an impressive healthcare background followed by his medical degree, Dr. Sarper Tanli simultaneously holds an additional PhD and a Master's Degree in Healthcare Management.
Diginova Health
Diginova Healthcare Solutions aims to digitize healthcare through cutting-edge technology, which will contribute to the development of a healthier society. Diginova seeks to establish market-ready, internationally accredited, and verified digital solutions, offering its renowned services to domestic businesses across Turkey and Middle East. Both patients and medical personnel are primary stakeholders in the efficiently digitized healthcare ecosystem. Focus rests on comprehending the fit of each participant to produce exceptional outcomes for hospitals, pharmaceuticals, direct customers, and corporations. In addition, a fundamental highlight is the diverse investment in digital healthcare solutions by Diginova to support the growth and expansion of the company. Diginova's goal is to create a digital transformation for the healthcare industry by creating and sharing knowledge in every segment of the market.
Redefining the Healthcare Industry
Dr. Tanli has sustained high career growth in his medical career spanning three decades in the healthcare industry. He is regarded as one of the most influential in the field due to his expertise, knowledge and for reshaping the industry with new initiatives. According to Dr. Tanli, healthcare requires the cooperation of all parties involved as well as ongoing innovative developments, "The process and outcome doesn't always feel fulfilling or tangible- which is why you need other people on board for this sort of breakthrough thinking before putting all your time into creating something that anyone will actually want what YOU created." He further adds, "This is especially important when working with companies that provide digital health solutions because it helps review the solutions from different angles and see how they can benefit various stakeholders in the healthcare ecosystem." 
Stepping into the Sector
Seeing over 1,000 patients daily at the emergency room where Dr. Tanli worked as a physician, he and his fellow colleagues were introduced to a host of medical problems. He concluded that a prominent setback was inadequate funding. He recalls, "We didn't have enough staff, equipment, or supplies. And the patients we saw were often very sick. We didn't have enough time to spend with each one. But I loved the challenge and the feeling that I was making a difference. It was hard work, but it was also very rewarding." With a scaled vision to enhance lives and a determination to improve healthcare, Dr. Tanli returned to school to complete his Master's in Management Degree, planting the seed to a roadmap of success into a promising field. Upon the completion of his prestigious degree, he was offered a distinctive fellowship awarded from Houston Methodist Texas Medical Center, where he acquired hands-on work experience. He states, "Awards and accolades are always good, but beyond that, the recognition from your peers and staff—people that you work with, and that work for you—is important," Dr. Tanli says. He also adds, "when they see me years later and share their admiration or respect for the work we did together, it's a recognition of our collaboration, skill and hard work. It's something that motivates me to keep pushing myself."
Responsibilities as the Founder and CEO
Growth and expansion is a primary responsibility of Dr. Tanli at Diginova Healthcare Solutions as the CEO of a cutting-edge startup, mandating quality partnerships to facilitate entrance into unchartered territories and markets. As an expert in digital health, he carries high regard for proactivity and creativity, essential soft skills for a thriving workplace. With an intention to inspire his peers and colleagues, Dr. Tanli shares 'It's important to me that everyone feels motivated and inspired, and I think that my work helps contribute to that.' His workday begins with client and partner meetings that transition towards interactions with team members. He asserts, "My clients appreciate my attention and my ability to deliver efficient and effective solutions. They know that they can count on me to help them reach their full potential." 
Highpoints on Work-Life Balance
Dr. Tanli believes that personal and professional identities are intertwined, where spending time with family and friends coexist. He exhibits exceptional work-life balance, where he spends leisure time acquiring new skills, knowledge, and exercising, while engaging in appealing family activities and having humble discussions with colleagues and peers.
Although Diginova's physical office is in Dubai, the team members are situated across various geographies, requiring regular virtual meetings to encourage idea exchange and knowledge transfer. Dr. Tanli expresses, "I am lucky to work with people who can work independently. The only thing left for me is to direct motivation towards Diginova' s goals by showing them what we have achieved, how we are progressing, and how that motivates everyone to achieve the goal. The impact we have on people's lives by developing and implementing digital health solutions for healthcare drives our team." 
Seeing Success
Successful individuals track their journey milestones on an ongoing basis while creating a promising impact to inspire others. "It's not about reaching a destination but rather the path you take to get there is what matters," says Dr. Tanli. A core value he holds is the principle of integrity; recognizing that in the absence of integrity, success cannot be attained. He notes, "Success is not about the size of your bank account or whether you're trying to be the next biggest thing. It's how we use our goals and what they do for us and others in life that define a successful person to me." For Dr. Tanli recognition of his peers and colleagues mean the most.
When one talks about awards, Dr. Tanli has won many but the one that matters the most is Sheikh Khalifa Excellence Award.
More Digital Advancements
The ambition lies in continuing the current journey in becoming a knowledge leader in Digital Health, as Dr. Tanli looks towards the future of digital healthcare. He encourages all digital enthusiasts and users to comprehend the functionality of technology, and its application across diverse platforms.
"We also work with many different digital solutions and have a platform that both develops and creates many digital solutions with the goal of improving people's lives." 
His personal objective as a healthcare expert is to positively reinforce the values and core principles of digital healthcare to enhance user participation as part of his mission.
Message for Aspirers
On a final note, Dr. Tanli advises today's youth with a motivational message; stating, "Never stop learning. You will always work hard and learn new things in the early years of your career, but the knowledge infrastructure you build will help you implement what you learn for many years to come. The infrastructure requires that you continue to lay new bricks on top of the foundation. That means you have to keep learning, and keep working hard, and of course it pays off."