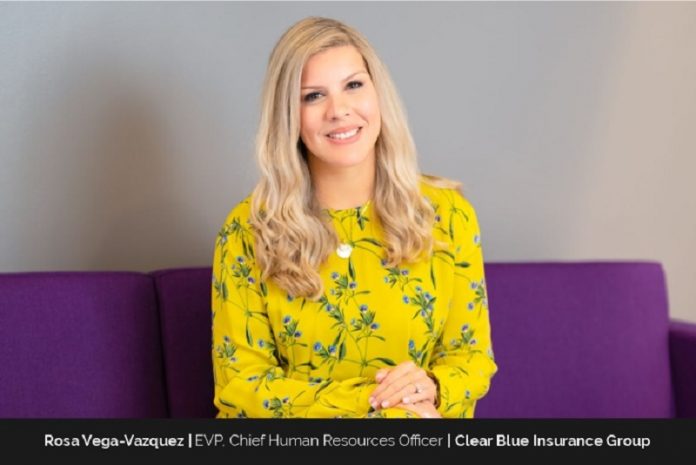 Success is subjective. So is the drive to do it! This statement precisely defines Rosa Vega-Vazquez, EVP, Chief Human Resources Officer, Clear Blue Insurance Group. To her, success is about making a difference and inspiring others to take action. She has been a supporter in an ideology: The significance of your efforts, rather than your position or the size of your organization, counts. Rosa has spent her entire career looking for ways to help an organization and its members thrive. Her strategies are simple yet effective to achieve it, i.e., taking part in initiatives that lay the groundwork for development and progress.
She has held several HR leaderships positions in the financial services and pharmaceutical sectors over her 17-year career. Prior to her current role, Rosa served as a Senior Diversity Recruiting Consultant at Vanguard, Diversity and Inclusion Lead Manager and Strategist at Equitable, and MetLife Recruitment Relationship Manager. She developed company-wide diversity programs and partnered with underserved areas to improve the company's image as an employer and significantly boost the number of women and people of colour hired for senior positions.
She has recognized her professional achievements with numerous ERGs and charities. She had also developed organizational alliances included Prospanica, the National Black MBA Association, the National Association of Black Accountants, the Association of Latino Professionals for America, the Organization of Latino Actuaries, the Latin American Chamber of Commerce in Charlotte, and others. In addition, Rosa established a diversity scholarship program to support college-bound youngsters from traditionally underrepresented groups.
Woman proposes, Goddess disposes
Initially, Rosa aspired to be a lawyer. She moved from Puerto Rico to Marquette University in Milwaukee, WI, were she attended Marquette University to pursue her dreams. It appeared as the simplest approach to make a difference and ensure everyone had access to fair treatment. But destiny had some other plans for her. She graduated with flying colors and acquired all the knowledge required to walk on her chosen path. Totally unaware of a twist in the plot ahead, she eventually found her way into human resources. Did she lament it? No! It didn't take much time for young Rosa to realize that working on Diversity, Equity, and Inclusion initiatives through ERGs is her natural calling. Soon she was in a full-time capacity and comprehended it was where her heart was and how best she could serve others.
Challenges which proved blessings
In a world dominated by white men, there is hardly any room for women. And if the woman hails from non-native ethnicity, the challenges are formidable. The Financial Services sector was no exception. At first, Rosa faced significant challenges due to her status as a Latina woman and one of the youngest workers. Her looks, appearance, or how she dressed or presented herself had been completely revamped. Despite the initial snags, her progressive, out-of-comfort thinking got her moving. It was the driving force she needed to now become the company's only female EVP. Bold Rosa quite convincingly articulates,
"You are the only person who can create opportunities for yourself. Don't wait for them to come or have a feeling of entitlement as it might never happen."
An inspiration for others 
Rosa did not stop with her success as EVP of Clear Blue Insurance Group. She took it as an opportunity to inspire other women to follow in her footsteps and develop alongside her.
"As women, we have to learn never to take 'no' for an answer and be each other's advocate. It takes determination and doubles the work, but it is worth it when you look back at your accomplishments in a male-dominated world," she advocates.
She was the trailblazer in becoming the company's first female EVP. Her CEO, Jerome Breslin, shares her passion to support, promote and give a voice to women.  In less than two years, four other women have been promoted to VP and SVP levels within the organization. Two of these women, she was influential to their promotion. The insurance industry is seen evolving in response to such a visible transformation.
Role of CHIEF
Rosa recently joined CHIEF to accelerate her development, strengthen her leadership skills and support other women in their journey. CHIEF is an exclusive group of top-tier female executives. One can leverage this network to connect with influential senior executives from various organizations, from the Fortune 500 to cutting-edge startups. Women in the C-Suite, senior executives, and accomplished vice presidents benefit from CHIEF because it is tailored to help them become more effective leaders, expand their spheres of influence, and inspire those around them to follow suit.
As a leader at Clear Blue Insurance 
Clear Blue Insurance Group (CBIG) was founded in 2015 by CEO Jerome Breslin and a team of industry specialists. Their vision was formed out of struggles and difficulties with limited possibilities for Managing General Agents (MGAs) to locate capacity and grow their operations. Clear Blue was designed to solve rising capacity and inefficiencies by realizing the potential and market demand. It also aimed to make it easy for MGAs and program managers to connect with global reinsurers while creating value along the transaction chain. The organization holds four US-domiciled P&C insurers. Two admitted and two surplus lines. It is licenced for most business lines and can offer admitted paper in DC, PR, and 49 states. Surplus lines paper is available nationwide. The company has $1.45 billion in premiums now.
Commanding positions ask for demanding responsibility. Rosa shoulders many, catalyzing Clear Blue Insurance Group's growth. She manages the HR department's strategic direction. She supports employee engagement, performance management, and employee development. Rosa also handles organizational design, effectiveness, and change management in CB's Charlotte, NC, Dallas, TX and Guaynabo, PR offices. As part of the Executive team, she attends quarterly Board of Directors meetings to promote transformation and the people's agenda. She has established a marketing division to bolster the company's reputation as an employer and assist with its expansion.
Contributions to CBIG's growth
Although she is still relatively new to Clear Blue, she has already introduced changes that have helped the company attract outstanding applicants in the most competitive market. In her words: "We have seen and strategically engage and keep people in this war for talent."
Her time spent in Fortune 500 firms has equipped her with the perspicuity necessary to understand what employees really expect from their employers and set priorities accordingly. The company's benefits package has undergone significant transformation in her brief time with CB. For example, Cash Incentive Program was established to encourage every staff to behave and contribute as if they owned the company. It has proven to be a huge hit. The new structure includes a Talent Review to single out star employees, a succession plan, a Work from Home policy, and an organizational re-design to facilitate rapid expansion and cross-training.
As a foresighted leader, Rosa comprehends and anticipates the HR industry's transforming scenario. She says with time, technology, demands, and people change. Thus, the company must evolve and innovate to be a respected and trusted partner. People are a company's #1 asset. Meanwhile, one must remember that diversity fuels innovation. She advocates for collective responsibility, i.e., fostering and creating a space for these things.
Turning point
The turning point in her life came when she stopped seeing her individuality and diversity as flaws. There was an internal shift, and she started celebrating them. She confessed, "I was miserable hiding myself and my identity. I realized I had to take ownership of my diversity and embrace what made me who I was. That was the moment it all changed for me."
This metamorphosis was needed, and Rosa immediately started to feel more confident. She could also give a voice to those who lacked her platform.
Leading an example
Rosa cites her most significant accomplishment as her current role. It has given her the flexibility and capability to spearhead transformation. She has the backing of the company's executive team and board of directors. She further mentioned that it was an honour to be the company's first female EVP among a group of 12 men (6 founders and 6 board members). Having more women in leadership roles and changing the face of the sector depends on their ability to participate in policy discussions. She believes that leadership support is essential for the insurance business to continue breaking down barriers.
Work-life balance
Without any qualms, Rosa accepts that there is always room for improvement. Her professional and personal life is like a work-in-progress. She adds that there is no ideal recipe, though. As the mother of a two-year-old, she resigned from the Prospanica North Carolina board (previously NSHMBA) and joined the Children's Theater of Charlotte board of directors. The sole reason for this move was to spend more time with her daughter. There was a bigger picture, too, i.e., advocating for educational programs and other reforms that would benefit her daughter and other children. She can effect industry-wide changes that will transform her daughter's future.
In addition, the structure and reforms she is adopting at CB will catapult the brand to the next stage of development. She constantly communicates her vision and solicits her team's input. The idea is to establish a clear plan and road map that considers diverse perspectives. Diversity of opinion is vital to the success of a brand. Therefore, she places a great emphasis on it. Since success is a teamwork-driven formula, she ensures to consider others in decision-making.
As EVP, CHRO of Clear Blue Insurance Group, every morning, she meets with her human resources staff to review the day's plan and check in on the progress of employee initiatives and projects. She engages in high-level discussions with the leaders of various departments to propel change and maintain momentum in the development and rollout strategies to enhance the company's ability to find, entice, engage, and retain its best employees.
Future plans & ideology
Rosa wants to disrupt the status quo of the insurance industry and make fundamental shifts. She is confident in bringing out one's most outstanding qualities regardless of the degree of intellectual diversity present at one's core. She is optimistic that this change will elevate Clear Blue Insurance Group from the top 3 to number 1 in the market and beyond.
As an inspiring woman leader, she is self-aware, acts in control, and instead of being carried away by praises or criticism, she knows how to take mindful steps. According to her, there is no better mentor than self. She has been practicing and preaching to believe in herself and do what feels right internally. The dynamic boss-lady says she has been swearing by the mantra to keep going; your efforts can make a difference in the world and your respective industry. The HR leader also challenges everyone by saying,
"I will challenge you to find a champion that can help you have a bigger voice and empower those behind you, as this is key to our own success."