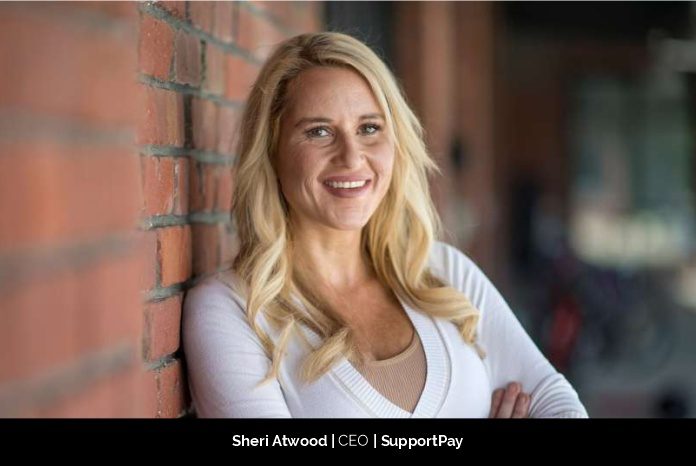 Being a passionate and committed executive, Sheri Atwood, Founder and CEO of SupportPay, aims to provide a reliable and easy solution to parents living apart from their children in managing child support as well as sharing expenses. Backing up her skills and experience, she focuses on creating innovative solutions to solve major challenges and deploying outstanding strategies to create better results for everyone.
The dawn of SupportPay
As a child, Sheri was raised by a single mom as the youngest of three children. With a goal to escape the current economic struggles her mother faced, she knew the only way to reach it was to go to college, so she focused on getting into a good school.
She originally attended UC San Diego for her undergraduate degree with a goal of being a doctor, but in order to pay her own way through school, she started working at Sony Electronics as a Market Analyst. At Sony, she was impressed by the business domain and decided to pivot towards it.
She went on to complete her MBA degree while widening her skill set by gaining valuable experience in the corporate world. She had a very lucrative career as a marketing executive in Silicon Valley, including being the youngest Vice President at Symantec.
Being a single mom, she was juggling her career and raising her kid and was looking      for a better solution to manage both. At that time, her daughter had to have emergency brain surgery, which forced her to change her priorities and manage her time differently. Going through a rough patch and realizing the need for a better management solution for parents to handle child support, she decided to risk it all by leaving the corporate world behind and starting her own company, SupportPay.
Never Give Up
As a female business leader, gender biases were and unfortunately still are a challenge Sheri faces daily. Today, female founders are still not getting the respect they deserve in the tech industry. Female-founded companies only receive 2.2 percent of venture capital, and Fortune 500 female CEOs are 30 percent more likely to be fired or replaced compared to their male counterparts.
She witnessed this in her own life. In December of 2016, Sheri closed a $4 million Series A round. The capital enabled her to continue to grow SupportPay, but she gave up control of the board. Seven months after raising Series A, she was fired from her own company and replaced with an investor insider.
Within three months of getting fired, she got the news that her company was getting liquidated. Looking to save her company, she reached out to the board, however, her request was denied. After several offers to acquire the company were ignored, Sheri decided to make one last attempt. In early 2018, she formed a new holding company and made an offer to acquire all of the assets back. Her offer was accepted, and she gave her all to bring the company back      to the top.
Creating a groundbreaking solution
Launched in 2011, SupportPay is the first-ever automated child support payment platform, poised to transform the complex, time-consuming & stressful process that impacts nearly 300 million parents, exchanging more than $900 billion in child support & child expenses worldwide. With SupportPay, today's modern families can spend less time managing and arguing about child support, expenses, and alimony and more time focused on raising happy, healthy children.
Sheri adds, "We want to make family life easier by changing the way families manage money across households, from a conflict-ridden, time-consuming & stressful event to a collaborative process between family members. We want to make single, divorced & blended families' lives easier by delivering innovative applications that will save parents time, money, and headaches."
Paving a way for co-parents to share equal child finances and support
Sharing some striking facts, Sheri says, "In the US, there are 55 million parents that live apart. Thirty-nine million exchange over $200B/yr in child expenses & child support/alimony. Globally, there are over 298M parents who exchange $900B/yr."
To impart a feasible solution for managing this conflict-ridden process, one may find solutions focusing on other aspects of divorce like communication, visitation, and custody issues. However, no one has ever addressed the financial aspect till SupportPay. Being a complex process, it is essential to continuously manage, communicate and negotiate shared expenses. SupportPay caters to this need with constant technological innovation to automate all the processes and help in achieving the mission to meet the customer needs in the most resourceful way.
Bridging the gap for all divorced, separated, or single parents to manage child support and share expenses directly with each other, Supportpay emerges as a one-stop solution that assists co-parents to share their child(ren)'s expenses.
The company's mission is deeply rooted, as it stems from people who struggled to provide their children with equal financial support or saw a similar situation in their own childhood. She shares, "A majority of SupportPay's employees have/are single parents or have directly experienced the impact of divorce somehow in their lives. Having this unique insider perspective pushes us all that extra mile to make parents & children's lives easier with Supportpay, starting with ensuring all children get the financial support they deserve." They try to make this possible with a seamless child support experience.
Living in the Moment
Being a female CEO, Sheri is a fighter who emerged as a tenacious leader to get her company back and continues to carry perseverance despite the incredible odds against her. Her chief responsibilities cover a myriad of domains such as forming strategy, managing marketing, handling company finances, operations, and technology advancements. Even though there have been numerous hurdles along the way, helping parents and children makes it all worth it.
Being a visionary leader, she says, "I want to encourage my employees to come up with their own solutions for problems, think outside the box, and come to me when everything else has failed. Allowing my employees to work through a situation individually fosters the innovation that allows SupportPay to thrive!"
Sheri believes in being present in the moment- be it working or spending time with her daughter. She always tries to spend at least 2 hours a day with her daughter to hear about her current life      and explore ways to connect further.
Progressing with a big aim
Sheri aims to make SupportPay a huge success for parents living apart in giving their children the financial support they deserve. They are also looking forward to expanding the same technology to help siblings and other family members for providing financial support for their aging parents. Currently, their amazing solution is assisting millions of parents and children by simplifying the complexity of managing child support and sharing expenses. She states, "In the near future, we are looking to make SupportPay the de facto standard for families managing finances across households."
Personally, she has two goals: firstly to be a part of an investment firm that is focused and dedicated to funding female entrepreneurs, and secondly, to become an inspiration for other women and young girls out there with big dreams.