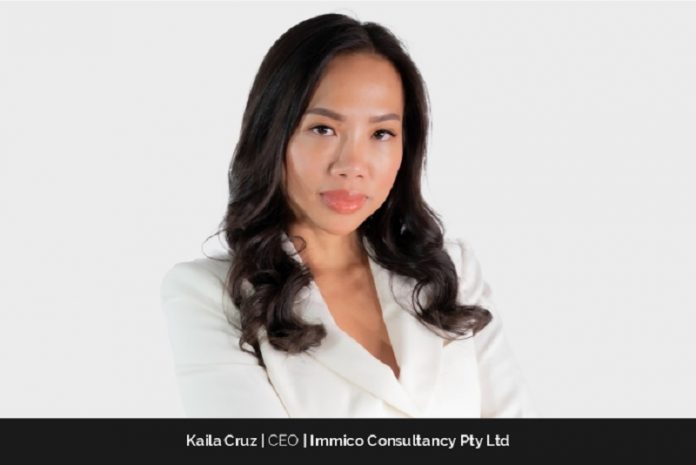 In the domain of Australian professionals, there are those who shape the course of industries, leaving an indelible mark on their respective fields. Among these exceptional individuals, Kaila Cruz, the CEO of ImmiCo Consultancy Pty Ltd, stands tall as an extraordinary force of innovation, compassion, and leadership. With her unrivaled dedication and remarkable accomplishments, Kaila Cruz has earned her place as one of the "Top 10 Most Influential Australian Professionals in Business, 2023."
Kaila Cruz's journey to success is as multifaceted as it is inspiring. As a registered nurse, her passion for healthcare led her to make a profound impact on patients' lives. However, her unwavering drive to make a difference on a broader scale propelled her towards a new path—one where she could shape policies, foster cultural integration, and empower individuals from all walks of life.
As an Australian Registered Migration Agent (MARN 1796814), Kaila Cruz combined her nursing expertise with her deep-rooted desire to assist and uplift others. Her work as a migration agent has helped countless individuals navigate the complex terrain of immigration, providing them with hope, guidance, and a sense of belonging in a new land. Through her company, ImmiCo Consultancy Pty Ltd, she has redefined the standards of visa and immigration assistance, earning the prestigious title of "Most Outstanding Australian Visa and Immigration Assistance Company 2023" at the esteemed Sterling Awards.
Beyond her professional accomplishments, Kaila embodies the spirit of community engagement and philanthropy. As a respected member of the Rotary Club of Sydney, she dedicates her time and efforts to fostering peace-building initiatives as the Vice Chairperson of the Rotary Club of Sydney's Peace Building Group. In addition, her commitment to cultural and linguistic diversity is evident in her role as a Board Director for Cultural and Linguistic Diversity at Triple H 100.1 FM, a community radio station. Her presence on the airwaves also extends to Radio Tagumpay, where she presents a Filipino community radio program, bridging the gap between cultures and nurturing unity.
Recognized for her outstanding achievements, Kaila has garnered numerous accolades, solidifying her position as a trailblazer in her field. Her commitment to excellence and innovation was acknowledged as "Outstanding Business Person of the Year – Finalist 2023" at the City Suburbs Local Business Awards. Moreover, Kaila was honored as one of the "Inspirational Mother of the Year 2023" by Filipino Sports Arts and Recreational Club, a testament to her ability to balance her professional success with her roles as a mother and a role model.
As we delve into the remarkable story of Kaila Cruz, we uncover the resilience, determination, and unmatched perseverance that have propelled her to the forefront of the Australian business landscape. Her professional journey vouches for her steadfast commitment to the belief: "Live your best, act your best, and think your best each day, for there may be no tomorrows." Through her visionary leadership, this sagacious business-savvy lady has not only transformed the lives of individuals seeking a new beginning but also redefined the possibilities of success in the business world. Join us as we unravel the extraordinary journey of a woman who embodies the true essence of being a trailblazer in the modern era.
Redefining Success: A Journey of Purpose and Impact
When we explored into Kaila's perspective on success, she revealed a profound transformation that occurred over time. Reflecting on her earlier beliefs, she shares, "When I was back in the Philippines, I thought being successful meant having a lot of money, lavish life, and fame." However, her journey led her to a deep realization that shaped her understanding of true success. Kaila emphasizes, "I am proud to have learned the real definition of success. I define success as reaching your highest potential in life – and being in a state of mind and platform wherein you can help your loved ones and your community."
According to Kaila, success transcends material wealth and societal acclaim. It lies in one's ability to make a meaningful impact on others, uplift, and contribute to the well-being of loved ones and the community. For her, authentic success is a journey driven by the desire to add value and make a positive difference in the lives of others.
Greatest Accomplishment as a Business Leader
The founder and CEO of ImmiCo Consultancy regards her ability to steer the company to its current position as her most significant achievement as a business leader. Kaila takes pride in ensuring the satisfaction of her team in their work and the positive impact ImmiCo has in the community.
Services Offered by Immico Consultancy: Assisting Global Migrants in Australia
Immico Consultancy specializes in providing comprehensive assistance and support to migrants worldwide who aspire to visit, study, work, and settle in Australia. With a focus on individualized guidance, the consultancy offers tailored advice and efficient management for each client, considering their unique backgrounds and requirements. The ultimate goal is to empower migrants, enabling them to seize the various opportunities available in Australia.
Overcoming Roadblocks and Journey to Personal Growth
Kaila Cruz firmly embraces the mantra, "Breathe. It's just a bad day, not a bad life." These words hold significant meaning for her, emphasizing the importance of maintaining perspective during challenging times. She firmly advocates that challenges contribute to personal growth, stating, "In the face of adversity, do you truly realize what kind of person you are who you want to be." Her initial arrival in Australia on a student visa presented numerous obstacles. She found herself without any clear path or work prospects, lacking connections, networks, and even proficiency in the English language. Feeling lost, she could have easily surrendered, allowed her visa to expire, and returned to a comfortable life in the Philippines. However, Kaila chose a different path, driven by the desire to transform herself and become a source of pride for her son.
Undeterred, she tirelessly worked towards her goals, reminding herself of God's kindness and the greater purpose behind the hardships she faced. Perseverance became her only option. Today, this astute businesswoman takes great pride in her accomplishments, attributing her success to her determination to overcome her challenges. Reflecting on her journey, Kaila acknowledges, "If it were not for me confronting my hardships, I would not have realized that life is truly beautiful." She further asserts, "I stand here before you as a woman dedicated to helping others realize their full potential, all thanks to roadblocks that stood in my way." Kaila learned never to back down, to stand firmly in her beliefs, and to embrace self-assurance.
Australia's Development and Employment Outlook: Addressing Skill Shortages and Catalyzing Growth
This business-savvy professional believes that both Australia and the world are navigating uncertain times in terms of development and employment. The unprecedented impact of the COVID-19 pandemic and the rapid advancements in technology have significantly influenced job stability and livelihood. Recognizing the persistent challenge of skill shortages in Australia, Kaila aspires to provide a solution to this crisis. She acknowledges that migration has been a temporary fix, but systemic issues and gaps persist, allowing staff shortages to continue and resulting in the exploitation of international workers. Kaila is determined to ensure fair treatment for all parties involved. Her vision consists in facilitating the seamless transition of skilled overseas workers to Australia, connecting them with the right companies to optimize their lifestyles and working opportunities. Kaila aims to bring about meaningful change in the ongoing skill shortage by catalyzing staff retention and aligning employers with the right talent. Her ultimate goal is to empower Australian employers to find the ideal individuals who can support their vision and uphold their work ethos, transforming workforce shortages into a thing of the past and fostering the thriving of the Australian economy.
The Core Values of Immico Consultancy: Upholding Honesty, Integrity, and Solidarity
Honesty stands as a foundational value for Immico Consultancy, as the company's primary objective is to assist individuals. They prioritize providing complete transparency and clarity in all their dealings.
Integrity is paramount to how Immico Consultancy conducts internal and external communication. They highly esteem their work, treating colleagues and clients with the utmost respect. Discrimination has no place within their operations, and they utilize every available resource to ensure that all clients can one day realize their Australian Dream.
Solidarity forms the bedrock of Immico Consultancy's ability to assist others meaningfully. Kaila Cruz and her team share a common understanding of migration, having lived and experienced the journey themselves. It fosters a sense of mutual respect and enables them to thrive in their mission of helping others.
Inspiring Future Leaders: Kaila Cruz's Vision for Generational Change
When asked about her aspirations to influence a change in the generation, the CEO of ImmiCo responds: "I have a beautiful son named Gordy. And every parent wishes to craft and leave a world their children can love and call home – no matter where they are."
Driven by a desire to inspire a new generation of leaders committed to societal progress, Kaila expresses gratitude for her career as a migration consultant. This profession has enabled her to serve her community and individuals genuinely seeking Australian migration advice. Acting as a conduit for transforming lives in Australia brings Kaila immense joy and fulfillment.
In line with her team's efforts, Kaila aims to demonstrate to today's youth that genuine success and personal fulfillment stem from selfless actions. By exemplifying this philosophy, she intends to impart the message that serving others is the pathway to true accomplishment.
Leadership Responsibilities at Immico Consultancy: Guiding Progress and Growth
In her dual role as Director and Migration Consultant at ImmiCo Consultancy, Kaila assumes the responsibility of propelling the company forward and upward, regardless of the pace or duration required. With a mindful approach, she ensures that every action taken collectively adds value to the organization's trajectory.
Kaila Cruz: Fearless in the Face of Constant Change
When asked to describe herself in one word, Kaila Cruz chooses "FEARLESS" due to the ever-changing nature of her days. Upon reaching the office, she engages in a swift scrum with her team, checking emails, logs and connecting with clients. From that point forward, each day brings a multitude of transformations.
According to her, some days are dedicated to meetings with influential business leaders, such as representatives from educational institutes or the Rotary Club of Sydney, all focused on enhancing the greatness of their country through definitive actions. However, irrespective of these engagements or other tasks, Kaila consistently prioritizes her clients. They remain her top concern, often leading her to devote entire days, even after regular working hours, to assist them wholeheartedly.
Regardless of the costs, time invested, or the new challenges and obstacles encountered, Kaila's determination, supported by her exceptional team, propels them forward, conquering every hurdle. Hence, she confidently embraces the label "FEARLESS."
Striving for Personal Balance: Kaila Cruz's Motto and Approach to Life
Navigating through the challenges of work and personal responsibilities can prove demanding. For Kaila, a guiding motto has always been, "My body is my temple." Recognizing the importance of maintaining peak efficiency to fulfill her duties and inspire her team effectively, she prioritizes her physical and mental well-being.
To keep her mind focused and cultivate discipline, Kaila practices in Muay Thai, a martial art that allows her to channel her energies effectively. She values the importance of arriving at work early, engaging with her team, and discussing work-related matters and the broader aspects of life when time permits.
Balancing her professional commitments with her personal life, Kaila dedicates her evenings to her cherished son, Gordy, and her beloved parents. These meaningful connections bring her immense joy and fulfillment. With this holistic approach, Kaila navigates the daily grind, ensuring she can pursue all she desires with dedication and enthusiasm.
What's in Store for Immico Consultancy
Immico Consultancy's CEO strongly adheres to the idea: "If you change the way you look at things, the things you look at change." Her vision for her company involves becoming the foremost authority in Australian migration globally. The aim is to serve as a pathway for prospective migrants who envision Australia as their new home while contributing to the prosperity and preservation of a safe and secure Australian environment.
Message to the Aspiring Leaders
"If you genuinely enjoy what you are doing and unquestionably believe in yourself and the product you deliver, success is guaranteed," Kaila Cruz advises aspiring leaders. "Because, in this case, it is not a matter of how or IF but of when. When success will come – when you will reap the profits of what you have sewn."
This veteran leader emphasizes the indispensability of patience, not just as a virtue but as an essential quality in business and leadership. She urges individuals not to lose heart and consistently exert their utmost efforts, assuring them that success will ultimately be achieved, regardless of occasional uncertainties. Kaila encourages perseverance and self-belief, highlighting the significance of the diligent labor invested in their endeavors. In conclusion, she assures them, "Because I promise you, your determination and dedication to your craft will pay off, maybe even sooner than you think."