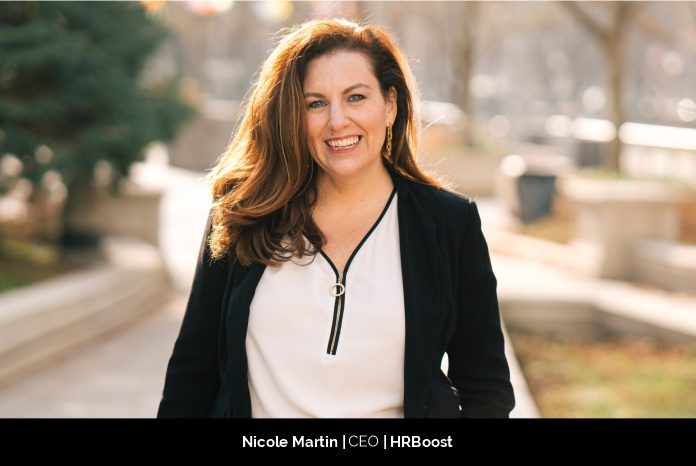 Knowing the importance of joy and happiness in life, Nicole Martin, Founder and CEO of HRBoost, emphasizes its importance in the work environment to create better results. Steering the ship of the company in the right direction, she is all set to change and redefine entrepreneurship.
Behind the scenes
Having a strong role model in the form of her mother, Nicole understood the importance of joy and happiness. She was raised with the philosophy of being happy and was hardwired with the zeal to rise higher.
Right out of high school, she grabbed a job as a receptionist at a pre-Y2K firm. From there, she found her passion and worked her way up the ladder of success.
She left the corporate world to help businesses to create winning workplaces through their people. So, she took the matter into her own hands and marked the dawn of HRBoost to bring joy and purpose to people through their work.
HRBoost provides solutions with passion to individuals, groups, and businesses alike. The team does not operate under the philosophy that one size fits all.
Nicole adds, "Every leader must align their personal values to the organizational values and define success clearly so that every person can connect their role to a transcendent organizational purpose. Our mission is to provide value-added Human Resource Services that allow each business to do what it does best. When HR is aligned, HR is no longer just a partner; it is a fundamental part of the business helping to drive the human side of profitability."
Crossing the obstacles with smart strategies
While structuring a company from scratch, human and financial capital plays a crucial role in cementing the foundation of the company. Many companies will not grow because they are not investing in talent, and often it is the CEO's job to bear debt. To tunnel through this challenge, Nicole made a calculated risk to invest in her talent and invest in her bench strength.
She adds, "In the early years, I was reacting to my business, and as a mother and wife, it can be a challenge to orchestrate work-life integration. I look back and realize that when I put down a process, hired capable talent, and disappeared to let them work, the process proved through, and now, we can do it again, and again, and again. You must trust the people you hire, and you must trust the process. When it is time to take a calculated risk, you invest and do what you can to increase the odds."
Helping other business with HRBoost
HRBoost has specialized experience in providing value to small and middle-sized companies, which, unlike their large-company counterparts, can often lack the time and resources to build infrastructure and processes that are beyond core business objectives. Every business needs to have a competitive edge in today's economy. Both small and large companies need to attract, develop and retain the best talent for their organizations while complying with the ever changing maze of state and federal regulations. All companies need to be concerned with issues related to compensation, benefits, training, employee retention, talent attraction, and generational agility.
HRBoost has built its reputation on partnering with business leaders to achieve corporate goals while maintaining integrity and delivering outstanding results.
Nicole states, "We provide full-service embedded HR support, project to project support, culture design and management training, employee programs and assessments, virtual support, and phone support. I am honored to lead a high-performance team of HR leaders who partner with our business clients to meet them wherever they are on their journey, to being the best place to work. We have experienced tremendous growth, and proudly nearly every client has been sourced through word of mouth. Our appeal and success are due to our personal dedication to each and every client."
Redefining the human resource management with HRBoost
The vision of the team at HRBoost is to bring JOY and PURPOSE to PEOPLE through their WORK. Nicole expresses, "It is how we serve our clients and the people that choose to join up on their visions. We live it at HRBoost and believe everyone deserves the same opportunity."
She feels that it is imperative to get hands-on experience doing what a person seeks to learn. The journey to success is long, and a person should be prepared to learn, unlearn, and relearn. She firmly believes in the notion and instills it in the operation of the company to pave it to the top.
Advancing as the HR Industry Leader
Being the CEO of HRBoost, she and her team cater to the needs of different businesses, be it Professional Services, Non-Profit Organizations, High Tech, Manufacturing, Staffing firms, Hospitality, and Healthcare.
She leads the performance team of HR leaders and is proud of the success gained owing to her personal dedication. For her success, she has also been adorned with several awards, such as the 2016 Enterprising Women of the Year Champion (by Enterprising Women Magazine), a 2017 Excellence in Business Award winner, and a Mirror Review enlistee of 20 Impeccable Women in Business recognition in 2017. Not just this, she even shares her knowledge in famous newspapers and magazines such as Forbes.com, the Daily Herald Business Ledger, and Fast Company.
Personally, she has also authored a plethora of books, namely, The Talent Emergency, The Human Side of Profitability, No Fear Negotiation for Women(August 2019), and The Power of Joy and Purpose. In addition, Nicole hosts the internet show, 'HR in the Fast Lane.'
Balancing Career and Life
Nicole has a well-established career. However, she keeps her weekends off and never misses dining with her family for more than two nights a week. Her live-in-the-moment attitude is thriving her to put herself and her family first.
Not just this, she says, "I work out regularly and love to fish, go boating, hiking, exploring with my family. I enjoy nature and try to simply be with it whenever possible. I also believe in peer groups. I have a CEO peer group that keeps me laser-focused and inspired. I have a Women's CEO group that keeps me feeling synergy and sisterhood. I also love my husband dearly and work date nights as often as we can swing it."
Future Roadmap
Nicole partnered with one of HRBoost's partners to become the HR Expert on Demand and lead growth for small-scale businesses. Moreover, besides going all-digital, she has even started hiring from other states.
Personally, she believes gaining experience and investing time, energy, and always being prepared to learn and relearn is essential for growth. Sharing her message for other business leaders, she states, "Surround yourself with people who inspire and support you but also don't patronize you. Remember, even if it gets harder or takes longer, stay diligent. Anything you love will be worth it."