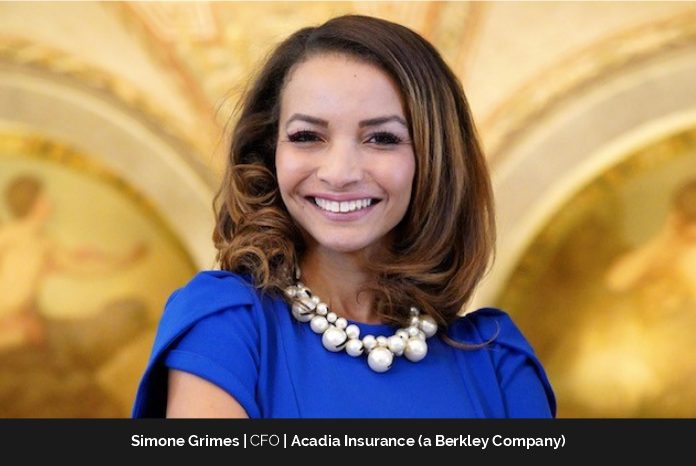 Finance professionals are all about numbers and data, but at the heart of it, what drives them is the art of strategy and leadership. It takes a visionary mind to navigate the complex world of business transformations, manage risk, and make decisions that drive revenue growth. Meet Simone Grimes, accomplished Chief Financial Officer and Qualified Audit Committee Financial Expert, with vast experience managing high-growth, and heavily regulated organizations across multiple industry sectors such as financial services, insurance, and real estate, Simone is a true leader in her field.
But what sets Simone apart from her peers is her ability to balance financial acumen with a commitment to giving back to local communities through social engagement and a comprehensive understanding of ESG (Environmental, Social and Governance) matters. She knows that the E and S in ESG are not just buzzwords, but critical considerations for any modern business looking to thrive in the long term.
Taking a Path Less Traveled
Simone's journey to the top was not a straight path, but her passion for making specialty vegetarian foods led her to open her first restaurant. Little did she know that this would be the first step in a journey that would lead her to the world of finance.
As Simone's first restaurant became a hit, she found herself needing to pivot her focus from creating delicious dishes to growing her business. She became laser-focused on delivering higher than average returns to her investors, making sure that their trust in her was rewarded with success.
Simone's inexperience didn't deter her from raising capital, articulating growth strategies to investors, and quantifying and communicating key performance indicators. Her drive to succeed fueled her mission to grow her business into multiple restaurant assets, and within five years, she led the successful M&A disposition of her business, giving everyone involved a big pay-day.
This experience codified Simone's approach to everything she would do next. She understood that success was always about getting returns to shareholders, knowing valuation multiples, growing the bottom line, executing bold growth strategies, and surrounding herself with talented and trustworthy people who would support her vision.
Simone's early success in the business community established her reputation for being able to consummate multifaceted business deals. Her confidence grew, and she was ready for her next challenge.
Simone's journey from restaurants to finance may have been unexpected, but her recipe for success has remained the same: focus on delivering returns to shareholders, execute bold growth strategies, and surround yourself with the right people.
Leading Investors to Success at An Early Age
Simone felt a deep sense of humility upon being entrusted with investor capital, causing her to take it to heart and treat each investor with great care. In her 20s, she successfully delivered ROI to investors.
Leveraging Lessons as A Founder to Deliver Value to Shareholders
Simone's mindset revolves around keeping the investors as her top priority, and she is committed to achieving significant returns for them. Whether at her role at Progressive Insurance, or any of the other organizations she's worked with, she remained dedicated to increasing the profitability of the organization through revenue growth, enhanced operating margins, and improved capital efficiency. Her approach involves a customer-centric focus, delivering accretive returns to shareholders, and emphasizing operational efficiencies. As an example of her dedication, Simone delivered exceptional results at Progressive Insurance.
From Founder to Strategic CFO and Corporate Board Member
Simone's entrepreneurial spirit has been the driving force behind her successful career. Her willingness to take on new challenges and work in several industries has allowed her to occupy several executive-level strategic roles. She states, "I get excited when there is an opportunity to create big changes, such as dramatically growing a business, responding to macroeconomic challenges and influencing market corrections. I perform best when it's time to define a new path and maximize the opportunity. That type of opportunity satiates my strong desire to either fix something or dramatically grow and scale something."
Simone is the strategic Chief Financial Officer for Acadia Insurance, a W.R. Berkley Company (NYSE: WRB), a specialty insurance carrier offering bespoke solutions to and high touch service to its customers. Simone's dynamic career has taken her from auditing large banks and insurance companies to leading transformative multi-year strategies for the nation's two largest housing finance companies. Simone's passion for delivering value to investors, raising capital, and growing businesses is evident in her successful track record. She led two multimillion-dollar M&A exit strategies in her career, most recently as the chairman of the board for a privately held company with a portfolio of sustainable agricultural and technology assets and consumer product brands.  The final transactions delivered a remarkable ROI of 18X to investors.
Simone is also a strong advocate for diversity, equity, and inclusion (DEI). She oversaw the development of a multi-year DEI strategy and corresponding operating plans, which helped the organization meet its goals while complying with regulatory and statutory requirements. Simone believes in active shareholder engagement and a proactive approach to investor relations. She advises on post-deal integration and ensures that ESG metrics are accurately quantified and recorded for public reporting.
Boards as Agents of Much Needed Social Change
Simone believes that board service provides a unique opportunity to be agents of social change. Simone Grimes, who sits on the board of directors for Junior Achievement, Big Brother Big Sister and Whistle Blower Aid, believes that boards of directors for publicly traded, privately held and non-profit organizations play a critical role in creating a truly inclusive society that respects all genders, ethnicities, and viewpoints.
According to Simone, the involvement of board members is crucial for any organization's health. As fiduciaries, they have a responsibility to ensure their organizations move towards a sustainable future, contributing to the economy, creating jobs, and making significant social change. She emphasizes that ethical decision-making is essential for board members to thrive and achieve these goals.
While these are basic duties, Simone believes that boards must keep a larger picture in mind. The impact they have on their employees, volunteers, and communities is significant, and boards must prioritize this in their decision-making.
However, diversity on boards has been lacking for decades, with a recent study finding that a significant majority of new Fortune 100 board seats were filled by non-minority directors. Simone questions the potential impact a more diverse slate of directors could have on boards, organizations, communities, and society as a whole.
The benefits of a board that embraces DEI are vast, Simone explains. By fostering a board that represents America's demographics and customer base, they can make better-informed decisions and deliver better outcomes to shareholders and stakeholders. This, in turn, can provide better insights into why certain demographics make purchasing decisions, steering the company towards more profitable directions. Simone also emphasizes the importance of embracing diversity on boards for the betterment of organizations, communities, and society.
Simone has held various board-level roles, including cyber oversight and serving as the chair of the audit committee in her capacity as a Qualified Audit Committee Financial Expert. She has also been a member of the Compensation Committee, which evaluates and approves executive officer compensation arrangements, plans, policies, and programs.
Committed to Giving Back to local Communities
Simone sits on several corporate and non-profit boards, including serving on the Nominations and Governance Committee of Big Brothers Big Sisters of Southern Maine (BBBSSM).
She is particularly inspired by BBBS' which creates one-to-one matches between adult mentors (Bigs) and youth (Littles) using an evidence-based model that results in positive outcomes for all involved.
For Littles, mentoring is linked to improved academic, social, and economic prospects. For Bigs, the relationship can build leadership skills, expand professional networks, and provide an empowering opportunity to give back to the community.
BBBSSM aspires to empower every young person on a path to graduate high school with a plan for their future and a mentor whose impact lasts a lifetime.
Volunteers are the backbone of BBBSSM. A robust network of volunteers is needed to ensure BBBSSM can meet the unique needs of every kid currently waiting for a Big and the hundreds of Littles to follow. Financial resources are vital to thoroughly recruit, screen, and train volunteers and to provide ongoing support throughout the life of the match.
Learn more at www.somebigs.org. 
"Mentoring is not complicated. It is just simple acts that make a world of difference to a kid that may feel isolated, overwhelmed or who just needs an extra caring adult in their life. I see the incredible power of mentoring every day. Please consider sharing your time to volunteer or contributing to support our work. Thank you!"– Nicole Avery, Executive Director, BBBSSM
What's Next
Growing up with the ethos of "lift as you climb," which means lifting others up in the areas where you have had success, Simone will continue to play an active role in improving communities through non-profit engagement. Simone is eager to contribute more aggressively to the growing affordable housing crisis in urban cities across the US. As a member of the board of trustees for a real estate trust, she is working to increase access to affordable housing for populations below 100% of the area medium income (AMI) through public-private partnerships. She is passionate about this work, as she believes that we are at a critical juncture where the opportunities for families to have access to affordable, quality homes are quickly diminishing and require immediate intervention.
Disclaimer: The views represented are those of Simone Grimes and do not represent the position of Acadia Insurance or W.R. Berkley.