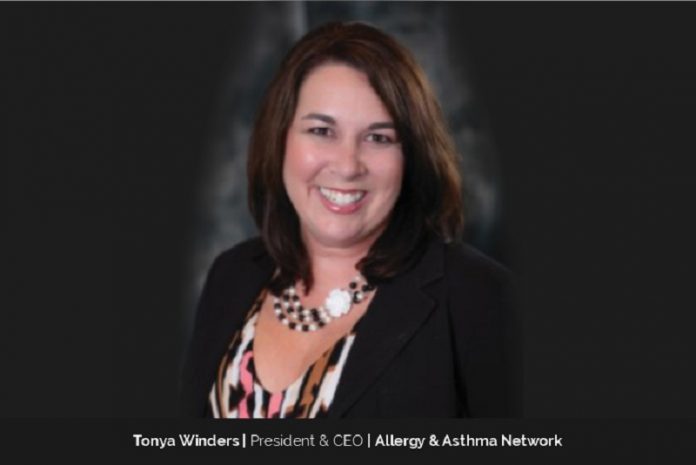 Tonya Winders, President and CEO of Allergy & Asthma Network, epitomizes strength and tenacity. For almost 15 years, she worked diligently for companies in the pharmaceutical and medical device industries and made significant contributions to their growth. In 2013, she took the helm of Allergy & Asthma Network to help more people live healthy and fulfilled lives.
In 2017, Tonya was also elected President of Global Allergy & Airways Patient Platform, which aims to globally support and empower patients with allergies and atopic diseases. Additionally, in the past few years, she has also made the best use of opportunities to speak up for more than 1 billion patients living with immune and respiratory conditions.
"I am honored to walk alongside and be the voice for millions living with asthma, allergies, and related conditions both here and globally," Tonya says.
Holder of a Master's degree in Business Administration and Marketing from Louisiana State University, Tonya picked the field of healthcare from an array of career options because of her inherent desire to help people live healthy and fulfilled lives. And, over the years, through her work, she has shown that she truly cares about people – and not only patients.
Allergy & Asthma Network
A national nonprofit organization, Allergy & Asthma Network (AAN) is dedicated to ending needless death and suffering due to asthma, allergies, and related conditions like COPD and COVID. Tonya says that the organization's four mission-area pillars are outreach, education, advocacy, and research.
Outreach efforts are focused on raising awareness of allergic and airways diseases by tapping into traditional media, social media, digital media, and live events. "AAN's media platforms and outreach earn approximately 15 billion impressions each year," Tonya says.
Educational resources and programs are at the heart of AAN's work. Tonya says that they are dedicated to meeting patients and healthcare professionals wherever they are and connecting them with medically accurate and easy-to-understand resources. In order to accomplish this mission, Tonya and her team uses webinars, podcasts, low-literacy print and digital materials, video blogs and educational summits.
Advocacy, AAN's third core mission, involves informing and educating federal and state policymakers on key legislative issues facing families. Every year, AAN hosts an Allergy & Asthma Day Capitol Hill event, which acts as the meeting place. Tonya says that at this annual event, hundreds gather to meet with members of Congress to educate and advocate for healthcare legislation.
And the fourth pillar of the mission, Research, drives patient engagement in clinical trials and studies, from the earliest stages of identifying unmet needs to the final stages of post-marketing data collection. "The organization is dedicated to representing the full community in clinical trials," Tonya says. "AAN continues to contribute significant funding to support African Americans and the Hispanic/Latino community in patient-centered research that matters."
Responsibilities as CEO 
Tonya joined AAN after working in the pharmaceutical and medical device industries. She led sales and marketing teams and handled various leadership roles effectively. Prior to AAN, Tonya served as Director of Healthcare Strategy at Aerocrine. For more than 6 years, she worked at Thermo Fisher Scientific as Market Development Team Leader.
As CEO at AAN – and President of Global Allergy & Airways Patient Platform (GAAPP) – Tonya's responsibilities include being a visionary and the primary spokesperson. At both organizations, she is also responsible for raising the area funds to achieve the mission.
Tremendous Growth
Over the past two years, AAN has seen tremendous growth. Its revenues and team are consistently growing. When Tonya joined the organization, she only had a handful of members in her team. Now, her team is over 20 members strong.
And AAN's awareness education efforts now directly engage, educate and empower over four million people each year. "Our traditional media impressions annually exceed over two billion," Tonya says.
"We are also the first patient advocates to be included in establishing global guidelines and quality standards in asthma and COPD," she adds. "Furthermore, we have co-authored over fifty peer-reviewed articles in the medical literature to bring the patient voice forward."
Achievements at Allergy & Asthma Network
Ever since she joined Allergy & Asthma Network, Tonya has strived to ensure that there is growth in the organization's influence and reach.
Growth of influence equates to helping more people live healthy, fulfilled lives despite chronic conditions, Tonya says. And, under her leadership, the organization's growth showcases the diversity of the community served. It is because of the focused pragmatic programs to reach and help those with the greatest needs. During the pandemic, for example the organization has worked with churches and community partners to address concerns about lung health and COVID-19.
Tonya also believes in investing in the team's growth. So, she feels it is one of her greatest achievements to see her team members fulfill their potential and call on each of their lives. And she is a leader who makes it a point to appreciate and applaud a team member's contribution. Tonya says that she keeps her team motivated by celebrating successes and expressing thanks for those who go above and beyond. "This manifests itself in weekly notes of accolades, monthly Above & Beyond awards, quarterly staff/BOD retreats, and annual celebrations," she adds.
Along with overseeing the team and organization's growth, Tonya has also made the best use of available opportunities for personal and professional growth. She says that there has been leadership development in all aspects of her life.
"I am mastering my own strengths, talents, and skills while investing in others," Tonya adds.
Facing Formidable Challenges  
The word that Tonya chooses to describe herself is Hayil, which means "strong" in English. She is indeed a strong woman and has faced adversities with courage and strength. She is a survivor of childhood sexual abuse. In 2004, when she was a young mother, Tonya was diagnosed with a rare form of cancer. A determined Tonya beat it and remains cancer free today!
In her professional life, she demonstrated her tenacity by winning a $226 million antitrust lawsuit in federal court to protect patients' rights to quality care and patient advocates' right to free speech.
Tonya has never let challenges diminish her strength. She has gained from each challenge and emerged stronger.
Two Definitions of Success
As a mother and pastor's wife, Tonya's definition of success involves her family. "Success in my life is defined first in my home," she says. Tonya has raised five children and taught them the importance of "living up to their God-given potential." This is a success for her, along with "loving their dad well" for over 25 years.
When it comes to defining success in professional life, Tonya stresses excellence. "Success in the workplace is defined by a commitment to excellence in all we do, based in love and a servant leadership mindset," she says.
And she also says that success is knowing that "God created you uniquely to fulfill your calling."
Time to Adopt Omega Style of Leadership
Women rarely see themselves as leaders and, yet, they daily lead in the home, the workplace, the church, the community, and the world. Tonya adds that they have the ability to influence both on a personal and collective/population basis. She feels it is unfortunate that many women have left the workforce or have been forced to take a step back in the Covid-19-pandemic world.
Tonya feels that it is the right time to embrace the Omega type of leadership. "It fully respects and appreciates the unique characteristics of both men and women," she says. And, as someone who believes in servant leadership, Tonya leads by putting the needs of her team first, ensuring that they reach their potential.
In Tonya's opinion, there is no greater example of servant leadership than Jesus. "He loved people for who they were and yet challenged them to grow daily," she says. "He demanded excellence from himself and others and embraced the importance of thoughtful action and meaningful relationships."
Personal Goal as a Leader
Tonya's personal goal as a leader is to inspire all – especially women – to embrace the calling on their lives—to lead well, no matter what. "First, that means leading yourself well—developing daily disciplines and a desire for excellence in all you do," she says. "Next, that means leading your circle of influence well—loving God and others while living on purpose and encouraging others to do the same."
Beginning and Ending the Day with Prayer
Tonya likes to start her day early. She begins it at 5 a.m. with meditation and Bible study. Following that, she works from 6 a.m. to 9 a.m. on global responsibilities for GAAPP. And after that, she joins her team at AAN. "From 9 a.m. to 5 p.m. daily, I focus on my AAN responsibilities," Tonya says.  She works tirelessly so that patients have access to effective diagnostic and treatment tools. But her work does not interfere with her personal life. She makes sure that there is a balance between her personal and professional lives.
Beginning and ending the day with prayer helps her to maintain a work-life balance, Tonya points out. Along with prayer, meditation and thanksgiving are also an integral part of her daily routine. She gives God the credit for all the blessings in her life.
Moreover, Tonya ensures that she eats wells, moves around, and sleeps at least seven hours every night. And she believes in taking a break from work to rest and spend time with family. Tonya says, "I take one day a week to fully rest, fellowship with family and worship—zero work on the Sabbath!"
Future Plans for Allergy & Asthma Network
In the future, too, AAN will remain focused on its four pillars. However, the tools of the trade and manner of engagement will continue to evolve, Tonya says, adding that AAN will invest heavily in updating its information technology systems in the coming year.
Like many organizations, AAN believes data is a valuable asset. Tonya says they will use it to improve operations, increase revenue, produce new revenue streams, solidify relationships with stakeholders, improve the quality of current products, establish competitive differentiation, foster innovation, and reduce risks to ensure future success.
Tonya explains that using data to better target patients' needs will allow AAN to create more online registries, develop real-world research projects and build a new customer relationship management software solution. And AAN has plans to continue expanding its telehealth and coaching services as well.
"Finally, AAN will seek innovative public-private partnerships to advance care and address the significant burden due to asthma, allergies, and related conditions in the United States," Tonya says.
AAN's plan for future projects is already underway with partners like Apple Health, AstraZeneca, Embleema, and Sanofi/Regeneron.
Bold and Courageous Goal
ANN has set a bold and courageous goal. It aims to ensure that there are zero deaths due to asthma, allergies, and related conditions – COVID-19, COPD, other allergic diseases – by 2030.
"The organization's many initiatives, along with a continued focus on patient-centered care, puts it on track to achieve its goals with one aim  – so we may all breathe better together," Tonya says.