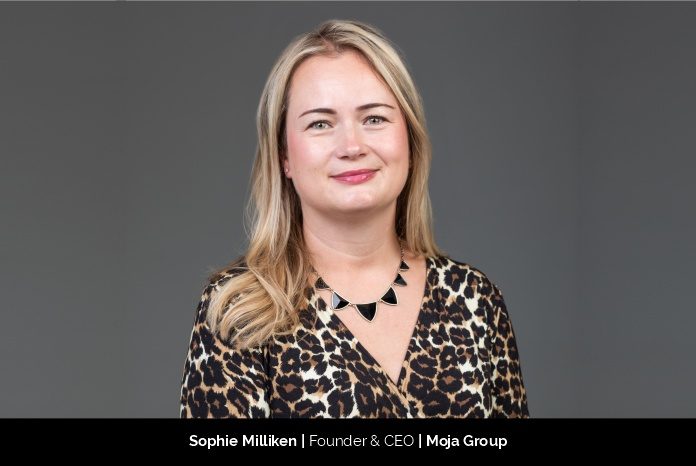 A multi-award-winning businesswoman, author and proud mum, Sophie Milliken is the founder of Moja Group Limited, a company dedicated to boosting business owners' profiles, helping them become more visible and heard within their industry.
Sophie Milliken began her career with the John Lewis Partnership as a graduate. She worked her way up to become the company's head of graduate recruitment, and the company moved from 74th to 9th place in the coveted Times Top 100 Graduate Employer ranking. She earned her MSc in HR Management, a CMI Level 7 qualification in Leadership Coaching and Mentoring, and became a Chartered Fellow of the CIPD while in this position.
Sophie leveraged her expertise to start SRS Recruitment and Employability Experts in order to reach and serve a larger group of businesses and individuals. She helped SRS grow into the UK's largest provider of assessment centre simulations. She states, "We worked with the country's top graduate employers, universities, and over 35,000 university students to improve graduate employability. I exited SRS at the start of 2022 to found Moja."
Moja Group
Moja work to raise their clients personal profiles, supporting their professional development and helping them find the opportunities that will benefit them the most. Sophie was aware of how the company would differentiate itself from other marketing and public relations firms from the beginning. She shares, "When we launched, we used the messaging 'we're a different type of agency with one simple mission: to let everyone in your industry know who you are'."
According to Sophie, the company offers a thorough and broad list of services, chosen because she and her staff have tried and tested them and understand their value in enhancing professional profiles. Moja's service is also unique in that it is tailored to each individual, so the team carefully designs everything it does to achieve maximum value and effect.
The team at Moja understands that your professional profile is more than just who you are at work. Sophie considers a great business leader to be someone who has a positive influence on their sector and beyond.
The team starts by evaluating where its clients' professional profiles are currently performing, then crafting a bespoke plan to improve the areas where they have room to grow. This will include getting you known in your industry by winning awards, media and press features, speaking gigs, and board positions.
It also hosts free webinars on a regular basis to bring interesting people together and share its secrets on various aspects of building your profile. Sophie shares, "Another exciting Moja service we've just launched is our podcast studio. We've got expert facilities at our office in Newcastle-Upon-Tyne, and can also support with remote recording."  
If you're ready to get known, start by taking Moja's free profile quiz: https://profile-scorecard.thisismoja.com/
In the Role of Leading
Sophie's days are quite diverse, which she enjoys. Her primary responsibilities include speaking with potential clients about the incredible service Moja can provide; developing content such as articles, videos, and blogs to share her knowledge, and guiding the company's strategic initiatives.
Sophie devotes a significant portion of her time to her other responsibilities, which include mentoring, speaking engagements, and leading board meetings at the charity she chairs, Smart Works Newcastle.
Challenges that Became Transformational Experiences
Reframing obstacles as chances to grow has a lot of benefits. When they occur, it might be difficult to notice this. Sophie recognises that some of her greatest transformative experiences have occurred during difficult moments in her career.
She recalls one of the most difficult times in her career as being in the early phases of her first company when her original partner left the business. She was also going through a divorce and becoming a single mother at the time, which added to the stress in her personal and emotional life. Sophie overcame her fear and realised what a fantastic chance she had been given. She opines, "By investing heavily in self-development, I concentrated on making new connections and building my skills. In the end, I achieved significant business growth and two record financial years following this initial challenge." This was a valuable lesson for her, and Sophie has carried a commitment to personal development through the rest of her business journey.
Insights on Success
Sophie will begin her PhD later this year, focusing on 'decoding the female entrepreneur,' in which she will interview amazing female entrepreneurs to see how they define success and the roads that lead to it.
Sophie defines success as having enough time and money to spend on the people and things that are important to her. Her new company, Moja, helps top executives and entrepreneurs boost their profiles. When Sophie pondered on her business journey, she laid the groundwork for Moja. She says, "My own story illustrates the success that can be achieved by raising your profile."
A Wide Aspect of Leadership
Sophie feels that one of the most important aspects of leadership is assembling a great team, including individuals who excel in areas where she lacks expertise or credentials and then enabling and trusting them to perform outstanding work. She also believes in cultivating an open culture in which she is honest with her staff and so allows them to do the same. She feels that approach fosters innovation and fresh ideas, allowing the team to adjust client service as needed.
According to Sophie, Moja intends to be the UK market leader in elevating the profiles of intriguing and cool individuals. She wants to grow a list of empowered business leaders and entrepreneurs who the team works with to shout about their stories, get known, and grow their businesses.
Take Care Yourself on a Personal and Professional Level
As Sophie sees it, work-life balance is a much debated topic. From her experience, it changes based on what stage in your life you are at and what your current priorities are. She recalls, "When I was younger, my social life was more of a priority outside of my work. Now, that focus has shifted more to family, health and wellbeing." Sophie understands the need for self-care and taking time to refuel. As she has grown in her career, she has discovered that sleep, exercise, and eating well have all become more important to her. According to Sophie, the key to attaining balance is to think about what matters most to you, divide your time properly, and avoid overcommitting yourself.
Sophie keeps herself and her colleagues motivated by doing meaningful work that aligns with their values. She claims that providing consistently good service is a given when you actually care about what you do.
A Vision that Reflects Proficiency
Sophie became more active on social media and grew a sizable following on all of the main sites, with particular success on LinkedIn and Twitter. She began giving more talks and appearing on podcasts. As her profile grew, she and her company were recognised for several business awards.
Sophie's service on the boards of charities she cares about gave her the opportunity to give her time and connect with a larger network, which has led to introductions to intriguing individuals. After writing her first book, she was invited to give a TEDx talk, which led to a slew of other opportunities, including a column in an industry publication, more podcasts, and radio and TV appearances—all of which were a lot of fun.
"Increasing your profile makes it easier to do business with you, as people feel they know you before you even meet them in real life. As well as more sales, there is also an increase in interesting opportunities that come your way," says Sophie.
Sophie aspires to establish Moja as the market leader in enhancing the professional profiles of industry leaders in the UK. Sophie is a very enterprising businesswoman who is always seeking new chances and challenges. She is now working on her third book and has recently been named a non-executive director and member of the investment committee of Funding Focus Investment Trust Plc, a new public company. This is a new type of investment fund targeted at female and under-represented entrepreneurs who face a very uneven playing field when it comes to raising capital to grow their businesses,
An Emblem of Women's Empowerment
Sophie is a dedicated advocate of women and the North East England region in addition to her professional career. She has been the Chair of the charity Smart Works Newcastle since 2020, helping to double the number of unemployed women in the North East who they support with interview dress and coaching, as well as securing Sara Davies MBE as their ambassador.
Sophie is the author of two best-selling books: "From Learner to Earner" (a recruitmet insider's guide for students seeking graduate job success) and "The Ambition Accelerator" (a working woman's guide to accelerating professional achievement). Sophie feels grateful to have been recognised on multiple occasions with awards. One of her favourites was being awarded 'North East Entrepreneur of the Year' at the Great British Entrepreneur Awards in 2020.
Sophie's message to aspiring businesswomen is to keep going; the journey as a businesswoman is tough a lot of the time, but the highs you get from it are unrivalled.
Come and visit https://thisismoja.com/ or @Moja_Social on social media to see more about what Moja does.