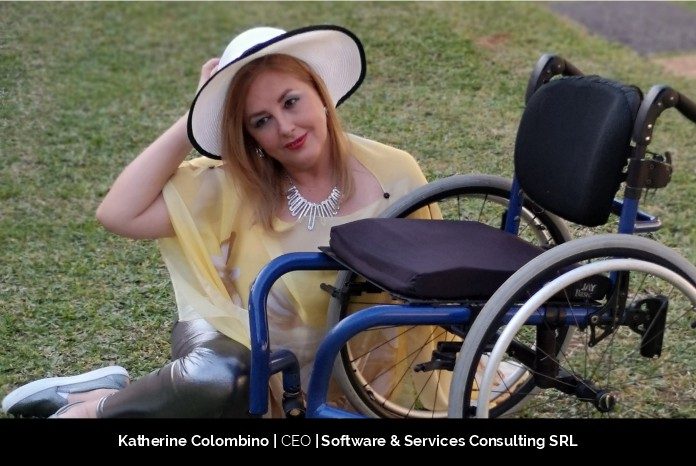 Technology is fast-pacing and with new technologies emerging every day, it is crucial to adapt to the change and grow business exponentially. Katherine Colombino, CEO of Software & Services Consulting (SSC) harnesses the power of different technologies to develop custom solutions that facilitate and reduce time and effort in several administrative processes. Not just this, Software & Services Consulting (SSC) is also considered as the number 1 representative of SAP Software.
She adds, "Knowing that we can be agents of great innovations in business led us to improve ourselves as persons and with ample confidence in our professional knowledge, we got motivated to grow up with our customers."
Facing Challenges Boldly
Since technology is ever-changing, Katherine says, "In technology, the challenge is constant since every day we have new advances, it is a market of great movement and that leads us to compete against ourselves all the time. And that is our greatest challenge until today, to always overcome ourselves."
Their human staff has helped them overcome different inconveniences in the perfect manner as they are all ready to handle any type of setback boldly.
Till now, the company focusses on carrying out a plethora of projects in which they create customized technological solutions to help their clients in the best. In 2019, the staff had to work in a new Work-from-home environment owing to different pandemic restrictions. However, changing the work environment had not shaken their business at all rather strengthened the team as they got into generating new work alternatives, optimized services and new digital integration software. The team turned the obstacle into opportunity to show that they were professionals in the market who knew how to stay strong and act accordingly.
Vision and Growth Trajectory of Software & Services Consulting (SSC)
Commencing operations in 2013 in Asuncion, Paraguay as SAP solution provider, the team at SSC has witnessed 500% growth in Human resources as well as a good number of customers onboard after 8 years of hard work and dedication. Since 2016 till date, Katherine and her team has accomplished several goals in which one of them includes to become one of the 4 companies that sell, deploy and support SAP Systems in Paraguay.
The company has a culture based on innovation that is present in all functional and business areas, from the daily process, operations, communication, business to customer service and after-sales service too.
She adds, "Each person within the company can innovate by creating a new process or improving the current one, and the management is always attentive to listen to everyone. If the company keeps always the doors open, reflects the horizontality of the structure and this generates trust, which in turn allows innovation inside and outside the organization, that's our policy. We are a dynamic company, so, let´s run together."
Being a part of the technology industry where change is the only constant, SSC believes in creating more and more opportunities along with embracing long-term ties at all times. She says, "Each of our clients represents a unique opportunity to demonstrate our authentic know-how and generate long-term relationships. We become their allies, advisers and friends. That is what differentiates us from the competition from the competition."
The company aims to strive for higher sustainable growth and is emphasizing on delivering SAP-driven comprehensive business solutions. Not just this, all teams work hard in attaining customer satisfaction and keeping up long-term client relationships based on trust, commitment and quality.
She believes as the team gives their best and the directors have relevant experience in their field, they are able to promise a highly complex project in a short time span. She believes in the quote, "The limitations in life are not given by your physical or by the situation itself, they are given by you, if your mind changes, your world too." Thus, she ensures that all the employees get best appreciation so that they are mentally happy. Owing to this, all the HR strategies are also based on the recognition of these actions. The team believes in cherishing every little win and considering them as heroic and rewarding the members with commitment and initiative.
Katherine's life before and after SSC
Katherine holds a Degree in Systems Analysis, Post-degrees in University Didactics and English Teaching Staff. Owing to her profound experience in ​​management of Work Teams, she has held positions of Headquarters for more than two decades. She shares, "Before the opening of SSC SRL, for 4 years, I was in charge of the Business Unit of SAP Business One in Infocenter SA, a Paraguayan partner of SAP and an IT company with an exemplary track record in the national market and with more than 20 consultants in different areas."
Further she adds, "Before SSC all the directors have a long relationship in several areas but always related with technological companies and with SAP for a large time."
As she has herself been a SAP Certified Consultant "FI" and "MM", she has gained experience with development of MKT plans, sales, personnel motivation policies among others within the unit and contributed progresses towards the project goal. Being the CEO of SSC, she is a specialized consultant in Sales, Implementation, Development, Training and Support of SAP systems.
Software & Services Consulting (SSC) Future Plans
Katherine plans to continue with the same vision and deliver outstanding results. She adds, "The company's foremost focus is to achieve satisfied clients, establish trust and long-term fruitful relationships, based on their commitment and quality. Moreover, she wants her company to become a benchmark for Higher Education within the country, to which companies and professionals go with the assurance of obtaining training with a qualified staff of professors, backed by experience in the different areas focused."
The company has expert professionals who are motivated with an internal policy of Knowledge Management and the development of human capital. She wants that all clients should envision them as their go-to company for their growth and expansion processes.