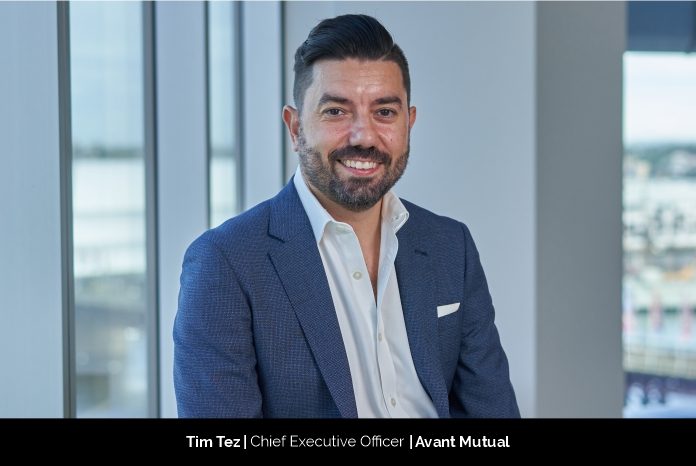 Successful and empowering leaders possess the ability to create a vision for success, manage change, and energise the business. Each leader creates their own unique path to success. Tim Tez, CEO of Medical Indemnity at Avant Mutual says that success is not defined by how much you earn or by a job title but by what you do to help others. For some people, success is simply doing your
best for the next generation. "In a work context ultimately, we are all trustees and custodians of our businesses, and our job is to leave a legacy and business that is in better condition than what you inherited," he further adds.
Leading A Company To Success Is Not An Easy Road To Take
Tim fundamentally believes in the purpose of Avant. Their practitioners are on the front line and Avant Mutual's job is to support them so that they can deliver healthcare to the Australian public. "Our job is to advocate and support the medical profession to help Australians live their healthiest possible life. I was further driven to Avant by the talented leaders and employees. They believe in our purpose and live our values every day and that is infectious as a leader," says Tim. Beyond that, each of them has their purpose for striving to do their best every day, and for Tim that is his family. He says that he has 3 children that keep him on his toes, and he tries to be a good role model for them with varying degrees of success.
Challenges make you stronger and Tim thinks a positive attitude and optimism make a real difference to most challenges. It's also important to be as realistic as humanly possible about the diagnosis but to then move forward by painting a hopeful picture for your team. "Many of the challenges we face at work are nowhere near as large as some of the challenges we can face in our personal lives and it's really important that we develop that same resilience in a professional context," he says.
Australia's Leading Medical Defence Organisation And Its Services
Avant is Australia's leading medical defence organisation with a proud heritage of protecting the Australian medical profession that spans over 125 years. Established by a small group of doctors as a mutual in 1893, Avant represents health practitioners and medical students, across every state and territory. Avant has the largest and most experienced specialist medico-legal defence team in Australia. "We understand the importance of providing on-the-ground support and local jurisdiction expertise, so we have solicitors and medical advisors in Sydney, Melbourne, Brisbane, Adelaide, Canberra, and Perth," says Tim.
This is reflected in their strategy as explained by Tim:
Excellence: We strive to serve members and support them when and where they need us. We base our actions on a deep understanding of doctors and the environment in which they practice. We never take a member's' trust for granted.
Growth: We wish to responsibly grow for our members' benefit providing greater scale economies, diversification, efficiency, and ability to influence debate.
Stability: Long-term security for our members and the wider community is our priority. We will be prudent but commercially sound, providing competitive products with stable premiums, supported by strong organisational risk management.
In addition to practitioner medical indemnity, Avant offers a comprehensive range of insurance products tailored specifically for doctors. These span cover for medical practices and their staff, business insurance and cyber protection, health insurance through Doctors' Health Fund, income, life and total permanent disablement insurances, and travel insurance. To make practice management simpler, safer, and more efficient, they also launched an online practice
management platform, PracticeHub.
"It's critically important that we continue to look at improving the way we provide our services to our members but it's not innovation for innovation's sake, it's innovation in service of our members and making their lives as easy as possible but also in protecting them when they need it. Rather than the competition, we have our eyes firmly on our members and continue to meet their needs in a way that is easy and efficient," explains Tim.
Tim claims that working with Avant's values in mind contributes to their success – both personally and as a team. These values are:
Purpose
Courage
Passion
Trust
Achievements As The CEO
"Rather than awards, my proudest achievements at Avant are the testimonials we get from our members and the pride we feel from the advocacy efforts on behalf of medical practitioners," says Tim. They had to serve their members in times of great uncertainty over the past 2 years and they have done so with unflinching commitment and professionalism; Tim exclaims that this fills him with pride every time.
Balance In Personal And Professional Life As CEO
Tim says that the last 24 months in the pandemic world has been unprecedented and as a result, he just like everyone else has had to get used to working from home, which has bought about greater flexibility and reduced commute time but has also extended the workday. He is an early riser and tries to get some exercise in before starting the day then working pretty hard till dinner time, after which he tries to share a meal with my family. On the weekends he takes the kids to their activities, friends, or sports.
"I think this is a challenge for all people and there are people that are better role models than I. I think the reality in my life is that the pendulum swings at different times between family and work but that it's rare for it to be in perfect balance," explains Tim. He also thinks it can be easy sometimes to over-commit to work at the expense of your family so one must be self-aware enough to recognise when this is happening and take corrective action. In terms of motivation, he counts himself lucky that he gets to work with incredibly talented people and he believes deeply in the company's purpose so he wakes up with a spring in his step each day wanting to do the very best he can for his team and their members.
Future Plans For Avant Mutual
Tim says that it's important to dream big but to have tangible little steps along the way. The feeling of momentum is important from both a personal and professional standpoint. From an Avant perspective, they are going to continue to invest in delivering the best possible service to their members including looking at ways they can be even more member-centric and how they can enhance their digital capabilities.