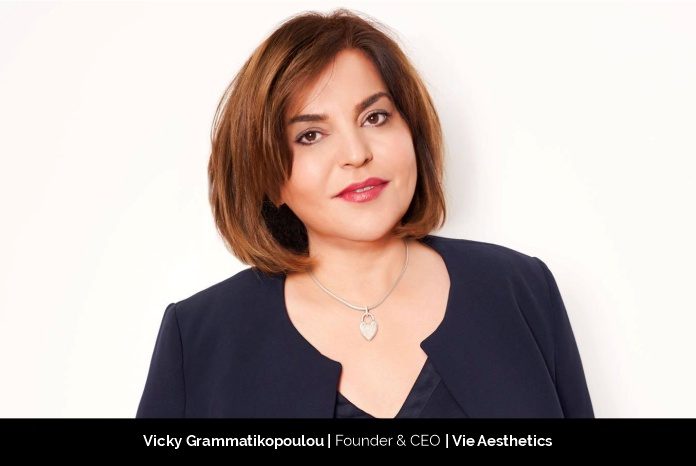 Understanding the need to blend medical science with the beauty industry to outstanding customer care with clinical excellence, safety, and innovation, Vicky Grammatikopoulou, founder and CEO of Vie Aesthetics, is leading the way boldly.
She states, "Celebrating the Beauty of Life" is the founding mission of Vie Aesthetics. The goal is to provide top-end, affordable, and innovative aesthetic treatments and to challenge the alarmingly unregulated landscape of the aesthetics world in England.
Long journey to success
Being born in Germany, Vicky shifted to Greece in 1979 at the age of 15. She completed her First-Class Honors Degree in Germanic Studies, Linguistics, and Education at Aristotle University there. During this time, she stepped into the entrepreneurial world and founded a private language school, Aspekt, by employing 15 people with 250 students on-roll.
However, due to some family reasons, she had to sell the business and move to the UK. She passed her MA in Languages in Education at the Institute of Education, University of London, and became the HOD at Secondary School in Essex. She then moved on to train teachers in London as a university lecturer for another 15 years.
While working in the education domain, she realized something very important in her husband's life. Being an aesthetics practitioner and working for 20 years in the NHS, he was disillusioned, discovering the lack of regulation to safety and patient care in the private aesthetic clinics.
She adds, "Using my entrepreneurial skills, I offered to create a "model clinic" in which we could apply our expectation of how the provision of aesthetic medicine and wellness should look like."
This marked the advent of Vie Aesthetics. She states, "marrying of beauty and medicine, together with a holistic approach to health and wellness was at the heart of my endeavor."
Hurdles along the way
There were some challenges, but Vicky always took them on with high spirit and confidence. As a woman in the business world, she faced apparent bias while negotiating the deals. However, her past experience as a teacher allowed her to butter through the challenge with ease.
As she entered a new industry without any past experience, she felt a little frustrated. She adds, "Being a business owner can be a lonely place, and at times it can feel as if you are standing in the cold on the outside looking in. I think this is something that can make or break you. I have learned how you can overcome it by building alliances, by finding a mentor, by observing the leaders in the field, and through constant research and openness to learn from others- you don't always have to re-invent the wheel."
Being a perfectionist and having an impatient personality, she faced some issues while setting everything up. However, running a business has taught her the value and virtue of waiting, long-term planning, sleeping over things, and allowing projects to take their time.
The COVID pandemic came with its own set of challenges. She says, "I'm very proud of the way in which we have adapted and coped with all the challenges. We remained available, sending out products, doing video consultations, and supporting our clients through social media and other means. Fortunately, we were in a robust and safe place.  Having always a safety net, a Plan B, adapting fast, and risk assessing constantly have been life-saving for our business."
Bringing change with Vie Aesthetics
Vie Aesthetics is a multi-award-winning company with four doctor-led clinics in London and Essex, and Germany. Vicky states, "We provide all the latest medical aesthetic treatments and non-surgical cosmetic solutions for face, body, hair, and skin. We also offer wellness treatments for men and women of all ages over 21 and tailored combinations of world-class procedures to achieve maximum impact with natural-looking results."
The team believes that physical transformation is not only for exterior looks but is a way to improve overall health. All of their medical treatments are performed by highly qualified doctors, and they promote natural-looking looks and results. They offer free, no-obligation consultations and have strict aftercare protocols, in which they provide clients with ongoing free reviews.
They are aiming to become the beacon of new technology in the country and are working hard to achieve it.
Life as the Founder & CEO of Vie Aesthetics
Starting her business from scratch, she handled everything in the past. But now, with a professional team at her disposal, she delegates the work of different domains to them. This notion has allowed them to offer 5-star services to their clients.
She states, "I am, however, pretty much a much hand-on CEO who strives to be in the picture overseeing all operations. I have also kept the role of Brand and Marketing Director, and I am constantly learning and developing my skills in this area."
Considering her brand as her baby, she fuels the growth of her business in every way possible. From communication with clients and staff to providing insights on different metrics of their services, she always stands tall to steer the way of her business to the top.
Under her profound leadership, Vie Aesthetics has been awarded GLOBAL AESTHETIC PRACTICE OF THE YEAR by MyFaceMyBody Awards 2020. Vicky also just received a Best Businesswomen 2020 UK Silver Award.
Achieving work-life balance
Being passionate about the work, she loves to indulge in her business activity and transform the aspects for better results. She studies other paradigms and different industries to explore new ideas. She states, "I aim to spend one day completely alone, away from everyone at least once a fortnight- I call them thinking days. This is when I reflect, reset, and get more oversight and perspective. Some really good ideas have been the product of my solitary thinking days!"
Besides taking care of her business, she likes to travel, read and write blogs and learn new skills both personally and professionally.
She adds, "If I have to define myself in a word, it would be Curious.  I am constantly eager to learn, to discover, to find out new ways of doing things. I ask questions, I research, and I would think that I am very open to change and growth."
Future plans as a business leader and Vie Aesthetics
Being a successful business leader, Vicky aims to take an active role in mentoring other women by work on developing her personal brand as a public speaker on self-development and empowerment.
For Vie Aesthetics, she aims at expanding the boundaries. She adds, "We are already working on opening our brand-new clinic in Holborn in London. This will see the recruitment of further world-class doctors. We aim to open before the summer this year. Beyond that, my ongoing plan is to continue bringing the latest and best new treatments to the UK. One of my main goals, as mentioned earlier, is expanding our business model for a holistic approach to aesthetics, health, and wellness. Our holistic model will include the introduction of a nutritionists, a menopause clinic, counseling and life-coaching."
Moreover, she is aiming to go completely green with her business and do something good for the environment.