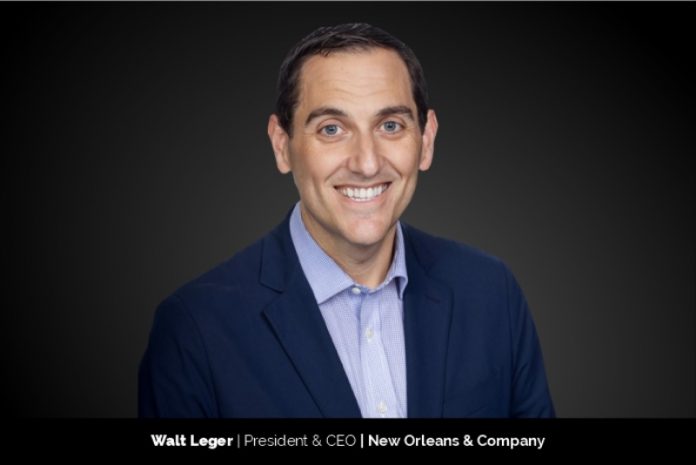 Walt Leger wants to see visitors flock to the city of New Orleans and have a wonderful experience. So, as the President and CEO of New Orleans & Company, the official tourism, marketing and sales organization for the city's tourism industry, he and his team work daily to show the world why it is a great city to live in and work in. "The same things that make New Orleans a great city for its residents to live is what makes people love to visit," he says. Building a safer city, a stronger workforce, a more diversified economy and with state-of-the-art infrastructure for residents, Walt believes, the visitors' experience will also be enhanced and preserve, protect and strengthen its reputation as an amazing place to visit.
Joining New Orleans & Company
Walt, born and raised in the New Orleans area, has always had a calling for public service. Right out of Tulane Law School, Walt's first job was as an assistant district attorney, which fueled his passion for his hometown, and ultimately ignited his interest in running for the Louisiana State Legislature. He served three terms in the legislature from 2008 to 2020, as the Speaker Pro Tempore between 2012-2020 before departing due to term limits. When he was leaving office, the then President and CEO of New Orleans & Company approached him about joining New Orleans & Company as its first General Counsel.
"There were a number of interesting opportunities presented to me when I was leaving office, but when Stephen Perry [former President and CEO] made the case that this job was an opportunity to continue to represent, promote, and build a stronger community and economy for the people of the city and for the city's most prominent and important economic driver, the tourism and travel industry, I was intrigued." Walt says.
He decided to give it a shot, figuring that if it was not a great fit then he could always go back to his law practice at the firm of Leger & Shaw as he had been doing for more than a decade. "It turns out that New Orleans & Company was everything that was promised and more," he says.
As someone born and raised in the New Orleans area, Walt says that it feels like he has been on a mission to market and promote the city since he was a child, so that work comes very naturally.
Walt points out that the tourism industry in the city of New Orleans generates substantial revenue for the city and the State and employs almost 75,000 individuals providing a livelihood for countless more. "Our industry touches so many facets of life in the city of New Orleans, so day in and day out, we are advocating for things that can build a stronger community, often unexpected things like quality early childhood education and care, work force development, transit connectivity, public safety, cleanliness and access to healthcare and mental healthcare," he adds. "A stronger community for residents is a more welcoming community for visitors."
A Significant Shift in Career
For Walt, it was a significant shift in his career when he started working as the Senior Vice President for Strategic Affairs & General Counsel at New Orleans & Company in 2019. He had no prior experience in marketing and sales. But that never became a stumbling block, as according to him, a lot of the skillsets translate. Clear, honest, authentic communication is essential to succeed in any industry.
Communication, Walt says, was the foundation when he was representing the people of the city of New Orleans in criminal trials as an assistant district attorney, litigating cases for his clients or proposing legislation and advocating for his constituency as a legislator. And it continues to be the foundation when he is working as a sales and marketing professional.
Walt also points out that as a litigator and a lawyer, one of the most important aspects of trying a case, or building a case, is putting together experts and using that expert information to make decisions about how to craft a compelling case for one's client. What he does now is make the case for why New Orleans is the best place to visit or host your conference, convention, meeting or special event.
In his current role, Walt's clients are the businesses and people of the city of New Orleans and his job is to use data and expert information and craft the strategy and content to effectively market and sell New Orleans as the most remarkable, unique, and welcoming community in the U.S. and the world.
"So, while it is a shift in the sector or in the focus of what I'm doing, the mission sort of remains the same," says Walt. It is to communicate clearly why the city of New Orleans is special, why visitors should choose it over other destinations, and why people should choose it to host their conferences, conventions, or meetings.
Our Goal
Our goal is to cultivate and maintain what we call a "virtuous cycle" between the businesses and attractions that make up the tourism industry, the visitors who invest in those business and attractions, and the city's residents who benefit from tourism. As our promotion of the city continues and the city's offerings evolve, we will continue to support New Orleans' culture by providing more career opportunities than any other industry in the region and by generating revenues to fuel a vibrant economy in which all residents can find a path to prosperity.
Overcoming Challenges
Walt arrived at New Orleans & Company as a leader. So, everyone expected him to have expertise in marketing, public relations, and sales. Walt again stresses the importance of authentic communication. He says that one has to communicate to internal stakeholders and team members about what one knows and doesn't know, in addition to being intentionally curious and asking questions.
Fortunately, according to him, he works with highly skilled people who are committed to the mission of promoting New Orleans as a world-class destination. Walt and his team share the same passion. Walt also credits members of his board and the broader tourism community both in New Orleans and nationally, experts in marketing, PR, sales, and promotion of destinations who have taken him under their wings and have offered advice and guidance as he continues to learn about the industry.
Also, Walt's predecessor quickly got him involved in national organizations that support the industry and promote destination management and marketing organizations like New Orleans & Company, such as the U.S. Travel Association and Destinations International. "He pushed me to participate in national organizations where I met experts from across the country who work in similar positions, in other cities," Walt recalls.
He feels that it has been a "tremendous asset" to have colleagues who have a vast amount of expertise and knowledge and who are willing to share that experience. And he also believes in continual learning, expansion of knowledge base, and broadly looking at trends across sectors to try to be able to pick up on what opportunities exist for their sector. "So, I think being exposed to that, and being able to learn and continually learn is something that has paid dividends for me in the past," Walt says. "I think it would ultimately pay dividends for our company and our team members."
Leadership – A Part of Life
Walt has always felt compelled to try to do his part to build a stronger community. In his home growing up, his parents were very involved in civic associations and neighborhood organizations, often preaching about the duty one has to his broader community. Walt was listening. When he ran for the Louisiana State Legislature, he decided that he wanted to do more for his community and take on a leadership role. He was willing to sacrifice some of his professional and legal career to be able to pursue public service as a Louisiana legislator.
When he was elected to serve the Louisiana Legislature, he felt, "not only had I offered myself for leadership, but I also had been chosen by my community to lead, and I had a sacred obligation to do so with my whole heart and soul."
In the Louisiana legislature, he also found a group of people who were committed to working for the betterment of the state, and eventually, he found that many of them were looking to him for leadership in a variety of ways. "It sorts of solidified that leadership is always going to be a part of my life," Walt says.
His time in the legislature also made him realize that when there are 144 legislators, no idea of his was ever going to be implemented unless he has the support of the majority of those other members, who are also leaders of their communities. 'You have to bring data, evidence, and you have to create a compelling story to convince them that you actually have the right solution," Walt says.
"In the role that I have now, it's a little bit different," he adds. As the CEO, one can implement an idea without asking for anyone else's permission. "It is very different from being a part of the legislative body, where you are one of many that must come together around and collaborate around an idea before it can be implemented," he explains. "But to be clear, just because you can do something, doesn't mean you should. I'm a big believer in a collaborative approach and building consensus. Call that the legislator in me."
Walt is a leader who believes in taking along the team. He strives to be "teammate" someone who leads by example. So, in his role as the CEO, he tries to remember that the best path forward is often the one where he gets people to come along with him, he brings forward a solution, talks to experts and listens, and he tries to implement the things that make sense.
"I try to stay very focused on the mindset that even though you can dictate the outcome, it is not usually the best process to dictate that outcome unless you have worked to establish support and buy-in from those who will ultimately be responsible to execute and implement whatever that solution may be," Walt says.
And his focus as a leader is very much on the team. He believes that success for a leader is ultimately success for his team members. And a leader alone does not make an organization successful, Walt underscores. The best path forward for an organization is: putting the right players on the field, giving them the tools, they need, allowing them to go, explore, and innovate, and do their jobs.
"Success, for me, is sort of just a reflection of the success of the rest of the team," says Walt. His "ultimate goal" is to serve and provide value to his teammates.  "When someone compliments me, they are often actually complimenting my team members, and that makes be proud."
"Nothing in this world can take the place of persistence. Talent will not. Genius will not. Education will not. Persistence and determination alone are omnipotent."- Calvin Coolidge
Rebuilding Travel Sector
Walt joined the company in 2019, a few months before the COVID-19 pandemic hit the world. He points out that the three years before 2020 were record years for visitation and tourism, not just for New Orleans but also globally. Travel was on an upswing and records were being broken in many places around the world. "The pandemic really crushed that," Walt says. Many destinations suffered a 50 percent loss of revenue overnight and some even more than that.
The industry slowly started to build back in 2021, and now, in 2023, it is continuing to grow and build back to where it was before. "We are in the process of building back and building back strong for future years," Walt says.
He points out that visitation will quickly get back to the pre-pandemic levels, but meeting, convention, and conference segment will take time to recover from the pandemic-induced losses. This segment takes a long time to plan and execute. "We are actually booking meetings in 2035 at this moment," Walt says. As they book many years in advance, they are in the process of building the future years now, and at the same time, rebuilding 2023 and 2024, which are damaged by meetings being canceled in 2021 and 2022.
Walt and his team are also noting great growth, great visitorship, and a lot of intensity about the way people feel about the city of New Orleans. They have the desire to visit and experience its unique culture. "We are just trying to build upon that and make sure that we stay at the top of the minds of people as they are deciding where they want to travel," Walt says. "People want to get well, emotionally, spiritually, physically…we know that no place can truly re-vitalize you like a dose of New Orleans can. Great food, great music, incredible culture, the freedom to be yourself…we have it all here. All that, and of course, amazing people. It's our people that truly help to create the memories and who welcome people so warmly into our community."
As people could not travel for almost three years due to the pandemic, there is now a tremendous pent-up demand for travel. Walt and his team want to take advantage of the travel boom. They are specifically focusing on rebuilding their international travel sector, which was heavily damaged because of limitations to international travel during the pandemic.
"We have a long way to go, but our numbers are really, really strong, and I'm excited about the growth that we continue to see in our industry," Walt says.
Vision for the Future
Walt wants to maintain the city of New Orleans as a place that people think about "aspirationally" as a place to visit.
He says that when he talks to people in general and says, 'I'm from New Orleans,' he gets to hear, "Oh, I love New Orleans" or, "Oh, New Orleans is on my list. I can't wait to go visit." Walt says that they want to see that continue. He, however, recognizes that in order for that to continue, they need to focus on a few things. For example, looking for the next innovation and the next opportunity to tell a compelling story about the unique and remarkable community they live in.
Walt says that they also have to be creative about how they communicate that story, on what channels they do that, how they do that, and how they create compelling content. They want to be inclusive as well. "We need to make sure that we are communicating to all our audiences and welcoming all people to the city of New Orleans," Walt says.
The roadmap ahead for Walt and his team also includes reinvesting in their community and supporting public officials who understand the value of investing in things such as infrastructure and make sure that things are clean and safe, there is connectivity, and there is housing available for people who work in the industry and who live in this city, particularly those who create the cultural economy through music, arts, culinary, the unique things that make New Orleans different.
"We want to stay on the forefront nationally, internationally, and locally and stay committed to building the strongest community that we can for the people who live here," Walt says. That will make New Orleans a compelling place for people to visit for generations to come and create opportunities for diversifying the economy and creating opportunities for residents."
"Travel is fatal to prejudice, bigotry, and narrow-mindedness, and many of our people need it sorely on these accounts. Broad, wholesome, charitable views of men and things cannot be acquired by vegetating in one little corner of the earth all one's lifetime." – Mark Twain
Message to Aspiring Leaders in Travel Industry
Walt feels that travel is a truly special industry. It exposes one to new things. "You learn about new cultures, about people who may not necessarily live the way you do, and you learn that we have a lot more in common than we have that is different," Walt says in his message. "There is a real power in travel."
He also points out that travel is relatively a modern thing. In the past, people didn't have access to travel like they do now. "So, we should cherish the industry and build the industry, and we should utilize it for what it is – a tool to bring people together in a world that feels very much like there is more division than ever before, to create a culture of connection and togetherness," Walt says.
He underscores that it is an industry that is worthy of investing one's time, talent, and expertise, and it is also one that needs to be preserved and protected. In the current political environment, Walt points out, organizations often choose to travel to destinations for some agenda; for example, not wanting to travel to a place because they disagree with the politics of its Governor or legislature. "Travel should not be about choosing based on who you agree with and who you don't," he says.
In his message, he encourages aspiring leaders to "aspire to be leaders who bring people together and not divide, to be leaders who empower people and not take power away, to be leaders who look at ways to encourage and elevate the next generation of leadership through professional development, and through a commitment to each individual to be the best that they can possibly be."
"And they must also remember that first and foremost, they are members of a team," he adds.