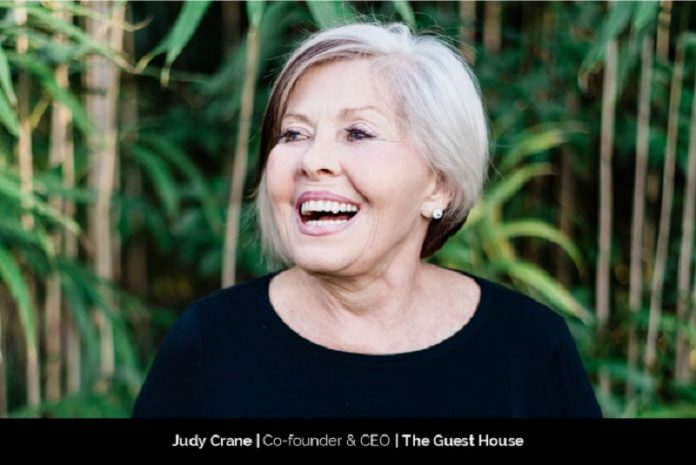 Helping others with their traumatic issues and being the ray of hope for them is one of the noblest deeds a person can perform. Judy Crane, Co-founder and CEO of The Guest House Ocala, has taken the onus to help people suffering from trauma reactivity that is seen in anxiety, relationship dysfunction, and somatic issues.
She adds, "For me, success is defined and exhibited in the lives of the wounded people who reach out for help, usually in the dark times when healing seems impossible."
Being an experienced therapist, she has tunneled through several rough patches in her life and knows the feeling of impending doom which circles a person during these times. So, to help others make their way through the tough times, she poured her skills, experience, and passion into one center and founded The Guest House Ocala.
Its creation is a combination of every healing moment within her lifelong service and commitment to others. Her continued work is motivated by both unrelenting vigor and fixed determination. Here, her passion and purpose have collided.
Climbing the ladder of success
In her childhood, Judy had big dreams to follow, but life and destiny had different plans. She states, "I was a child of the '60s. It was sex, drugs, and rock and roll, the Vietnam War, civil rights, and rebellion in the streets."
Her addiction consumed every element of her life and disrupted everything. She adds, "My husband was my partner in crime. He died of this disease at the age 33, and I was a widow at 27. I was left with three children. I continued to use; I just could not beat it, my children suffered, and I still could not stop."
However, in 1987, by God's grace, she got sober and turned her life into something special and beautiful. No doubt, she had a dark and deadly history filled with shame, guilt, and remorse, but she was able to balance things out with the help of her mentors and saviors.
She expresses, "There were several people who walked with me, encouraged me, and pointed me in this direction. One of my mentors reminded me that I could "do anything" just by wearing my lucky bra! My mentor Phyliss Michelfelder "saw me" and gave me multiple opportunities to be all that I could be. I'm forever grateful and try to emulate her in every way, including being the smartest, most compassionate, supportive boss I ever knew."
The commonality with chronic relapsers is almost invariably the unresolved trauma. So, she decided to expand her knowledge base in the domain to help others. While doing so, she discovered that most chronic relapsers struggled with other issues that were related to emotional traumas and PTSD.
Burning midnight oil and with lady luck on her side, Judy was able to fill colors in her dream by creating her first program, The Refuge – A Healing Place. It was a place where people could heal from their emotional trauma.
She adds, "As founder and former CEO of The Refuge – A Healing Place, I trained the staff of clinicians. We trained the staff from the kitchen staff to the house managers. I taught them how to love and nurture our clients and sometimes lovingly kick their asses. Our clients worked so hard, they went into the black hole and with our help came out the other side."
After giving ten years to The Refuge, she was ready to step back and work on the next project, Spirit2Spirit Healing. Here the team helps people heal during a five-day Healing Trauma Retreat. Judy states, "Additionally, we teach other clinicians how to work with emotional trauma survivors. This module base course results in clinicians coming away with a (CTT) Certified Trauma Therapist Certification or (CTP) Certified Trauma Professional Certification."
Then in 2016, she co-founded her next Residential Treatment Center, The Guest House Ocala, with her partner, John West. The Guest House Ocala provides unparalleled, premier-quality treatment to those who suffer from self-defeating behaviors brought on by trauma and its underlying issues.
She mentions, "We are uniquely equipped to help our guests heal from trauma-induced substance abuse, process addiction, anxiety or depression in a safe, comfortable and confidential setting. We now have a full continuum of care from Detox to gender-specific Recovery Residences. I am so proud of the work we are doing at The Guest House. For me, The Guest House Ocala has been a labor of love."
In the same year, she also published her book, The Trauma Heart. She added her life experiences in the book so that she could bring her vision to a larger audience.
Currently, she teaches, speaks, and does therapy worldwide to help people get over their rough patches. She adds, "My concierge therapy allows me to travel to my clients or have them come to me if they wish. I am so blessed to be in this new phase in my life and to be able to continue to help others heal."
Learning from the history
During the initial phase as a therapist, she lacked the necessary business acumen, so she faced multiple challenges. However, she held her nerve and learned from the experience she gained from the mistakes.
With tongue in cheek, she says, "Mistakes are great teachers if you can put aside ego." She believes that challenges mold a person's personality in a good way if a person accepts them positively. One can hone the skills and progress further by taking a lesson and applying it in the future.
She adds, "I am wise beyond my years because I made many mistakes for 30 years, and now I'm an expert."
Aiding others with The Guest House Ocala
The Guest House Ocala is a residential program focused on trauma and PTSD and the many coping skills that are created as a result of the survival mechanisms such as substance abuse, process addictions such as eating disorders, love and sex addiction, gaming, self-harm behaviors, and the mental health issues such as depression, anxiety, OCD and various other iterations of the signs of PTSD.
Judy states, "I created the first Trauma/ Addictions program of intensive 90-day treatment in 2003. The Guest House is the culmination of that work with the most amazing staff and a loving, successful philosophy."
The core philosophy of the center is to treat every person with kindness, basic human respect, and dignity to defeat the horrors of their past experiences. No person is ever treated as less-than, as an outsider, or as a hopeless cause inside their doors.
Judy mentions, "No matter who you are or where you come from, at The Guest House, you are loved and appreciated unconditionally. One of our unofficial mottos is "Love them back to health." We have seen first-hand the benefits of kindness and compassion during a difficult time in our guests' lives. When you enter our programs, you will be given the same level of expert care and access to amenities as all of our clients, regardless of whether you perceive yourself as less important or less in need. Here, we are all equals because we are all human."
The team believes in holistic healing in which they approach the mind, the body, and the spirit as a whole rather than focusing on just one aspect of the recovery.
Becoming a ray of hope for the people
Judy feels grateful to be one of the first female owners/operators in the industry to make a change. She mentions, "I helped to change the landscape of substance abuse treatment in the US and abroad because we provided the industry with the premise that chronic relapse was the result of unresolved trauma and the same held for many mental health issues."
Earlier, Judy had to slay a lot of obstacles and crawl her way up in the treatment industry to spread awareness about the issue. But, now things have changed a lot as people know about trauma and the risks associated with it.
As a Certified Addiction Professional, a Certified Sex Addiction Therapist, a Certified Hypnotist, certified in EMDR, and an internationally recognized specialist for healing trauma and PTSD, she expresses that every patient needs a different treatment. All the patients are like unique locks that need unique keys to open.
From the very beginning of her career, she has been an "out of the box" thinker, and that was important because trauma survivors are not one size fits all. Under her guidance, the team at the center also follows creative strategies to counter trauma.
She adds, "I am constantly amazed at the interventions and modalities created by our very talented, committed, and exciting team. The stories are endless of what worked for someone when nothing else did. I love our crazy, innovative staff."
She always aimed to change one person, one family, one community, one state, one country at a time while gradually spreading the roots globally. She mentions, "As a leader in this field, I am awed and humbled to know that my trained staff is all over the country doing this work."
Life as the Co-founder and CEO of The Guest House Ocala
Wearing the hats of the Co-founder and CEO, she guides the ship in the right direction, along with her partner, John West. Having gone through the sensitive phase of recovery, she works with clients and families to help them bury the trauma to rise and shine. She trains their staff and oversees several other aspects of the center.
Most importantly, she hires people who resonate with the center's mission and knows what they are doing. She believes it is important to have a solid team that understands the work of the center and adds value by creating better results. She provides ample space for the team to grow and work so that they can help others and amplify the mission of the center.
Judy has devoted her life to help people suffering from trauma. All her skills are backed up by the accomplishments of her life.
In 2010, Judy was chosen to receive the Administrator of the Year Award from the American College of Addiction Treatment Administrators for her significant achievement in the field of addiction treatment administration. In 2012, she was selected as the Behavioral Healthcare Champion in recognition of her life-changing therapy, services, and support to Americans who suffer from mental health and substance abuse disorders. Also, in 2019, Judy won the prestigious Marty Mann award from Highwatch Recovery Center which is the oldest treatment center in the country.
However, for Judy, the most important thing was to help people who found treatment inaccessible to them, and by publishing the book, she was able to do so. She mentions, "One day, I was standing in a Barnes and Noble searching for a book I needed, and when I looked at eye level, there was MY book, The Trauma Heart. I was giddy with joy and accomplishment. It was unexpected, and as that little wounded girl, I felt overwhelmed that my past was present!"
Thoughts on work-life balance
Due to the nature of the work, Judy finds it a little challenging to create a balance between her professional and personal front. Sometimes, she has to be available 24X7. However, she ensures that she goes on a vacation and spends quality time with her family and friends. She adds, "We love to laugh, travel together, and go to the theater."
Future plans
Judy loves her work and plans to refine and improve the strategies of the center's work so that the team can impact thousands of families positively.
She adds, "I imagine The Guest House spreading its wings slowly and opening in other areas. I also intend to continue teaching and credentialing therapists as CTT trauma therapists, which we have been doing all over the world through our program, Spirit2Spirit (S2S), which we have been doing for 12+ years."
On the personal front, she wants to write another book about the power of resilience as well as a workbook and children's book. This way, Judy continues to impact lives & reach new populations through her work, regardless of age, geographical location, economic status, etc.