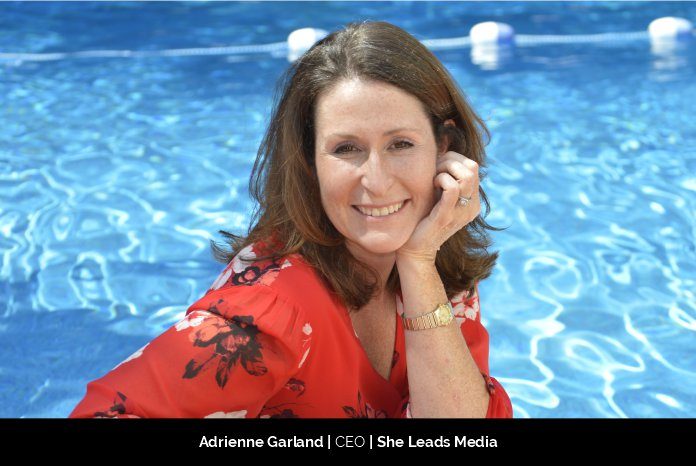 Driven by her passion to empower women to grow and scale their business in this corporate world, Adrienne Garland, CEO of She Leads Media, is creating new opportunities. After entering the corporate world, she witnessed the lack of support for the women in general to stand their ground and mark their presence. She adds, "I have always been extremely passionate about what is fair and just – and throughout my corporate career, I realized that things were not fair, nor just."
Long journey to success
Adrienne always had a strong sense of confidence in her ability to figure things out and work hard to accomplish great things. This drive to succeed naturally led her to step out of her comfort zone and become a leader.
She completed her bachelor's degree in Economics from the State University of New York at Albany. After that, she went on to earn her MBA degree in Marketing (Concentration in Media, Entertainment & Technology) from New York University – Leonard N. Stern School of Business.
She adds, "Early on in my career, at one of my most favorite companies where I've ever worked – Soundview Financial Group – I was promoted into a leadership role. Since then, I've adopted the identity of and moved through the world as the leader that I am."
She became the Director of Digital Strategy & Director of Direct Marketing at Cablevision and worked there for 7.5 years. In 2006, she earned the title of Vice President of Marketing at PR Newswire and then went on to wear the hat of NY Metro Geo-Marketing Leader at PricewaterhouseCoopers.
During her time in the corporate sector, she gained valuable experience by evaluating deep insights into the market and honed her marketing skills. She states, "While starting my business, I realized that there wasn't a strong network, community, or consolidated set of resources for women who wanted to start, grow and scale a business.  So, I brought women together in person to learn from experts and each other." This marked the advent of She Leads Media.
Change in the industry and setbacks along the way.
No doubt, people understand the need for a fair playing field for women, but there is still so much ground to cover. She adds, "It's encouraging that more and more people all over the world recognize the need for community, education, and resources dedicated to women entrepreneurs and leaders and that incredible people have created wonderful spaces, conferences, communities, memberships, and programs."
However, many women still struggle to break through the $1 million revenue mark or to secure financing to start or grow their businesses at the same rate as our male counterparts.
While more support and resources are surfacing every day for women and minority-owned businesses, the startup ecosystem is systemically male-oriented and biased against women.  On top of that, the COVID pandemic has its own drastic effects on the condition. With caretaking responsibilities hampering their progress, women are more burdened than ever before.
She states, "My business has gone through some subtle changes over the years.  I've moved in and out of working directly with clients – whether acting as an interim marketing director or doing project work." However, from 2013, she has been able to produce excellent opportunities with her company and aiding women to grow as business leaders and entrepreneurs.
Empowering women with She Leads Media
She Leads Media is dedicated to promoting women's voices, thoughts, and opinions. They do this by offering events, an annual conference, a community, a podcast network, and marketing/PR services.
Adrienne adds, "My vision for She Leads Media is to offer superior, actionable, and effective education, networking, tools, and resources for women entrepreneurs and leaders so that we can use the economic power that we create to solve the world's greatest problems."
With her strong determination and passion for helping the women's community, she never leaves any stone unturned. She states, "I support women every day, from mentoring high school and college students to participating in the She Leads Community to serving as an inspiring role model with everything I do."
Wearing the hat of the CEO of the company
Being the CEO of the company and a passionate leader herself, she likes to steer her team by leading them with her own examples.  She shares, "My role is to set the vision for She Leads Media and to lead by example.  I also do everything that I can to serve the community and form strategic relationships with others who share our company's values.  I'm inspired to innovate because I know that women are very powerful and have the potential to make great, positive changes to families, communities, economies, the environment, and the world."
The company values intelligence, kindness, and togetherness. Even she is a firm believer in equality for all and tries to maintain it in her business.
Achieving work-life integration
Adrienne believes that achieving balance at every point in life is a myth. She adds, "There are periods in life where the idea of balance is a bit more attainable.  But I try to release the notion that I even need to balance."
To release the mental stress and keep her body fit, she indulges in regular exercise with her friend. This way, she is able to re-energize her mind and body to take on the upcoming challenges. To stay motivated, she reads books and listens to inspirational podcasts.
On the personal front, she states, "My greatest achievement is building, growing, and nurturing my loving, supportive, and wonderful family." She cooks food, spends time with her husband and kids, and watches movies to have fun with them.
On the professional front, she is quite driven by her passion for helping the women's community and gives her best towards her vision.
Future plans for the company
She Leads Media will grow and expand by offering more and more educational resources that facilitate all women's growth and prosperity. She states, "We'll be doing more on a global scale, through partnerships and new program development. We'll also be expanding our platforms into video and other forms of content delivery – all to amplify and spread thoughts, ideas, opinions, products, services, and creativity of women everywhere."