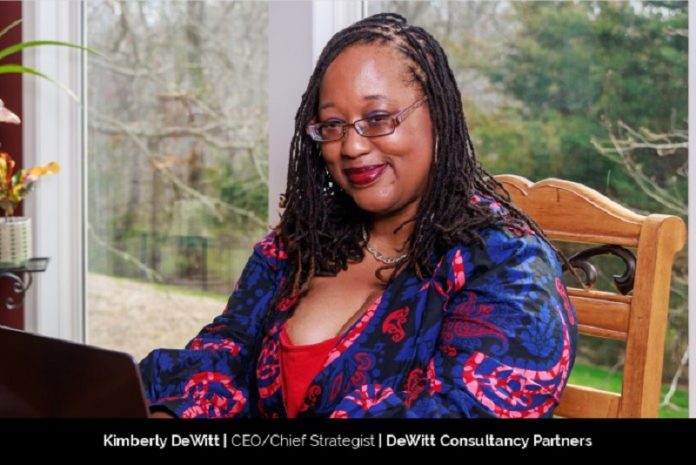 From the moment she hacked a network by accident as a teenager, Kimberly DeWitt was drawn to the IT space and never left. Today, as the CEO/Chief Strategist at DeWitt Consultancy Partners, she has built a 20+ year IT career as a data guardian, educator, and advocate, with a business-side experience that spans just as long.
Kimberly's 10-year-old son, Kingston Bell, is the CEO-In-Training at DeWitt Consultancy Partners and is learning the business from the ground up. In pursuing her greatness as the CEO of DCP, his proud mother is showing him how it's done.
"My primary career in IT began as a teenager when I fancied myself a fledgling white-hat hacker and accidentally on purpose hacked a Wi-Fi network," recalls Kimberly. "While waiting for the FBI to drop everything to come and arrest a terrified, yet oddly intrigued pre-teen, hacking some neighbor's lazily secured Wi-Fi, I fell in love with data and all things technology."
Choosing intentional healing & self-acceptance
Kimberly notes that across the course of history, humans have always built-up structures that put fellow humans into one of two boxes: the haves and the have-nots.
No matter how that box is defined, whether it is financial, social status, race, moral/value system, or even likes/follows in today's vernacular, the average person continues to find themselves defined by someone or something's standard. For people who find themselves on the wrong side of the equation, their entire life's journey can seem predefined and finite.
Kimberly believes that well-meaning "life lessons" passed on ("…go to college", "…if you're loyal, the company will recognize you", "…people like us don't [insert societal role that is stereotypically appropriate for one group, but not another]) have perpetuated a deeply-held attitude and mindset that makes us chronically and unconsciously tear ourselves, AND OUR OWN POTENTIAL, down.
"For me to reconcile this historical context against how I conceptualize success, I believe there are two key attributes to success: intentional healing and self-acceptance," says Kimberly.
Intentional healing allows us as an individual to not only diagnose and acknowledge the negative factors in our lives that have contributed to our lessened sense of purpose and self-worth, but to CHOOSE to refine ourselves in the small, consistent, and self-affirming ways that we can begin to push for the dreams and goals we've always had, but was limited by fear and lack of motivation.
"Self-acceptance is simply reminding ourselves every day that we are worthy, capable, and owners of our version of success," says Kimberly. "Our path is different from everyone around us and that's okay. It is not the Joneses that define whether we are successful, it's us individually."
Becoming a suitable role model to her son
What inspired Kimberly the most, was her son (and current CEO-In-Training) seeing her move up in her career, but not seeing her progress.
"When my son was born, I was in college. When he was a toddler, I was in college. When he was a preschooler, I was taking jobs that either got me a higher salary or a better title," she recollects. "When he entered elementary school, all he saw was his mother either still conquering yet another degree, or working sixty-hour weeks because I had to be better than everyone around me to get even minor upward movement."
At some point, Kimberly realized that she was propagating the same well-meaning tropes to him in an effort to validate why she continued to pursue an Information Technology career, where companies were happy to pay her a good salary or give her a title, but not give her the respect, power, or true authority to institute the type of leadership that they certainly recognized enough to throw money at, but did not want to promote.
At some point, the cognitive dissonance made Kimberly begin to question her worth, and made her angry enough to begin asking herself: "Why can't I do this for myself? I don't have to work for someone else, do I?"
"I had to accept the reality that I was not being the example I truly wanted my son to follow, and I certainly was not preparing him for a world where he would have to demand the respect he deserved," she says.
Accepting her leadership potential
Within two years, Kimberly had refined her mindset to think of herself more of a CEO and less as someone else's internal resource.
Because of her excellent communication and facilitation skills, she held several bridging roles that created important crossroads for external and internal clients alike to be able to address organizational change in an organized and thoughtful way.
"Ultimately, I created DeWitt Consultancy Partners (DCP) because I needed to pursue the greatness that I knew I was capable of and I needed to create something for a certain young man to grow into, that if I did my job right, would outlive me and give him a sense of purpose well before he got thrown out into the working world," she states.
As a believer in the concept that all of us are exactly where we are supposed to be at any given time, Kimberly trusts that every experience we have is creating a balance in our personal humanity that contributes to the person we wake up as and that we choose to be every day.
"My cumulative worldview and life experience has prepared me to be the leader I am today," she says. "Because I accept that my present self is a result of positive, great experiences, just as much as negative ones, I don't shy away from situations and people that seek to demote me."
Kimberly considers her best recognition received as a leader thus far, as the CEO of her last employer shaking her hand as a fellow CEO, despite his disappointment at her departure from his company.
"I have always been considered a 'leader.' I remain humbled that I can draw people to me, open dialogues, and help initiate change and be trusted to do so," she says. "My journey to leader seems to have followed along the five stages of grief: denial, anger, bargaining, depression, and acceptance. I am finally at acceptance, and it feels good."
Being the unapologetic Black IT professional
Professionally, in respect of her lifelong love of data and all things technology, Kimberly chose to build a career in a field that is historically populated by IT professionals, and run by IT executives that don't look anything like her.
"I was certainly idealistic at the beginning of my career in believing that I would be the one to break the glass ceilings in my industry, and make my goal of being one of the few double-minority CIO's in existence," she says. "But time has shown me that despite my education, diverse skillset, and ambitious mindset, that ceiling will remain in place, albeit with a few more cracks, because of my dedication to staying in an industry that I love, and continuing to be an example for others."
Kimberly considers her most valuable lesson as the need to persist in being the unapologetic Black IT professional that will continue to push companies to be intentional in doing better.
"Every company I have worked for, and every new client I take on, focuses more on 'huge jumps' versus 'baby steps'. Our goal at DCP is to work with our partner clients to get them innovating through efficiency," she states.
Breaking down the IT "black box"
When key organizational processes are unhealthy, non-existent, or not consistent, the ability to innovate collectively and holistically becomes limited and siloed. One such process is communication. When communication arteries are unhealthy horizontally between departments and vertically through teams, they can forget how to speak constructively with each other. Kimberly offers a common example of this in the oft-coined term, "IT black box".
In companies where the IT-org is treated only as a resource center and not as a key organizational partner, the critical bridge between technology/innovation becomes a one-sided drawbridge where neither side can interact collaboratively, leading to organizations that are not using technology to its fullest potential to drive and contribute to organizational innovation.
DCP recognizes such gaps and seeks to create/refine the connective pathways within organizations to allow them to better be agile, anticipate, and react to change, innovate strategically rather than only operationally, and put into place the organizational pillars that will allow them to scale and grow.
Growing DCP's footprint in Tanzania
DCP's second year is gearing up to be even better and they have been retained by a Fortune 4 company to work within their IT teams as a strategic and operational consultant, to help both manage and improve team productivity, best practices, and mitigating process gaps.
"We are looking to expand our coaching business to at least ten new clients this year, focused on helping them find inherent revenue sitting passive in their businesses, as well addressing foundational organizational gaps that contribute to siphoned revenue," says Kimberly.
DCP will also continue to increase their footprint in Tanzania as they look to partner with government and private business alike to bring technology, education, and advocacy to a country amid its own technological revolution. Unlike some consulting firms, DCP meets its clients where they are and focuses on moving forward to where they want to be.
"Although we're a young company, I am excited about our growth! In our first year, we gained an international client that we are now partnering with to expand onto the African continent, starting in Tanzania," says Kimberly. "We've had the opportunity to meet heads of banks, ministers of education, and many more executives and business owners that see the value of working with an American partner that can speak to strategic/operational planning, process, and even executive partnership/advocacy."
Kimberly defines herself as implacable, and Kingston as an ambassador. Her core responsibilities center on her diverse skillset in Information Technology, managing organizational change, and executive advisory. Currently, DCP's core services include: program/project management consulting, government contracting, and business coaching.
"My co-CEO, Kingston Bell, is currently in a protégé role, assisting with the sales process, attending functions, perfecting his elevator speech and presentation skills, and working on his international business skills as we travel."
Kingston is also learning Swahili to facilitate their business interests in Africa and will be an exchange student at one the most highly regarded schools in Dar es Salaam within the next year. Over the next five years, DCP plans a number of strategic initiatives, including:
Creating a technical school in Tanzania focused on providing a world-class quality technical education on par with the United States that creates skilled tech workers ready to engage in the world economy.
Becoming a model government contractor (both domestic and internationally) that other businesses can partner with for mentorship and having a helping hand to achieve their success.
Being an active partner in government endeavors to promote technological expansion into underserved communities and bridging relationships.
Having a premier coaching arm that is full of business owners working with DCP to get their businesses on the right track and live their best organizational lives.
Connecting the dots
Kimberly believes that the biggest change any business in any industry faces is the absolute necessity of creating a place at the table for IT to participate as an active partner in organizational strategy/implementation at the C-suite level, not just an input/output only department.
"Technology is the lifeblood of our society as much as it is the lifeblood of organizations," she states. "Another aspect of how organizations must adjust to changing landscapes is in understanding the value of data and its ability to drive data-driven decisions."
Kimberly also observes that organizational reporting is an often-neglected process that affects every level of the business, but is not represented equally across organizations.
As companies become leaner, are forced to pivot quicker to externalities, and want to be able to scale more efficiently, good data management and reporting will allow for better decision-making, accountability, innovation, process, and company health.
"I can see the world around me (and the partner clients we work with) through a multi-dimensional lens of process, infrastructure, data, financial, executive management/strategy, and people, all contributing to a very powerful worldview that sees order, and dots to connect, where organizations see only chaos, dysfunction, and lack of clarity," says Kimberly.
This diverse skillset positions DCP as a powerful ally for any company that needs a holistic view, of how its operations and processes need to change, and the effects of those changes.
Facing challenges creates many downstream impacts
Kimberly sees struggle as a fundamental part of life, regardless of socioeconomic status, race, location, or even personal motivation. She believes that facing challenges creates many downstream impacts and that it unequivocally makes us stronger, whether we like it or not.
"Getting through a personal or professional challenge is not always just a story of triumph and motivational music montages," she says. "Facing challenges can be painful, dirty, uncomfortable, and downright catastrophic. However, the feeling that comes after conquering that challenge, even if it was a smaller success than anticipated, is unparalleled."
A dream of generational wealth & independence
Kimberly admits that finding balance is not easy for someone like her, whose brain never turns off, but finds it immensely helpful that she has a great husband and son who remind her that she needs a break, that they need attention, and that they need to do things together as a family.
"The balance for us comes with me respecting their reminders, and them respecting when I need to dig in and focus," she says.
As DeWitt Consultancy Partners is a family business, Kingston is not just a figurehead, but a formal employee with a job description, and he receives a salary that currently goes a long way toward keeping the future leader motivated!
"I have reminded Kingston from day one, that one day I'm going to step away and hand him the reins. He has made me very proud in his commitment to being present and willing to try, in whatever situation I place him in," says Kimberly.
His proud mother notes that for a ten-year old young man to hold a group of grown men's attention at a networking event, as he confidently talks about what they're building, and experiences the effects of his own self-esteem and confidence, is the best vehicle for motivation there is.
"I'm middle-aged and I feel like we're just getting started," states Kimberly. By the time Kingston graduates high school and is ready to begin the next leg of his journey, she wants to be the mom helping him decide which country he wants to go to school in, and feel confident that he is ready to go figure out his path, knowing that he has an established international company ready and waiting for him to take up the helm.
"The day I announce to our workforce that Kingston Bell will be stepping up to CEO, and I will be stepping down to Chief Advisor, will be the day I finally feel like I have achieved what I have always dreamed. Very cheesy, but very true!" she states.
Generational wealth and independence is the dream that Kimberly holds dear for her child and for future generations. "I hope to see my grandchildren put on their first DCP-branded fleece and step out under our banner," she says.
Kimberly's message to future disruptors on the fence is: Be intentional but don't wait. The world we exist in is only a social construct; it does not ultimately define who you are, where you want to go, or who you wish to be unless you allow it to. Be brave, learn to embrace the chaos, take calculated risks. Define success for yourself and then go achieve it.