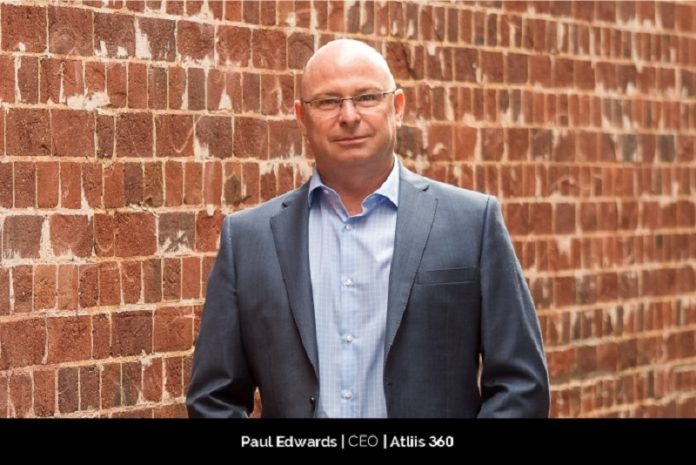 Through the provision of a holistic, business-first approach to digital transformation, Paul Edwards, CEO of Atliis 360, is supercharging the profit and growth of both the company, and its customers.
The core principle of the Atliis 360 is "Business-First Digital Solutions." This vision – seeded by the founder's expertise, entrepreneurial nature, and experience from the perspective of both a vendor and customer – provides a formidable foundation from which to forge the company's future direction.
This core principle has two meanings. First is that Business-First Digital Solutions means delivering a solution based on the specific requirements of the client's business, not the underlying technology utilized to deliver them.
Paul comments, "At a practical level, this means we take the time to gain an in-depth understanding of a company operates, before designing and building an optimized technology package to empower it. At a psychological level, it means communicating with clients using only common business terminology, thereby helping us to gain an understanding of the company's requirements without the business owner becoming overwhelmed or self-conscious about the 'geek' aspects of what we do".
The second meaning of Business-First Digital Solutions is that the client's business comes first (not Atliis nor a vendor). "At all times, the team strives to do what's best for the client, from applying their experience to identify the optimum solution, to implementing and operating this solution efficiently to reduce costs, improve efficiency and maximize the client's profit & growth" he said.
Greater than the sum of its parts
Before the advent of Atliis 360, Paul performed management roles in both the private and corporate market. These include almost 17 years' experience in warehousing and distribution, 15+ years' contract manufacturing in China and 11 years software development in India. He is also member of the Advisory Board to an online retail company called Little Gecko, plus several others in a less formal capacity.
Paul knew the power of technology and wanted to unleash its potential. An extensive business plan had been developed over several years – ready to execute at the appropriate time. When COVID-19 disrupted everything around the globe, he and his core team held onto their nerves and looked at it as an opportunity to establish a specialized digital transformation company.
Atliis 360 was born through the combination of two pre-existing companies (a software dev company and a managed IT company) and a cherry-picked dream team of professionals having 10-30+ years' experience in their respective fields.
"We had an amazing opportunity to create a new company, without compromise. Our strength is a direct result of this optimized birth, our business-first approach and the team's 360-degree expertise in business and technology. We also cover the entire transformation process, from creating a transformation strategy, to implementing new systems and helping clients to manage these day-to-day, ensuring everything is operating securely and at peak performance", he adds.
The relentless evolution of business
Paul and his team always knew that their biggest challenge would be keeping up with the growth of the company. Since the company's inception, they have continuously applied their own digital transformation methodologies to tackle this challenge.
They started with an excellent and highly flexible business structure. This unique structure was designed specifically to seamlessly harness the power of their own expert resources and the ones from their trusted vendors. "The agility of our structure has allowed us to scale up and down resources (sometimes by as much as 25-50 people) in a matter of days, thereby enabling us to always deliver an optimized project team to clients in Australia, and increasingly customers worldwide."
Atliis 360 also employ a process they refer to as "DTaaS" or Digital Transformation as a Service. Paul explains, "DTaaS is the delivery of digital transformation via a 'managed service' style delivery model, instead of a traditional 'project-based' delivery. For us, DTaaS is a game changer. We use internally and with all clients."
Delivering digital transformation projects in a single go puts significant stress on the client in terms of stakeholder/team involvement and interruption to the client's day-to-day operation throughout its delivery. He focuses the point by commenting, "Instead of this 'big bang' approach, we believe that business improvement (DT) is best delivered via an agile approach that incrementally and continuously delivers improvements to clients, faster, with fewer headaches and less change management."
Technologies are evolving every day. It is crucial for the work methodologies to evolve with them. The needs of clients are rising at an exponential rate. They expect the companies to offer better services, with real-time customer service, and ever-faster delivery.
"To ensure clients excel in the modern digital-powered business world, DTaaS is at the core of all the company's offerings. It delivers solutions that work for today plus the agility for clients to continuously adapt and embrace the benefits of tomorrow's technologies to keep pace with the relentless evolution of business (and the efforts of their competitors)."
Offering better services, ethically
Business 360 packages digital transformation, system implementation and managed IT services into a single monthly subscription. It is based on a proprietary DT methodology developed in-house over the last 25+ years that focuses on ensuring the real-world aspects of a company's business are faithfully represented within their digital solution.
To achieve this, the team applies their strategies and methods in four ways, namely Consolidate, Automate, Innovate and Operate.
On the consolidation front, the team organizes and integrates the client's business systems. On the automation front, the team applies automation to the tasks that are commonly performed, which increases the accuracy and reduces the stress on the human capital of the company. At the innovative front, they create custom software solutions (commonly via Microsoft's Power Platform) to deliver client-specific functionality, a unified interface for functionality that spans multiple core business systems, and a centralized control center for IoT data. Lastly, the operation front includes helping clients to operate their business (the delivered solution) day-to-day, optimizing productivity, and delivering continuous improvement.
Business 360 helps clients become accustomed to making small improvements to their business every month, thereby creating a mindset of continuous improvement as opposed to the traditional 'all or nothing' IT lifecycle.
In modern business, continuous improvement is critical to a company's long-term survival. Continuous improvement is also like compound interest, where 1% every month builds on itself to provide much greater value over a longer-term than 12% all in one hit.
Atliis 360's team focus on client's requirements, delivering services that are pragmatic and guaranteed industry, technology, and vendor agnostic.
Unfortunately, is all too common for clients to be sold the most profitable option for the vendor, instead of the option that best meets the client's requirements. He comments, "At best this will give a sub-optimal result and, more commonly, ends in a failed implementation, a significant amount of wasted time/money, and a very unhappy client."
The IT industry has a 'car salesman' reputation of prioritizing what is right for the vendors instead of what's right for their clients. Moreover, the IT sector has a reputation of focusing on the technology instead of the benefits this technology can deliver to the business, making it a cost-center instead of a profit-center or enabler of growth.
To slay this notion, the team of Atliis 360 works with a different approach and offers unique customer-centric services. To stress this point, Paul expresses," 'Business-First' was created to challenge this by embedding into our core ethos and customer communications that Atliis 360 is different, by focusing on an intimate understating of a company's business in order to design and deliver a technology solution to optimize its day-to-day operation and long-term profit & growth. Clients put a great deal of trust in us to provide expert advice and deliver the best possible outcome for their business and the livelihoods of their family and staff, and this is a responsibility that we take very seriously."
Digital transformation, reimagined
Atliis 360 came to make a difference, and it gave a new definition to digital transformation where everything revolves around the clients. The customer-centric approach followed by the team allows them to mark their unique presence in the market.
Paul adds, "Business is about people, and so is our business-first approach to digital transformation. The user is central to almost all software because most software requires a user's input/interaction to operate. Good technology supports and empowers users."
Every day they strive to ameliorate their services to improve the day-to-day operation of their client's business… and ultimately, to maximize their client's profit and growth.
Life as the CEO of the company
Being a seasoned business leader, Paul oversees several aspects of the company to fuel its growth. Having a 30+ year experience across a diverse range of fields, his analytical skills, innovative thinking, hands-on leadership and interpersonal strengths, consistently deliver customer-centric, technology-based solutions that propel sales growth and profitable outcomes.
Having an all-rounder nature, he aims at creating better results with win-win situations for everyone. He knows the potential of the trending technologies and leads the team to evolve and innovate with the technologies to improve their services for the clients.
He states, "We are very analytical people that strive to solve challenges that others find too hard or just don't have the time or resources to do themselves. We genuinely live by 'Business First' and take very seriously the responsibility of acting in the client's best interests via expertise and solutions that are technology and vendor agnostic."
He believes that life and business are journeys requiring a mindset of continual growth, both professionally and personally. Paul and the whole team at Atliis 360 believe it is critical to identify, learn and adopt emerging technologies to enrich the company's offerings.
"AI is now an ever-present aspect of DT, with almost all software containing ai-powered functionality. AI is an area of special interest to the team at Atliis and a focus of our internal training to ensure that we extract the maximum AI-derived benefits when designing and implementing solutions for clients. Automated process discovery, streaming databases, and a host of other cool things are also happening in this space, making it possible for us to provide continuous improvement to our clients for many years to come."
Work-life balance and future prospects
Paul loves the home environment to work and expresses that it is vital for him to work from home at least two days per week. He states, "Apart from the obvious benefits from reduced travel time and fewer interruptions, for me, the home environment is more conducive to creativity, problem-solving and solution design."
While fueling the growth of the company, he makes time for himself and his family. Having a top-level team at his disposal, he knows when to spearhead initiatives and when to delegate work to create better results for everyone.
"Australia has been so extremely fortunate with COVID, and as a result, the Australian market is very strong our primary focus for the next 12-18 months is growth within Australia. We also regularly receive inquiries from international clients which we consider on a case-by-case basis."
He adds, "Internally, we also have a number of software products under development. There is still so much more that we would like to achieve, and we have aggressive growth plans for the next five and ten years."