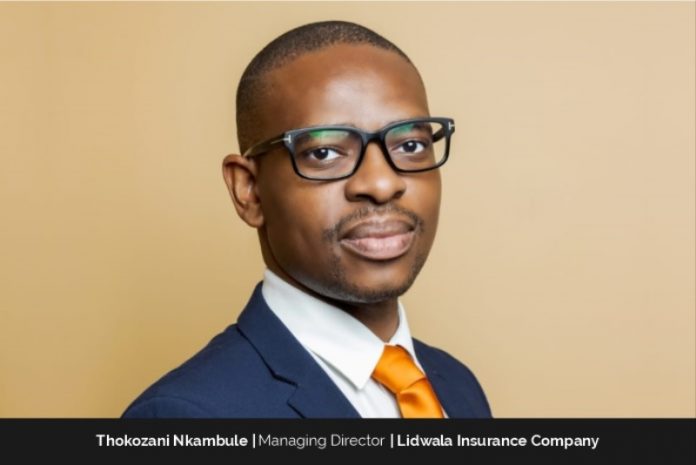 Dr. Thokozani Nkambule, Managing Director of the Lidwala Insurance Company sees success as the achievement of desired goals, not as a destination, but as a lifestyle, defined by a belief system anchored on sound values consistently. He observes that it is the imagination and desire to grow, improve, and achieve better things that make one continuously review their goals and what success looks like.
Before joining Lidwala Insurance Company, Dr. Nkambule worked for KPMG as an audit trainee, AD Taylor as Senior Auditor, Inyatsi Construction as Budget and Treasury Manager, Cooper Properties as General Manager Operations, Eswatini Mobile as senior Manager Finance, Inyatsi Group Holdings as Group Finance Manager. He credits these entities and experiences with having built him up and prepared him for leadership over the years.
Overcoming Challenges with Optimism and Acceptance
Dr. Nkambule believes that good things in life never come easy and that to have an impact in our society and exert significant influence, we have to be daring and ready to be comfortable with being uncomfortable. In his professional journey, he has encountered numerous roadblocks, ranging from sabotage, growth opportunities closed at his face, personality clashes inhibiting his growth, and more.
Through all the roadblocks, Dr. Nkambule developed character, mental strength, and the capacity to deal with challenges. He learnt to view challenges as an opportunity to apply himself, find solutions to navigate, and not take anything personally. He also learned that some delays or closed doors actually help us stay on track with what is best for us.
"In my initial career plan, by now maybe, I would have been a Finance Director in a multinational. But God redefined my plans and I became a managing director of the second biggest local insurance company at 36 years, something that wasn't in my plans at the time," Dr. Nkambule reflects.
Observing that gold is, indeed, refined in a furnace, he recalls his upbringing during which he faced numerous challenges. It was his ability to navigate life through those challenges and become solutions-oriented that helped him quickly develop a positive mindset and stay optimistic in all situations.
"One needs to have a vision in life and develop a passion for what they do. The universe then conspires to bring opportunities. I was trusted with the opportunity to lead the insurance company based on my historic track of commitment, accountability, agility, embracing change, and being an outstanding team player. My principals deployed me to look after the insurance business, a challenge I took on with both hands and gave my all in," Dr. Nkambule recalls.
Introducing Revolutionary Insurance Products and Services
Lidwala Insurance is a Swazi-owned short-term insurance company that was first registered in 2009. It is a member of Inyatsi Construction Group Holdings, a group of companies chaired by the visionary and hardworking, Mr. Michelo Shakantu. It currently offers general insurance and medical aid.
The company positioned itself as an alternative risk solutions provider in the Kingdom of Eswatini by introducing revolutionary insurance products and services. Lidwala was the first to introduce cover for grey vehicles, houses on Swazi Nation Land, Political Violence, and Terrorism cover among others.
Lidwala has endeavored to be an inclusive insurer and remain relevant and responsive to its market needs and demands. In 2022, it opened a medical aid wing to support the vision, led by His Majesty King Mswati III, of creating a first-world status by improving the quality of healthcare in the country. It offers affordable and inclusive medical aid plans for the general LiSwati to afford.
Dr. Nkambule recalls how his expertise facilitated and redefined the growth and success of the company. A qualified chartered accountant by training, he possessed vast auditing, accounting, and finance experience. He had also worked in auditing, construction, telecommunications, financial services, and real estate before joining insurance. While working as a Finance/ Accounting professional, he had mastered key concepts that are fundamental to running a growing and profitable enterprise.
Making Lidwala The Preferred Insurer
Over the years, Dr. Nkambule developed his business and commercial acumen and consciously worked on developing leadership skills to ensure that he became a balanced Managing Director who could add value to any business. With his technical and soft skills and "can-do" attitude, he has worked with the Lidwala team to identify people's strengths and gaps, develop programs to close gaps and play on the team's strengths to experience growth.
"In my first year at Lidwala, we experienced a topline growth of 44 percent, in the second year, ending June 2023, we experienced a topline growth of 33 percent. The first fundamental was to redefine what the company stands for. We aligned the vision with that of the Inyatsi Group Holdings, being 'Africa's Leading Integrated Business Partner'," he explains.
To achieve this vision, the organization has a set of values to build a high-performing team, thus delivering optimum customer experience and making Lidwala the preferred Insurer. The key was ensuring that while they experienced short-term financial growth, the team also grew and developed a mindset that would allow them to play in the African economy, not just Eswatini.
Dr. Nkambule expects that the Lidwala Insurance Company will be the leading insurance company in Eswatini by 2028, in both market share and quality of service. They have taken on the responsibility of embracing the Artificial Intelligence era and staying relevant to their customers by making their services accessible and painless to acquire. Lidwala is also actively exploring opportunities to broaden its customer base, introduce new products and solutions, and create demand for its products to experience the growth they desire.
"Insurance is always percieved as a grudge buy, but we are committed to driving customer education and engagement to a point where insurance becomes a necessity within every local consumer's basket. As a member of an African Group that is spreading its wings globally, Lidwala is also continuously exploring partnership opportunities in the various jurisdictions where the group is spreading its footprint," states Dr. Nkambule.
Building a Sustainable Winning Formula with Passion
Dr. Nkambule notes that while work/life balance is a great theoretical concept, the truth of the matter is that it is not possible to strike a balance. He believes that it's an issue of prioritizing what is at hand at the moment, and what goals are to be achieved.
"I ensure that I take good care of myself and stay physically, emotionally, and spiritually fit to be able to tackle my job. My work has become a way of life, I do however make time and ensure I spend quality time with the other human aspects that I require to be a sound and happy person. I am not in a job, but I am running a business and my love for what I do makes time not matter anymore. When I must put in the hours to achieve, I do so and consistently," he declares.
Dr. Nkambule lists his numerous responsibilities at work as follows:
Leading establishment and implementation of company policies.
Directing strategy towards the profitable growth and operation of the entity
Developing strategic operating plans that reflect the longer-term objectives and priorities established by the Board.
Maintaining an ongoing dialogue with the Board.
Putting in place adequate operational planning and financial control systems.
Coordination and monitoring of annual budget development through sectional heads and performing monthly reviews to track progress
Ensuring that the operating objectives and standards of performance are not only understood but owned by the management and other employees.
Closely monitoring the operating and financial results against plans and budgets.
Maintaining the operational performance of the Company through tracking Key Performance Indicators.
Assuming full accountability to the Board for all of the company operations.
Building and maintaining an effective management team, including responsibility for the hiring, training, and termination of management staff.
Dr. Nkambule ensures that he spends sufficient time with his team, communicates his expectations, stretches them, and gives them feedback on what is expected of them. "Daily, I reset my coordinates, I have touchpoints with my team wherein I check sales, cash, obligations, key risks, potential clients, and claims. This is a daily routine because it gives me a sense of where the business is and prompts actions required daily," he explains.
Dr. Nkambule also ensures that he radiates the passion and work ethic he expects of his team and maintains proximity to ensure that they are always aligned. "We have a clearly defined vision supported by a value system, which all employees are aware of, and I believe it is a sustainable winning formula that will not only enable the team to achieve results but also transform them as individuals to be of value," he affirms.
The Journey to Becoming a Transformational Leader
Dr. Nkambule regards his greatest achievement as being able to identify his gaps as a leader in the past 24 months and take action to become a strong leader with character. Sharing a quote from his group chairman, Mr. Michello Shakantu, who always says, "A vision has time, scale, and achievement," he remarks that he has also challenged himself to ensure that as he leads, there is tangible progress shown by desired results.
"Success is relative, so I'm choosing not to arrive. I could point at milestones over my tenure at Lidwala, but the company is not even 50 percent of where I want it to be, considering the opportunities and the imagination I have. My proud moment will occur the day there's evidence that I have created an environment that stimulates sustainable profitable growth with like-minded people," says Dr. Nkambule.
Dr. Nkambule sees leadership as the ability to influence, as defined by Dr. John Maxwell. "This has been a definition I have related to better. A leader creates an enabling environment and then works through people to achieve goals. In organizations, everything either rises or falls on leadership," he says. On the qualities of a good leader, he also takes a leaf from his chairman, Mr. Michelo Shakantu's teachings and Dr. Myles Munroe, listing the following as qualities of a good leader:
Passionate
Visionary
Has Conviction
Inspirational
Purposeful
"Over and above the qualities, a good leader is characterized by being decisive, attentive, having a sense of clarity, teachability, technical competence, and firmness," Dr. Nkambule remarks. In his parting message to aspiring leaders, he notes that the key to leadership is the person you become as you build on the capacity and strength to handle more.
"Leadership is not just about titles and position. It's about the degree of influence we exert, the character we radiate daily, and the passion that keeps us going when everything else fails. Above all personally, I believe that God has uniquely gifted each one of us and we owe it to the universe to give the best of who we are and embrace originality. Let's learn from other leaders, but let's not try to be their imitation. We don't know the unspoken that sustains them," he concludes.