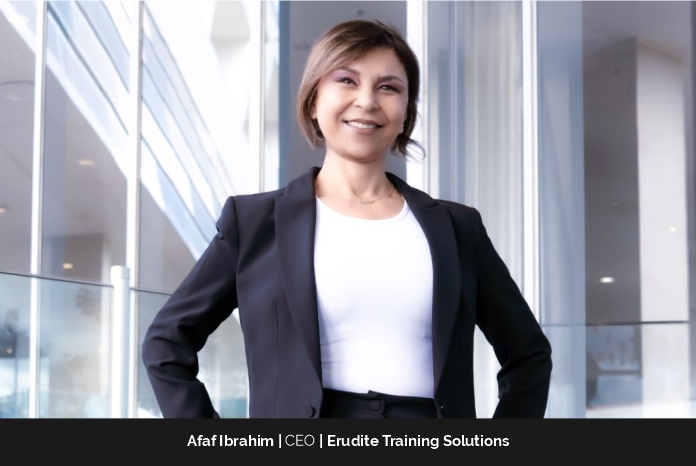 As the Chief Executive Officer at Erudite Training Solutions (ETS), Afaf Ibrahim is a force to be reckoned with in the world of emotional intelligence (EI). With her extensive experience as an EI practitioner and keynote speaker, Afaf is helping individuals and organizations alike tap into the power of EI to achieve their personal and professional goals.
Afaf's approach to EI is personal, practical, and rooted in the best practices in the field. She understands that everyone's journey is unique, and therefore she tailors her approach to suit the individual needs of her clients. Her deep knowledge of EI enables her to provide actionable strategies that can be implemented immediately for lasting impact.
Through her insightful keynote speeches, Afaf is inspiring audiences around the world to embrace the power of emotional intelligence. Her ability to connect with people on a personal level is unmatched, and she is quickly becoming one of the most sought-after speakers in the industry.
Delivering Unparalleled Learning Experiences
Afaf firmly upholds ETS's mission to provide unparalleled experiential learnings to its clients. The organization acknowledges that every individual and business have distinct Training needs and preferences and, thus, endeavors to provide a wide range of programs and modes of delivery to meet these very needs.
ETS offers various programs, including customized in-house workshops, The one-hour professional development bites for the entire organization, group professional development, C-level conferences, and self-paced e-learning to cater to different learning styles. The team is committed to standing out from its competitors by continuously innovating its programs and services, striving to provide world class events, bring global experts to ensure the highest quality and timely training that guarantees an enjoyable and transformative learning experience at all times.
At ETS, the management believes that every individual deserves the opportunity to learn and grow. The organization remains dedicated to challenging itself to provide the best possible upskilling experience for its members and clients, through the monthly networking discussions "Emerging Leaders Roundtable" group. This is a free event for everyone who is eager for upskilling and learning.
Offering Valuable Learnings 
ETS is dedicated to providing top-notch training while upholding their promises of delivering world class programs. The company lives and breathes its core values of passion, integrity, respect, innovation, customer focus, and excellence every day. ETS strives to differentiate themselves from their competitors by embodying their core values in everything they do, staying true to their mission of empowering their clients' workforce and facilitating desired changes through unparalleled training.
ETS invests heavily in their team of professionals, providing them with the necessary resources and support to remain at the forefront of the industry and consistently innovate. Customer satisfaction is also of the utmost importance to ETS, and they continuously aim to surpass expectations by offering quality programs, exceptional customer service, and support. By prioritizing their core values, innovation, and customer satisfaction, ETS distinguishes itself from its competition and delivers exceptional services.
"A leader is one who knows the way, goes the way, and shows the way."
Steps to Bringing Change
Afaf strongly believes that the best way to bring about change in the current and future generations is through education, inspiration, and leading by example. Firstly, education is essential to empower individuals with the knowledge and skills they need to address current and future challenges. The current situation demands critical thinking, questioning, and challenging the status quo, and education can provide the tools to do so. Secondly, inspiring the younger generation by fostering creativity, allowing them to pursue their passions, and showing them that change is possible is crucial. It is necessary to empower them to make a difference and instill a sense of purpose. Finally, leading by example is essential to setting the standard for responsible, compassionate, and effective leadership.
Afaf asserts, "To influence a change in the generation, we must educate, inspire, and lead by example. We must empower the generation to be the change they want to see in the world and equip them with the tools needed to make that change a reality."
Passion that Changed into Profession
Prior to joining Erudite, Afaf gained extensive experience in business management, human resources, and leadership across various industries, including corporate, education, and government. She even founded a consulting firm, where she managed successful projects, assisted in strategic and future planning, and developed people's skills. Afaf also had the opportunity to work with leaders and C-level executives from different industries, such as manufacturing, non-profit, education, finance, and healthcare, which allowed her to gain insights into their specific business needs.
Afaf's passion for helping others grow led her to explore opportunities in training and development, where she could apply her business acumen and leadership skills to help individuals and organizations achieve their full potential. Now, as the CEO of ETS, she brings her extensive experience in business and people matters to the table and leads a team of talented professionals who share her passion for helping others grow and develop. Afaf is proud of the work they do, and together, they strive to make a positive impact on their clients and the community they serve. "Together, we are committed to providing innovative and effective training opportunities that drive business success and empower individuals to reach their full potential. When you enjoy what you do every day, you don't call it work, you call it lifestyle," says Afaf.
Ensuring Growth and Organizational Success
As the CEO of ETS, Afaf's primary responsibility is to ensure the company's overall success. This involves setting strategic goals and objectives, managing daily operations, and leading the team to provide high-quality training solutions to clients. A typical day at work for Afaf starts by prioritizing three major tasks for the day to ensure they are fulfilled, then attend to other work matters. She may also meet with clients, attend industry events, and work on strategic planning initiatives.
On a weekly basis, Afaf meets with her leadership team to discuss ongoing projects and address any issues. She also brainstorms with them to identify opportunities for growth and development, both for the company and individual employees.
Afaf describes herself as driven, always striving to achieve her goals and pushing herself to be the best she can be, personally and professionally. At ETS, they are all driven by their commitment to providing innovative and effective programs that help clients and their employees reach their full potential.
An Excellent Way to Approach Life's Obstacles
According to Afaf, the difficulties encountered in life shape our character and help us evolve into better versions of ourselves. Over the course of her journey, Afaf encountered several obstacles that revealed her true self. One of the most significant challenges was the rejection and setbacks that came with immigrating from Egypt to Australia. Instead of letting them derail her aspirations, she used them as motivation to work harder and become more resilient.
Afaf also faced personal challenges in overcoming self-limiting beliefs and self-doubt. Through introspection and personal growth, she was able to cultivate a strong sense of confidence in her abilities. In her opinion, life's challenges are crucial for our growth, and we should embrace them to become stronger, more resilient, and wiser individuals. Therefore, Afaf encourages everyone to view obstacles as opportunities to improve themselves.
Seeing True Success by Impacting Lives Positively
All leaders have a desire to attain success, but its interpretation can differ among individuals. Afaf defines success as creating a beneficial and enduring influence on people's lives. She believes that genuine success is accomplished by making a meaningful contribution to society and assisting others in achieving their objectives. Afaf's perspective is shaped by her personal experience of witnessing the transformative power of making a positive impact on others. By improving someone's life, one can enhance their own life as well.
Prioritizing Well Being
Afaf recognizes the importance of maintaining a healthy work-life balance for her personal well-being and success as a CEO. To achieve this balance, she sets boundaries between work and personal time, prioritizes her time, exercises regularly, eats healthily, and spends time with family and friends.
At ETS, a motivated workforce is critical to delivering the best services, and Afaf fosters a culture of continuous learning and growth by providing employees with opportunities for professional development and training. The company also encourages open communication and collaboration, making employees feel valued and engaged in their work.
To further motivate employees, ETS offers competitive compensation and benefits packages, recognizes and rewards exceptional performance, and provides a flexible, positive and supportive work environment that encourages creativity and innovation. As the CEO, Afaf leads by example, modeling the behaviors and values that she wants to see in the employees. She communicates transparently, recognizes and appreciates the hard work and contributions of the team, and encourages ownership of work.
Afaf firmly believes, a positive culture, prioritizing well-being, and providing opportunities for growth and development are key to maintaining a balance between personal and professional life and keeping employees motivated.
"Failure was not the end, but rather an opportunity to learn, grow, and come back stronger."
Personal and Professional Goals
Afaf's vision for ETS involves global growth and expansion while maintaining a commitment to providing innovative and unique learning experiences. As ETS strives to deliver quality learning, we aim to provide a variety of options that suit our clients' resources and enhance their return on investment. This will be achieved by customizing programs to meet their exact needs, investing in new technologies and platforms to reach more clients worldwide, and cultivating and retaining a talented team of professionals who can keep pace with the rapidly changing needs of the business world.
Afaf's personal goals include building a successful and sustainable company that delivers tangible outcomes to businesses and individuals while also leading by example and inspiring others to embrace their own personal and leadership potential. Maintaining a healthy work-life balance and prioritizing the well-being of herself and her team is also crucial to Afaf.
For aspiring leaders, Afaf's message is to remain open to learning and growth, and to continuously challenge oneself to be the best. Embracing change and uncertainty can lead to opportunities for growth and development. Above all, it's essential to stay true to one's values and make a positive impact on the world, as this can lead to significant success and the ability to inspire others to do the same.