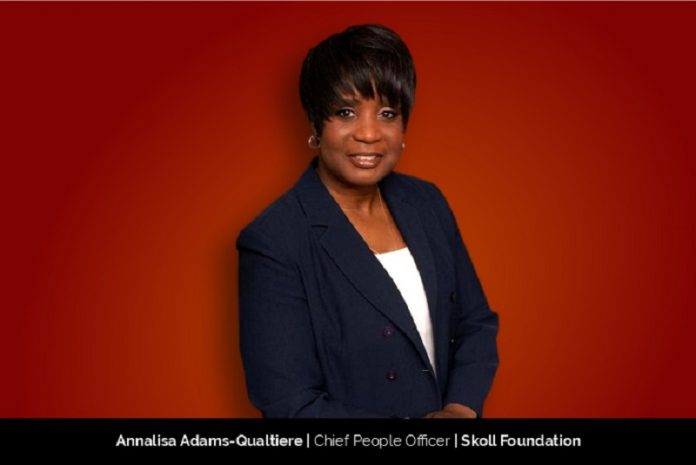 Annalisa Adams-Qualtiere, Chief People Officer at the Skoll Foundation, is a helper. She helps managers become better leaders. In her long and remarkable career in the HR industry, spanning more than 30 years, she has mentored countless individuals, instilling in them the confidence to think and act, carefully, authentically, and with integrity. Her leadership approach is driven by the idea that a bad manager can do more damage to the brain than a car accident. She works hard–leveraging all of the tools she's acquired over the years–to make leaders think and act ethically and effectively, powered by their organizations' vision and values, so that their organizations can make a positive difference in the world.
As the Chief People Officer at the Skoll Foundation, Annalisa crafts leadership plans and preps to meet with the Voice of the Employee Committee (VOTE), a team of cross-department team members whose role it is to contribute insights and help drive the people strategies and culture of Skoll. She also focuses on workforce planning, organizational people strategy, team development, and culture initiatives.
Leadership expert John Maxwell once said, "Successful people are not always significant. But significant people are always successful." This quote resonates with Annalisa, and it also conveys her definition of success. Significance, however, is never about one person or thing for her. She associates it with impact and effectiveness. "It involves a purpose that leads to meaning in life and depth of perspective," says Annalisa.
Entry Into HR 
Annalisa's entry point into HR was through Learning & Development focused on helping managers become better leaders. "That was true 30 years ago, and it is still true today," she says.
In the private sector, where she has spent most of her career, Annalisa has worked with large organizations, with equally large staff sizes. She has a consulting background (PwC) that includes change management and working with enterprise-wide software like SAP, Oracle, and more.
Annalisa's discipline has been in HR, but she was fortunate to have worked at an organization that embraced the HR Business Partner role concept, which allowed her to help craft the role at several organizations. She also has a technology and programming background and has trained engineers on complex software. "This makes me a little dangerous and irritating regarding any type of people software implementation because I ask all the back-end questions," Annalisa says.
Annalisa consistently thinks of how to use technology to enable processes and improve efficiencies, according to Padmaja Sathyamoorthy, Senior Director of Information Technology at Skoll. "I think her prior experiences put her in a unique position to do this—it's one of her many secret weapons."
Joining the Skoll Foundation
Annalisa joined the Skoll Foundation because of its CEO, Don Gips. He reached out to her after hearing about her from another foundation CEO. "Our business partnership began during the interview process," says Annalisa.
She began working for Skoll in September 2019. Don considers Annalisa an invaluable thought and action partner to him and to the Foundation. "There's no question that Annalisa's partnership makes me a better leader on every level and has been crucial in the process of pushing this organization to execute towards its highest goals while evolving into a distributed, hybrid workplace," he says.
Founded in 1999 by Jeff Skoll, the Skoll Foundation catalyzes transformational social change by investing in, connecting, and championing social entrepreneurs and other social innovators who advance bold and equitable solutions to the world's most pressing problems.
It supports social innovators who transform the world in the areas of pandemics and health, effective governance and democracy, climate change, and an inclusive and sustainable economy. In addition to that, the Foundation also ensures that racial justice is not only addressed directly but is also integrated into each of the other four areas.
Annalisa believes that two primary areas have resulted in the success and growth of the Foundation. The first area is the successful partnership with colleagues and the second one is developing a talent mobility strategy that supports team members. It also positions them to advance their career and competencies, inside and outside of the Foundation.
Jeff Skoll's vision is to build a world of peace and prosperity for all. It is this vision that keeps Annalisa enthusiastic about working for the Foundation. She believes that Skoll's vision is aspirational as well as achievable. "It is achievable when you synergize – we like to say catalyze – the right people, processes, and communities all focused on a vision that, quite frankly, nearly everyone can get behind," says Annalisa.
Some inherent tension, however, can be noted in the vision. Annalisa explains that the "for all" part of the vision means that people, systems, or organizations that are more heavily invested in the "for some" and "for me" may not be interested in joining that movement.
She also points out that to drive an entire organization towards its mission requires thoughtfulness about how it builds a culture, lives into the stated values, and centers equity in its approach. Since the day she arrived, Annalisa has brought her whole self to handle these challenges with wisdom, experience, humor, and grace.
At the Skoll Foundation, Annalisa sits on the executive leadership team and reports to the CEO. Her organization is called Talent & Culture, which includes all core HR Services such as Learning & Development, Organizational Design, Executive Development, and Business partnership with the executive team. "All of this is in service to executing Jeff's vision," says Annalisa.
Crucible Moment for HR Leaders
"Challenges are one thing; crucibles are another," says Annalisa. Both are needed to hone and shape one's leadership. And when crucibles present themselves, the only way out is through—literally.
For example, the pandemic forced HR leaders into a crucible moment of maintaining and supporting their people initiatives with remote methods. In March 2020, when the COVID-19 pandemic first hit the world, the Foundation and other organizations did not see remote work as the working norm. Annalisa points out that the experience was a test, leading to deep self-reflection for her as the HR leader of the organization.
Because of the pandemic, Annalisa and her team were forced to examine their values, question their assumptions about reimagining the workplace, and hone their judgment as a leadership team. Skoll emerged as a more innovative and nimble organization and found that it could pivot with purpose.
"We emerged with an ability to quickly address waves of black swan-type developments from the ongoing pandemic to rapid inflationary times, compounded by talent shortages to worker flexibility," Annalisa says.
Annalisa is known for her natural impulse to move quickly, and it became a personal challenge for her during the pandemic. "There's a joke from some of my past (and current) colleagues that I travel down the (work) highway 1,000 miles per hour with my hair on fire," she says. It is often noted that when one moves that quickly, they can forget to include critical voices in their processes. This was "certainly true" when they discussed their first approach to remote work and did not include reimagining office space use, Annalisa points out.
Listening to and engaging in coaching, 360 assessments, and feedback helped Annalisa hone the competency of "informing." That's an actual competency, she points out, adding, when they fail to inform the right people at the right time, that can be viewed as a selfish act. "I know that's a bitter pill, but as leaders, it can be challenging for us to do that inner work and root out hindrances to our leadership," Annalisa says. "I haven't overcome this challenge completely."
Annalisa has built strong, lasting relationships with her team and colleagues. They have the permission and are empowered to "douse water on those moments to slow me down," Annalisa says. "It's been successful."
Valonna Fowler, Talent & Culture Engagement Program Manager at Skoll, says that the joke that Annalisa is "flying down the freeway with her hair on fire is fun and challenging – and safe," adding, "She'll brake for greater understanding and coaching. That balance has helped me become more agile and a more effective member of the team."
Organization's Culture Change
Culture, according to Annalisa, is defined at the workplace by the day-to-day decisions each person makes through their behaviors and actions. Those decisions are reinforced and influenced by one's stated values and underlying behaviors that help guide their actions. "And these values will help you understand the broader view of the workforce, the workplace, and the work itself," says Annalisa.
The most significant change in the workplace is team members' need for flexibility in the how, when, and where work gets done, including the hybrid composition of teams. Annalisa notes that a contingent workforce model, aka gig economy, is increasingly taking hold, and that they can leverage that as a legitimate way of working.
And, in order to redefine the work culture at the Foundation, Skoll had to take a step back and think about the how, when, and where of work. It forced the teams to think about the office in collaborative terms. Under Annalisa's leadership, the Talent & Culture team acted as the business partner. They forced the conversation about change in the workplace. They also had to help everyone embrace the uncomfortable position of the unknown while trying to maintain a strategic partnership with leaders, as they shifted to a more geographically dispersed team.
Accomplishments and Work-Life Balance
Zach Slobig, Writer and Editor at the Skoll Foundation, informs that Annalisa has built a VOTE team in every organization in which she has worked. It helped create communication linkages across the organization so that decision-making is more transparent, representative, and effective. "It's the kind of innovation that makes you wonder why you don't see this in every organization," says Zach.
"Over the years, Annalisa has been a mentor and critical thought and action partner on a variety of people-focused initiatives, including leadership and team development, on the one hand, and Marcom and brand on the other," says Suzana Grego, Vice President at the Skoll Foundation.
She also highlights that Annalisa's expertise in leveraging the power of brand, vision, and values to help create and shape culture is unparalleled. "Our close partnership on that has been a critical element not only in our organizational advancement but also in my own learning journey," Suzana adds.
As the 'Helper' HR Leader, the connection is important for Annalisa. So, she attends one-to-one weekly meetings with her immediate staff, executive team peers, and her leader. And she always makes herself available for check-ins with all of their staff.
"Currently, we are rolling out a leadership model at Skoll with underlying education, exposure, and experience dimensions for growing our leaders," Annalisa says. "That's getting a lot of my focus right now."
When Annalisa sees herself becoming all-work, she pauses and de-normalizes the allure of long workdays. "Doing this allows me to reprioritize, focus, and ask myself," Annalisa says. "What is currently causing me to stress or feel unbalanced? How is that affecting my judgment and relationships? What am I sacrificing by running at such high RPMs? Increasing cognitive and emotional awareness helps me adjust."
Annalisa is a roller-skater. For her, roller-skating is not just a pastime – it is community. "It is a Cheers sort of environment when we hit the rink," she says. She has been skating with the same group of folks for over 30 years. Even when traveling, she brings her skates to check out the local rinks. "Everyone knows I'm unavailable when I post on social media and email: #itsmyskatenight," Annalisa points out.
Achievements and Proud Moments
Annalisa has a long list of achievements and proud moments. She considers the creation and deployment of an African American Leadership Program at her former employer organization as one of her most memorable achievements.  It started as a development opportunity that she was seeking for herself. However, to her chagrin, she found "only two" programs nationwide for Black Leaders in 2008. Both programs were being sunset.
"With my learning & development / instructional designer hat on, I reached out to both organizations and designed, developed, and deployed an internal leadership program for African Americans at the organization, supporting leadership at all levels, which was very successful," Annalisa recalls.
The program appeared in a national magazine, featured as a case study. "That program was the key reason for the organization to be recognized with the National Diversity Best Practice organization award along with five Fortune 500 organizations, which was an incredibly satisfying moment for me and those who trusted my leadership on the journey," Annalisa says. Also, the program played an instrumental role in getting her listed in the top 100 Women of Influence in Silicon Valley in 2012.
And, Annalisa says that she is blessed to have many proud moments over the years. "Any time one of my mentees steps into an advancing role, C-Suite or otherwise, I find enormous satisfaction in their success," she adds.
 Message to Aspiring HR Leaders 
In her message to aspiring leaders in the human resource industry, Annalisa quotes philosopher and business leader Jim Rohn's words, "The most important question to ask on the job is not 'What am I getting here?' The most important question to ask on the job is 'What am I becoming here?'"
Aspiring HR professionals, she says, must continually inventory their skills development and opportunities to understand the workplace's evolution. "One way of doing that is to find and cultivate a mentoring relationship," she adds. "Find a wise, experienced, innovative leader to provide that fresh pair of eyes and advice. This is someone with no other agenda than your success. And it can change your life."