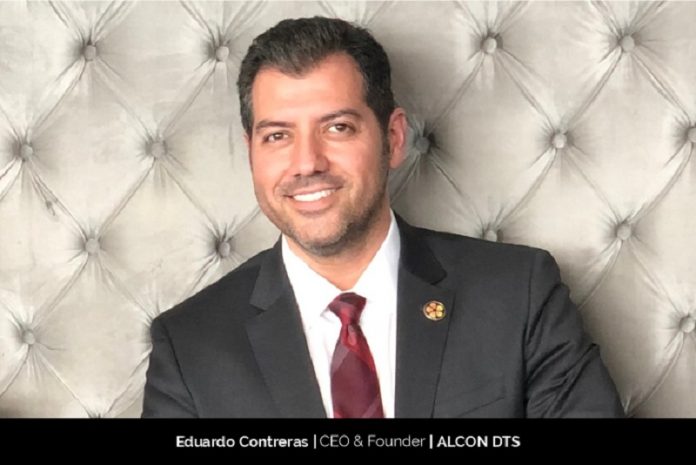 Founder and CEO of ALCON DTS, Eduardo Contreras, started his company in 2001 because of a need that he identified with his local vendors. At that time, he was working in corporate America, and all of his experience was in Enterprise Computing Systems.
Eduardo noticed that, very often when he would go to his doctor's office's, a local restaurant, or a corner store, he would hear, "Sorry, our systems our down," and they weren't able to process his transactions, or they weren't able to look up inventory, or do other tasks. He would say, "Oh, I can help you with that!"
The issue was usually a modem that wasn't working correctly, a fax machine wasn't getting dial tone, or some other simple issue, and Eduardo would help them resolve that.
When he asked the question, "Well, who normally works on this or maintains these systems for you?" they would reply, "The vendor came in and installed it and no one has really touched it since then," or "We have this guy that comes in every once in a while. He'll tweak things and it might work for a little while, but we would really never know what condition things are really in, and we would just hope things remain functioning."
Helping small businesses fix technology issues
That was why in 2001, after having identified a need in the market with small businesses, Eduardo decided to leave his corporate job and start ALCON DTS. "What I did, was to take all my enterprise computing networking knowledge and scale that down to a size and solution that was not only friendly to small businesses, but easily budget-able, so that they could afford to implement these technologies and tools," he says.
This was what laid the foundation of ALCON DTS, and the start of Eduardo's journey as an entrepreneur. Today, having worked in the software, networking, telecommunications, and IT security industries for the past 25 years, he has also served as the CEO and a board member for a number of other businesses. He has a proven track record of success assisting clients in a wide range of industries to expand and enhance their companies from the ground up.
Eduardo thinks that what really keyed ALCON DTS into the beginning of being a recognized brand with a reputation as a solid provider for IT Services, was when they started going to trade shows, and started communicating with other IT companies in their space statewide, with even some national presence.
"We would come across IT firms based out of another state like Alabama, for example, where we have several customers, and they would say, 'oh yeah, we've seen your brand, and we've spoken with some people who work with you guys.' This is all due to the fact that our customers were the ones driving us to these new markets. They were the ones giving us this exposure and recognition," Eduardo observes.
Creating a fun workplace to maximize employee retention
However, things did not always go smoothly for his newly founded company, and early on, the initial challenges that they had were around employee retention.
"I used to jokingly say that ALCON DTS was the training grounds for Dell and other large tech companies in Austin. We would hire new aspiring technicians and teach them everything about workstations, servers, and networking technologies," recalls Eduardo.
Unfortunately, once his employees had learned how to support large user bases, implement procedures and standardize various types of support, after several months of gaining experience, it almost seemed inevitable that he would hear, "Hey you know I've got a great offer with Dell."
"There's really no way for a small business like mine to be able to compete with the likes of Dell, so what we had to do was learn how to retain these employees. I had to find a way of making employment with ALCON DTS appealing for them to stay," remarks Eduardo.
By creating a fun environment with the least amount of office stress at ALCON DTS, he built a workplace where they all respect each other and the work that they do. "Respect and a positive environment is what, I believe, has allowed the company to retain our staff and grow. We are no longer just the training ground for larger corporations," Eduardo declares.
The three core divisions & services of ALCON DTS
ALCON DTS is Austin's leading IT service provider with more than 20 years of experience. It offers comprehensive information technology services, and assists their customers with phone services, regulatory compliance, HIPAA compliance, or IT services, with an emphasis on exceptional customer care, and consistently generating value for the companies they support.
Eduardo explains that ALCON DTS is composed of three divisions. The First Division is their communication services division; this is where they provide support for network infrastructure, Wi-Fi campus communications, cloud PBX, and also manage and support wireless ISPs throughout the country.
The second division is their managed IT services division. This is where their help desk team and IT systems administrators reside. All of their customer's users, workstations, cloud services, and essentially all the application needs that their customers have are managed by this department.
Their third division is cybersecurity and GRC. This division was born because they had built a sizable vertical in the healthcare sector, and after speaking with their customers about their HIPAA compliancy efforts, they would say "well we're just too small" or "it's too expensive to implement", and as a business associate to these covered entities, ALCON DTS had to be HIPAA compliant too.
"This was when we realized that many were not implementing the necessary components to be fully compliant. So, we decided to build a compliance offering on a recurring revenue model, that they were already used to with our MSP services, and we started implementing the HIPAA framework with these customers to allow them to be HIPAA compliant," Eduardo clarifies.
From that initiative, ALCON DTS grew into the various other frameworks for compliance such as NIST, PCI, CIS, and so on. These are now the three core divisions and services that compose ALCON DTS.
A dynamic company providing the latest IT solutions
While IT is a massive industry with huge competition, Eduardo observes that, at ALCON DTS, they really don't feel that they are competing against other IT companies. "What we are doing is providing solutions that make sense for our SMB customers. We stay in touch with all the latest trends and solutions in the IT industry," he notes.
For example, cyber security is the most recent need and desire for all of ALCON DTS's customers, to ensure that they are properly protected. What the company does for its customers is make sure they provide them with the right cyber security solutions.
"We started seeing a lot more cyber threats and hacker activity in the SMB space, so we ensure that our cyber consultants obtained training and certification to ensure that that they were able to implement the appropriate frameworks for cybersecurity protection, and for regulatory compliance," says Eduardo.
Having these solutions in house under one roof, gives ALCON DTS a strategic advantage over a standard MSP or IT company. They are a lot more dynamic, and capable of delivering a comprehensive set of solutions, based on the needs of their customers.
Achieving growth & expansion through acquisition
Since its inception, ALCON DTS has seen exponential growth. "The way that we've been able to sustain our support model and be able to grow the company is through acquisition. Working with other technology partners in this space allowed me to find other teams who had similar values and similar capabilities," Eduardo states.
He remarks that working with them on mutual customer projects, allowed him to see an opportunity for expansion through acquisition. Eduardo went on to acquire two other companies that brought on excellent team members who have similar mindsets and have the same approach to how ALCON DTS provides service to its customers.
This allowed Eduardo to take a step back from the day-to-day operations and give more guidance and oversight to the direction of the company, in terms of new platforms, new technologies, and new support methodologies.
It also allowed him to focus a little bit more on business development with his team, to look at some more strategic accounts, making sure that they have all the resources in place to be able to properly support those accounts.
Eduardo has recently taken a leading role in the Austin, Texas startup scene through sponsorships, mentoring, and direct investments. Additionally, he has concentrated on supporting corporate expansion activities from Texas-based companies into Mexico, as well as for Mexican companies looking to expand into Texas.
"We have been expanding our footprint through our customer growth and needs. We are also seeing the need for an expansion into Mexico. Over the next, I would say 8 to 10 months, we are planning on having one new office in central Mexico. This office expansion will lead to a whole new team and support structure that will also enable us to launch further into Latin America," he declares.
Building a team that takes pride in the company
As the CEO of ALCON DTS, Eduardo's role has evolved from the early days of the company, from being the one-man shop to the guy who wears multiple hats, to now having a teams that are capable and willing to deliver the services that the company provides their customers.
That has allowed him to now provide the general oversight, the guidance to make sure that the company is delivering the type of service, and the brand and flavor of service that allowed ALCON DTS to grow and gave the firm its initial success.
"I've always said that a company's culture comes from the top, so that is why, at ALCON DTS, the questions that we ask at the end of each day are not 'how many tickets did you close today?'. What we ask is 'are the customers happy?'," states Eduardo.
He admits that, while they may not be able to resolve a support request on the first touch, by communicating with the customer, they at least know what is going on, what the status is, and that then provides the level of trust and satisfaction that they strive for.
But what really has made Eduardo proud is watching the company mature; watching his team members grow with the company and take pride in the company.
"When I see requests for company shirts, hats, stickers, and other merchandise, you know they want to brand themselves and represent the organization that they are part of. That definitely gives me a sense of pride; that they personally associate with this organization," remarks Eduardo.
He notes that when he sees that ALCON DTS's customer base is really expanding into critical industries such as municipalities, semiconductor companies, and energy companies who are bringing them in, it is really eye opening.
"We have their trust and we have their business, but of greater importance is that it speaks to the caliber of service that ALCON DTS provides. This is a tribute to the competency of our team members. So, seeing the maturity, seeing the level of customers, seeing the pride that the staff takes in the company; that's really what gives me the most pride in the achievements that ALCON DTS has been able to obtain," Eduardo proclaims.