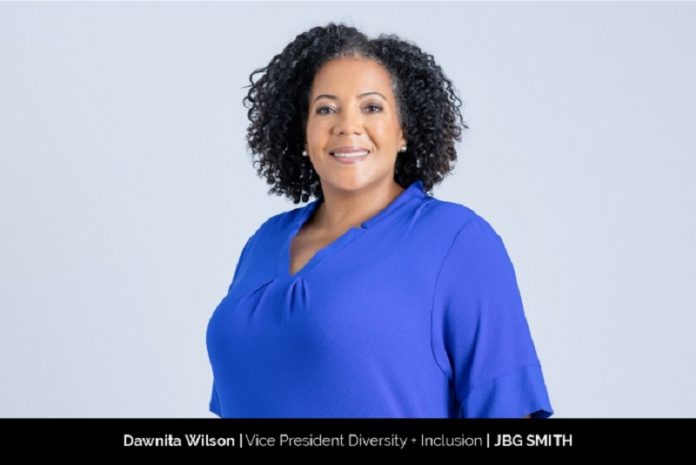 Building solid relationships, committing to the work, and setting clear goals and accountability measures, are the keys to success in advancing diversity and inclusion.
The real estate industry is not known for its diversity, and that's something Dawnita Wilson, Vice President, Diversity & Inclusion, JBG SMITH, hopes to change.
As a Leader and Strategist with a Masters Degree in Human Resources Management and PHR Certified, Dawnita has an extensive background in Talent Acquisition, Human Resources, and Management. She has over 15 years of experience, having worked for some major players prior to joining JBG SMITH.
Her specialty is Diversity and Inclusion, and when it comes to leading D&I work, Dawnita is not a stickler for positions and titles, but for working hard and making a difference.
Establishing solid relationships is the key to change
One of things that interested Dawnita most about working for a publicly-traded company the size of JBG SMITH, is that there is a lot of opportunity for improvement, as it relates to representation in the real estate industry.
"Being able to contribute to changing the fabric of an organization, and more importantly an industry, is one of the things that motivate me the most," she says. "But what I enjoy most about working at JBG SMITH specifically, is definitely the people. I work with a lot of great individuals who genuinely support and champion the work I do, and that makes all the difference."
For Dawnita, the most important part of her job is influencing and building relationships. "The essence of diversity and inclusion work is cultural and behavioral change. And as we all know, with change comes resistance," she says.  "So, establishing solid relationships is extremely important and is often the only way to bring people along on the journey."
Dawnita feels that some of the most impactful work she has been able to achieve throughout her career was due to having the right relationships with the right people. "I think sometimes we take that for granted. I also believe that the ability to influence, but more so, inspire people, is critical to successfully leading diversity and inclusion work," she says.
"The ability to influence and inspire people is critical to successfully leading diversity and inclusion work."
Inspirational leadership is about setting a good example
Dawnita believes that inspirational leaders must first understand that leadership is more than a title; it's more than telling people what to do and how to do it.
"To inspire people, you have to appeal to their emotions, and you must set a good example," she says. "People will watch what you do, more than they will listen to what you say. And I think inspirational leaders know this."
Reflecting on her own journey to leadership, Dawnita recalls the many leaders she has worked with and for – some good, some bad.  Some were an example of what she aspired to be; some, an example of what not to be.
"But one thing is for certain, I learned something from every one of them," she says.  "However, the most inspiring were those who took pride in developing, uplifting, and empowering others, which is the type of leader I strive to be."
Dawnita also believes that effective leadership can be demonstrated in many ways, such as how you communicate, motivate, and collaborate, which are all qualities of effective leaders.
"In my experience, effective leaders have been those who I can follow with confidence. Whether it's following a vision or strategy, or simply following directions, effective leadership matters," she declares.
"People will watch what you do, more than they will listen to what you say."
Commitment is key to moving the needle with D&I
JBG SMITH is a real estate investment trust based in Bethesda, Maryland, and an S&P 400 company that owns, operates, invests in and develops a dynamic portfolio of high-growth, mixed-use properties in and around the Washington, DC area.
Their focus is on placemaking and cultivating vibrant, amenity-rich, walkable neighborhoods throughout the Capital region, including National Landing, where they serve as the exclusive developer for Amazon's new headquarters.
Their portfolio currently comprises 17.1 million square feet of high-growth office, multifamily and retail assets, and they also maintain a robust future development pipeline throughout the region.
"For JBG SMITH, prioritizing Diversity and Inclusion is the smart thing to do because it's not just important to us, but to our tenants, residents, and stakeholders," says Dawnita. "We can't achieve the level of service and excellence that we've come to be known for if we aren't inclusive; and that requires us to consider the diverse needs of everyone, across all aspects of our business."
As Vice President of Diversity & Inclusion at JBG SMITH, Dawnita believes that when it comes to diversity and inclusion when it's all said and done, commitment is the key to moving the needle, as is intentionality and accountability.
"D&I efforts are likely to fail when commitment is not being demonstrated at all levels, intentionality is not prioritized, and companies don't have measures and mechanisms in place to hold people accountable," she says. "If I had to choose just one, it would definitely be commitment, because if you're truly committed, falling short in those other areas wouldn't be acceptable."
"If you're truly committed, falling short in other areas wouldn't be acceptable."
Establishing clear goals & accountability measures
Having led diversity and inclusion in both large and small organizations, Dawnita feels that the work itself doesn't change much. "In my opinion, what does change is the scale and scope of the work and how you approach it, based on the size of your organization," she says.
To elaborate, she explains that smaller organizations may need to think about goals and progress differently than larger organizations.
"When it comes to something like recruitment, the higher the volume, the easier it is to establish more ambitious goals," she says. "If you're a smaller organization with limited recruitment opportunity and minimal turnover, you may have to take a different approach. Either way, establishing clear goals and accountability measures is key."
Dawnita's commitment to her work at JBG SMITH resulted in diversity and inclusion becoming one of the top five drivers of overall employee engagement last year, with an increase in favorable employee perceptions by 18%, which for them was both unexpected and surprising during the pandemic.
Overcoming the challenges of being a woman of color
As a woman of color, Dawnita has faced many challenges throughout her career. She feels that women, in general, face many challenges in the workplace, especially as they move into leadership roles.
"Things like gender discrimination and bias are just some of what we encounter. But I think for women of color, these challenges are accentuated," she says.
From experiencing a wider, more frequent range of microaggressions, to being less likely to have allies and sponsors than their white counterparts, women of color have their own unique set of challenges when it comes to their day-to-day workplace experiences.
"As a Black woman specifically, I'd say one of the consistent challenges I've faced throughout my career has been having to work harder and perform at a higher level than others, just to be viewed as equal, as well as always having to navigate what seems to be the unspoken rule, that Black women (and in many cases, Black people) need to be "superstars" to be considered high-performers, even while being surrounded by mediocrity," says Dawnita. "I think this is a challenge that many of us continue to face and something we must be conscious of as we progress in our careers."
Finding the motivation to keep fighting the good fight
Given the often-taxing nature of D&I work, Dawnita shared some of the ways she stays motivated.
"There are a few things that keep me motivated. One is my passion for making a difference and my desire to hopefully, leave the world a little bit better than I found it," she says. "I think we all have a responsibility to do our part, to do what we can to position future generations for success."
But what motivates Dawnita most are the messages of gratitude, appreciation, and encouragement she receives from employees and those who have been impacted by the work she does.
"Hearing people share how I've opened their mind, changed their perspective, or expanded their world view, is always a beautiful thing. It's absolutely the very thing that keeps me energized, inspired, and willing to keep fighting the good fight," she says.
Dawnita believes the fact that women remain underrepresented in corporate America, despite gains over recent years, goes back to commitment, intentionality, and accountability.
"Narrowing the gender gap will require organizations to focus on everything from how they attract, retain, and develop women, to how they compensate and promote them," she says. "Implementing strategies to prioritize and establish clear goals around these things is the only way to make progress."
Dawnita's vision is to change the narrative around diversity and inclusion in real estate and to make JBG SMITH a great place to work for employees, an employer of choice for top talent, a good corporate citizen in the community, and a role model in the real estate industry.
Find your tribe, protect your energy, and shine
The advice that Dawnita feels she would give her younger self is to never stop learning and to always take time to understand what every experience and opportunity – good or bad – is teaching you.
"That's something I started to pay more attention to as I got older, but I think I would have a stronger appreciation of my entire career journey and how far I've come, had I done that sooner," she says.
Her message to aspiring businesswomen is to, "Find your tribe, protect your energy, and never let anyone steal your shine! And as I always say – you may not be cheering for me, but that won't stop me from winning."
"Find your tribe, protect your energy, and never let anyone steal your shine."