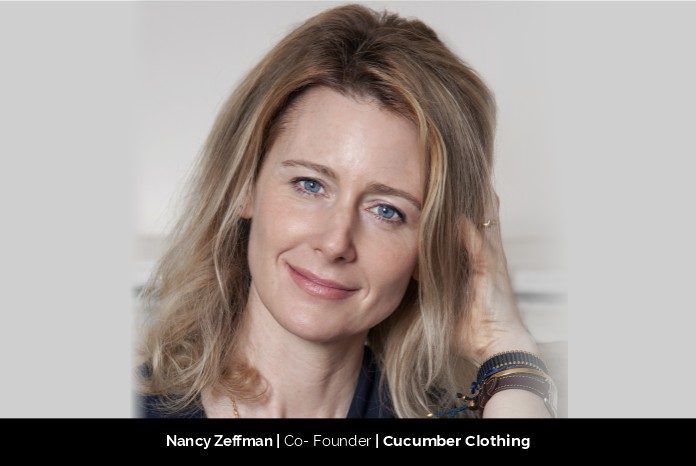 Nancy Zeffman co-founded Cucumber Clothing with Eileen Willett, a friend for over 20 years. They are on a mission to empower women with luxury everyday pieces. This is clothing to live in, work in, train in, travel in without compromising on style. All the high performance fabrcis they use feel super soft next to the skin and require minimal washing and no ironing. In this exclusive article Nancy shares some wonderful insights about her journey which redefines the idea of fashion.
Have you always been passionate about the garment industry? Tell us what led to the foundation of Cucumber Clothing?
Both my co-founder, Eileen Willett, and myself love to work out and found we were living in our leggings – super comfortable, easy to care for, no worry about looking a crumpled mess. We thought there must be a way to recreate this easy way of low maintenance dressing, but in styles and fabrics that feel gorgeous to wear. After two years researching the market and sampling fabrics from around the world, Cucumber was born. We haven't looked back… We are on a mission to empower women with everyday luxury that feels amazing and makes you feel amazing.
I have always liked clothes and fashion so it has been a pleasure for me to be able to merge my interests and my working life. The more time has gone on, the more I have become interested in the whole process of fashion, from the raw materials to the people involved in making the finished garments. This is something that at Cucumber we truly feel passionate about. Not only does our 5-mile radius mean that we are supporting local industries, but it means we really know the people who make our clothes and have meaningful relationships with them. Covid has taught us how we all need to rely on the communities that surround us and this is an area that we are very passionate about.
Setbacks are a part of every growing business. Tell us about a few roadblocks and learning lessons that helped you and the company grow through the years?
About six months in, we were struggling with running and growing Cucumber as well as doing all the fulfilment. We decided at vast expense of both time and money to move to a fulfilment centre. Massive mistake.  Incorrect products, colours and styles were sent out, not to mention double orders!  Within a month, and more than several pounds down, we went back to fulfilling ourselves. Time-consuming and tiring, but at least we knew it was going to be done right.
Obviously Covid has also had a huge impact on us and the way we do business. But out of every set back there can be a huge learning curve. We have taken the time to give our website a complete overhaul and the results have been fantastic. Covid gave us some breathing space that otherwise we may not have had.
Explain the services of Cucumber Clothing in brief.
We are an e-commerce fabric-led fashion brand. We make luxurious clothing and nightwear that empowers women by helping them keep cool and confident as they go about their busy lives.
Tell us about your contribution in reshaping the garment How has the industry changed over the years, in your view?
Cucumber is only just over three years old – we launched in Seotember 2017. Even in this short time, I think the fashion world has changed. How things are made as well as from what are more and more important to the customer as they realise that we cannot expect the world to tolerate so much waste.
Making anything leaves a carbon footprint, but we try to make ours a slight as possible. Once our fabric arrives in the UK (nothing like the high performance technical fabrics we use are made in the UK), we design, grade, manufacture and warehouse all within a 5-mile radius of our London base. We also source all our extras and trims, as well as our recycled packaging in England. I think this is something more and more companies, not just fashion houses are looking at.
What are the core values of Cucumber Clothing and how does the company stay abreast with the growing competition?
Our brand is a fabric led, solutions based brand.  Our USP allows us to easily and clearly differentiate ourselves from others in the fashion landscape. We also are and have  been from the start, very keen on making sure our company works on being as sustainable and responsible as possible. We know we are not perfect, but are trying all the time to get better, not just through use of our fabrics, but also in our local production, plastic free chain (we use 100% vegetable starch bags) and commitment to 'slow fashion'.
How do you define your journey thus far? What is your vision for the company?
In two words? Crazy and amazing.  It has been an incredibly uplifting and challenging journey with a huge amount of bonuses.  We've had to work super hard but the payoff has been wonderful, especially in the form of all the brilliant people we have met along the way and all the kindness and generosity of spirit that has been shown to us as newbie entrepreneurs.
With the larger landscape in a state of extreme flux it has been difficult to gauge how confident we should be feeling going into 2021. The latest lockdown notwithstanding, we are a primarily e-commerce brand that sells clothing that is perfect for both inside and outside the home, as well as being a sustainable and local brand – all of which we feel are key factors that have become increasingly attractive to consumers.  We have big plans for 2021, and would say our outlook is cautiously optimistic! Clearly, women will want to start dressing up again for occasions that have been cancelled, but we feel that WFH and spending more time at home are here to stay and we are well placed to fill this gap in a woman's wardrobe. Modern women want hassle free clothing that fits into their everyday style – clothes that look and feel great and give their everyday that bit of luxury. They are also increasingly looking to support local and support sustainable and thoughtful brands. Not only are we continually improving our working practices with every new collection, but from the start, as a brand, we have supported a variety of women-led charities and social enterprises and our customers like that we are a caring and thoughtful brand, looking outside of ourselves.
Tell us about your life before the foundation of Cucumber Clothing. What do you regard as your greatest achievements?
My background is in advertising– worked at Saachi & Saatchi. At the risk of sounding predictable, as a mother I would have to say that my children are my greatest achievement. They are all in their 20s now, forging their own lives and independent. That is all you can ask for as a parent.
As the Co- Founder of Cucumber Clothing, what are your major roles and responsibilities? How do you keep your employees, and yourself motivated every day?
Although we outsource many aspect of our business, on a day-to-day basis, it is just the two of us; two co-founders. Generally, we both do everything although we do have our areas of expertise. We are both motivated not only by the desire to find ever more amazing fabrics that we can use as technology develops but also by the lovely feedback we have from our customers. We are very much trying to create a Cucumber community and we have a very engaged customer base. It has been a pleaure for us to feel that, in our own small way, we have impacted positively on our customers' lives.
How do you maintain a balance in your personal and professional life? Walk us through a regular day of your life.
Running a small business means that really there is no one typical day.
Having said this, exercise and time out are very important to me. I usually start the day with a workout, which can be anything from a 20 minute online class to a virtual pilates class that I used to attend in person.
However busy Cucumber is, I find at least an hour every morning to walk the dog. It is definitely more challenging when it is cold and raining but it means I am experiencing the seasons in all their glory and this does ground me. There is something humbling about wellies and a windswept face. I love this hour of my day, even if I'm saying this through gritted teeth in a freezing hailstorm.
It's no exaggeration to say we both work seven days a week, and sometimes that can feel hard, especially when we are in the middle of getting a collection out. On the other hand, we can also usually mould our schedules to ensure we can include things that are important to us, family and social events, in pre-Covid times at least…
What does the roadmap of Cucumber Clothing look like, for the future? What are your goals for the next few years and how does the company plan to extend its services, globally?
This year, Covid has dominated the retail landscape, nonetheless, we have adapted. Since March we have appeared on Dragons Den, completed a brand strategy and full website revamp, hired a Digital and Social Media Executive and have gained new stockists in Amsterdam and Berlin, have added several global online sustainable fashion platforms as well as continuing to appear in press and on podcasts.  We were also invited to participate in the Institute of Sustainable Leadership's Accelerator Programme run by Cambridge University.
As female, mid-life entrepreneurs we have  been in increasing demand as speakers, and been invited to join several panel events. Many of these events moved to Zoom during this year. We feel that Cucumber has continued to resonate with customers throughout this difficult period with our focus on luxurious clothing for every day. We also feel that with a move to supporting local and sustainable brands, we are in the right space for when the world starts to open up again.